Rental car company Hertz has announced a deal to purchase up to 65,000 Polestar models as part of a steadfast commitment to electrifying its vehicle lineup.
Purchase of the all-electric Polestar models will take place over the next five years as part of an intention to offer customers the largest fleet of EVs anywhere in the world.
Hertz will place an initial order for the Polestar 2 though it's unclear if the yet to be revealed Polestar 3 SUV and other models could make up some of the later allocation.
The Polestar 2 will be available to rent in Australia and North America towards the end of 2022 while Europe will see its models delivered earlier between March and May that year.
Polestar CEO Thomas Ingenlath said the deal would help bring its electric vehicles to a broad selection of buyers.
"The partnership with a global pioneer like Hertz will bring the amazing experience of driving an electric car to a wider audience, satisfying a broad variety of our mutual customers' short- and longer-term mobility requirements," he said.
"For many of them it may be the first time they have driven an EV, and it will be a Polestar."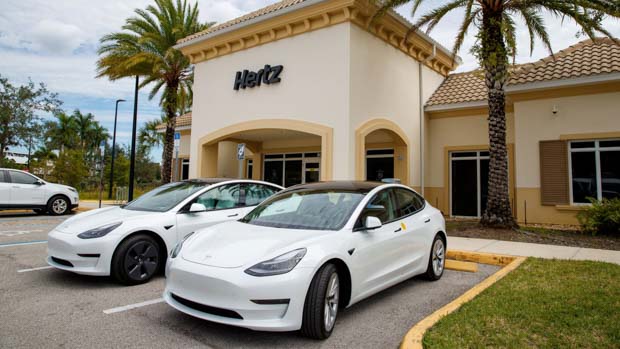 Hertz expanding its EV fleet
The American rental company first announced its intention to expand its electric fleet last year when it laid out plans to purchase 100,000 Tesla Model 3 sedans, 350 of which were bound for Australia.
However, the plan was not quite set in stone. As Tesla CEO Elon Musk made clear by quickly noting that a contract had not yet been signed despite Hertz already purchasing some Model 3s prior to the announcement.
It remains unclear if the Polestar 2 models have been purchased in addition to or instead of the Model 3s and Chasing Cars has reached out to Hertz for clarification.