Launching any new brand into the crowded Australian new car market is a tall order. We're a nation of 24 million, served by 64 brands offering hundreds of distinct models between them: lack of choice is hardly a problem here. Most of those sixty-four marques date to the first half of the twentieth century – they're backed by plenty of history, and the credibility that comes with it. That hasn't put off a few ballsy outfits from trying their hand at launching a new brand in more recent decades, however – Toyota, Nissan and Volkswagen have all expanded their brand lineups in Australia since the nineties, with varying success.
Hyundai, who have radically improved their product lineup over the past ten years, becoming tightly embedded as a key brand for consideration in the mainstream segment of the market, will be the latest to step up to the challenge of launching a new – premium – marque to stand apart from the rest of their range. It's called Genesis, and it arrives here in April with two sedans – a 3 Series rival called G70, and a larger-than-5 Series saloon called G80. Three SUVs will follow, starting with the GV80, in two years from now. In anticipation of the launch of standalone Genesis brand, I sat down with the marque's managing director for Australia, Peter Evans – who was Lexus's head of marketing between 2010 and 2013 – to discuss the incoming products, what Genesis will do differently to the pack, and most critically, how it will avoid the mistakes of other new premium brands that have come before.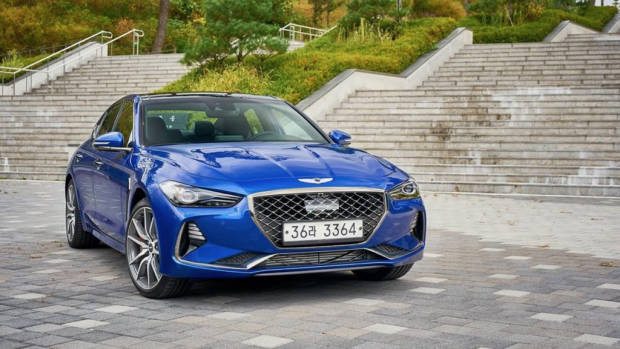 The incoming, 3 Series-sized Genesis G70. Watch our walkaround tour of the G70.
Is Hyundai ready to be taken seriously as a builder of a line of luxury cars commanding luxury car price tags? Evans believes so, establishing up front that Genesis is "not, in any way, hiding or ashamed of its Korean roots. Hyundai have been building cars for fifty years and therefore, they believe and have proven that they have the expertise, the engineering and the capability to build world-class luxury cars." It's certainly true that the quality of Hyundai product has accelerated swiftly across the past two to three product cycles, with broad praise from critics and the public for efforts like the current i30 hatchback and the Tucson SUV. Luxury cars, however, are a different ballgame, as Evans acknowledges. "You sell luxury cars by giving well-to-do people the information they need to make a decision. It's not buying purely on price. The stories need to be told, and the car needs to have the right credentials."
Unsurprisingly, the ebullient and forthcoming Evans peppers the conversation with learnings from his years at Lexus – Toyota's luxury marque that launched in Australia with the LS, a rival to the Mercedes-Benz S-Class, in 1990. "One of the reasons [Hyundai Australia chief operating officer] Scott Grant hired me is that I know a lot about what not to do," Evans offers in response to the question of his approach to launching a new luxury brand. "I lived through the launch [of Lexus], and I saw all of the things that we did right, and all the things we did wrong," he remarks – and when pressed on the biggest misstep made by Lexus that Genesis plans to avoid, Evans names the internal tension between selling Lexus models in the Japanese market as Toyota-badged cars between 1989 to 2006. "Customers would go to a German dealership and [salesmen] would pull up toyota.co.jp and point out all the Lexus models that were Toyotas with Lexus badges. The other guys didn't launch a standalone Lexus division until around 2006, whereas we established [Genesis] in August."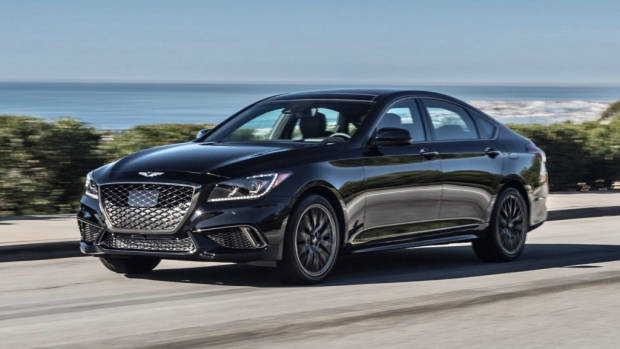 The incoming Genesis G80 mid-size sedan, which before this facelift was sold as the Hyundai Genesis.
The contention here is that Hyundai itself has done exactly what Mr Evans is describing for the past three years. In 2014, the South Korean brand launched a midsize luxury car called the Hyundai Genesis – the moniker which has been co-opted to represent Hyundai's premium offshoot, sitting above both the mother brand and Kia (the "cheap and cheerful" marque of the group, as Evans describes it). The Hyundai Genesis has been a small-volume car in our market, with most of the 1,187 sales since launch filling limousine and higher-end taxi fleets. A mid-life refresh of that vehicle will arrive under the Genesis banner, known as the G80, in April. Will the slight false start there impact Genesis's chance at making first impressions? "Everybody concedes it wasn't ideal, but there were a few learnings" emerging from the experience, Evans argues, namely that selling Genesis products in every Hyundai dealership did not work. "We started off with 169 dealers, and by May 2016 we'd reduced that to 28," Evans cites.
Despite the brand's launch being just four months away, Evans concedes that a final decision has not been reached on whether Genesis cars will sell on Hyundai showroom floors, or whether dedicated, standalone Genesis dealerships will be built. "We've got a number of options," Evans says, firstly naming the possibility of dedicated facilities in metropolitan areas, with a Genesis shop-in-shop experience within regional Hyundai dealerships. "The actual look and feel – and the actual sales channel – is still the $64,000 question in our lives," Evans admits. "The model lineup, the grade structure and the pricing are pretty well secured, but the business aspects are still awaiting some final decisions. This week we're having a director's visit to talk about the business plan and try to get some consensus, so they can go back to Korea and have the box ticked, so we can move forward." Pressed on the importance of standalone dealerships to protect the credibility of a premium brand, Evans picks up on the American arm of the company's decision to "move toward standalone showrooms by 2020…to be able to focus on being a pure Genesis brand". That's a focus we'd consider to be important here, too.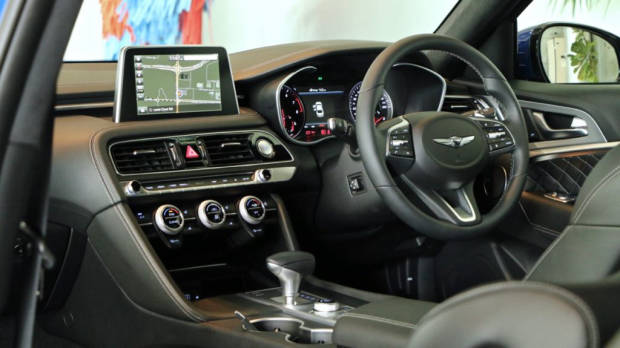 Evans is bullish about the potential of Genesis in the Australian market, volume-wise. "We have a lot of aspirations of different numbers, but obviously, the early targets are the Lexus and Jaguars of the world. Lexus have done a pretty good job considering the luxury hegemony of the Germans, but it's taken them 30 years to get to 9,027 sales last year – not that I'm following the sales performance down to the individual number," he smiles. Jaguar's performance of just over 2,000 units in 2016 forms a more attainable target. However, Lexus has time on its side, and Jaguar, a rich history – not that Evans believes Genesis is held back by the lack of brand cache. "We don't have any traditional heritage. Some of our competitors would say that's a disadvantage; we believe it's an advantage. We're not trapped in the past; we're not beholden to any particular ethos. We just want to do what the customer wants."
The elephant in the room is the existence of Infiniti, Nissan's premium brand, which launched in Australia in 2012 but has yet to break 1,000 units in a year of sales since – a milestone which Infiniti are unlikely to achieve in 2017. We're keen to know how Evans plans to guide the Genesis ship around the potholes that Infiniti has fallen into in Australia. Here, Mr Evans is to the point: "there are a lot lessons with Infiniti. Their false start; their shop-in-shop concept, their model range, and personally – as a car guy – their quirky styling," before adding that he has had conversations with professional drivers who "were not so complimentary about the dynamics". Evans suggests Genesis "can avoid Infiniti's pitfalls, partly because of the local development of the suspension calibration".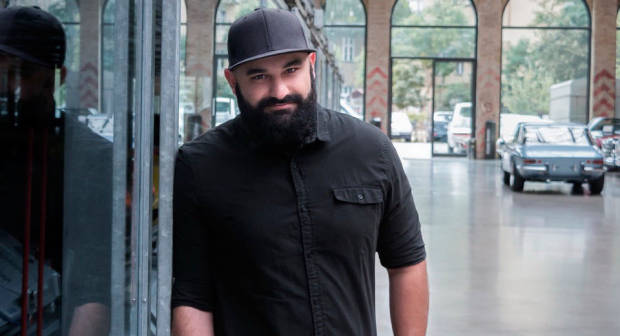 Genesis designer Sasha Selipanov, previously of Bugatti.
Pressed further on the distinction between Infiniti's "definitely quirky" designs, and the shared look of the two production Genesis models, Evans cites the openness in Korean culture to embracing European methods and talent. He warns that he is generalising, but ventures that "the difference between the Koreans and the Japanese is that the Koreans are very accepting of other nationalities' expertise. You can't hire Sasha Selipanov [Bugatti's former head of exterior design], or Peter Schreyer [Hyundai's chief designer, ex-Audi], or [Genesis head, ex-Lamborghini] Manfred Fitzgerald, without being open-minded to the expertise they bring from many different sources. We've got a couple of great Korean designers, but we've equally got great European designers as well – and I think that melange has come up with a couple of good-looking cars," Evans says.
Although it's likely that the incoming G70 sports sedan and G80 mid-sizer will offer price advantages vis-a-vis their rivals, Evans is keen to highlight that the key Genesis difference will not come down to a dollar-for-dollar advantage. "Our aim is to be innovative, progressive and audacious in the area of customer experience. We'll be doing everything in our power to give the customer an absolutely painless, frictionless experience from their first contact with the brand online, through the sales channel, to the product itself," he says, before listing various aspects of the Genesis ownership experience. This will start with a choice of methods for purchasing a G70 or G80. Customers will be able to order the car online or in store, and test drives will be offered via a demonstrator brought to the customer's residence, with Genesis 'customer experience executives' – replacing the traditional showroom salesman title – available to co-ordinate the process, while 'gurus' will be employed to help train those taking delivery of a Genesis on the in-car technology. "We think one of the great models is the Apple model – there's definitely a benefit in having a product guru for the electronic technologies."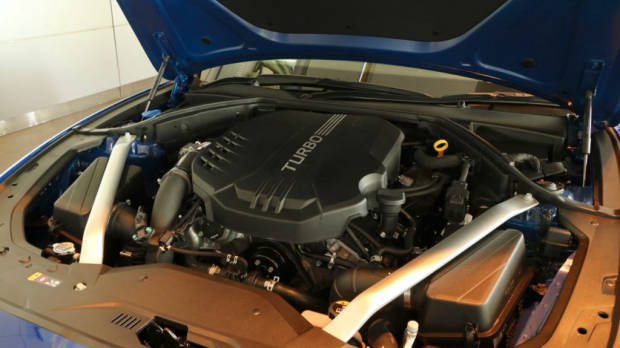 The 3.3-litre twin-turbo V6 the Genesis G70 shares with the Kia Stinger.
The next we hear of Genesis will be firmer details about the G70 and G80's Australian specifications – and likely, about the sales channels they will be distributed through – closer to their launch in April 2018. We've taken a video tour of the G70 3.3-litre twin-turbo V6, which you can watch here. Otherwise, if you sign up for updates, you'll catch it as soon as we've driven two new vehicles which, Evans and the broader Hyundai conglomerate hope, will make a splash within the premium segment here in Australia. Whether Genesis succeeds where others have not will certainly make for interesting watching in the next few years.