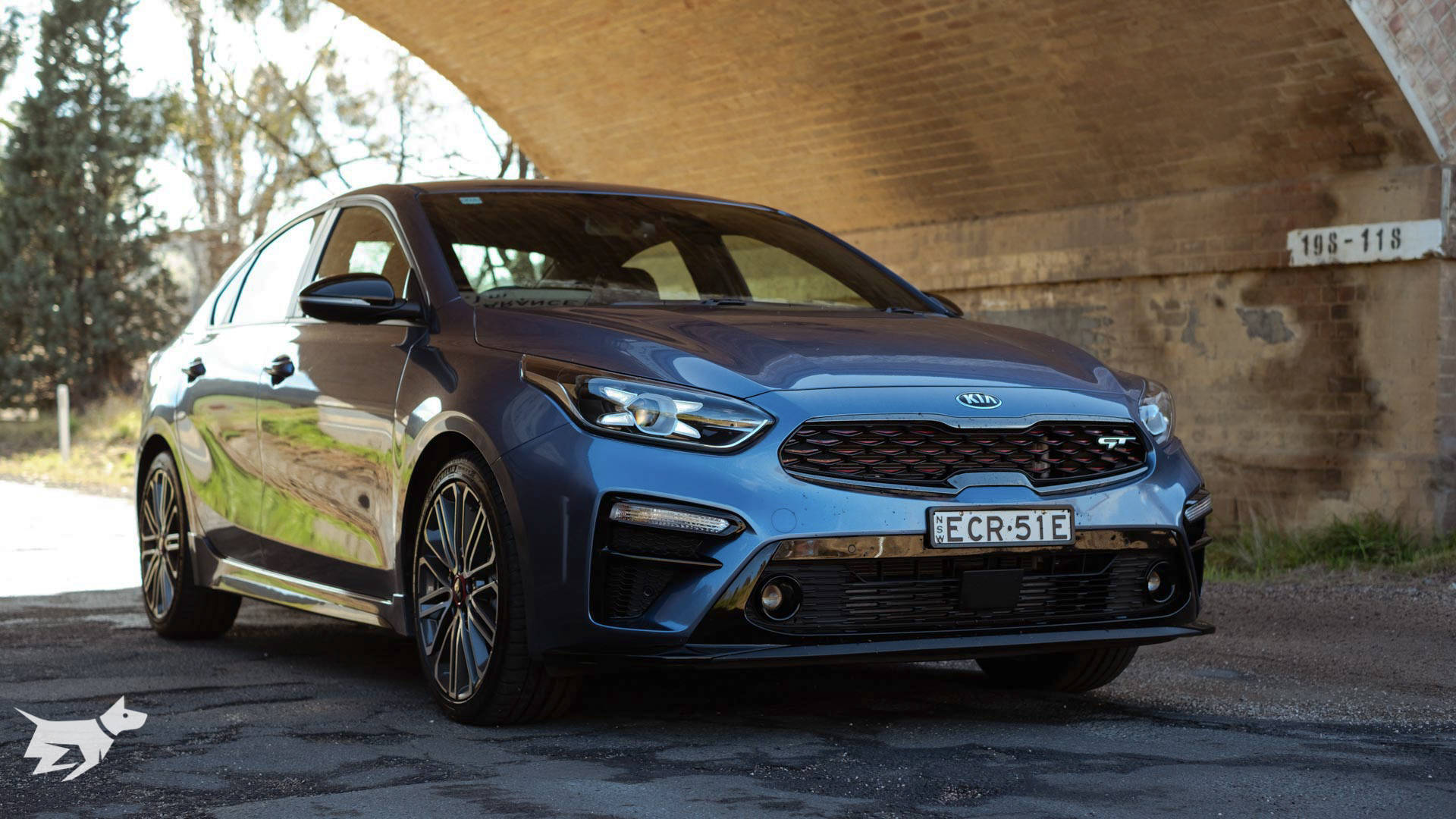 You've seen a Kia Cerato on the road very recently – we can guarantee it. Whether or not you noticed it is another thing: the Cerato is a modern Australian workhorse, with lower-end variants doing the heavy lifting of many a national rental-car fleet. However, there is a more passionate slice of motoring to be found at the top of the Cerato range. The 2020 Kia Cerato GT may share a badge with its more humble siblings – but under the skin, there are substantial engine and suspension changes that make this a sporty – but still affordable – small car.
In GT guise, the Cerato is undoubtedly aimed at the private buyer. While this top-shelf grade lists for $33,490, Kia regularly offers sharper deals on the Cerato – often $34,490 driveaway for this GT Sedan. That gets you a lot of bang-for-buck, and we reckon it's pretty impressive that for this price, the Kia includes not only a 150kW turbo four, but also niceties like heated and cooled front seats. That's not something you'll find in most competitors; the Honda Civic is a pretty bare-bones vehicle compared to the GT, and even a high-spec Volkswagen Golf does without ventilated chairs.
Available in either the handsome sedan format seen here on test, or as a slightly more practical hatchback, there are some cues outside to let you know that this Cerato is sporty, including an attractive set of 18-inch wheels with red centres, more aggressive bodywork, and the requisite GT badging. On the whole, the exterior changes do their bit setting the GT apart from the cooking Cerato models. We've also had a Cerato S manual on test recently – that grade sits at the opposite end of the Cerato spectrum –, and the GT made clear how much a few tweaks and duco choice (this GT is finished in Horizon Blue metallic for an extra $520) cam improve the overall experience of the vehicle.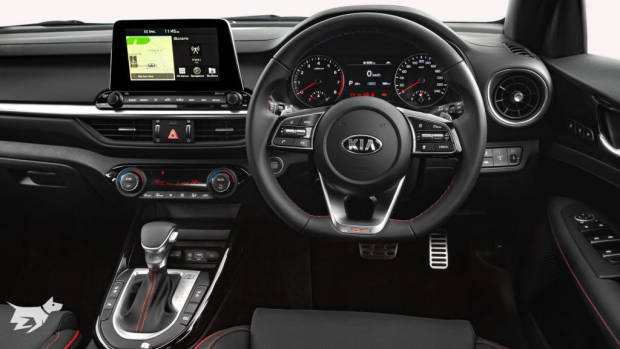 Jump inside, and the Cerato GT has a few glimmers of luxury that you might not expect. We've already mentioned the heated and cooled seats; the driver's is electrically adjustable, and it packs memory, too, while much of the upholstery is leather. However, only the driver gets electric adjust with memory function. But while the front pews sport plenty of features, they weren't hugely supportive for my frame over extended drives. The leather-appointed steering wheel is standard across the Cerato range, too, though this GT gets a 'sportier' flat bottom item with red stitching. Kia are generous with soft-touch materials – all Ceratos get a dash that is near creamy to the touch, though only upper-echelon grades, including the GT, receive soft door materials.
Positives continue with the interior layout – there's covered storage and some snazzy air-vents. The GT also gets faux carbon-fibre inlays for extra 'racecar points'. Kia's eight-inch touchscreen with native infotainment system is easy to use (and, as an aside, the same found in a $90,000 Genesis G70 – like Kia, Genesis is a brand of the overarching Hyundai Motor Group) with easy to use in-built navigation on this range-topping model. Rounding out the upgrades is a JBL stereo in the GT that pumps out tunes loud enough, though the sound quality lacks finesse. Wired Apple CarPlay and Android Auto lets you safely use your smartphone's operating system on the move through the touchscreen.
The Cerato GT sedan is a generously long vehicle, with a 2,700mm wheelbase, so interior space is not at a premium. That means rear-seat occupants can stretch out – even my six-foot-two frame had adequate legroom and headroom. Adjustable rear air-vents are fitted on the GT and Sport Plus grades only, while there's also a folding centre armrest to get comfier on longer trips. Boot space is very generous – there are 502 litres on offer, puting the Cerato on practicality terms with cars from the size class above, like the Toyota Camry and Honda Accord. Aside from the huge amount of space in the boot, that's about it: unlike the Cerato's European rivals, you don't get shopping bag hooks or nets on any variant, so be careful putting delicate items back there, as they'll roll about freely.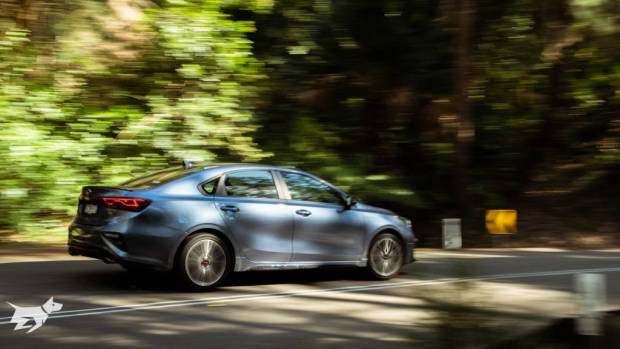 Under the bonnet, the GT packs Hyundai-Kia's now-familiar turbocharged 1.6-litre four-cylinder engine in a tune shared with the likes of the Hyundai i30 N-Line and the Hyundai Veloster Turbo. The 1.6T produces 150kW and 265Nm: meaningfully more than any other Cerato, with lower variants equipped with an aspirated two-litre MPI engine making a more modest 112kW and 192Nm. In the GT, shifting is taken care of by a slick seven-speed dual-clutch unit, whereas the two-litre powered cars get the choice of an unremarkable six-speed automatic gearbox or a rather unpleasant manual.
So the question is – do Kia's sporting intentions shine through in the driving experience of the Cerato GT? In short, yes. That 1.6-litre engine provides adequate torque for the Cerato, though it does run out of puff at higher RPMs compared to a true hot-hatch powertrain. However, the Cerato GT does sound a little peculiar as it revs out. In its more relaxed drive modes, the engine has an almost kazoo-esque resonance, while Sport mode brings out an artificial induction growl – though some will like this bassy tone.Testing revealed that, on balance, the Cerato performed best in its normal or 'smart' modes, where the throttle response and steering felt most consistent.
The Cerato GT notably ditches the basic torsion beam rear suspension setup of its cheaper siblings in favour of a multi-link rear suspension setup. While IRS has traditionally been linked to comfort, Kia has re-tuned the spring and damper package for the GT, and the clear intention is to make this sedan shine on back roads. However, the resulting stiffness means that under 60km/h, the GT can feel tiresome on Sydney's corrugated and patchy road surfaces – especially over expansion joints. It's not a difficult car to drive in town otherwise, being a traditional three-box design, visibility is excellent, and the addition of a reversing camera and a full complement of parking sensors made it a cinch to manoeuvre.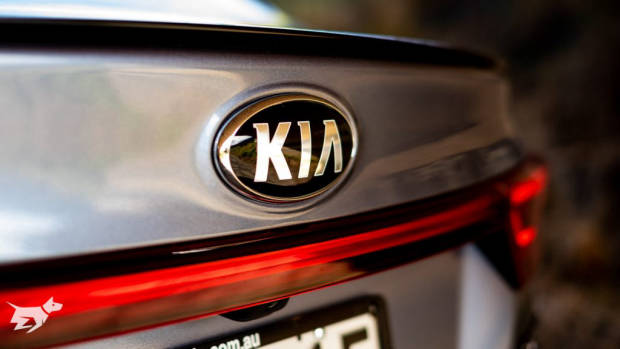 Increase the pace and it's clear the Australian-specific ride-and-handling package was tuned on higher speed, open roads, because this is where the Cerato GT feels most at home. Mid-corner compressions are shrugged off, and body roll is quelled to an acceptable level. This is not a rival to the best hot hatches, but considering the affordable pricing and the space on offer, the Cerato GT is remarkably happy to get down and boogie. Kia's choice to specify grippy Michelin Pilot Sport 4 tyres is undoubtedly a big part of this equation. With the drive-mode selector in Sport, the steering felt artificially heavy and pointy, but left in Smart, the more natural weighting encouraged confident progress with a well-judged ratio.
As a range-topping variant, the GT gets the full complement of active safety tech available on the Cerato. The suite includes blind-spot monitoring, rear cross-traffic alert, AEB with pedestrian and cyclist detection, adaptive cruise with stop and go function and lane-keep assist. However, Kia's tuning of the adaptive cruise and lane-keep assist is not perfect. If you're considering a sub-GT variant, you're able to option in all of this active safety equipment for just $1,500.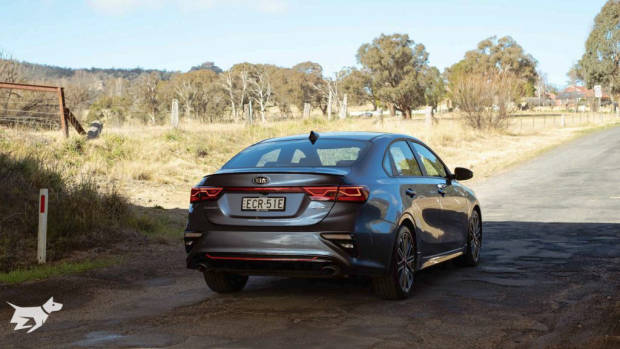 Kia continue to provide one of the most impressive warranties in the Australian market. Like all of their vehicles here, the Cerato GT is backed up by seven years of unlimited kilometre coverage. Servicing is capped-price, too, the 1.6-litre requires servicing yearly or every 10,000km. The 3 year/30,000km service comes in at an agreeable $346, after 5 years/50,000km owners will be up for $317. Every second year requires a more involved service with the most pricey $630 service coming at 4 years/400km. Still, they're affordable numbers in the grand scheme of things.
Kia has done an excellent job turning the Cerato into an enjoyable vehicle with the GT variant. That turbocharged engine is far lustier and makes for a more refined experience than any other variant in the range. The multi-link rear-suspension combined with Australian-tuned spring and damper setup is welcomed, given the dividends it pays on a great country road – even if it makes this car's urban ride tiresomely stiff at times. If it's merely comfortable city transport you're looking for, then the other Cerato variants are worth a test-drive, but if you enjoy the occasional back-road blast and revel in the turbocharged punch, the GT definitely has something to offer.