The Toyota BZ4X will be released in Australia toward the end of 2023 – and Chasing Cars was earlier this month granted an early drive of a UK-specification version of the EV at a test track outside Melbourne.
It was the same formula as our recent test of a Lexus RZ prototype: thirty minutes with the car at Toyota's validation circuit in Victoria. This is enough to get a feel for the fit and finish, power, braking feel and steering – but there are precious few bumps with which to challenge the suspension.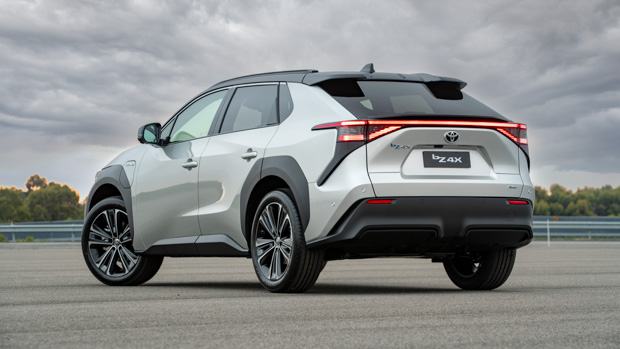 Except this was no prototype: finished in sterling silver pearlescent paint over a light grey vinyl interior, under the microscope was a series-production, high-end trim of a 2022-build BZ4X for a UK customer.
Toyota tells us that Australian specifications will differ in some ways, and indicated that the BZ4X will come in for some kind of not-insignificant upgrade in 2023 that should mean the Aussie version of this SUV will be more impressive.
Whether that specification change relates to battery size, charging speed, efficiency, power or styling is not yet known, but some trustworthy foreign reviews of the BZ4X have criticised the car's cold-weather economy in particular: less relevant in Australia, perhaps.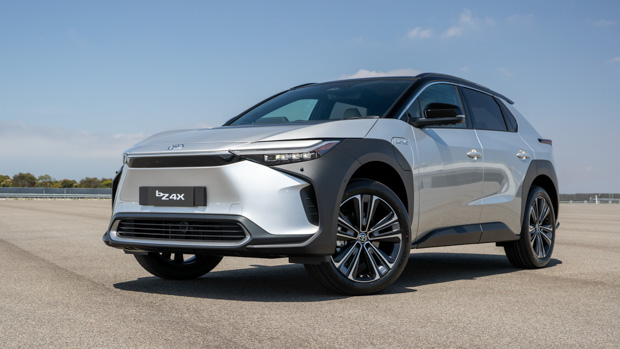 The importance of the BZ4X is hard to overstate: Toyota has received credit for leading the charge on hybrid engines in Australia, but the top-selling brand has been comprehensively beaten by Tesla in bringing an affordable electric SUV to market in significant numbers.
A lethargic fug has settled over Toyota when it comes to releasing EVs, which it implied last week remain unready for prime-time due to battery scarcity and expense – not to mention the diversity of needs of Australian motorists.
Still, it understands that a significant chunk of buyers are ready to move to full-EV now – evidenced by 19,594 Aussie sales in 2022 – and Toyota says it will add three battery EVs to its local lineup by the end of 2026.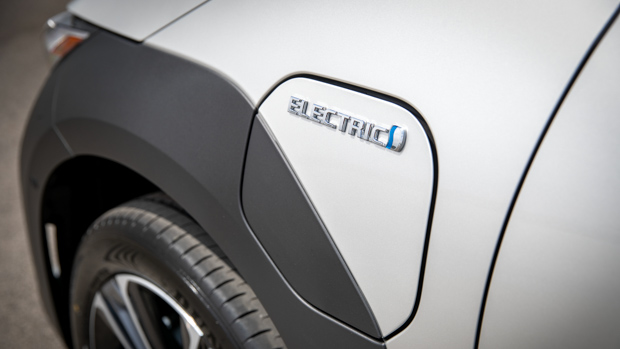 That starts with the BZ4X later in 2023, which will target not only the Model Y (from $68,900 before on-road costs), but also the Hyundai Ioniq 5 (from $72K), Volvo XC40 electric (from $74K) and Kia EV6 (from $73K) as the EV crossover market starts to boom.
Senior Toyota executives in Australia have warned that the BZ4X will not be a cheap car; instead, it's likely to fit between the competitive set above, while sitting below the circa-$110K Lexus RZ that will launch locally in May 2023.
Beneath retro-futuristic styling and heavy plastic cladding, the 4690mm-long BZ4X sits between a RAV4 and Kluger in size. It adapts parts of the latter SUV's GA-K platform; while the BZ4X's chassis is called e-TNGA it borrows its 2850mm wheelbase from the Kluger and Lexus RX.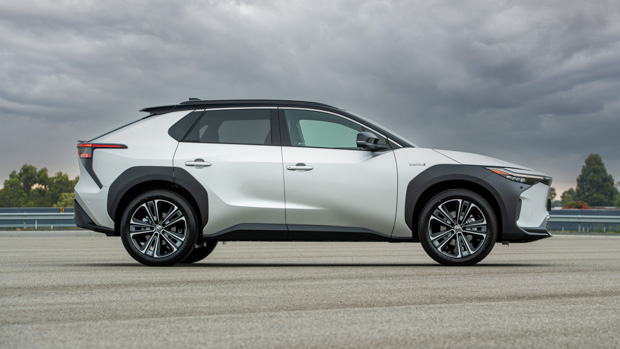 Nestled under the bonnet is a standard 150kW front motor. In AWD versions such as our UK-spec tester, the BZ4X can instead use a pair of 80kW motors – one front, one rear – but the platform leaves no frunk space.
Cargo capacity is limited to the 452 litres found behind a power tailgate. There is also no spare wheel – a rare feature for any EV.
The styling of the BZ4X looks confrontational and a bit weird in photos – but in person, especially in the lightly-tinted silver of the car we drove, it actually looks pretty cool.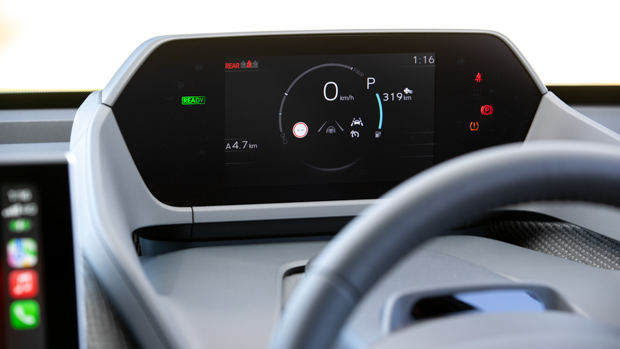 This car had a pale grey interior which presented smartly, with high levels of seat comfort and amenities like seat ventilation to beat the Australian summer heat.
Toyota has aimed to make the cabin feel futuristic with cues like a compact, Volkswagen ID4-style digital instrument cluster – but here, it's supported by cool flying buttresses.
A central 12.0-inch touchscreen unifies many features, but the BZ4X's cabin is very button-heavy. Some drivers will like this; it's the antithesis of the Model Y's uber-simple cabin.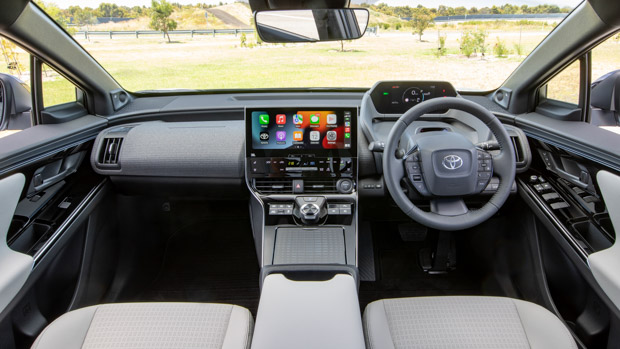 The back seats afford enough headroom for six-foot adults while legroom is also impressive. Like many other EVs, the BZ4X is less comfortable in the second row than many traditional, combustion SUVs because the large battery drives up the floor, which in turn drives up occupant knees and limits toe space.
That battery sits beneath the occupants' feet. At a usable 64kWh in size, the skateboard lithium-ion battery packs a sizeable 12 percent buffer to its circa-72kWh total capacity. The battery differs slightly between US- and Europe-spec cars but the specs are similar.
Range claims using the European WLTP standard span from a high of 516 km for a lightly-specified, base front-wheel-drive model to to 415 km for the heaviest spec – the high-end, AWD trim grade presented to us for early evaluation.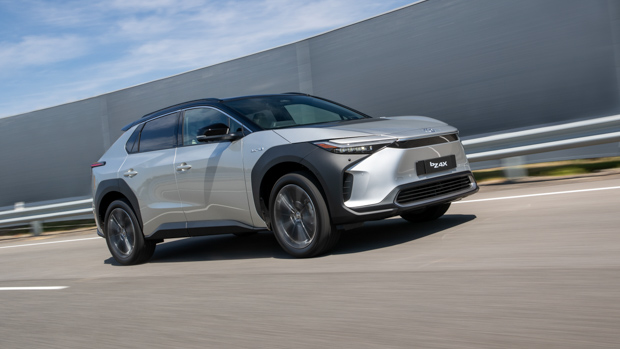 Our independent range and charging tests will inevitably occur after the local release of the BZ4X, but a quick and dirty test of the urban range at around 60km/h yielded an alarmingly high consumption number of 19.0kWh/100km – if accurate, that would mean 336 km of range.
If Toyota's WLTP numbers are closer to the truth then a high-end BZ4X AWD should deliver economy of about 15.4kWh/100km, which is similar to what the Model Y can do in the real world.
Range tests of the BZ4X have really varied globally, from more than 360 km in mild weather to the winter test recently conducted by Danish website FDM, which saw a BZ4X AWD model achieve a range of 215 km in 4º temperatures. It's a result Toyota says it is investigating.
Much clearer is that the BZ4X has nicely-tuned dynamics. We don't yet know enough to comment on ride quality, but the steering, handling and body control all demonstrate similar traits to Toyota's latest raft of pleasantly-driving crossovers.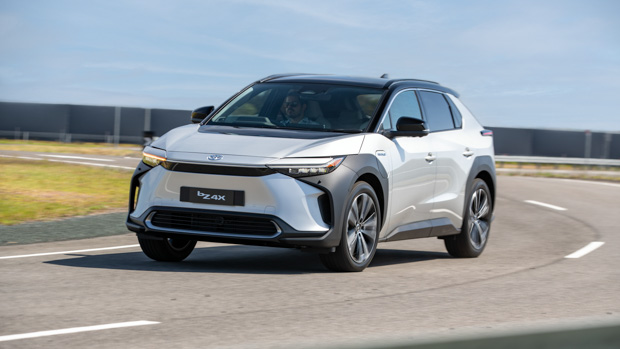 In particular, the steering rack feels expertly tuned with quick response off-centre, incorporating a very natural ratio that feels just right when turning into and out of corners.
The 2105 kg BZ4X is a little heavier than the 1900kg Model Y, but it sits impressively flat in the corners, ably assisted by the passive dampers that journalists overseas have said deliver a fairly plush ride – we'll judge this upon release in Australia.
On the performance front, Toyota has clearly tuned the BZ4X to be peppy, but not overwhelmingly quick – similar to Tesla's priorities with the rear-wheel-drive version of the Model Y, which has far-from-ludicrous acceleration.
Toyota claims a 6.9 sec 0-100km/h time for the BZ4X AWD. If that's accurate, it would make the car quicker than the 2WD versions of the BYD Atto 3 (6.99 sec) and Tesla Model Y (7.15 sec), but slower than the AWD Mercedes-Benz EQB350 (5.57 sec).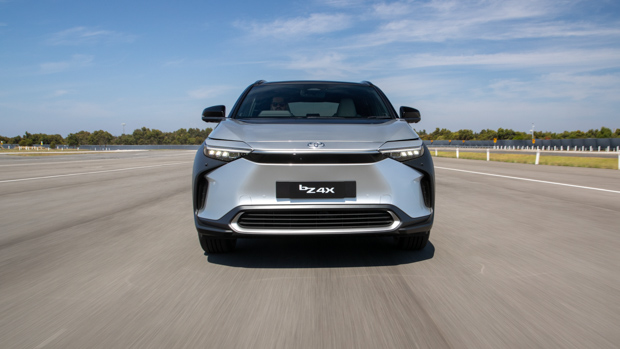 In the AWD BZ4X, both motors have the same outputs (80kW and 168Nm apiece – combined totals of 160kW and 336Nm) and that's the way it feels from behind the wheel, with sure-footed acceleration from a stand-still.
A switch on the dashboard changes the braking settings from free-wheeling when the throttle is lifted to a regenerative braking mode. It's not quite one-pedal driving – you have to push the pedal to bring the car to a stop most of the time.
Refinement seems decent, though at 80km/h and higher we noticed quite a bit of wind noise across the side mirrors of the car. Visibility is compromised to some degree by the thick pillars.
A number of advanced safety systems are likely to be standard range-wide for the BZ4X in Australia, including forwards, junction and reversing AEB, lane-centring assistance, blind spot monitoring and adaptive cruise control.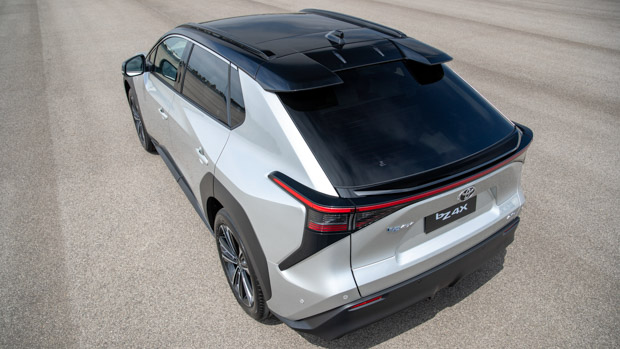 On the whole, an early drive of the BZ4X left us quietly satisfied – much the same vibe as many other recent Toyotas, which are generally impressive from behind the wheel if not actually class leading, dynamically.
If Toyota can ensure this year that the BZ4X's range claims are realistic before the SUV hits the market in Australia – and if it is priced right and in decent supply – it could have a hit on its hands.
But if it arrives with a high cost and in very limited numbers it will be destined to occupy niche status alongside the uber-popular RAV4 hybrid model.