The Ghost nameplate was revived in 2009 and swiftly became the British brand's most successful model. You could think of the 2021 Rolls-Royce Ghost as the Phantom's smaller brother, but that would be somewhat reductive.
Measuring in at 5,545mm, the new short-wheelbase Ghost is 146mm longer than its predecessor. In long-wheelbase guise, the 5,715mm length is nearly identical to the larger Phantom.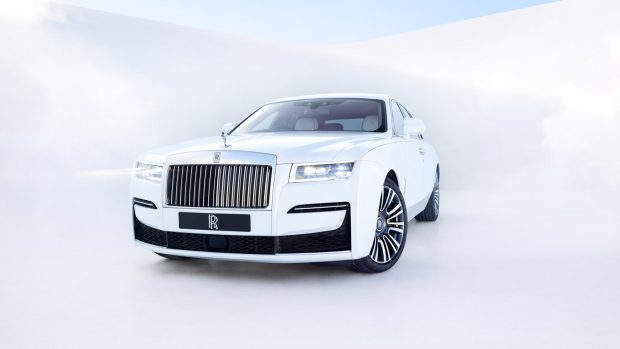 Rolls has developed the new Ghost to compete with the Mercedes-Maybach S-Class and Bentley Flying Spur in Australia.
Ghost drivers wanted more of a focus on enjoyment behind the wheel, but without sacrificing much of the rear-seat comfort.
Rolls-Royce describes the new Ghost's design philosophy as 'post opulent', which equates to a more minimal approach both inside and out.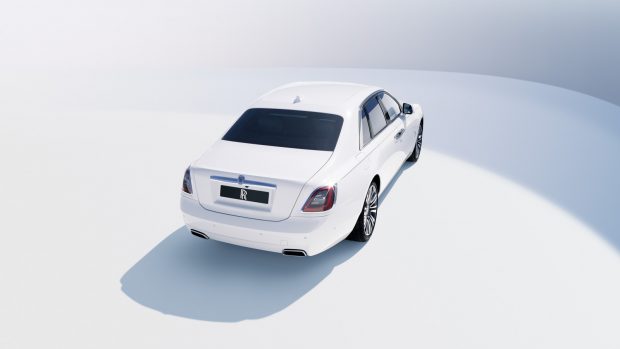 The exterior styling features squared-off angles and bluff surfaces that give the Ghost real presence – more than the name suggests. The Spirit of ecstasy is still found atop a chromed grille, though she does retract to prevent harm to other road users.
It is inside, naturally, where Rolls-Royce has focused much of their attention.
Getting in will be an effortless experience thanks to power-operated doors that swing out at the push of a button.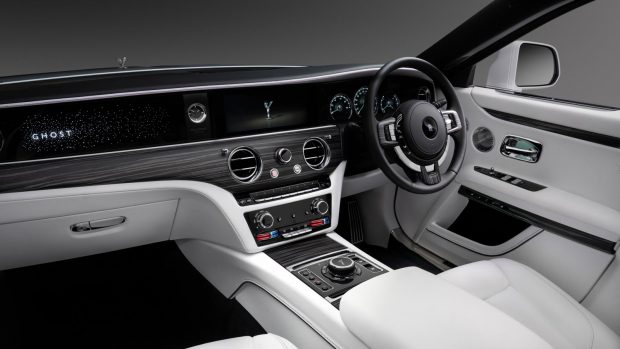 Inside modern technology has crept in, but not encroached. A semi-digital instrument cluster flows seamlessly into the central infotainment screen where an analogue clock divides the screen from illuminated night-sky detailing. The detailing is immaculate, and really drives-home what Rolls means by 'post-opulent'.
Other niceties include the starlight illuminated headliner, a 1300 watt stereo and open-pore wood trim, with the ability to customise any surface to suit the buyer's wants – all at a cost, of course.
The Ghost is not an affordable vehicle starting at $628,000 before on-road costs in Australia, and with some option boxes ticked it's easy to end up with a window sticker of over $750,000.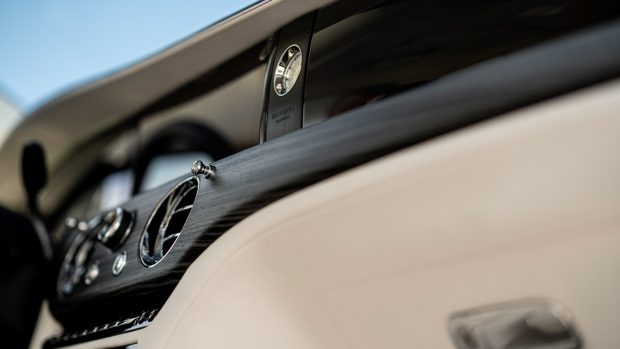 You expect a refined experience for that price, which centres around the six-and-three-quarter litre V12 from the Phantom. A sophisticated 420kW of power and 850Nm of torque are the quoted outputs, which should be more than sufficient to waft around with.
Of course, even when it comes to engines, the Rolls-Royce experience is not about outputs, it's about luxury.
Rolls-Royce engineers have tuned myriad engine elements to minimise unpleasant frequencies that would make it into the cabin.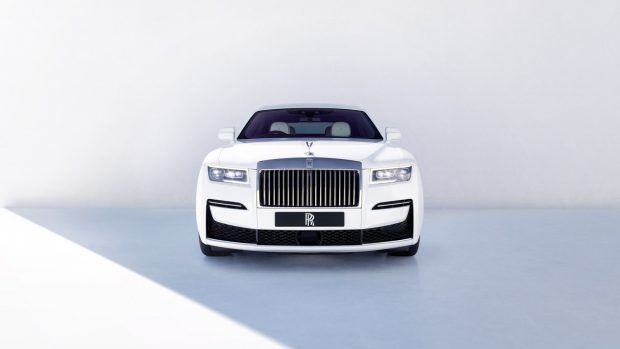 This works in tandem with an all-new, supremely stiff aluminium space frame chassis coupled with a highly sophisticated five-link rear axle system and active dampers. All together, Rolls engineers have sought to all-but eliminate NVH.
The approach has reached as far as the air-conditioning vents, which made an 'unacceptable' amount of noise in their first prototype.
Aside from luxury, Active safety features are agreeable. AEB with night-time pedestrian and junction functionality, adaptive cruise control, a 360-degree monitor, park-assist, lane-keep assist and a head-up display are all standard on the Ghost.