For the past half-decade, Hyundai has set a breakneck pace in improving the quality and engagement of their range. For older models in their range, like the i40 sedan and wagon that debuted in 2011, can date relatively quickly. The i40 is a solid mid-size competitor, though, and to bring it into line with its latest and greatest, the Korean manufacturer has debuted a range of significant updates for 2015.
Broadly, these new features will bring the i40 into line with the Genesis era of amenities and safety features, while refreshing the engine lineup more modestly.
And while Hyundai may still be Seoul based, they're keen to highlight that the refreshed i40 has been designed and engineered at the brand's German office. Certainly, the European flair shines through in the handsome restyling of the i40's front end, now broadly resembling the Genesis luxury sedan.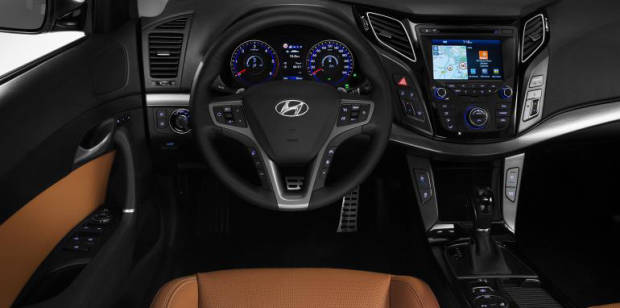 Cabin refinements – headlined by updated navigation and graphics for the seven-inch screen – are aplenty. A heated steering-wheel will be optional (at least in Europe), while new trims including a rich brown leather, and a TFT screen between the dials, will also feature.
The i40's best-selling engine – the 1.7-litre diesel – receives modest bumps in power and torque to 104kW (+4kW) and 340Nm (+20Nm) – and will notably be paired to a Hyundai-first seven-speed dual-clutch automatic. All dual-clutch cars will get paddle shifters, but only the wagon will be offered with electronic damper controls – making it, theoretically, the more engaging of the pair.
The two-litre petrol that forms the other end of the Australian range is carried over and will likely feature the same decrease in power as the European version, pushing torque further down the rev range, which Hyundai says will improve real-world drivability.
A number of the active safety systems formerly exclusive to the Genesis trickle down: bi-xenon headlights, speed limit identification, and an improved lane-keeping assist function are all now available.
Higher-spec i40 wagons will include a trick tailgate that opens automatically when you directly approach the rear of the car to ease loading.
No pricing, or unique Australian specifications, have been announced, but we are told that the updated i40 will arrive in the 'first half' of 2015. We'd be leaning towards earlier, rather than later.