Renault chose the Frankfurt Motor Show 2017 to reveal the next step in their hot legendary hatch lineup in the form of the third-generation Megane RS. Unlike its main rivals, the new Megane RS remains front-wheel drive, and features a limited-slip differential and rear-wheel steering as standard equipment.
The new Megane RS uses a new 1.8-litre turbocharged four-cylinder engine that's also used in the new Alpine A110 coupe and will compete with cars such as the Honda Civic Type R, Volkswagen Golf R and Ford Focus RS when it goes on sale in Australia in the middle of 2018.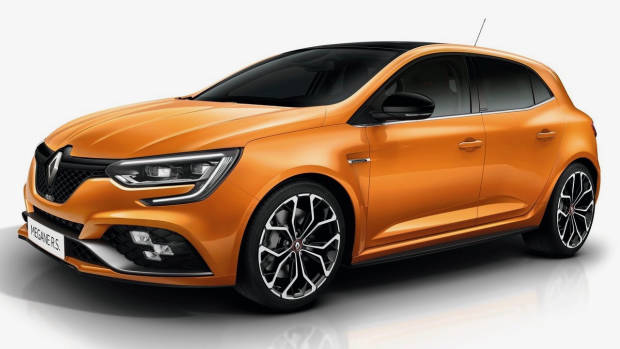 "Performance is the chief reason our customers cite for purchasing the Mégane R.S. and the All-New Mégane R.S. takes the styling and technologies even further to deliver truly exceptional driving enjoyment. Our intention is to see the All-New Mégane R.S., with its chassis and 4CONTROL, remain the C-segment hot hatch benchmark" said Patrice Ratti, General Manager of Renault Sport Cars.
Central to the RS transformation of the five-door Megane hatchback is a new engine, shared with the upcoming Alpine A110 sports coupe. It's a 1.8-litre unit, down from the previous model's 2.0-litre turbo, but with 205kW of power and 390Nm of torque (that's 4kW and 30Nm up on the previous model), it certainly doesn't sound underpowered.
The Megane RS' kerb weight and sprint times are yet to be announced, however we expect a 0-100km/h time of around six seconds and a top speed of 250km/h. Unlike the smaller Clio RS, both six-speed manual and six-speed dual-clutch automatic transmission options are available – a decision that was, according to Renault, made early on in the car's development to appeal to a wider range of buyers than both the auto-only Clio and manual-only previous Megane RS.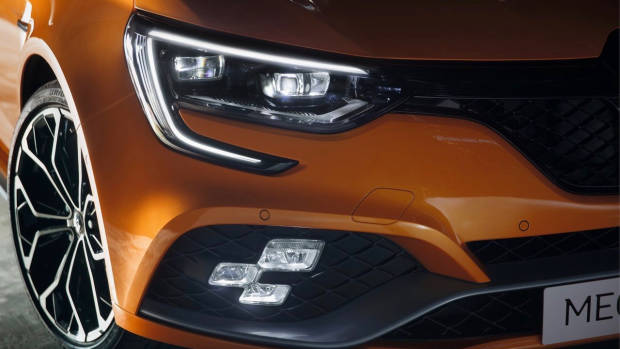 One new piece of technology included in the new Megane RS is four-wheel steering, which helps the car perform tight turns, as well as improving its high-speed stability – according to Renault, that is. The Megane RS is also available with two different chassis flavours – a Sport tune that is aimed more at owners who will rarely take their cars to the track, and a sportier Cup tune for those aiming to track their cars.
Part of the RS transformation to the Megane's styling is a more purposeful bodykit and pumped guards contributing to a 60mm front/45mm rear wider track. The wider tracks incorporate a much sportier and more aggressive bumper design, which features Renaultsport's 'chequered flag' LED daytime running light design. The Megane RS also features a massive central exhaust pipe sitting in its purposeful rear diffuser, with a functional side gill on each side of the rear helping the car's aerodynamics.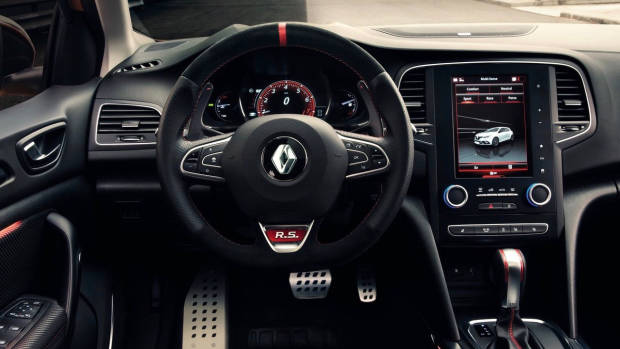 Inside the Megane RS, as with most hot hatchbacks, there are many clues to what is hiding under the car's bonnet. Deep sports seats are standard equipment, and are covered in alcantara trim to hold occupants in during spirited driving. In addition to the seats, aluminium pedals feature, as do black paddle shifters if the automatic variant is chosen. The Megane RS also features the standard Megane's 8.7-inch portrait infotainment screen, this time with Apple CarPlay smartphone mirroring.
The Megane RS also includes Renault's RS Monitor Expert system, which allows owners to connect a camera and rewatch laps of tracks to improve their timing. It also includes Renault's Multi-Sense system with five driving modes – Comfort, Normal, Sport, Race and Perso – the latter allowing owners to personalise the car's settings to their personal taste.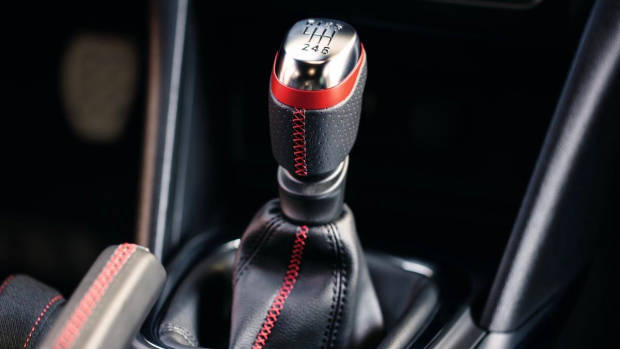 Like the standard Megane range, a number of active safety equipment is available for the RS. This includes autonomous emergency braking, lane departure warning, blind-spot monitoring, rear traffic alert, a reversing camera, radar cruise control, traffic sign recognition and automatic parking with front, rear and side parking sensors.
Renault has also reported that a more powerful Trophy version of the Megane RS will be made available by the end of 2018, with a 224kW/400Nm tune of the same 1.8-litre turbocharged engine, complete with a sportier Cup chassis. The standard Megane RS is expected to launch in the first half of 2018, with the Trophy model landing within a year after that.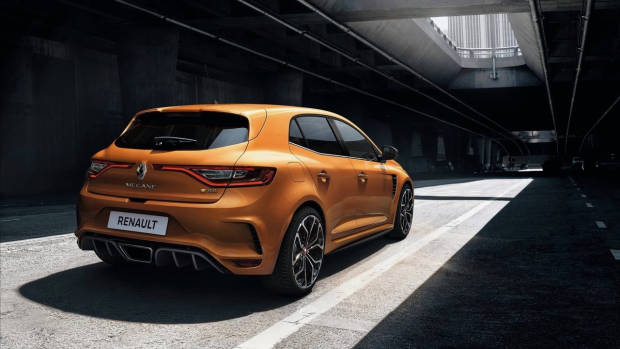 Stay tuned to Chasing Cars for news regarding the Renault range.