Handling and suspension input by rallying legend Ken Block, a groundbreaking move from front- to all-wheel-drive, and a blistering 235kW version of the Mustang EcoBoost turbo four, are the highlights of Ford's next Focus RS.
Priced in the mid-$50,000s range, the hottest Focus is pitched into an increasingly competitive market.
The rally-bred Focus is the latest in a wave of tremendous German hot hatches. And with the Ford set to straddle a fascinating piece of territory, between the 206kW Volkswagen Golf R (from $52,740), and 265kW Mercedes-Benz A45 AMG ($75,700), things are bound to get even more interesting.
Motivation comes from a 2.3-litre turbocharged petrol four-cylinder – relatively large in displacement compared to the Focus RS's compatriots. 235kW is a conservative estimate: the large intercooler and twin-scroll turbocharger combine with other significant upgrades over the base engine to smash out the monstrous power figure. Torque will exceed the 433Nm produced by the basic block shared with the Mustang two-door.
Transmission? Manual only at this stage, as the dual-clutch automatic unit used throughout much of the Ford range isn't able to cope with the torque passing through it.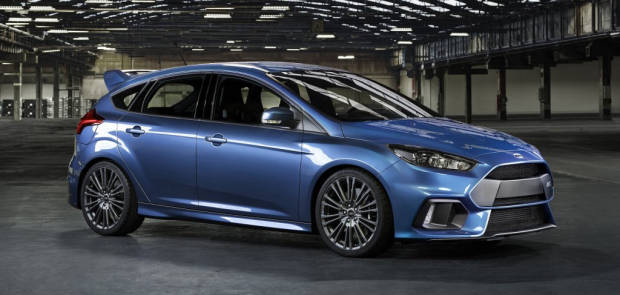 Despite reluctance to make the switch, Ford follows both those manufacturers in dropping front-wheel-drive for a newly-developed AWD system, known as Performance All-Wheel-Drive. It's a setup capable of pushing 70% of torque to the rear wheels, with electronics monitoring the ideal split every three-fifths of a second.
And not only can torque be pushed to both rear wheels, but the car intelligently judges cornering velocities to send power to the outside rear wheel, resulting in a slingshot-like corner exit effect with G-forces exceeding 1.0, according to the German manufacturer.
Two-stage adjustable dampers will feature with an all-purpose on-road mode, and an eye-watering track mode for outright performance.
The handling prowess of the Focus RS was bolstered through a testing process overseen by the gymkhana and rally legend, Ken Block.
The RS is no stripper model, with plenty of in-cabin amenities announced for the European version: flat-bottom wheel, Ford's Sync system with eight-inch touchscreen, and partial leather trim.
Greater restraint has been exercised with design both inside and out, with the previous car's boy-rally racer touches replaced with a more understated, sporting persona suitable for this price point.
We're not expecting the Focus RS to land here until the very end of the year, if it appears in 2015 at all. But boy, will it be worth the wait.