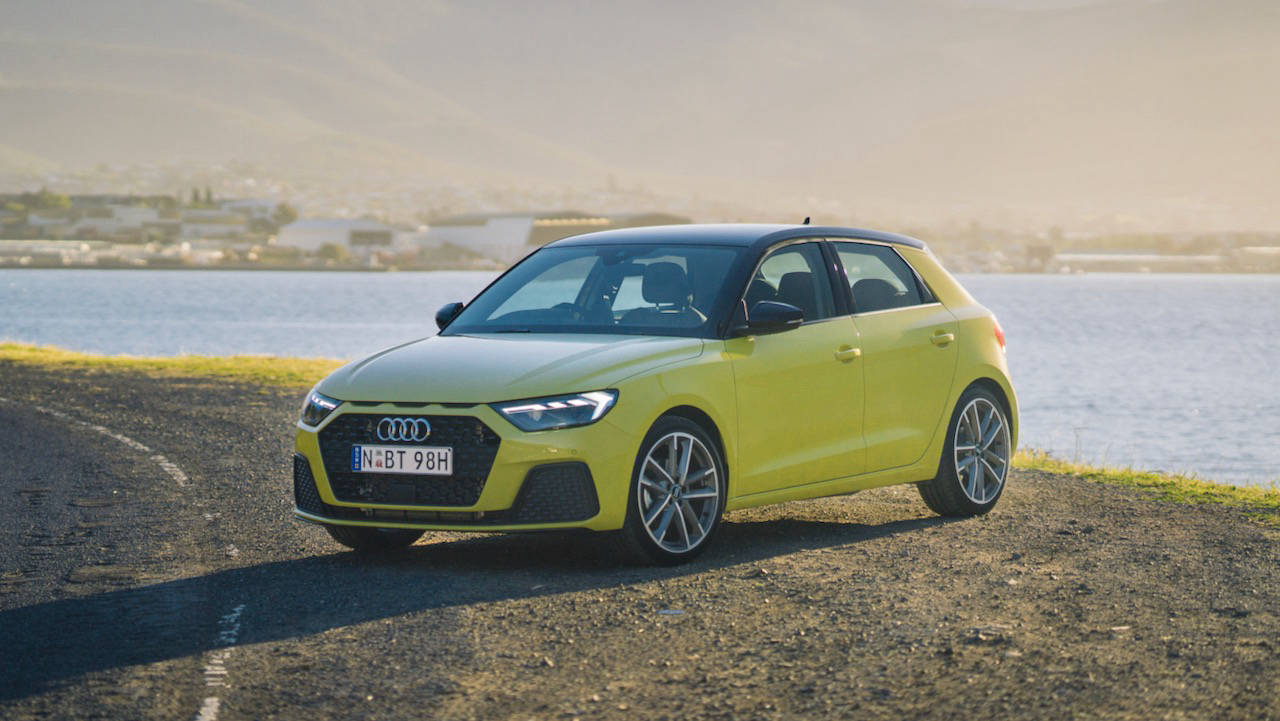 Design inspiration can come from anywhere, though if you're a carmaker, trawling your own back catalogue is often a great place to start.
You might've thought the first-generation Audi A1 Sportback (2010-18) was little more than Germany's cautious take on a Mini, minus the engineering flair of its aluminium-clad A2 predecessor (1999-05), but you'd be quite wrong. True, the last A1 was about as adventurous as a sailing holiday in a pond but it did take some design inspiration from the utterly charming NSU Prinz (please Google it!) and people loved it. In Australia, 70 percent of A1 buyers said the main reason they chose Audi's smallest car was simply for the way it looked.
It's probably no surprise, then, that the second-generation A1 is something of a knockout in the looks department. And while the original may have geeked out in channelling aspects of an obscure NSU, gen-two aims straight for Audi's heartland – the 1980-91 Quattro coupe.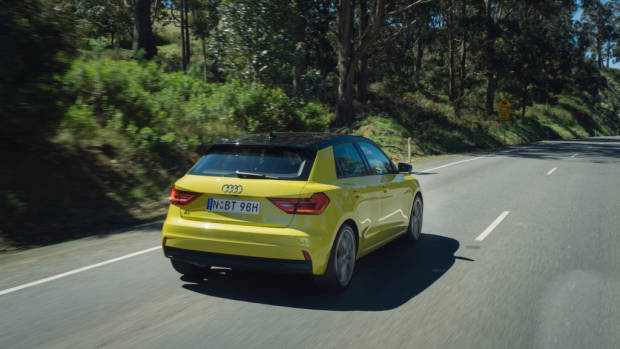 The new A1's broad, flat, forward-leaning C-pillars are pure 'Ur-Quattro', as are the subtle wheelarch blisters stretching from the headlight's trailing edge into the front doors, and then from the rear doors across the tops of the tail-lights and seamlessly into the rear hatch. The longer you stare at it, the cooler it is.
There's also three horizontal slots between the single-frame grille and bonnet edge, pinched from Audi's 1984 Sport Quattro rally car, though they also provide an easy way to differentiate between the base engines and the hot-hatch version. The A1 30TFSI (a 1.0-litre turbo-petrol triple) and A1 35TFSI (a 1.5-litre turbo-petrol four) feature equal-sized slots whereas the tougher A1 40TFSI S-Line (a 2.0-litre turbo-petrol four, ala Polo GTI) goes wider in the centre, teamed with meatier bumpers and exposed exhaust pipes.
Speaking of Polo, the new A1 Sportback shares its mechanical DNA with Volkswagen's latest Mk6 generation, including its MQB A0 platform, 94mm-longer wheelbase (now 2563mm, or just shy of a Mk5/6 Golf), two engines and one transmission. The seven-speed dual-clutch-only A1 range begins at $32,350 for the 85kW/200Nm 1.0-litre (as per regular Polo) and tops out at $46,450 for the GTI-sourced 147kW/320Nm 2.0-litre, then adds an engine the Polo doesn't get – a new direct-injection 110kW/250Nm 1.5-litre four-cylinder with cylinder-on-demand tech. It's the drivetrain we sample first.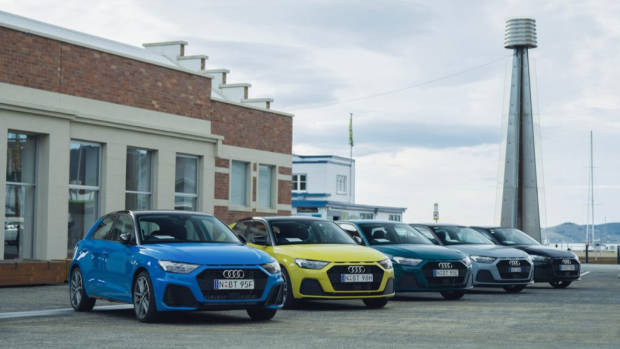 Besides a handful of additional kit (17-inch alloys, wireless phone charging, keyless entry/start, auto-dimming rear-view mirror and different 'delta' cloth seat trim), the A1 35TFSI is all about its engine. For a $2940 premium, the 1.5 turbo lops a decent chunk off the A1's 0-100km/h time (7.7sec instead of 9.4sec for the three-cylinder 30TFSI) while using just 0.4L/100km more fuel on the official combined cycle (5.8L/100km v 5.4).
Thing is, besides its off-the-line shove and stronger overtaking punch, the 35TFSI is neither as smooth or as charming as the three-cylinder 30TFSI. The perky three-pot is so much refined (and more powerful) than you'd expect, whereas the workmanlike 1.5 can sound intrusive when working hard. And because you can't buy a manual, short-shifting to ride the 35TFSI's torque curve isn't an obvious option.
Anyone looking for proper grunt is much better off with the barky, thrusty 40TFSI S-line … if you can afford it. You can individually configure its standard Drive Select system to offer meatier steering weight or extra acoustic sizzle, which means the flagship A1 not only sounds the part, it drives that way too. With incisive steering response, greater steering feel and terrific handling balance, the sports-suspended A1 40TFSI is hot-hatch hungry.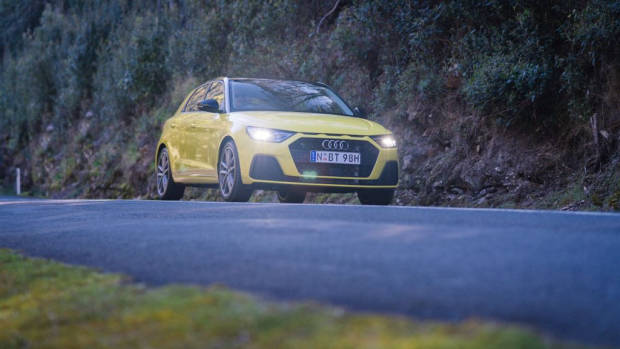 The 30TFSI displays much of that dynamic personality too, even though its steering is lighter and its suspension more comfort-biased. Wearing optional 17-inch wheels, our beautiful Tioman Green test car proved surprisingly pliant (and quiet) over scarred surfaces, and keenly poised in corners.
A 35TFSI with the same suspension tune but optional 18-inch Audi Sport alloys wasn't quite so sweet – offering neither the base A1's compliance and cohesiveness, nor the steering weight to match its considerable tyre grip. Don't go larger than 17s would be my tip, unless sharp steering with no feel is your bag.
That Python Yellow 35TFSI test car (with an $890 Mythos Black roof) did look incredibly chic though. With an optional $2990 Style Package 1 (LED headlights with rear dynamic indicators, LED colour interior lighting package and heated/auto-folding exterior mirrors, plus those 18s) and a $3200 Technik Package (MMI Navigation Plus with MMI touch, Virtual Cockpit instruments, Audi Connect Plus navigation and infotainment, an upgraded eight-speaker 180W sound system with subwoofer, a luggage compartment package and wireless Apple CarPlay), its fully-featured $40,160 total makes it a surprisingly appealing alternative to a top-spec Mazda 3 Astina ($38,240) or perhaps the new eight-speed Peugeot 308 GT ($39,990).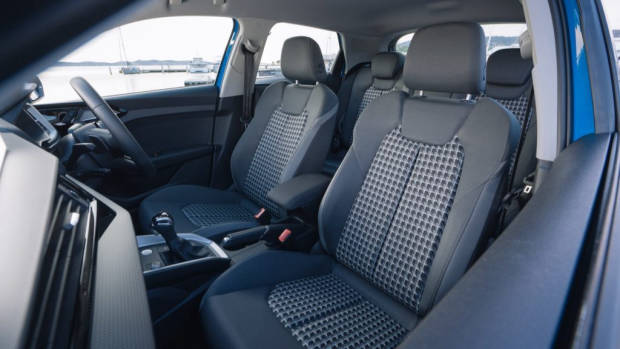 That appeal doesn't stem solely from the A1's looks or equipment though – it's space too. While the second-gen A1 remains a class smaller than those other hatches, it's so much more accommodating than before that you could understand why it might be the Golf you have when you're not having a Golf.
There's loads of space for front occupants, with crank-handle height adjustment for the beautifully-trimmed cloth seats and big-bottle door storage, however it's in the back seat (with 7mm more headroom, 36mm more shoulder room and 29mm more elbow room) and the boot (now a terrific 335 litres in total, including a dual-height floor and under-floor storage for the luggage cover) where the A1's cabin truly kicks goals.
Pity the overall dash design doesn't set standards like the old A1's did, and that many of the plastics appear hard to touch, even though they aren't! It's still nicely put together and impressively tactile but there's a sense that the aesthetic intended for a larger Audi has been shoehorned into the A1.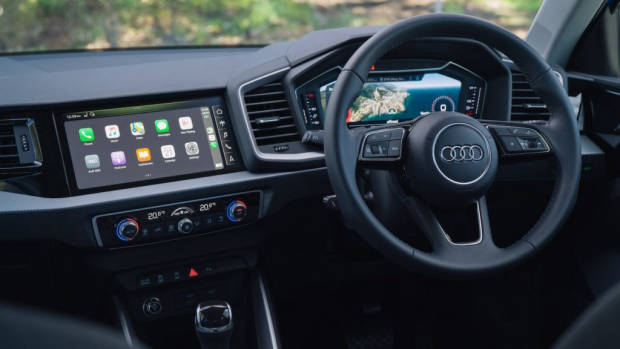 Forgive that, though, and you'll love the up-spec 10.1-inch central MMI touchscreen (an 8.8-inch one is standard on 30 and 35TFSI), which is a techno delight to look at and use. And considering even the bottom two stereos (six- and eight-speaker) are pretty strong, the optional 11-speaker, 560W Bang & Olufsen surround-sound option should be something else in a car as compact as the new A1.
Audi has also addressed some criticism regarding servicing cost, trimming the A1's three-year service plan to $1480 and its five-year total to $1990, which is heartening because this new-gen A1 Sportback really is a good car – one that deserves to rise above any criticism of being too expensive. Sure, you can have a Volkswagen Polo for less, but the A1's injection of big-car features into a luxe small car brimming with design chic is totally compelling.
If fashion-focused punters thought they loved the look of the last one, wait til they get a load of this!