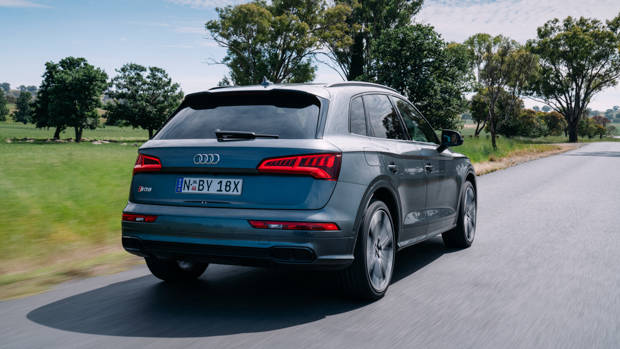 The first-generation Audi SQ5 TDI diesel was so popular in Australia that when it was replaced by the petrol-only SQ5, plenty of buyers were left without a clear upgrade path.
Audi has now rectified this by bringing in a limited run of the outgoing, pre-facelift 2020 SQ5 TDI as sold in other right-hand-drive markets like the United Kingdom and New Zealand. 240 units are available to those who want their five-seat sports SUV with a six-cylinder diesel engine, priced at $104,900 plus on-road costs.
So, how'd this happen?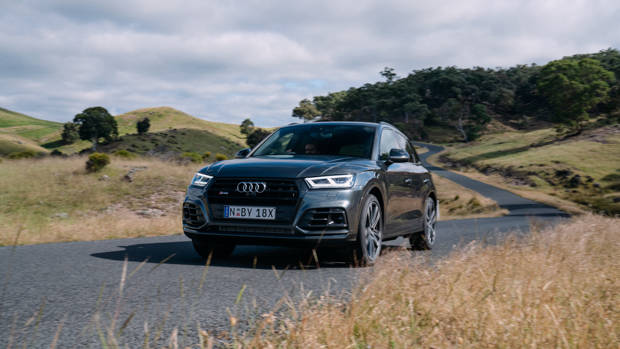 In its first iteration, the SQ5 attracted a unique group of customers who wanted an immensely powerful but relaxed diesel engine – but in second-generation form, the SQ5 has been available only with a turbo petrol V6 producing 260kW of power. Similar shape, but a very different recipe.
The change of heart has been driven by customer demand, and the calls from buyers have become too loud for Audi to ignore – hence the limited-edition, 255kW TDI version returning to our shores.
Later, when the facelifted SQ5 does arrive, it will be diesel-only. So this car is really for those that need their diesel SQ5 fix immediately.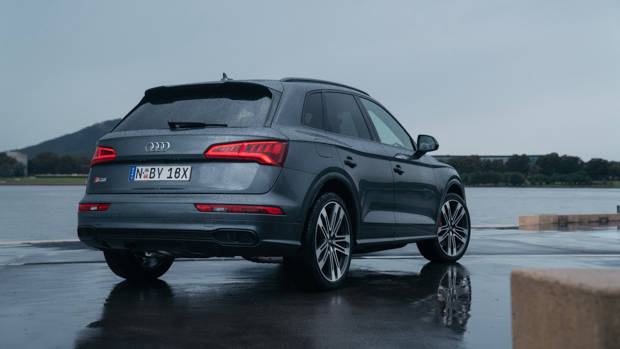 How does the SQ5 TDI drive?
The limited-run 2020 SQ5 TDI – in pre-facelift form – packs a punchy, efficient powertrain. It's a 3.0-litre single-turbo diesel V6 producing 255kW of power and a muscular 700Nm of torque.
Power is sent to all four wheels via a Quattro all-wheel-drive system and an eight-speed torque converter automatic gearbox with steering wheel-mounted paddle shifters.
Audi's choice to offer a fast diesel in the SQ5 once again stands out against BMW and Mercedes-AMG's refusal to do so: the BMW X3 M40i is a three-litre petrol, as is the AMG GLC 43.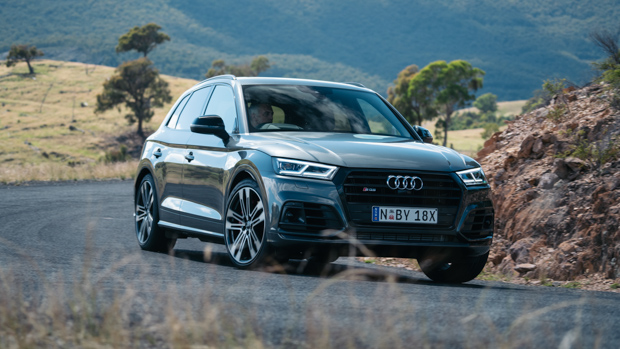 Start up the SQ5 TDI and immediately, you're aware this is a diesel. From cold start, the TDI motor settles into a dark but fruity idle and rolling around at town speeds the car never lets you forget what the engine is. In no way is the engine clattery or agricultural though, this is a refined unit; think about it as the flipside to a highly strung sports car engine.
Those who pay close attention to Audi's model cycle may be aware that a heavy revision of this motor is on the way for the facelifted SQ5, which will be TDI only. Audi has updated the engine to meet EU emissions regulations, this results in a 4kW from peak power, though the 700Nm peak torque figure will be available across a broader range. Not that this outgoing motor is ever wanting for twisting force.
With a 48-volt mild hybrid system in tow, an electric compressor can spin the turbo up to 2.4 bar of boost for improved throttle response, and the theory rings true. It's still more doughy than a petrol engine, but better than any other diesel. Riding the tsunami of torque is addictive, the SQ5 kicks hardest from 1,500rpm up to 4,000rpm. The TDI will rev higher without complaint, but doing so doesn't add pace.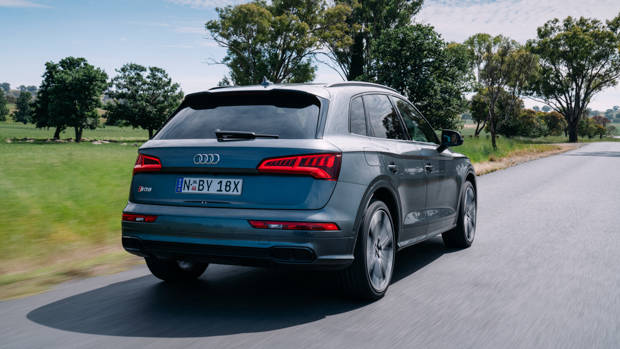 Leaving the drive select in default 'comfort' setting progress is relaxed and swift, the ZF eight-speed automatic is tuned sweetly. Switch things into dynamic and the – albeit synthesised – soundtrack wakes up, the throttle sharpens, and the gearbox is more willing to hold gears. The SQ5 makes alarmingly rapid progress easy while giving that sickening shove only a heavily turbocharged motor can.
Audi equipped our test car with optional air suspension ($2,150), which is a good call in our book. The system allows 60mm of height change to optimise the car for off-road or athletic use. In 'comfort' the SQ5 feels nearly cloud-like, only sometimes do the 21-inch alloy wheels transmit a jar through the chassis.
However, in 'dynamic' things are less rosy. Glassy smooth tarmac is the only place worth using this setting as it adds undue harshness, especially at urban speeds. Best setting the customisable 'individual' mode to 'dynamic' everything else, but with 'comfort' or 'adaptive' suspension.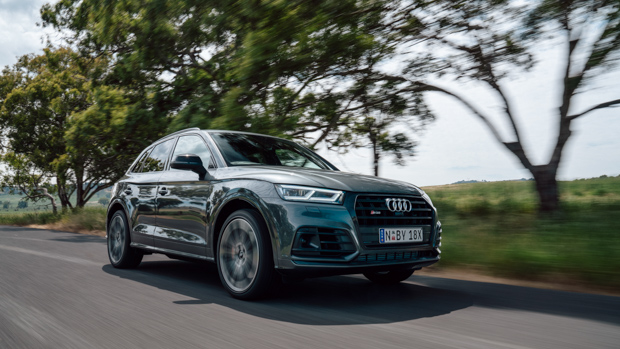 Doing so doesn't impact the SQ5's remarkable athleticism. Based on the MLB Evo platform, the SQ5 has a willing chassis that, combined with the Quattro Sport differential ($2,950 well spent), makes for surefooted progress. Enjoyment is best found turning in with some restraint before burying the throttle and letting the Quattro system sort it out, which it does masterfully and often with a hint of attitude.
Generally, the NVH suppression is fantastic, especially in 'comfort' mode. In 'dynamic', the SQ5's firm ride showed up some minor trim rattles, and the loud exhaust has an unpleasant boominess at around 1,500rpm on the highway. Anything above or below that frequency is fine, though. Vision is exemplary too, thanks to the SQ5's traditional shape and high-set driving position.
Audi has also been generous on the standard safety equipment on the SQ5 TDI: this is a safe SUV. The SQ5 carries over ANCAP's five-star safety rating of this car, and the Audi nabs a slick adaptive cruise control system with traffic jam assistance. There's also lane keep assist, a 360-degree camera, rear cross-traffic alert, blind spot monitoring, and AEB with pedestrian, cyclist, and junction assistance.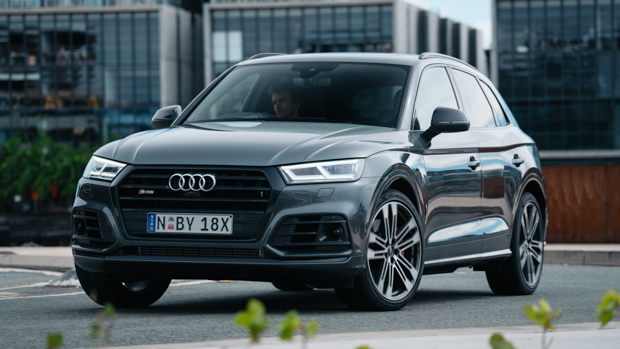 How is the SQ5 TDI's interior?
The Audi SQ5's cabin architecture works very well indeed.
The 8.3-inch infotainment screen is a generation older than Audi's latest displays, so there's no touch capacity. That said, it's still an intuitive system, running Audi's MMI software and navigation. Control is via a physical trackpad and rotary dial ahead of the shifter, unlike most of other Audis which have ditched these passive controls.
There is also an older version of the 12.3-inch Virtual Cockpit driver display which, although still fantastic, suffers the same fate as the infotainment screen with a low-ish resolution. Wired Apple CarPlay and Android Auto are present, and the 19-speaker B&O stereo does a wicked job of cranking out tunes.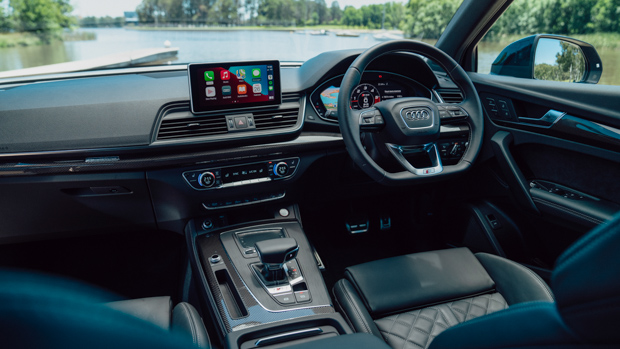 Materials are typically an Audi strong point, and it is no different for the SQ5. As mentioned, some of the trim rattles in 'dynamic' mode, though there is still a feeling of sturdiness and quality to everything you touch. Soft-touch materials and leather smatter the dashboard, but the carbon inlays are a bit boy-racer.
The quilted Nappa leather-appointed seeats are to die for, though. Naturally, they are heated and electrically adjustable with a standard massage function to top things off, available in your choice of black, or black.
A different colour choice – perhaps red, or tan, would have been nice – but this is a limited-run car after all without high volumes or customisation options.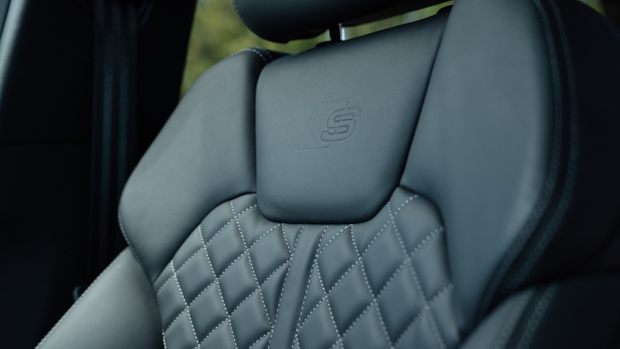 Front cabin occupants have capacious space, even with the panoramic sunroof, no one will have headroom struggles. Storage spaces are middling in the front, with two central cupholders best left to small coffee cups – these are heated and cooled, too. Generous door-bins both front and back make up for that, as does the adjustable centre armrest which hides a wireless charging pad and covered storage.
It's a similar story in the back, where even at six-foot-two I had ample head, leg and toe room behind my driving position. The bench is supremely comfortable and supportive, too, though the hump in the floor would make it annoying five-up.
In the boot, 550 litres of cargo space lies behind a power tailgate, and there is some classy, helpful cargo netting set into the floor to keep things in order.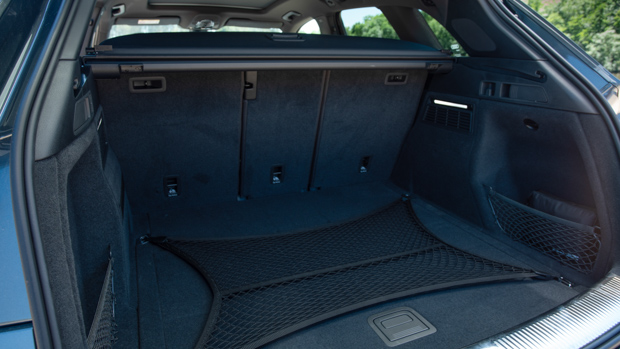 What are the SQ5 TDI's running costs?
There are downsides to running a beefy engine in a fairly large, heavy SUV – even if the SQ5 TDI is more efficient than the petrol version of the same car.
Fuel economy is still not as great as we might have wanted. Our test loop consisted of mostly high speed country roads and freeway running. On the highway, the SQ5 TDI is assisted by a 48-volt mild hybrid system, which allows for coasting in neutral – and even automated engine-off sailing when the conditions are right.
We managed fuel consumption of 11L/100km on our loop with the SQ5 TDI. That's a distinct improvement from the 14L/100km we recently scored in the petrol SQ5, but it's still not very frugal.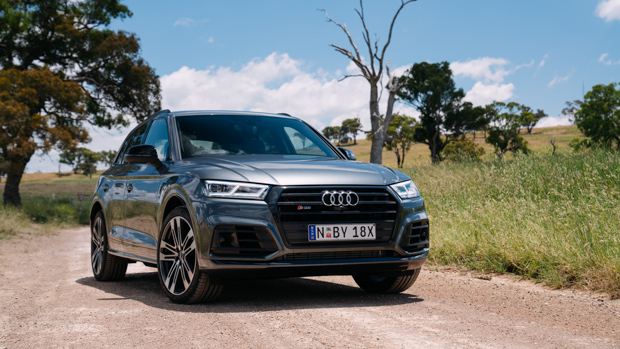 Sadly, Audi have not yet followed rival Mercedes-Benz in adopting a five-year warranty in Australia. Like other Audis, the SQ5 TDI is covered by a paltry three year warranty in this country.
Servicing, however, is reasonably attractive for this type of car. Maintenance intervals are either annual or every 15,000km – whichever comes first – and 5 years/75,000km will set you back about $2,940 – or about $588 per year. That's much lower than the $4,000 a Mercedes-AMG GLB 35 will cost to service over the same five year window.
The final verdict
The Audi SQ5 TDI provides a driving experience that is totally dominated by the diesel V6 engine's tsunami of torque.
This motor suits this car's demeanour, which is relaxed with just a hint of fury available underfoot. We're glad the diesel will be the sole option for the facelifted SQ5 when that vehicle arrives next year.
The updated, crisper SQ5 will also bring higher-resolution and snappier screens to the interior – though without the easy, practical rotary controller that is a standout in this outgoing limited edition specification. We do think the facelifted car looks a bit meaner, too.
But if you need an diesel SQ5 in your life right now, you'll need to sign up quickly: the brand predicts the 240 units will quickly be sold out.