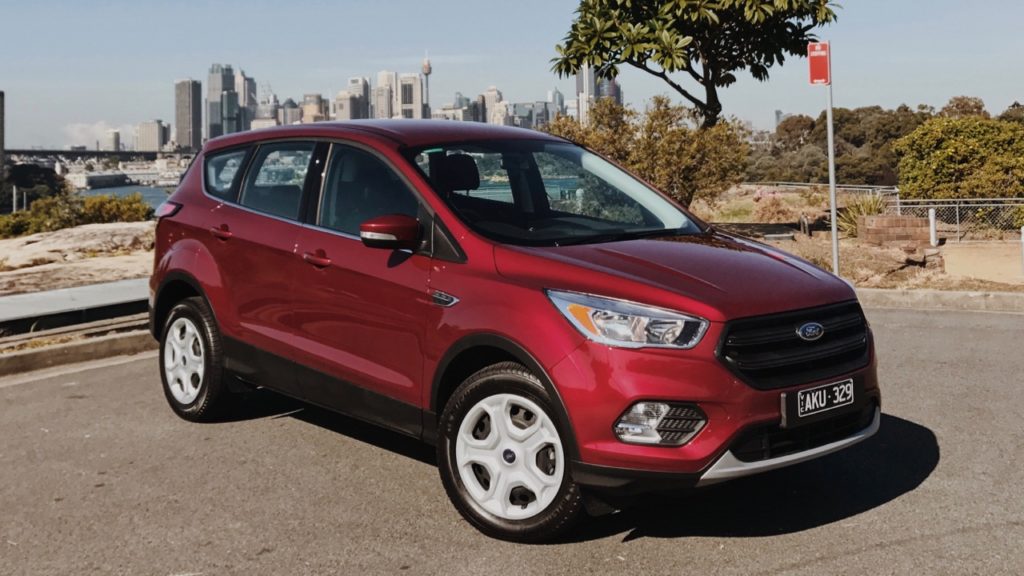 This week we're continuing the recent onslaught of medium SUVs with the Ford Escape Ambiente. You'll note that in a recent comparison of ours, the Escape Titanium diesel took a win over a Hyundai Tucson Highlander. Take away a diesel engine, an automatic transmission, some equipment, all-wheel drive and $19,000 before on-road costs: is life as good in the base model Escape?
The Escape Ambiente manual is priced at $28,490 plus on-road costs, right in the thick of the entry-level medium SUVS, namely the $28,690 Mazda CX-5 Maxx and the $28,590 Hyundai Tucson Active. All three offer similar equipment levels, with the Ford offering slightly more big ticket items such as dual-zone climate control, halogen daytime running lights, front and rear fog lamps and a large eight-inch touchscreen infotainment system with Ford's SYNC3 software and inbuilt satellite navigation.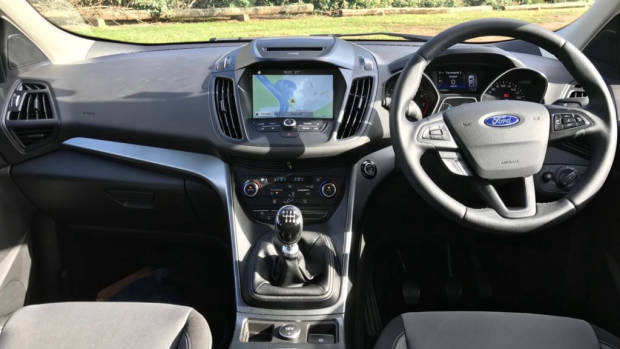 At this price the Hyundai Tucson counters with LED daytime running lights, 17-inch alloy wheels and automatic headlights. The Mazda CX-5 gets none of that, but it does get LED headlights and a basic level of active safety equipment, including autonomous emergency braking, blind-spot monitoring and rear traffic alert: all tech which is reserved for higher grades of the Tucson and Escape. All three look decidedly entry-level compared to the fancier detailing of their more expensive siblings – especially because the base Escape (like the CX-5 Maxx) even foregoes alloy wheels, a feature Hyundai provide at this level.
It's a shame for manual buyers that Ford limits you to the basic Escape Ambiente, because this car denies owners access to potentially life-saving active safety technologies. We'd like to see the optional $1,300 Technology Pack from the higher Escape models offered on the Ambiente – there's no reason not to offer all Escape buyers this pack sporting autonomous emergency braking, radar cruise control, driver attention alert, lane departure warning and blind-spot monitoring.
Unlike the Tucson and CX-5 however, a turbocharged engine is standard even on the base model Escape – and what a gem of an engine it is. It's a 1.5-litre turbo petrol four-cylinder from Ford's EcoBoost engine family, developing 110kW of power at 6,000rpm and a gutsy 240Nm of torque from 1,600-5,000rpm. For short bursts, torque in fact hits 270Nm through an overboost available when the throttle is floored. Tick the box for the six-speed auto and the power figure grows to 134kW, though in our experience, with the auto's additional weight, the extra power is not noticeable.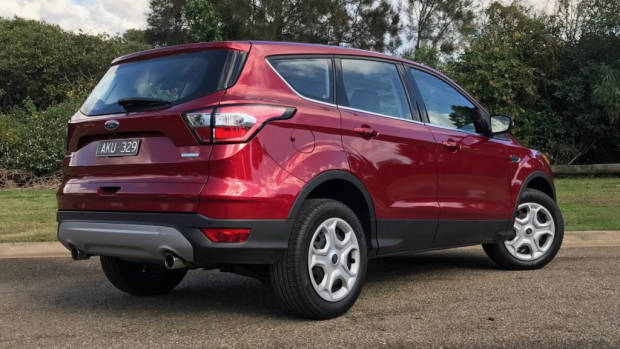 The generous torque makes the Escape really easy to drive. Instead of having to rev it like you do the CX-5 or Tucson, the Escape can be driven around with the manual in a higher gear while you ride the engine's wave of torque. This makes the Ford pretty economical: we averaged 8.1L/100km in mostly town driving. Not bad – we haven't been able to match that in a similarly-priced Tucson or CX-5.
The six-speed manual is one of the best parts of this car – it's creamy, smooth and precise in its operation. The clutch is also light and easy to use with a high take-up point, and the addition of a hill-holding clutch provides a foolproof experience even for somebody who is still new to manual driving.
Most buyers will sadly select the Escape Ambiente's automatic transmission for a further $1,500. That's a shame, because it's a particularly dimwitted gearbox that makes the engine seem sluggish. Like most modern autos it chases high gears for fuel economy, but when you need grunt it hesitates to downshift until your foot is almost to the floor – too late in most situations.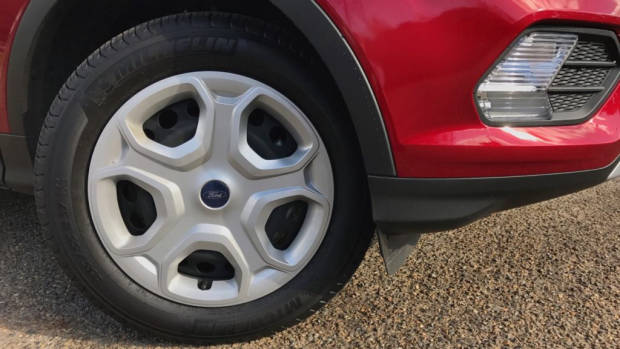 Diesel Escapes, though, get an altogether different automatic gearbox which is much better. The six-speed Powershift double-clutch in diesel cars is a lot sharper, and it manages to avoid the low-speed hesitancy of Volkswagen's equivalent DSG gearboxes.
When it comes to ride and handling though, the Escape is a revelation. In any trim, the Ford is adept at ironing out all sorts of bumps – but with the Ambiente, things get even better because of the small wheels. Sure, they look daggy – but the 16-inch wheels provide a more cossetting ride than you get in the high-spec Titanium, which runs on a large 19-inch set. Plus, the steering feel, which is natural in the Titanium, is even further enhanced in the Ambiente manual, which is the driver's car of the Escape range.
In this car's transition from Kuga to the revived Escape badge there have been a few light styling changes, but inside, it's essentially unchanged. An exception to that is the infotainment system, which has been upgraded from the old SYNC2 software to the newer, and more capable, SYNC3 edition.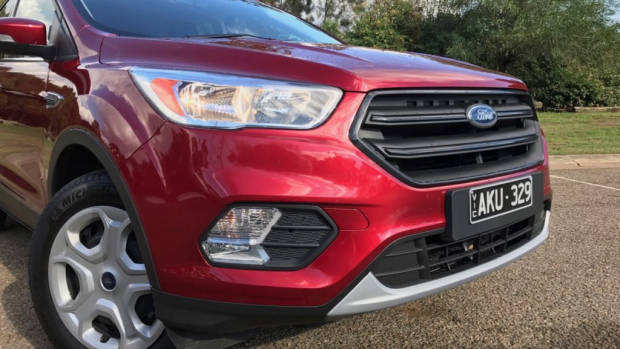 Is SYNC3 class leading? Possibly. It's full of functionality and includes many forms of connectivity, including Apple CarPlay, Android Auto, inbuilt satellite navigation, voice control that understands Australian accents, and a DAB+ digital radio. It uses six speakers that provide more than ample sound, though like all cars, you do need to play with the equaliser settings for the best result. The screen is high-resolution – take note Mazda. The screen sports big, easy to touch icons but the screen is a bit of a reach – so a rotary dial would make the Ford even easier to interact with on the go.
Inside, quality is mostly respectable. The dashboard and tops of the front doors are covered in soft-touch plastics, and while the rest of the cabin feels somewhat basic, it's still more interesting than a Hyundai Tucson. Bucking the trend of the industry, the Ambiente receives the same plastics as higher-grade Escapes. Over at Mazda, a CX-5 Maxx has a harder-surfaced cabin in vital places compared to the more expensive CX-5 grades. Practicality up front is also reasonable, with some medium-sized door bins, a centre cupholder area, big centre box with two USB ports and a big glovebox.
One of the Escape's issues is its rear seat, which compares in size to a CX-5 or Tucson, but isn't as comfortable. The seat base is quite short, meaning that at least a third of my leg didn't fit on the actual seat when sitting normally. Combine that with a high floor, and the rear seat of the Escape needs improvement. Luckily there are rear air vents, rear map pockets, small door pockets and a rear centre armrest to keep kids amused and items stored.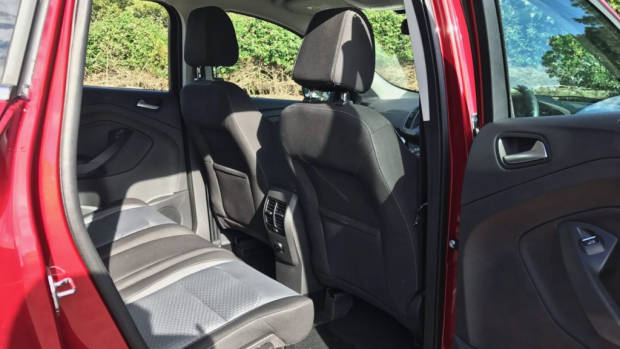 The boot isn't free of problems either – it's just too small in this segment now, offering just 406 litres of space while rivals offer more. It's well shaped, though, with a very low loading lip. Test drive and check if the Escape is big enough for your family: it may well be. Fold the rear seats down and you get 1,603-litres of space, which is huge, but an annoying ridge divides the boot floor and the base of the rear seat, which is frustrating when loading long and heavy items.
That's the Escape Ambiente, then. A gem of a drivetrain, combined with a genuinely supple ride quality, great dynamics, a small boot, spritely performance and a reasonable equipment list. The best part is that the Ambiente manual is the best Escape you can buy, and you don't have to spend $50,000 doing so. At entry level, it's far better than a Tucson or CX-5, though do negotiate some alloy wheels and roof rails into your deal. Then it will look and drive decidedly unlike a usual base model.