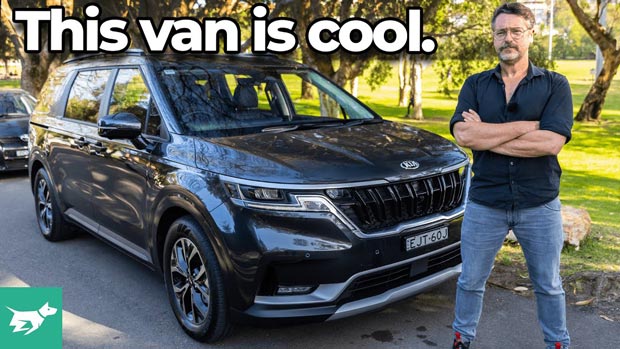 If you grew up in the '80s then you'll definitely remember the age of the people mover. What started with the iconic VW Microbus grew into a serious fad once the Japanese worked out how to turn a van with seats into a vehicle packed with superficial luxury – think high-roofed, skylight-equipped Tarago GLS or the popular Mitsubishi Starwagon – though it wasn't until Toyota's egg-shaped Tarago/Previa of 1990 that people movers truly came of age. Well, some of them.
But as time moved on, families did the same and even the Tarago retreated from its front-mid-engined, high-tech heyday to a pimped-up Camry with an inflated price-tag. So when Kia's first Carnival finally lobbed centre stage, the people mover had already begun its decline from fantasy van to frumpy family lump, leaving the dirt-cheap Kia primed to convert late adopters into choosing the most seats for the money.
Like all Kias, though, the Carnival has come a loooong way in recent years. The third-generation model (2014-2020) was actually really good – especially when it came to seating eight people in comfort, plus copious amounts of luggage – so it should come as no surprise to discover that the latest Carnival, launched in Australia in January 2021, is not only great to sit in but fantastic to look at as well.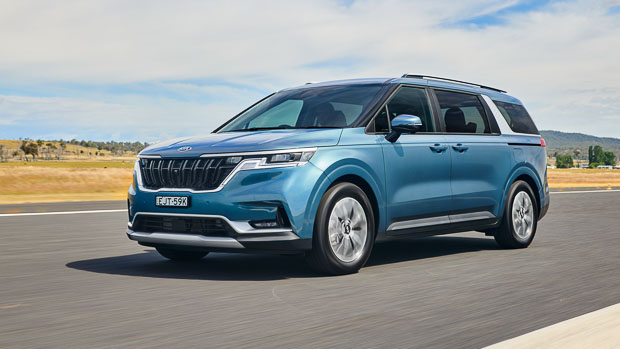 Thing is, Kia also offers a seven-seat SUV for similar money to the eight-seat Carnival, in the form of the rather excellent and equally handsome fourth-generation Sorento. So if you were forced to choose between the two, which direction would you go?
What may ultimately force your hand is size. While the Sorento is categorised as a large SUV, at 4810mm long it's still 345mm shorter than the palatial Carnival, not to mention 250kg lighter. And while that brings benefits to the Sorento's agility and park-ability, size matters when it comes to space, of which the latest Carnival has container loads.
How does the Carnival SLi drive?
Being based on the same platform as the latest Sorento – albeit stretched by 275mm in wheelbase length – means the latest Carnival shares dynamic DNA with its spritely SUV sister. But like the previous model (and unlike the Sorento), what the latest Carnival doesn't enjoy is a bespoke Australian suspension tune.
What that means shouldn't matter to most people. While the Carnival lacks the Sorento's excellent combination of ride, handling and steering finesse, it still drives competently and can deliver a degree of fun behind the wheel.
For such a big bus, it's actually quite manoeuvrable and has far superior steering compared to the finger-light previous model, which means it now has some feel and a level of weighting commensurate to the Carnival's size. But when drilled down to its fundamentals, the Carnival doesn't have the Sorento's fantastic cornering poise, or its ability to tread lightly over bumpy surfaces.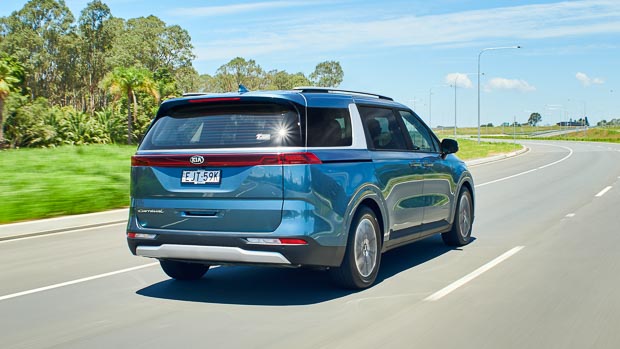 It's the latter aspect that is more impacting on the Carnival's people-carrying ability. While you'd never call its ride poor, the Carnival tends to pogo off bumps and mush into dips that barely affect the Sorento, meaning it's acceptable in its absorbency but a long way from being plush. Perhaps a fully laden Carnival might iron out road lumps better, though I suspect not.
Where the two feel near-identical is in the drivetrain department. Like the Sorento, the petrol-engined, right-hand-drive Carnival is only available in front-wheel-drive form and that's rarely a problem except on really slippery surfaces (the diesel version is AWD). Both feature Hyundai-Kia's familiar 3.5-litre petrol V6 and a slick eight-speed automatic transmission, though to combat its weight explosion the Carnival's V6 features direct fuel injection for a jump in engine outputs to 216kW at 6400rpm (up 16kW) and 355Nm at 5000rpm (up 23Nm).
While power-to-weight ratio still favours the Sorento, the resulting performance of both vehicles is virtually the same, meaning lusty performance and ample grunt for the task at hand. And being direct-injection, the Carnival compensates in fuel efficiency for the extra flab it's carrying, delivering near-identical economy to the Sorento V6.
Like the Sorento, the Carnival features an extensive number of first-in-class active-safety features including speed-limit assistance, multi-collision braking, junction AEB, driver attention warning, safe-exit alert, and rear cross-traffic collision avoidance assist.
These are complemented by front AEB with pedestrian and cyclist detection, lane-holding assist with steering assist, blind-spot collision avoidance assist, leading vehicle departure alert, auto high-beam, adaptive cruise control, lane-following assist and a surround-view parking camera.
How is the Carnival SLi's interior?
Where the Carnival really comes into its own is inside that incredibly spacious cabin. Unlike most of its European people-carrying counterparts, the Carnival is a dedicated people mover – one of very few left in the world – and not just a van with seats. And that brings major benefits to its packaging flexibility and seating comfort.
Starting up front, every time you climb aboard the Carnival serves as a reminder of just how great it is to have such a spectacular view. It's like you've been elevated to the more expensive seating section, but still with a degree of lounging comfort. Our test Carnival SLi (the second-top model) features a 10-way electric driver's seat but full-manual passenger's seat, though like the Platinum it gets artificial leather upholstery in all rows.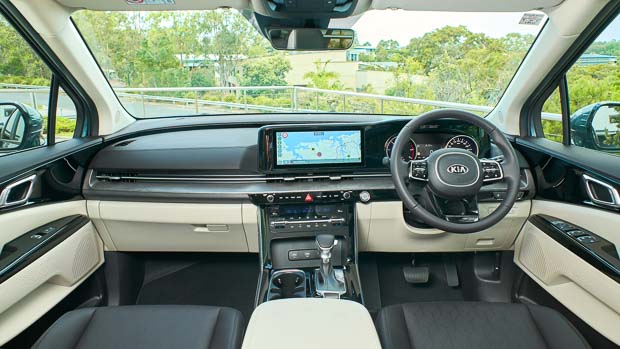 The Carnival's dashboard design is rather pleasant and nicely put together, though it lacks the Sorento's sense of adventure and the large analogue instruments with small 4.2-inch screen in between – even in the Platinum – seem to be one facelift away from going all-digital. 
For all the centre touchscreen's 12.3-inch vastness (with wired Apple CarPlay/Android Auto), the Carnival SLi doesn't have the audio chops to match. Its eight-speaker set-up sounds overly bright and lacking in both crispness and depth, meaning the only option for audiophiles is a Carnival Platinum with a 12-speaker Bose arrangement.
Storage isn't great up front either with sub-optimal bottle storage in the doors (unlike the superb Sorento), though there is a huge centre bin.
Where the Carnival really makes its mark is in the second and third rows. The SLi gets power sliding doors and every seat in its second row is on individual runners – the outer pair also with fold-down armrests. The centre-middle seat can also be slid right back – creating a staggered seating arrangement – or it can be reversed to face rearward, or dropped to create a centre table with cupholders, or removed altogether.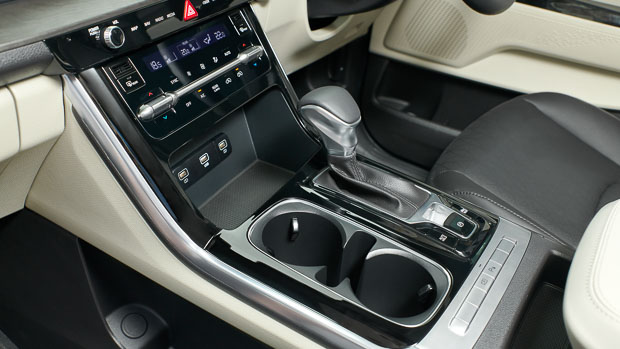 There's also single-zone digital climate control with roof-mounted air vents in both rear rows, as well as USB ports on the backs of the front seats, and much like the hugely roomy second row, the still-spacious and comfortable third row includes backrest rake, a pair of USB ports, three cupholders and easily enough space for two adults for several hours, or three at a pinch – the centre position being better suited to smaller bodies.
Then there's boot space – a massive 627 litres even with all eight seats in place (or more than the Sorento offers when only using five seats), and with the third row dropped into the floor, there's an enormous 2785-litre luggage hangar! If you need to take the whole tribe cross-country, then the Carnival is the finest vehicle around.
What are the Carnival SLi's running costs?
The official ADR81/02 government combined fuel consumption figure for the Carnival SLi is 9.6L/100km, though we averaged 12.5L/100km which is almost identical to what we achieved in Kia's Sorento V6.
Recommended servicing is every 12 months or 15,000km, with the Carnival's five-year service amount totalling $2462, which is $74 more than a Sorento V6. And if you keep servicing your Carnival at a Kia dealer, the standard 12 months' roadside assistance can be automatically extended for up to eight years. 
Kia's warranty remains an industry-leading seven years/unlimited kilometres.
The final verdict
If space is the final frontier then the Kia Carnival has already transcended to a whole new level when it comes to carrying passengers. Simply put, there's no finer vehicle to haul eight people in comfort and style than a fourth-generation Carnival.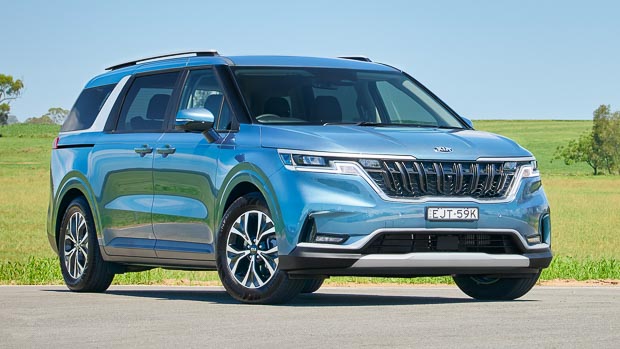 Where its appeal begins to waver is due to the amount of real estate this car takes up. At 5.15 metres long and almost two metres wide, the Carnival is huge, though having great vision, helpful parking technologies and a reasonable 11.7m turning circle means the Carnival does its best with what it has. But unless you live in suburbia, or have generous underground parking, the Carnival won't be the easiest vehicle to cart around.
That said, it's terrific on a road trip and kids will love its space and utility. However if you mostly only carry four people, you'd be much better off in a Sorento, which is not only far more manageable in the inner-city but also more fun to drive.