BMW have confirmed that full-fat M versions of X5 and X6 models will arrive in Australia by the second quarter of 2020. Equipped with a 4.4-litre twin-turbo V8, the BMW X5M and BMW X6M will live the uber SUV life of 98 RON skulling and 21-inch tyre shredding – alongside the Mercedes-AMG GLE 63 S, diesel-eight Audi SQ7, and less expensive but more powerful Jeep Grand Cherokee SRT.
The road presence of the X5M and X6M is undeniable, with the steel skin appearing stretched thin over bulging M-specific body panels – though we're not sure we would call either of the pair beautiful. Muscular is more like it. Design is subjective, but the wagon-body of the X5 works better in our eyes.
Desirable is certainly a word for the 4.4-litre twin-turbo V8 engine (the same as found in both M5 Competition, amd M8 Competition). In Competition trim it produces an intimidating 460kW and 750Nm, with that lump of torque available over a broad spectrum from 1,800-5,600RPM.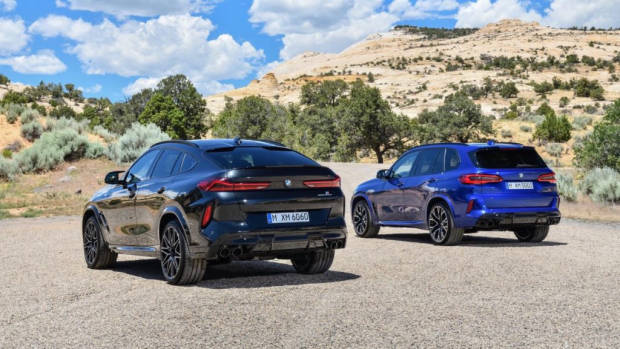 In spite of 2,370kg of mass, the pair will dispatch the sprint from 0-100km/h in 3.8 seconds, and go on to complete 200km/h in 13.5 seconds. Top speed is limited to 250km/h, although tick the right options and it will be raised to 290km/h.
As with all M cars, the X5M and X6M receive stiffer engine mounts for better response, coming at the price of greater harshness and feedback through the cabin.
Putting the 750Nm to the wheels is an eight-speed automatic transmission tuned by M. BMW's excellent xDrive system then takes care of dishing out torque to each axle, preferencing a rear-drive feel.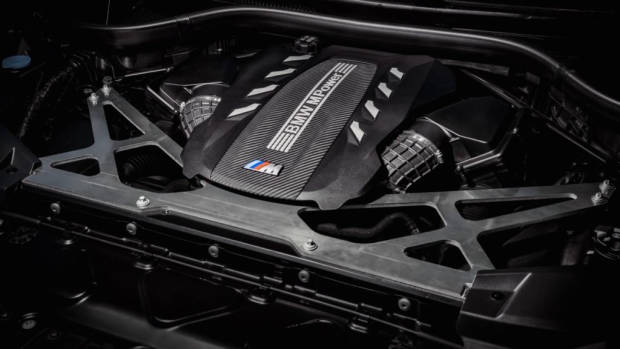 Incorporated within the xDrive system is an M differential which BMW claim will keep the pair of uber SUVs able to effectively dish out power both on and off-road. BMW even claim that in conjunction with xDrive, the system is sophisticated (or unsophisticated) enough to allow "controlled drifts", which we can hardly wait to try in a two-ton SUV.
Inside, the X5M and X6M will be very similar. The X6 sacrifices some rear headroom and comfort to it's more practical sister. The design isn't groundbreaking, instead looking well laid-out in keeping with modern BMWs. A centrally mounted 12.3-inch touchscreen and latest generation of iDrive with digital dash and gesture control is included. Oh, and a big red start-stop button.
There is a myriad of options available including two-tone leather and carbon weave inserts (as pictured here). M seats with extra bolstering are specified too, they look to provide good support.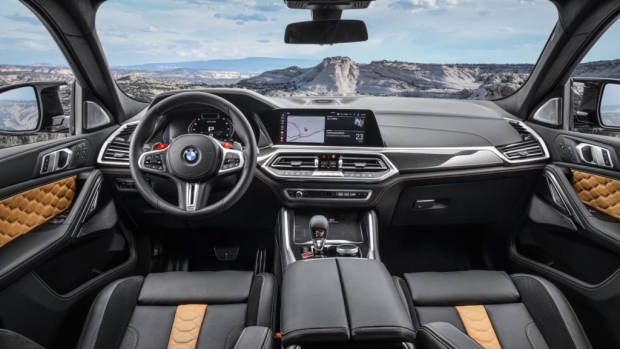 Being top of the range, X5M and X6M can be equipped with a full suite of driving tech. AEB, lane keep assist, parking assist with reverse cameras are standard, optionally active cruise control with stop-and-go, front cross-traffic alert, and extra cameras allowing panoramic, top-view, and 3D view of the car while parking.
Suspension has been tuned specifically for the X5M and X6M, including heavier duty components and increased camber on both axles. BMW have employed active anti-roll bars to keep the pair of big dogs planted and compliant when they need to be.
Braking is taken care of by generous six-piston calipers and 395mm rotors up front, though oddly BMW still equip these behemoths with single-piston floating calipers on the rear.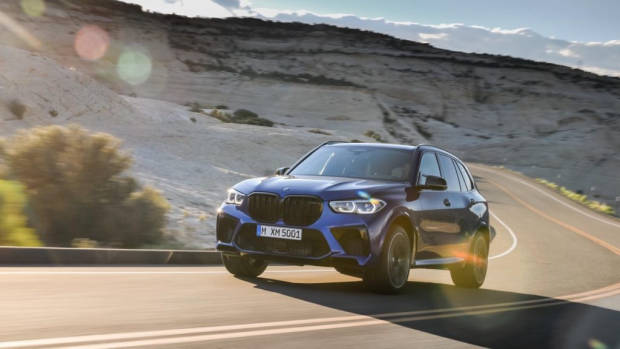 Big brakes need big wheels to clear them, the Competition models Australia is receiving run a staggered 21-inch front wheel shod with 295/35 series tyres, and 22-inch rears with huge 315/30 series tyres.
The X5M and X6M will arrive downunder in the second quarter of 2020. Pricing will be confirmed closer to arrival but expect the number to start somewhere around $200,000.