From a global production run of 750 examples, Mercedes Australia has secured 15 units of the most focussed, track-honed AMG ever, the GT R Pro. Customer cars will be arriving in September and carry a sticker price of $452,900 (driveaway pricing TBA).
Naturally, the GT R Pro sees a host of upgrades to increase grip, feedback and driver enjoyment. Think of this as Mercedes-AMG's answer to the proven Porsche 911 GT3 RS Recipe.
As you might expect, the GT R Pro was honed on Germany's own Nurburgring Nordschleife where it completed a lap in just seven minutes and four seconds. Impressive, and according to the AMG besting the cooking GT R by some six seconds.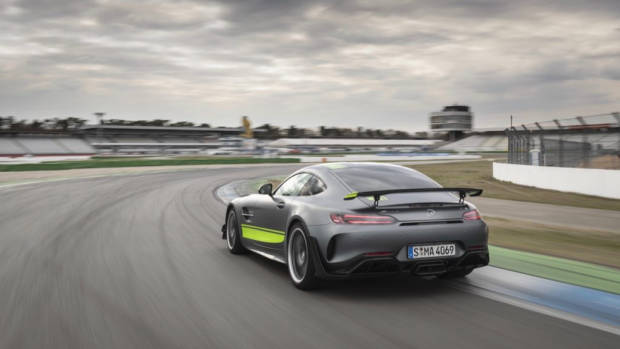 In true AMG fashion, this brute sports a potent twin-turbocharged four-litre V8 with outputs of 430kW and 700Nm nestled under the bonnet. While the power figure comes in at 6,250 RPM, that lump of torque is on tap between 2,100-5,500RPM.
Incidentally, those figures are identical to the regular GT R Coupe, with Mercedes-AMG focussing on weight-loss and suspension tuning for the Pro variant.
The twin-turbo lump is similar to the one found in the AMG GT 4-Door, though that car makes an astounding 470kW and 900Nm.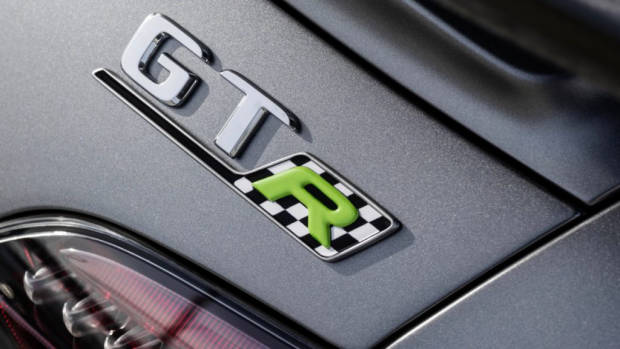 Sitting behind that V8 is a seven-speed dual-clutch gearbox with specific tuning for the Pro, power is sent to the rear wheels where a trick limited-slip differential divvies up the kilowatts.
A set of 20-inch alloy wheels shod in Michelin's super-sticky Pilot Sport Cup 2 tyres do the job of putting that power to the road. The combination of weight-loss and sticker tyres means the GT R Pro should complete the standard sprint in 3.6 seconds.
Beneath said 20-inch wheels there's a set of "fade-resistant" carbon-ceramic brakes optimised for track-use.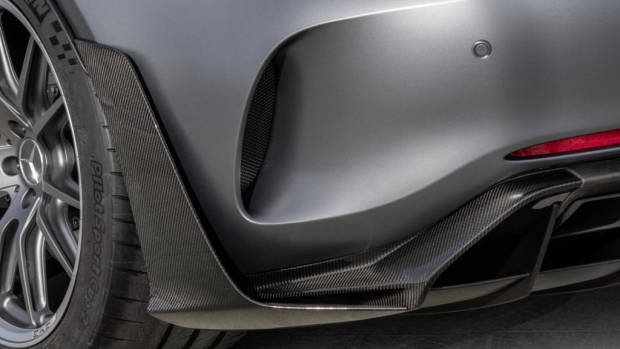 Completing a lap of the Nordschleife that quickly requires more than just stickier tyres, though, and Mercedes-AMG has treated the Pro to bespoke coilover suspension which features external spring, rebound and compression adjustability to dial the car in for any track.
The front axle gets a carbon-fibre anti-roll bar where an aluminium item once sat, the rear bar is now adjustable and hollow, all in the name of saving weight.
All up, Mercedes-AMG has managed to save around 40kg from the already lithe AMG GT R. That doesn't sound huge, but every little bit counts at this pointy end of manufacturing.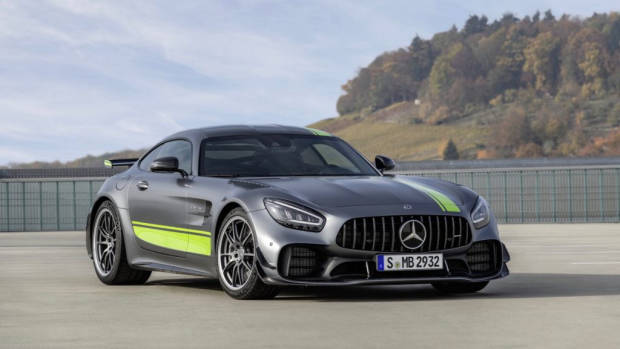 Carbon fibre is used extensively in the Pro's body-work, and it isn't just for show. A carbon front splitter adds downforce; there's also a rear diffuser, lightweight bucket seats and mirrors made from the lightweight composite.
The devil is in the details – AMG engineers have optimised the GT R Pro for use with a helmet, the new carbon fibre roof shaped to accommodate the extra height. Also inside is a bolt-in roll cage and four-point safety harnesses. We'd prefer six-point items, though.
On the outside, the Pro doesn't hide its performance credentials. Finished here in matte grey and highlighted with green decals, it looks the business. Extra care has been paid to aerodynamics, that equates to the canards, a re-profiled front valence and that massive rear diffuser.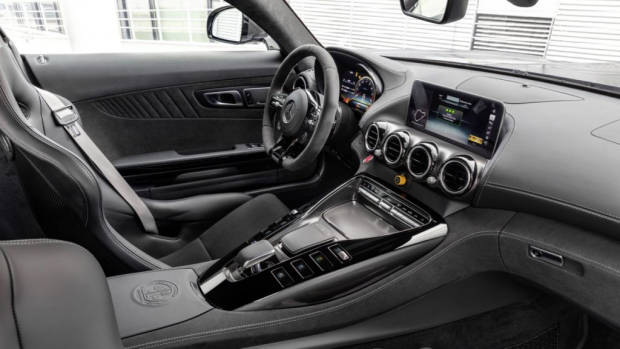 Mercedes-AMG says that GT R Pro will still be "able to be driven every day on the road", but don't expect to see one down at your local shopping centre any time soon. Make no mistake, this a proper evolution of the regular GT R.
The honed GT R Pro is available to order now for any track-fiends out there, with deliveries set to arrive in September this year.