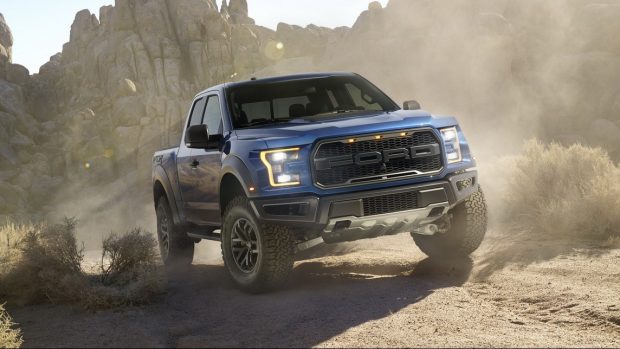 If there's one trend that has become crystal clear in 2015, it's that Australian commercial buyers are flocking to big pickups in droves.
They don't come much bigger than the Ford F-150 Raptor, a hardcore off-roading version of the American brand's F-Series truck.
The F-Series range isn't distributed locally in Australia by Ford: officially, the Ford Ranger remains the brand's largest utility offering here. However, a number of third-party suppliers, including Queensland's Harrison F-Trucks, import Ford's full-size models before converting them to right hand drive for when a Ranger simply isn't enough.
In the American market, a new Raptor will set you back almost US$50,000. But the privilege of having one here—bringing with it the honour of having the biggest truck on the road—is expensive. A 2014 Raptor imported by Harrison will set you back around $144,000 for this example.
The Raptor is an ultra-capable off-roading ute and the 2016 model will be even more so. Suspension travel at the front will be 280 millimetres, with an enormous 305 mil on offer at the rear. Ground clearance will increase on the 2014 model's 241 millimetres. An all-new four wheel drive system with an enhanced torque-on-demand transfer case will further bolster the Raptor's trail-beating capabilities.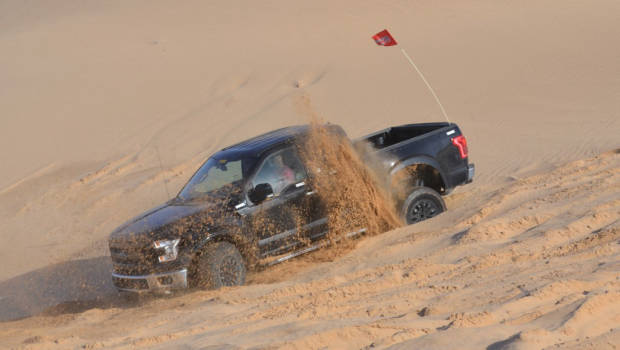 Chasing Cars is aware of firm plans at Ford to bring a right-hand version of the F-150 to Australia. Though the Ranger enjoys significant success, the growing appetite for much larger models—evidenced by the take-up of the Volkswagen Amarok—is not falling on deaf ears at Ford's local division.
The same is true at both Toyota, who are seeking a diesel version of the Tundra utility—and Nissan, who are seeking an Australian importing agreement for their Titan model.
Ford shares the same difficulties of those manufacturers, which is that diesel models are typically not available for these big, American trucks. That's starting to change now, with Fiat Chrysler's RAM brand offering a three-litre six-cylinder diesel on its most recent models. Even the brand-new F-150 range, though, remains a petrol-only proposition which will not be palatable to Australian buyers.
The F-150, along with its larger stablemates, which span what Ford America labels the Super Duty range of the F-250, F-350, and F-450, was updated to an all-new model this year controversially featuring an aluminium-alloy body. Hardcore fans of the previous F-Series' steel construction remain up in arms.
However, the extreme Raptor trim is a couple of years behind the rest of the aluminium F-Series range, but Ford has previewed the next iteration which will hit the home market in the United States around May of 2016.
We expect mainstream F-150 models to hit Australian soil, officially imported by Ford, in early 2016. The Raptor will follow as the model's premium trim several months later.