Is this the beginnings of a small electric Toyota Land Cruiser?
Toyota Motor Corporation has revealed the Compact Cruiser EV concept which reminds us a lot of the retro-flavoured FJ Cruiser SUV that was on sale from 2006-2018.
But rather than being bulky like the FJ or as large as a Land Cruiser 300 Series, the Compact Cruiser is much closer to a Suzuki Jimny in size, and is powered by an electric drivetrain.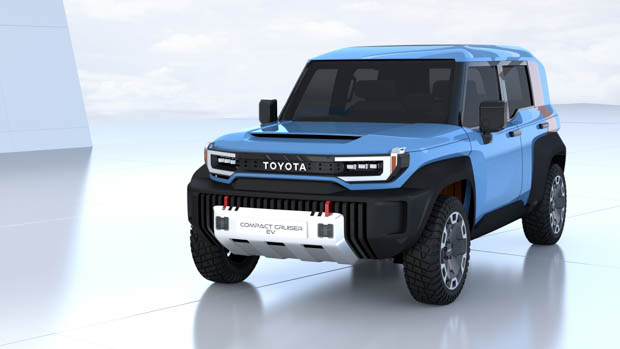 While powertrain information has not been revealed, we can still talk about the Compact Cruiser's boxy, rugged proportions. With wide extended wheel arches (that have a touch of Jeep Renegade flavour) and short front and rear overhangs, the Compact Cruiser could be very manoeuvrable – much like a Jimny in fact – and an excellent off-road companion.
Like Toyota's first-ever EV, the soon-to-launch BZ4X, the Compact Cruiser will be fully battery electric and will likely ride on one of Toyota's new EV architectures. But unlike the hard-edged, space-age BZ4X, the Compact Cruiser is all about paying stylistic homage to Toyota's rich 4WD history.
Its multitude of heritage design cues include a clamshell bonnet, bluff door mirrors and 'TOYOTA' grille lettering, though it also celebrates the FJ Cruiser's flavour with a wraparound windscreen, chunky and upright rear pillars and retro baby-blue paint colour (with retro orange detailing).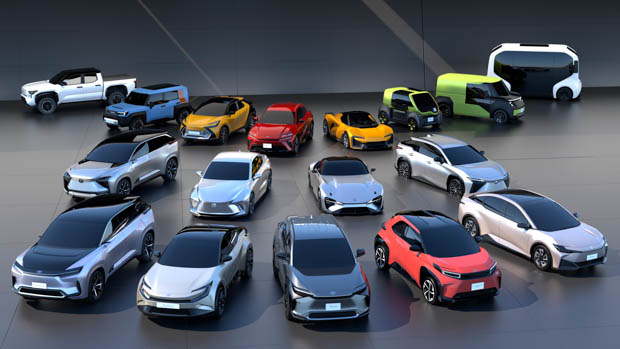 Indeed, the Compact Cruiser is so cartoonishly Tonka-like that it looks super modern!
When it eventually goes on sale around 2025, the Compact Cruiser EV could compete not only with the likes of the similarly retro Suzuki Jimny 4WD but also future small electric SUVs such as the Volvo C40, next-gen Jeep Renegade 4xe and even the Volkswagen ID.4