After a long gestation period, Isuzu has detailed Australian pricing and specification for the all-new D-Max. Starting from just $29,990 driveaway, the new D-Max will hit showrooms in September.
Isuzu claims the new D-Max is "beyond the pickup truck", but long-term customers will be hoping the new ute hasn't lost its biggest pulling points – extreme toughness and value for money.
All looks well, though, with significant development of the famed three-litre turbo diesel, added off-road kit and more safety features than you can poke a stick at.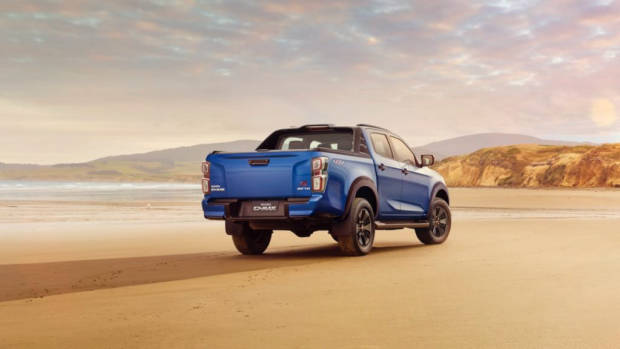 So on the outset, Isuzu has addressed all the issues of the prior, rather commercial, D-Max. That's important because Isuzu is directly targeting top-selling Toyota Hilux in SR5 guise and Ford Ranger in that ute's Wildtrak grade. But Isuzu is also keen to steal customers from the SUV world.
Of course, the elephant in the room is the all-new Mazda BT-50 which will be arriving in Australia in short order. We know that customers are loyal to Isuzu, and when quizzed on this Ben Jaeger mentioned one reason customer's might opt for the hardier choice: "our (dealer) network is a real strength, especially in coverage".
The D-Max also has the variety that the BT-50 won't be able to offer. From single-cab chassis, to space-cab with a tray and onto a raft of dual-cab – or crew-cab in Isuzu speak – models which will take the lion's share of sales.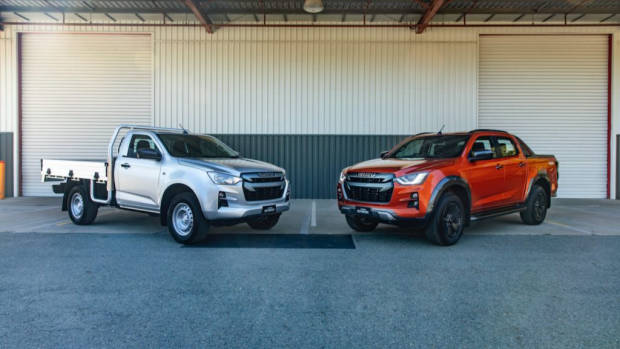 To take on the impressively selling luxe dual-cabs, Isuzu has added the new flagship, the X-Terrain. This $58,990 driveaway variant features leather-accented seats with eight-way electric adjustability for the driver (manual for the passenger), unique front and rear bars, black rollover protection and hard-to-miss decals. 
Isuzu offers a dazzling array of options to choose from – the entry-level SX Crew Cab Chassis 4×2 lists at $40,700 (driveaway pricing TBA), or for the asking price of $40,200 the 4×4 SX Single Cab Chassis.
4×4 Crew Cab utes will start at $46,700 (driveaway pricing TBA) for the basic SX, but those who want a little more luxury can opt for the 4×4 LS-U which nets BiLED headlights, bigger wheels and a six-speed manual for $54,900 (driveaway pricing TBA).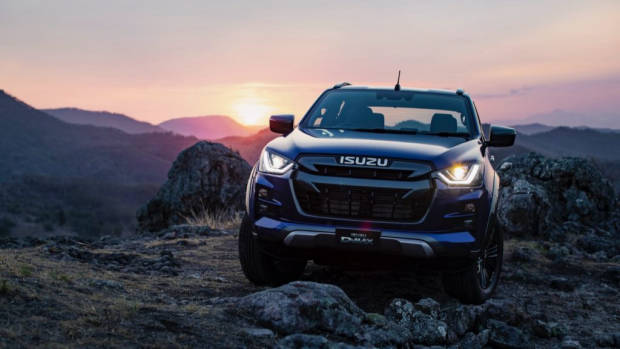 The brand has also chopped the entry-level 4×2 single cab low ride from the range, citing the need for a high-ride ute with 3.5-tonne towing capacity for the Australian market. While that means the list price climbs from $28,600 ($32,344 driveaway) to $32,200, from launch, Isuzu will offer the new feature-packed SX 4×2 Chassis for $29,990 on the road.
Surprisingly, from this entry-level workhorse to the range-topper, Isuzu offers a full complement of active safety features with their IDAS system. That includes some serious kit like lane-keep assist, blindspot monitoring, a reversing camera, LED daytime running lights and adaptive cruise control.
That is an impressive lift of safety gear, and eclipses that of a similarly priced Toyota Rav4 and more expensive German cars, the current crop of dual-cab utes can't hold a candle to this list. Passive safety improvements further bolster the D-Max's safety; the new ute boasts eight airbags, rivalling only the all-new BT-50 in its class.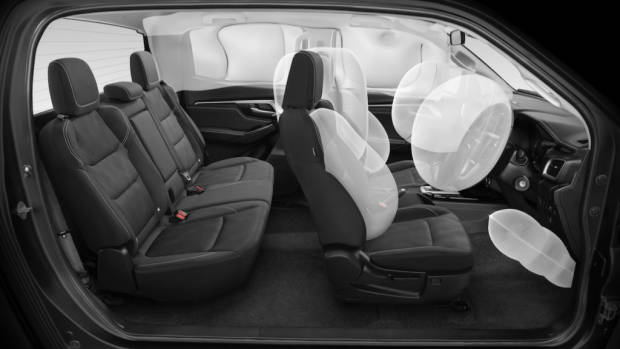 Although the global pandemic has held up ANCAP testing, Isuzu assures us that "the new D-Max has been engineered front the start to meet the five-star standard".
The interior of the all-new D-Max is much less Spartan than before, too, chopping in the 2005 aesthetic for something decidedly more contemporary. There's the welcome inclusion of Apple CarPlay and a digital speed read-out – not something to take for granted in the segment.
Other improvements include a fully redesigned suspension system; all Australian D-Maxs are fitted with the heavy-duty tune to suit towing needs. The new ladder chassis is more rigid, with every model equipped with more substantial underbody protection.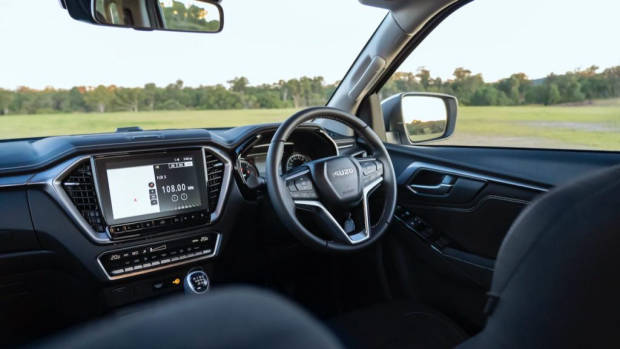 Australia only gets one powertrain option, the 4JJ-3CX four-cylinder three-litre turbo diesel. Isuzu is keen to point out the new motor has an all-new head and block, with fewer moving parts. Power and torque are up modestly from 130kW/430Nm to 140kW/450Nm.
The meat of the torque is now available across a broader rev range to improve towing. Isuzu has also re-programmed the Aisin six-speed auto – dubbed Revtronic – to improve towing and off-road ability. There's also the option of an updated, slicker shifting six-speed manual on select grades.
Every 4×4 model will come equipped with a true locking rear differential as well as high and low transfer cases. This added tech will improve the D-Max's off-road performance in technical situations to no end.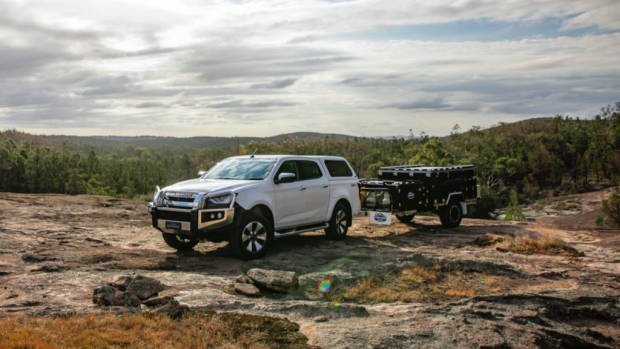 And for those who are keen to customise the D-Max, we are assured that over 50 Isuzu accessories, including canopies and bull-bars that work with the IDAS system, will be available from launch.
The new D-Max is shaping up to be an impressive bit of kit, but will it be enough to persuade SUV buyers to jump to the commercial ship? We'll have a detailed review up on the site soon.