Designed to boost the appeal of their light city-car range even further, the Mazda 2 sedan lifts the practicality factor of the five-door. By opting for the boot rather than the hatch, the 2 sedan offers almost 80% more load space.
The 440L behind the rear seats may be substantially more than the hatch, but the pricing of the sedan matches that of the equivalent hatch. The range kicks off with the Neo base model at $14,990 for the manual and $16,990 for the auto—both six-speeders. The Neo uses a 1.5-litre petrol four-cylinder making 79kW of power and 139Nm of torque.
The Neo makes do with 15-inch steel wheels, rather than alloys. Standard push-button start is a nicety, as are the rear parking sensors and cruise control. There's also Bluetooth for calls and streaming music to the four speakers while you sit in black-and-red cloth seats.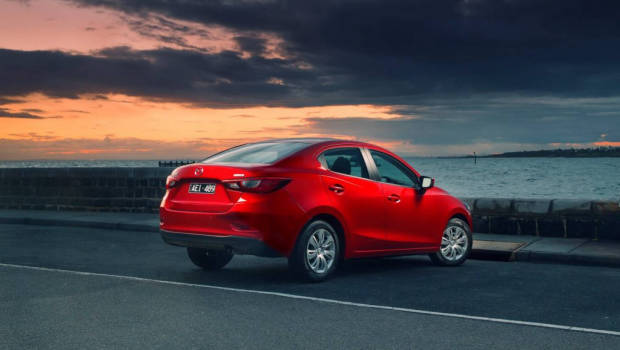 Stepping up to the Maxx means shelling out another $2,700, but there are plenty of extra features. The interior's ambience is lifted with the inclusion of a seven-inch tablet touchscreen with Mazda's MZD-Connect infotainment and command controller knob. There's two more speakers and a reversing camera, plus leather wrapping for the steering wheel, handbrake, and gear stick. You can add satellite navigation for $570.
The Maxx also has a slightly stronger 1.5-litre engine that makes 81kW and 141Nm.
The sedan isn't expected to make up the bulk of the Mazda 2's sales: the hatch will be favoured by about 85% of buyers. However, the sedan's addition should take the 2 range up to 1,200 sales per month, Mazda hopes. That would place the Mazda 2 sedan above the Hyundai Accent, Mitsubishi Mirage, and Holden Barina sedans in the sales stakes, though below the most popular in the class, the Honda City.
2016 Mazda 2 sedan: Australian price
Mazda 2 Neo manual: $14,990
Mazda 2 Neo automatic: $16,990
Mazda 2 Maxx manual: $17,690
Mazda 2 Maxx automatic: $19,690
Key options
Smart city brake support – autonomous emergency braking: $400
Satellite navigation (only on Maxx): $570