Tesla first introduced the all-electric Model Y to Australia in August of 2022, and has since updated the price across the range multiple times.
To keep on top of these updates, Chasing Cars has included all the previous price changes within this article to help keep you informed.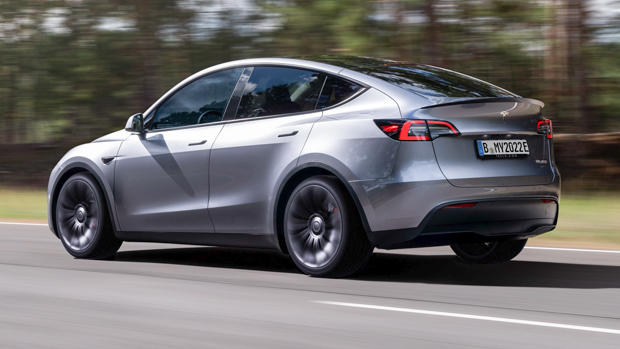 July 2023: Model Y drops by $3900 across its variant range
Much like its Model 3 sedan sibling, the Tesla Model Y has also seen a significant price cut of $3900 across all three variants. 
The entry-level Model Y rear-wheel drive is now priced at $65,400 before on-road costs (down from the last price update of $69,300), while the dual-motor long range is now priced at $78,400 before on-road costs (down from $82,300).
The flagship Model Y Performance is now been priced at $91,400 before on-road costs (down from $95,300)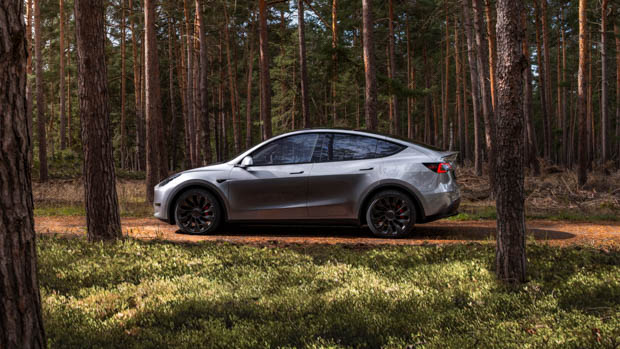 The entry-level Model Y uses a rear-mounted electric motor and can travel up to 455km (WLTP). The long-range dual-motor Model Y uses two electric motors and boosts its range up to 533km (WLTP), while the Performance's range is stated to be 514km (WLTP).
Read the full list of specifications for the Model Y below.
May 2023: Model Y range is hit with $400 price increase
Less than one month after Tesla introduced the Model Y long range to Australian soil, the entire model range received another price update, this time to the tune of $400.
With this in mind, the entry-level rear-wheel drive variant jumped to $69,300, the long range model moved to $82,300, and the range-topping Performance variant now costs $95,300, with all prices being before on-road costs are added.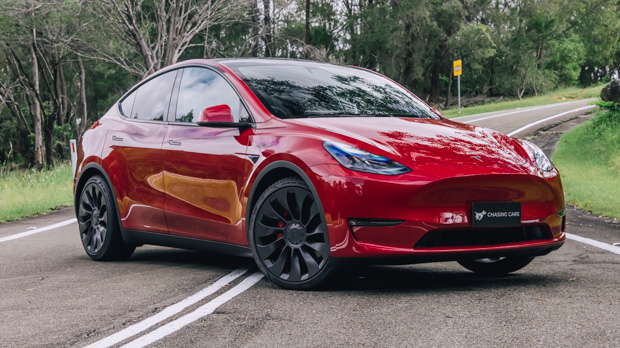 What does each grade of the Model Y include?
Tesla's base grade Model Y SUV features a 57.5kWh battery (usable) that allows the rear-wheel drive variant to travel up to 491km between charges, according to the WLTP testing cycle.
It is powered by a single electric motor that's mounted on the rear axle, producing 220kW/420Nm. In terms of performance, the entry-level model is able to hit 100km/h in 6.9-seconds.
The Model Y is sold in Australia exclusively in five-seat form, and the luggage space behind the rear seats has a capacity of 854 litres. Overseas, seven-seat options are available.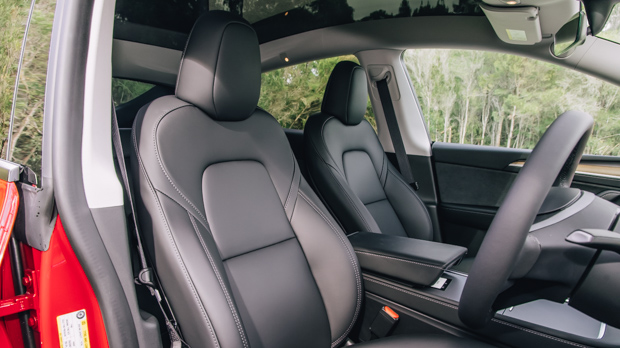 On the outside, standard kit on the Model Y includes 19-inch alloy wheels, and power folding mirrors.
Though white paint comes standard, buyers are able to opt for black, silver, or blue at a $1500 premium. Those wanting red will have to shell out $2400, which is the same amount that will have to be paid for the optional 20-inch alloy wheels.
Inside the Model Y, a 15.0-inch landscape-mounted screen sits in the centre of the dash, and handles almost every function of the SUV. Apple Carplay and Android isn't available in Tesla's system, as the brand prefers drivers to use its own software to access similar features.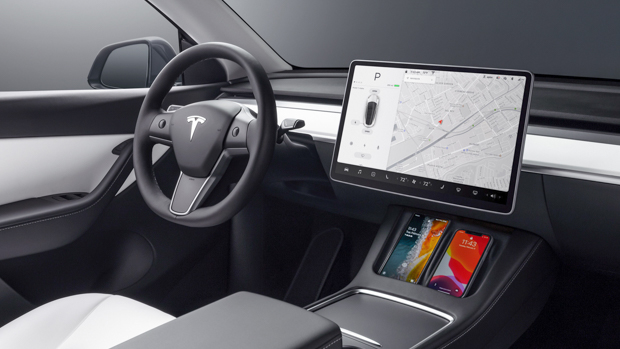 There's also heated faux leather seats with power adjustment, a heated steering wheel, and dual wireless phone charging pads.
As standard, the Model Y comes with a black faux leather interior, but buyers are able to opt for a black and white colour scheme for $1500 extra.
If buyers wish to upgrade the driving software included with the Model Y, "Enhanced Autopilot" can be had for a $5100 premium, and Tesla's "Full Self-Driving Capability" comes at $10,100 extra.
Model Y Long Range inclusions
Next in the range is the Model Y long range, which gets an all-wheel drive system consisting of an electric motor on each axle.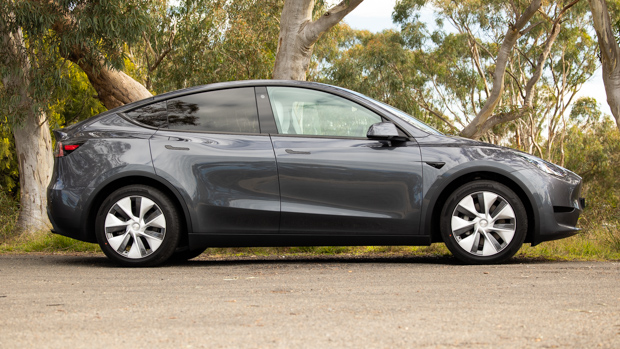 Combined, this system's peak outputs are 378kW/493Nm, which is enough to send the SUV to 100km/h in a claimed time of five seconds flat.
As the name suggests, a 75kWh (usable) battery provides the long range variant with 78km of extra driving range over the rear-wheel drive model, and gets a figure of 533km according to the WLTP testing cycle.
Standard interior kit is carried over from the base model, with the same glass roof and heated rear seats also included.
Model Y Performance inclusions
The Model Y Performance represents Tesla's flagship SUV in Australia, and improves performance on the long range variant by packing a combined output of 393kW/660Nm from its dual-motor system.
In terms of performance, Tesla claims that the Model Y Performance is able to hit 100km/h from a standing start in 3.7-seconds.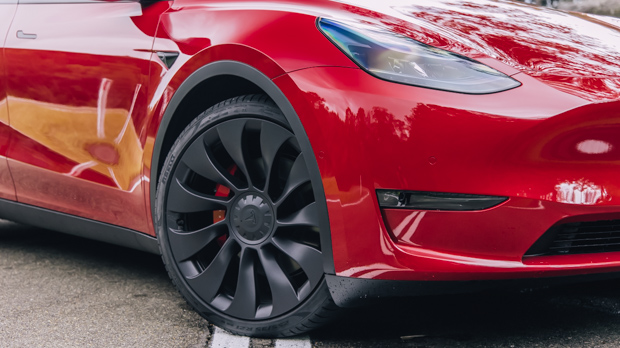 The Performance variant loses out in range compared to the long range variant, with it being able to drive 514km between charges, despite the fact it makes use of the same 75kWh battery.
Tesla also throws in performance suspension and brakes, Pirelli P-Zero tyres and aesthetic changes such as the carbon-fibre spoiler and 21-inch aero style wheels.
After a lengthy wait, Australia buyers were finally able to put in orders for the Model Y long-range variant when pricing was revealed for the first time in April.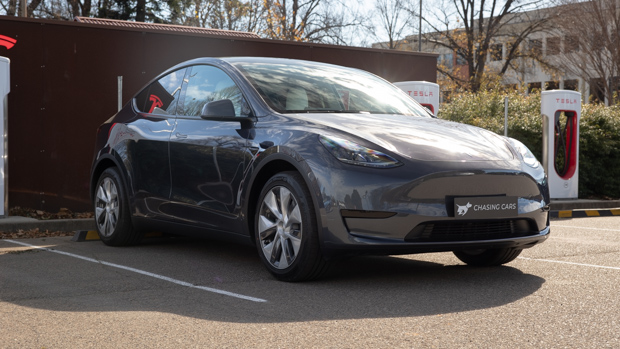 Slotting in between the entry-level rear-wheel drive and flagship Performance models, the long range variant was introduced to Australia, priced from $81,900 before on-road costs.
It's worth noting that the introduction of this mid-spec model didn't affect pricing for the other two variants on sale at the time in Australia.
Hot on the heels of the significant price decrease of January, Tesla Australia updated Model Y pricing again, with a relatively minor increase of $400 across the range.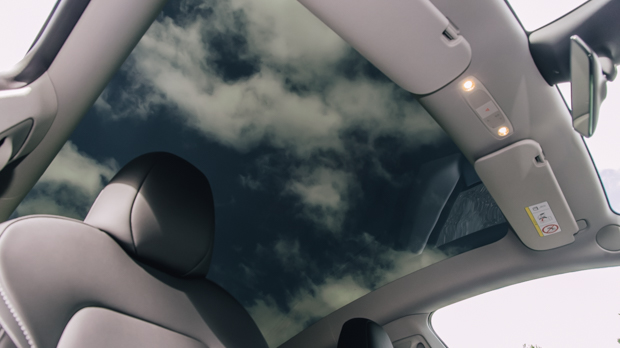 This $400 increase was applied to both the rear-wheel drive and the Performance variants, bringing prices before on-road costs up to $69,300 and $95,300 respectively.
Early on in 2023, Tesla hit the rear-wheel drive Model Y with a $3400 discount, which saw it drop from $72,300 to $68,900 before on-road costs.
At the same time, the brand reduced the price for the range-topping Performance variant, which dropped by $1800, landing on a figure of $94,900 before on-road costs.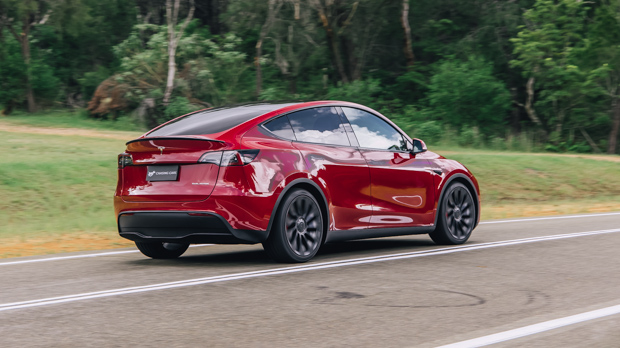 Though these price drops seemed quite significant at the time, they were followed by far more significant discounts of up to 20 per cent in Tesla's home market of North America, greatly overshadowing the 4.7 per cent discounts we saw in Australia.
Tesla Model Y 2023: prices in Australia
All prices listed are before on-road costs.
Rear-Wheel Drive: $69,300
Long Range: $82,300
Performance: $95,300