Ampol has committed to rolling out EV charging locations and investing in hydrogen mobility on its way to reach net zero emissions by 2040.
Starting with reducing operational emissions and committing to using renewable energy in operations, Ampol is also looking to capitalise on the growth of battery and fuel-cell electric vehicles.
Ampol, formerly Caltex in Australia, has committed AU$100 million into a 'Future Energy Strategy' that encompasses electric and hydrogen technology for both retail sales and other avenues, including clean power generation to replace diesel generators as power sources.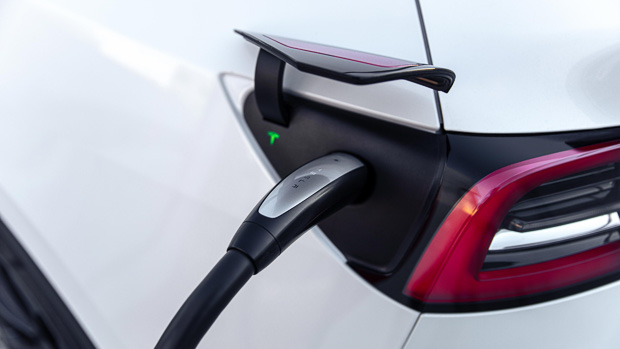 Of course, Ampol's commitment to EV chargers on forecourts, and the potential offering of liquid hydrogen at the bowser has the largest ramifications for motorists looking to move away from traditional combustion vehicles.
How much is Ampol investing in EV infrastructure?
One of Ampol's pillars in its net zero targets is offering alternative fuels for vehicles to "meet future energy needs of our mobility customers".
Battery EV sales in Australia are increasing steadily, with 4029 sales so far this year (excluding Tesla) eclipsing the 1411 in the same period last year.
In late 2020, initially under Caltex branding, Ampol began working with Evie to construct six ultra-rapid 350kW charging locations in NSW, Victoria, SA and Queensland.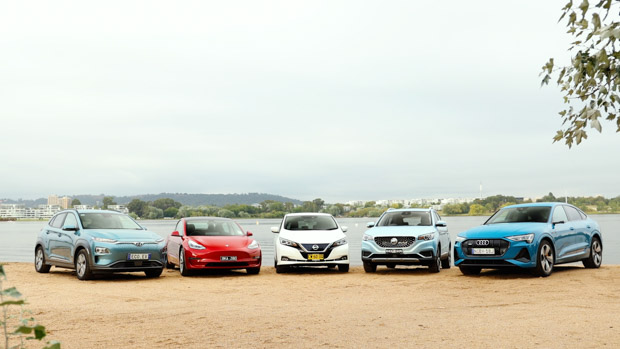 Following that, by early this year Ampol picked up AU$7.05 million worth of funding from the Australian Renewable Energy Agency towards rolling out 50kW fast-chargers at existing petrol station locations.
This will be key as buyers make the leap to vehicles that don't rely on fossil fuels, with Boston Consulting group predicting that up to 80 percent of existing petrol stations globally will become unprofitable in the next 15 years if they do not attempt to serve the zero and low-emissions markets.
Ampol Australia CEO Matt Halliday confirmed the retailer's commitment to EVs, saying earlier this year: "we will soon commence work on a national EV charging network that will reduce range anxiety and support battery electric vehicle adoption.
"We are also working closely with our business customers to understand their needs and to ensure they feel confident taking the step to future fuels."
Will I be able to fill up my hydrogen car at an Ampol?
While sales of electric vehicles are increasing, the availability of hydrogen fuel-cell vehicles (FCEV) is notably more limited, with the only two on sale exclusively offered under leasing schemes to government departments and select businesses.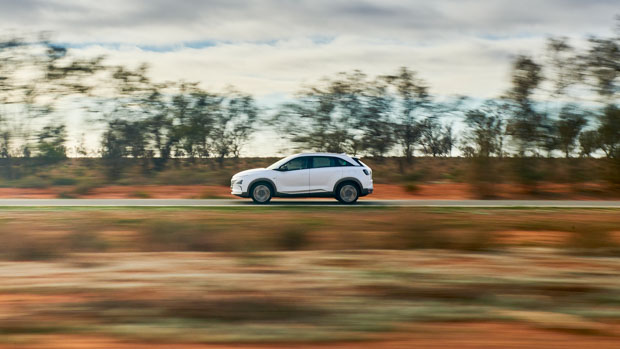 The vehicles in question are the Hyundai Nexo midsize SUV and Toyota Mirai large sedan, which both feature greater range and swifter refueling compared to most battery EVs.
However, Hyundai Senior Manager of Future Mobility & Government Relations Scott Nargar suggests that hydrogen mobility is best-suited to larger vehicles: "cars with more mass, large SUVs and commercial vehicles like trucks, buses and trains, that's where fuel cell technology takes over."
Ampol's investment in hydrogen fuel tech is not initially for mobility in Australia, though the retailer has rolled "hydrogen mobility solutions" into its future fuels strategy.
Abundant as it may be, hydrogen is energy intensive to break down into fuel form using a process called electrolysis. Traditionally this is done on coal power, making hydrogen fuel no greener than electricity.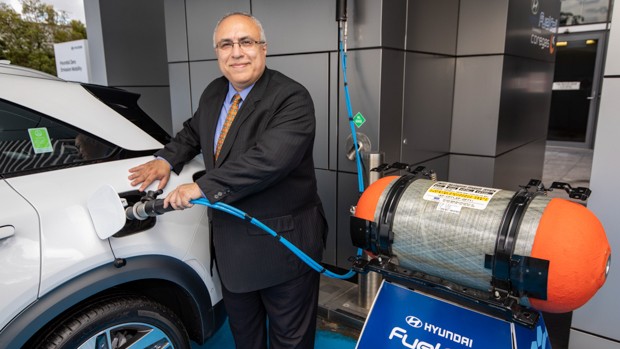 To address this, Ampol has teamed up with CSIRO and Endua to construct a green hydrogen plant that uses solar power next to its existing oil refinery in Lytton, Queensland – which received part of a AU$2.4 billion government bail-out earlier this year.
On the new plant, Mr Halliday said "[Ampol is] also piloting a green hydrogen production plant at Lytton, highlighting the important role existing infrastructure and manufacturing skills will play in supporting the energy transition."
The plant will manufacture hydrogen initially as a replacement for diesel-powered generators for off-grid power supply, though there is potential for it to be available next to unleaded at Ampol stations in the future.