Search Results for ""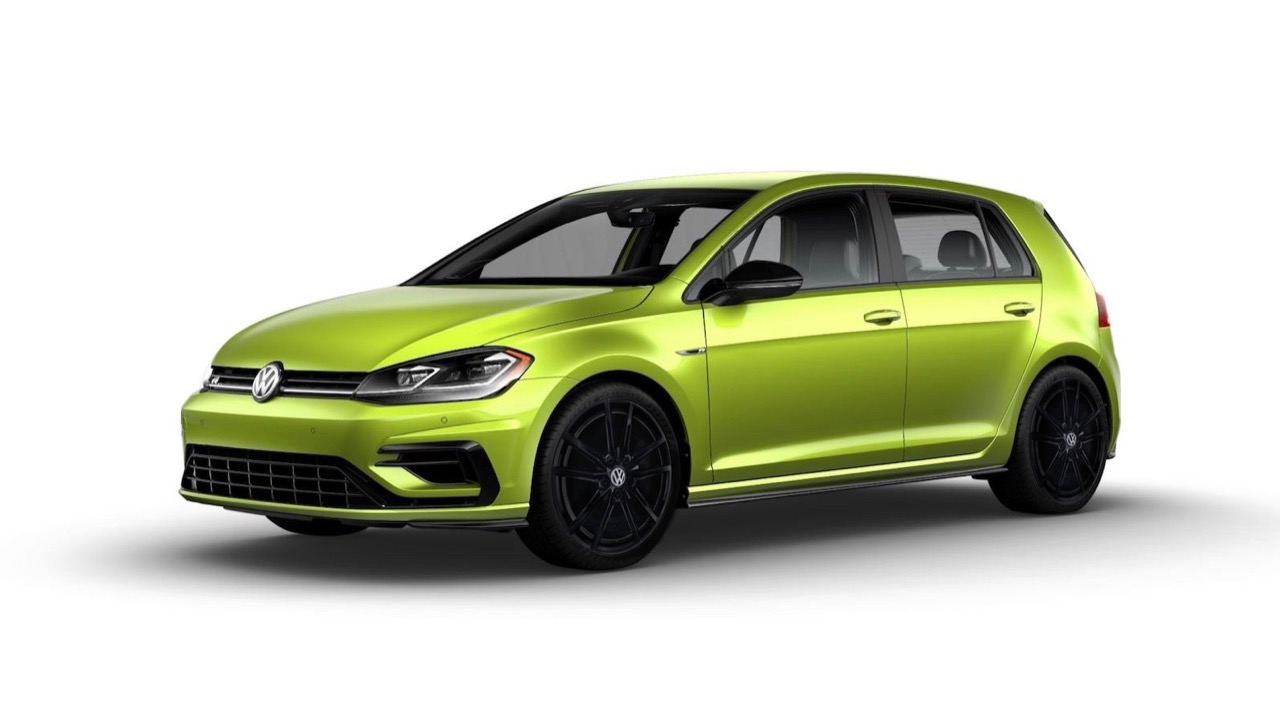 Three unique colours for final 2020 VW Golf R send-off
The Volkswagen Golf R will be sent off from seventh-generation form in style in May, with the brand commissioning 150 examples in Final Edition trim in one of three exclusive, hand-painted colours: Victory Blue, Viper Green, and Violet Touch.
Head of product marketing at Volkswagen Australia Jeff Shafer claimed that "no other mass volume manufacturer could offer such a bespoke finish."
The 150 brightly-hued examples will be the most sought after of the Mk 7.5 Golf R's final model year – but they will also be joined with a more substantial run of cars in the more familiar palette of Pure White, Lapiz Blue, and Deep Black.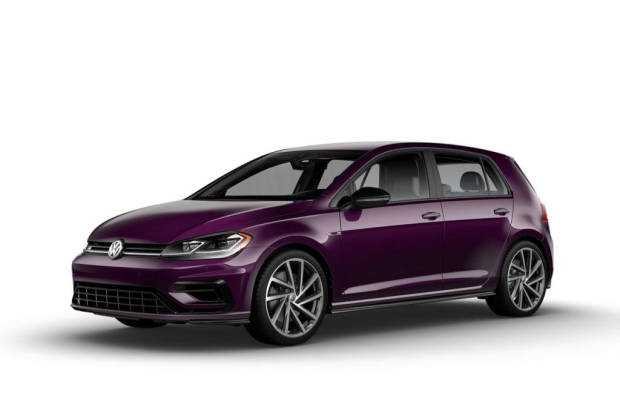 Priced at $57,990 – with a $300 impost for the three custom colours – the Golf R Final Edition sees specification fiddled compared with last year's model, which cost $55,490.
Regardless of exterior colour, all Final Edition Rs will sport black-painted double five-spoke 19" Pretoria alloys, and black-painted mirror caps, while a Final Edition badge will also distinguish the vehicles outside. Inside, carbon-effect black nappa leather is the order of the day – with heating in the front alongside electric adjustment and memory for the driver.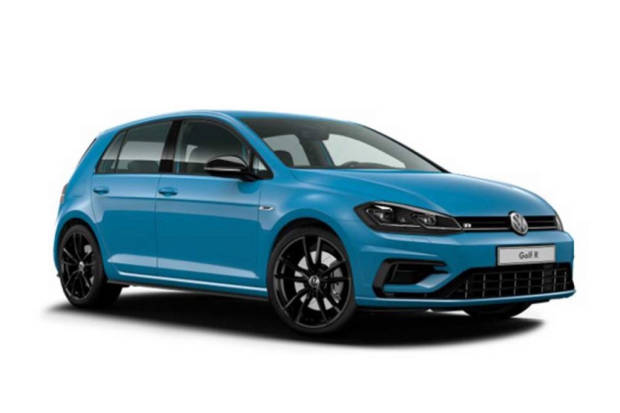 A Dynaudio premium stereo is retained, along with cornering LED headlights, satellite navigation, and tinting on the rear and rear-side windows.
Like all Mk 7.5 Golf Rs, the Final Edition is motivated by Volkswagen's 2.0-litre turbocharged 'EA888' petrol engine, producing 213kW of power and 380Nm of torque, sent to all four wheels via a 4MOTION Haldex-style all-wheel-drive system.
Options for 2020, the Mk 7.5 Golf R's final model year, will be limited to the three 'Concept' colours at $300, and a panoramic sunroof priced at $1,900.
2020 Volkswagen Golf R price in Australia
2020 Golf R Final Edition: $57,990
Key options
Colour Concept special colours: $300
Panoramic sunroof: $1,900
Read more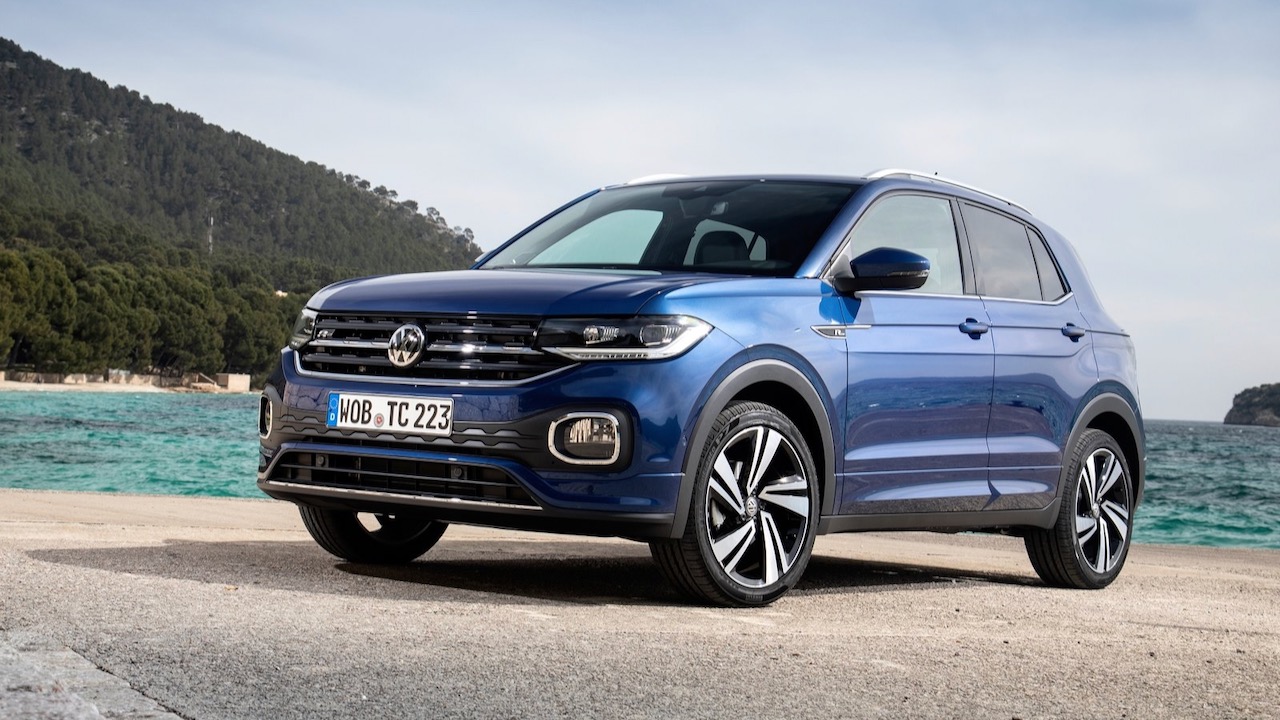 New Volkswagen T-Cross city SUV priced for Australia
Volkswagen this week announced that its highly anticipated Polo-based SUV, the T-Cross, will arrive in Australia in April – with pricing starting under the expected $30,000 mark.
Two varieties of T-Cross will be available at launch, with a third, more powerful variant, to arrive later in June. First up to land on our shores will be a pair of turbocharged three-cylinder models: the 85TSI Life, which lists for $27,990, and the 85TSI Style, which costs $3,000 more.
Jason Bradshaw, director of customer experience and marketing at Volkswagen Australia, says the T-Cross arrives to disrupt a segment that "previously Japanese and Korean brands have had…to themselves." Indeed, the T-Cross's main competition will be vehicles like the Toyota C-HR and Mazda CX-3 – but also the Volkwagen Group's own Skoda Karoq, and the larger Volkswagen T-Roc SUV that arrives in the same month.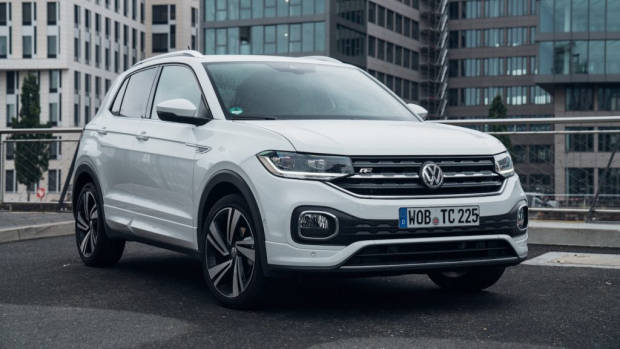 The twin 85TSI models make use of an 85kW/200Nm 1.0-litre turbocharged three-cylinder engine that also does service in the new Volkswagen Polo. Unlike in that hatch, though, the T-Cross SUV will pair the three-pot engine exclusively to a seven-speed dual-clutch automatic gearbox, with no manual on the cards.
The $27,990 85TSI Life will roll on 16-inch alloys – no steelies here – while packing wireless smartphone charging, four USB ports, and an eight-inch touchscreen with Apple CarPlay and Android Auto. A leather steering wheel is included, as it is on all Volkswagen passenger vehicles, and there are automatic halogen headlights and wipers. On the safety front, AEB with pedestrian and cyclist detection joins lane keep assist and driver fatigue detection.
Upgrade to the $30,990 85TSI Style and specification is boosted with larger 17-inch alloys, chrome roof rails and and LED headlights outside, plus paddle shifters, sports front seats and carpet mats inside. The Style also benefits from proximity access and start, adaptive cruise control, blind spot monitoring, rear cross traffic alert, and automated parking.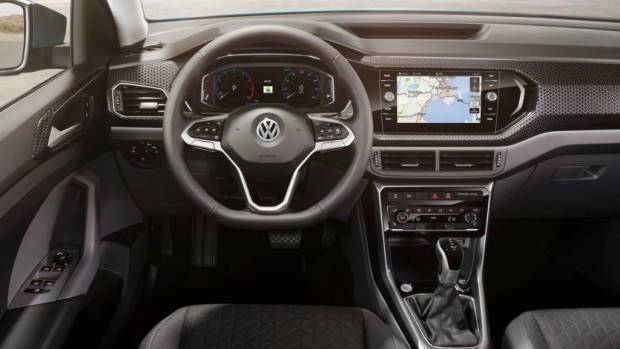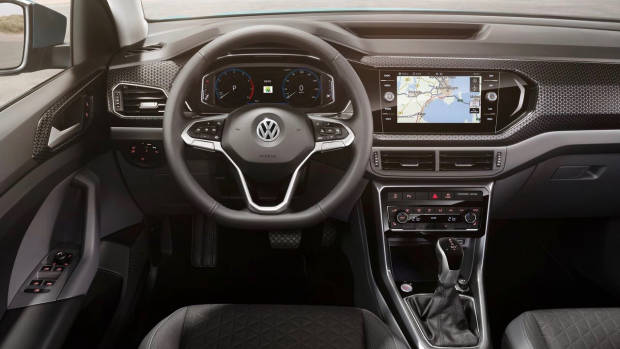 Following the initial drop of the 85TSI models in June will be the arrival of a 110TSI Style grade, which upgrades to a 1.5-litre turbocharged four-cylinder petrol engine making 110kW/250Nm.
Volkswagen did not initially plan on offering a four-pot T-Cross in Australia, indicating in early 2019 that larger engines would be reserved for the Golf-sized T-Roc SUV that also launches in April. However, a late change of heart will see the flagship T-Cross utilise a 110kW/250Nm 1.5-litre turbo four that is a development of the 1.4-litre used in the outgoing Golf Mk 7.
The 110TSI Style includes the bigger engine and also adds 18-inch wheels, tinted rear windows, black door mirrors and a unique black/grey cloth on the seats and dashboard. Pricing has not been announced for the 110TSI Style, but expect it to land around the $34,990 mark. Notably, integrated satellite navigation is not standard on any grade – it is part of an option pack described below.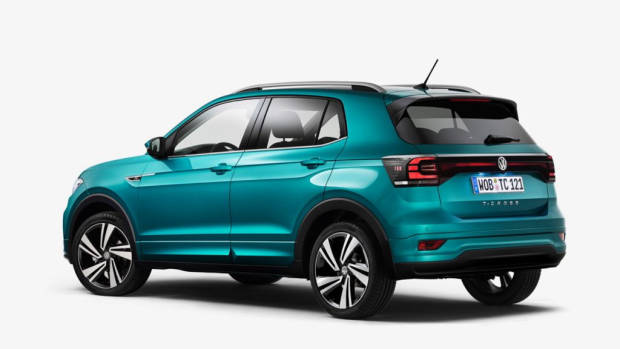 Options for the T-Cross include premium paints, including a suite of metallics – Energetic Orange, Limestone Grey, Reflex Silver, and Reef Blue, which cost $600, while the halo T-Cross hue, Makena Turquoise metallic, will cost $800. White and 'Dark Petrol' will be free colours.
A Sound and Vision package can be added to any model for $1,900, adding satellite navigation, Volkswagen's digital gauges, and a 300-watt Beats stereo.
The base 85TSI Life can be optioned with a Driver Assistance package for $1,200, adding the Style's additional safety tech in the form of adaptive cruise, blind spot monitoring, rear cross traffic alert and automated parking, plus power folding door mirrors.
Meanwhile, the two Style grades will be able to be optioned with an athletic R-Line package for $2,500 ($1,900 for the 110TSI engine). This pack includes a different design of 18-inch wheels, 'dark body accents', tinted rear windows, a sports steering wheel, carbon-flag cloth for the seats, aluminium pedals and R-Line scuff plates.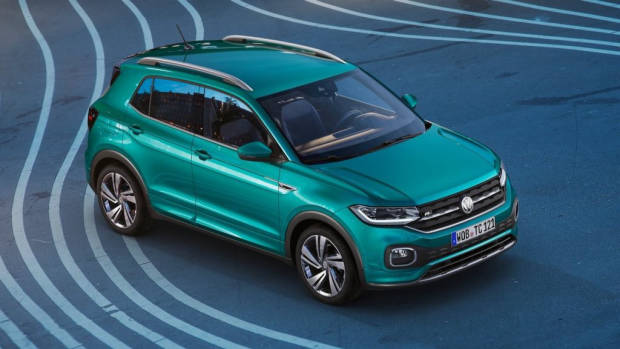 2020 Volkswagen T-Cross price in Australia
T-Cross 85TSI Life: $27,990
T-Cross 85TSI Style: $30,990
T-Cross 110TSI Style: TBA

Key options
Metallic paint: $600
Turquoise metallic paint: $800
Sound and Vision package: $1,900
Driver Assistance package (Life only): $1,200
R-Line package (85TSI Style): $2,500
R-Line package (110TSI Style): $1,900

Read more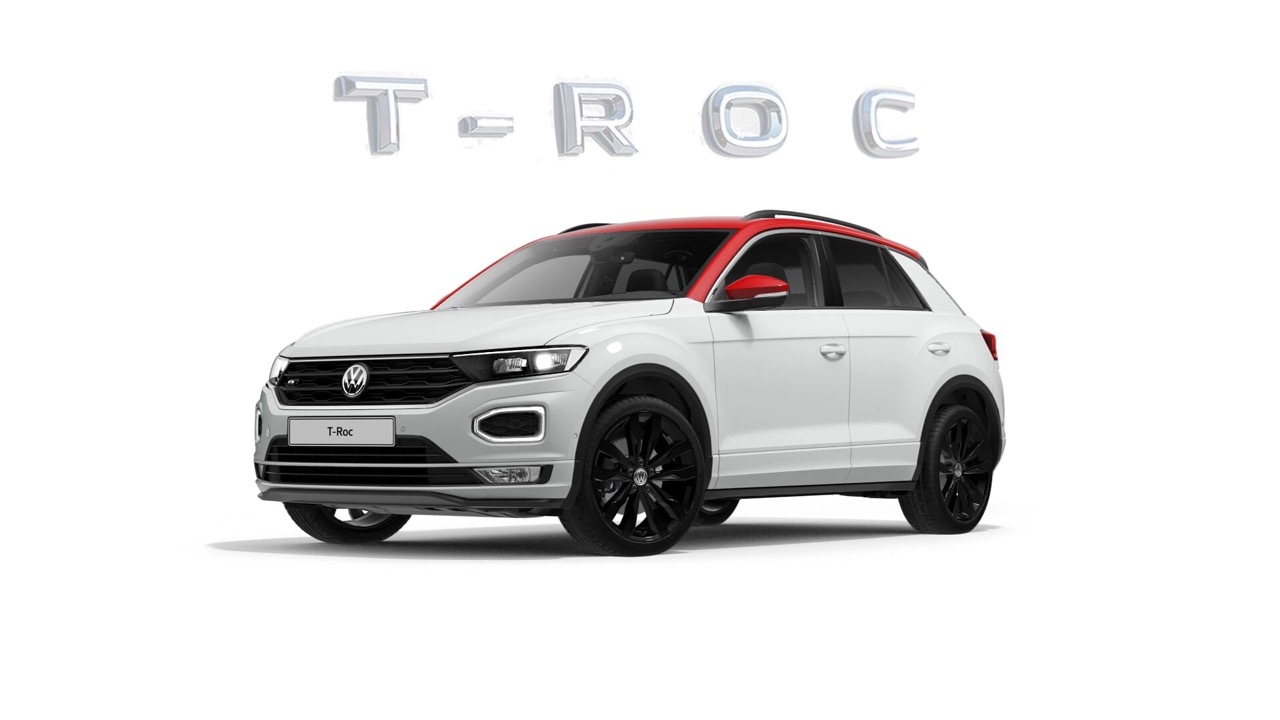 Volkswagen T-Roc priced for Australia as online sales kick off
Volkswagen this morning announced pricing for its highly anticipated T-Roc small SUV – and also confirmed that between now and April this year, the Golf-sized crossover will be sold online for three months, starting this Thursday.
The 2020 Volkswagen T-Roc will arrive nationwide in VW dealerships in April, but Australians wanting to get ahead of the crowd will be able to deposit $500 to secure one of the earliest allocations of the two-strong launch range.
Priced at the premium end of the small SUV market, the $40,490 T-Roc in 140TSI Sport trim will sit above the smaller, Polo-based T-Cross which arrives in the Australian market around the same time. The T-Cross, which starts at $27,990, will offer a more affordable way into a small Volkswagen crossover.
With the pair not as different in size as one might expect, the rationale for purchasing the T-Roc will mainly revolve around its standard-fit all-wheel-drive and its punchier engine. The sole motor for the Australian-spec T-Roc will be a 140kW/320Nm 2.0-litre turbocharged four-cylinder 'EA888' unit, sending torque to all four wheels through a seven-speed dual-clutch gearbox. We reviewed the T-Roc 140TSI in New Zealand last year, which you can watch and read here.
In addition, the Sport trim arrives highly specified as standard with the brand's more athletic R-Line exterior styling package, with 18-inch wheels, rather than the more pedestrian look that is fitted by default in Europe. Inside, the brand's Active Info Display is standard-fit along with an eight-inch touchscreen with navigation, Apple CarPlay, and Android Auto.
Keyless entry and start is standard, along with automatic wipers and LED headlights, a variable steering ratio, customisable drive modes, all-speed AEB, adaptive cruise control, blind spot monitoring, and rear cross traffic alert.
Six colours will be offered – white or red are standard, while the four metallic or pearl options cost $600. Two option packages can be selected, boosting spec further. The $2,000 Sound and Style package adds 19-inch 'Suzuka' alloys (familiar from the Tiguan R-Line), adaptive dampers, and a 300-watt Beats stereo. The $3,500 Luxury package adds leather upholstery, a panoramic sunroof, and a power tailgate.
A loaded T-Roc hits a lofty $46,590 – higher than a (less powerful) new Audi Q3 – but a limited-time special edition, called the T-Roc X, will be offered for $42,990, bundling black-coloured 19-inch Suzuka alloys, adaptive dampers, the Beats stereo, power tailgate, and black-and-red sports cloth seating.
The T-Roc X will be available in two colours that recognise Volkswagen's long-standing sponsorship of the Sydney Swans: white with a red roof, or red with a black roof.
2020 Volkswagen T-Roc pricing for Australia
T-Roc 140TSI Sport: $40,490
T-Roc X Special Edition: $42,490
Key options:
Sound and Style package: $2,000 (140TSI Sport only)
Luxury package: $3,500 (140TSI Sport only)
Metallic/pearl effect paint: $600 (140TSI Sport only)
Panoramic sunroof standalone option: $1,900 (T-Roc X only)

Read more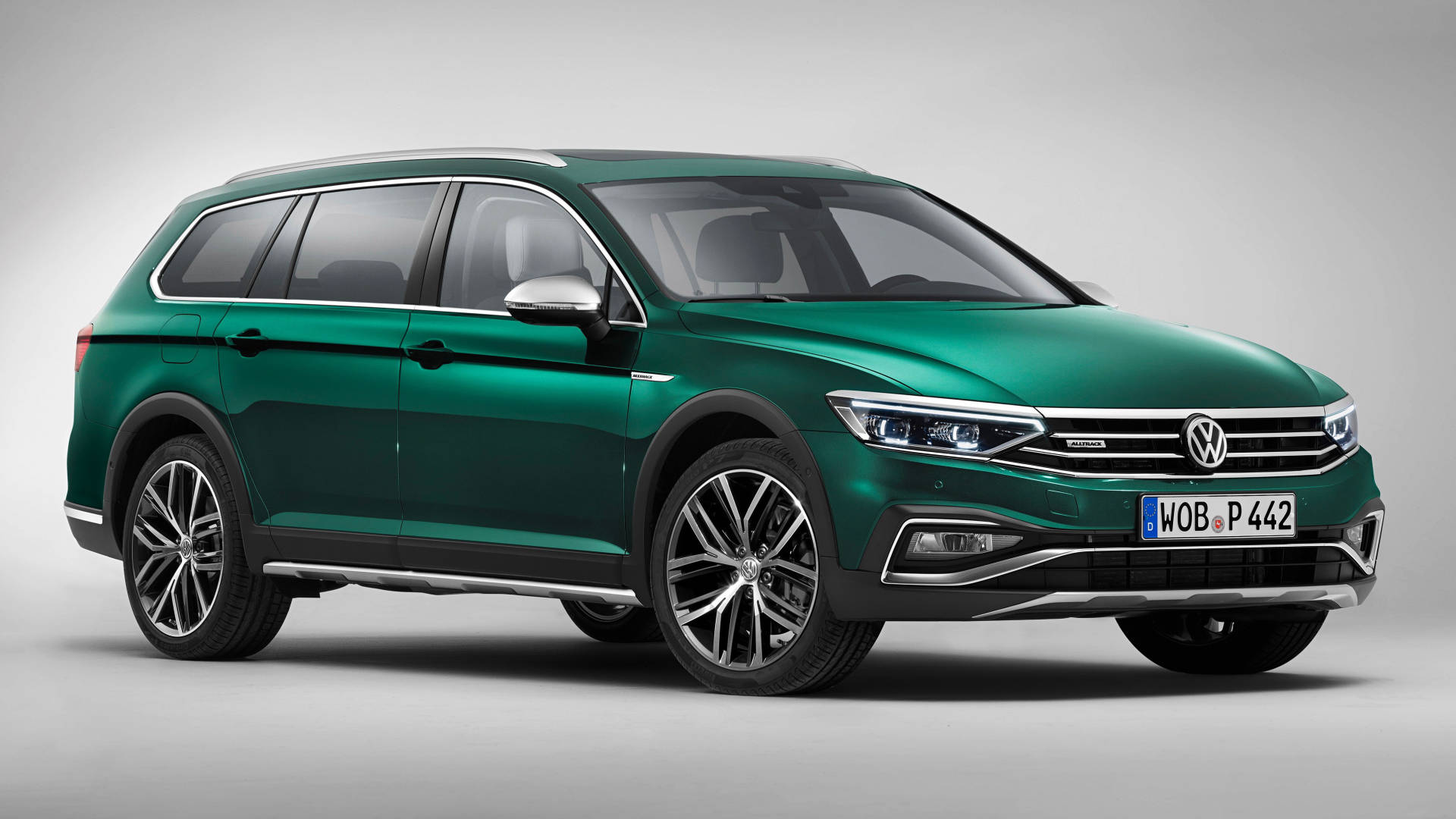 Volkswagen Passat Alltrack coming back with Golf GTI engine
Raised wagon lovers rejoice – the Volkswagen Passat Alltrack is all set to return to Australia, having traded in its diesel four-cylinder engine for a spirited turbocharged petrol instead. The 2020 Passat Alltrack 162TSI shares its engine with last year's Golf GTI, though the 162kW/350Nm powerplant drives all four wheels. The new Alltrack is expected to arrive in early 2020.

With most family buyers gravitating towards higher-riding SUVs, the humble station wagon continues to be the smart buyer's choice. Wagons like the Subaru Outback continue to be successful in Australia, probably due to their semi-SUV appearance; success Volkswagen partially replicates with its Alltrack wagons.

Available in both the Golf wagon and Passat wagon sizes, Volkswagen's Alltrack range adds Haldex-style all-wheel-drive to send up to 100 per cent of torque to the rear axle where the front tyres have no grip. That ratio is variable between zero torque sent rear, and all of it, depending on the conditions.

Though the Mk 7 Golf Alltrack has had some success in Australia, the current B8 Passat Alltrack has remained a totally niche choice due to relatively high pricing.

As reported previously by Chasing Cars, Volkswagen Australia are likely to introduce a more competitively-priced Passat Alltrack grade for 2020, with cloth seats, alongside a traditionally higher-end variant.

Both will share the EA888 turbo petrol four-cylinder in 162TSI guise and a six-speed wet-clutch DSG automatic gearbox. The same engine in the Tiguan 162TSI SUV sprints from 0-100km/h in 6.5 seconds, so we can expect the Passat Alltrack to be similarly sprightly.

Once we get the chance to drive the new Alltrack, we'll have a detailed review up on site and over on the Chasing Cars YouTube channel.
Read more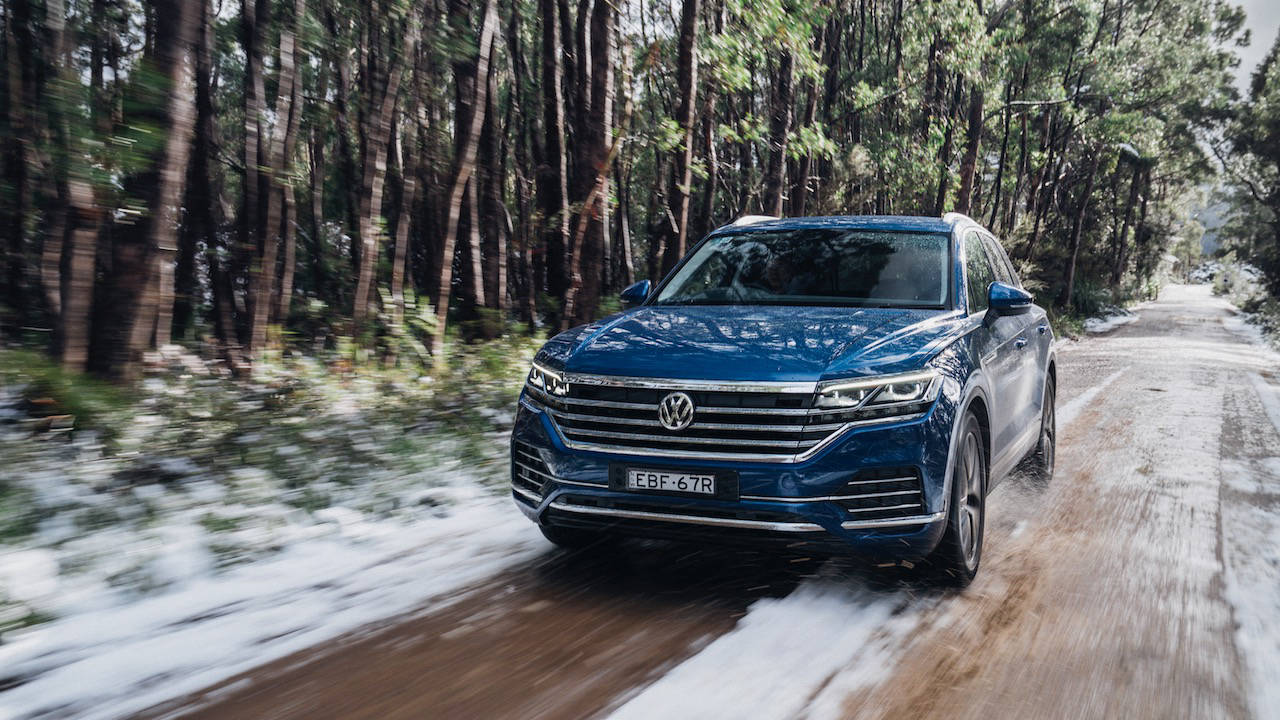 Volkswagen Touareg range now starts from $79k
The 2019 Volkswagen Touareg lineup will expand in late October to two permanent variants, bringing down the price of entry by $10,500 to $79,490 before on-road costs.

A new two-variant strategy will spell the end of availability of the current Touareg 190TDI Launch Edition (reviewed here), the $89,990 special edition that heralded the arrival of the Mk III Touareg in Australia earlier this year.

In late October two new variants will take over, badged 190TDI and 190TDI Premium, priced at $79,490 and $85,490 respectively. Both prices do not include driveaway costs.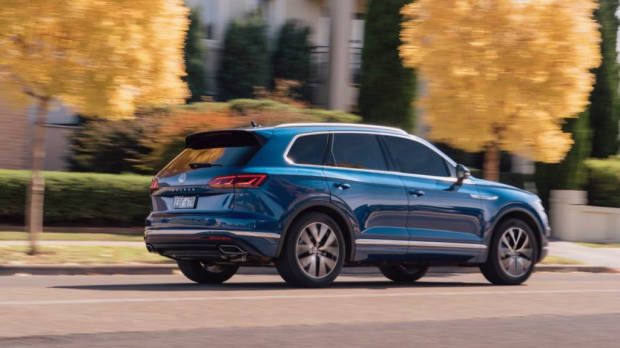 The new grades utilise the Launch Edition's three-litre turbocharged V6 Diesel engine, producing 190kW/600Nm. This represents a switch from an earlier plan to run two states of V6 diesel tune – 170kW and 210Nm. Both of the latter engines are Euro 6 and have not been tested for Australia's last-gen NEDC emissions scheme, hence the older 190TDI continuing on.

Specification across the extended range remains pretty generous in comparison to the Touareg's platform-sharing cousins – the Audi Q7, Porsche Cayenne, Bentley Bentayga and Lamborghini Urus.

No Touareg goes without full keyless entry and start, a power tailgate, leather seats or an adaptive safety package that includes low and high speed AEB, lane keep assist, blind spot monitoring and rear cross-traffic alert.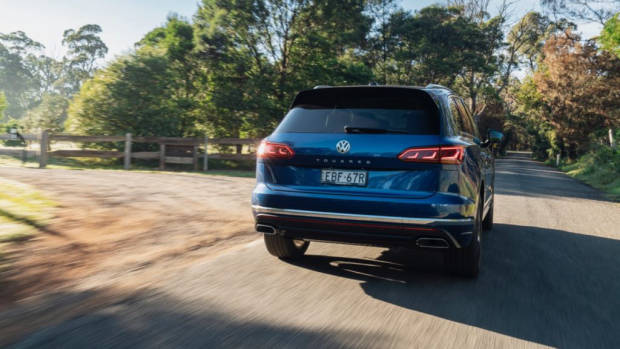 The 190TDI ($79,490) uses VW's midrange 'Vienna' leather upholstery – with heating for the front seats – and includes a 9.2" touchscreen which bundles navigation, Apple CarPlay and Android Auto but does not include digital radio. The 190TDI is identifiable by its 19-inch wheels.

Stepping up to the 190TDI Premium means shelling out another $6,000 but includes a number of desirable features – most notably air suspension. Other Premium equipment includes higher-grade Savona leather trim (in either black or beige) with massaging and ventilation for the front seats. The wheel size is also bumped to 20-inches while the headlights assume IQ Matrix technology.

Both models can be optioned with the Touareg's very impressive – and very expensive – high-end Innovision infotainment, with a huge 15-inch touchscreen, for a not insignificant $8,000.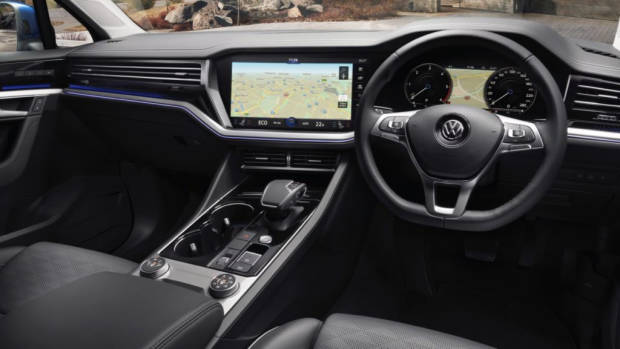 Other options are limited to the 190TDI Premium, which can be specified with two further packs, both priced at $8,000.

The Sound and Comfort pack includes a 360-degree camera, an upgraded 730-watt 12-speaker Dynaudio stereo, quad-zone climate control, and 15 litres of additional diesel capacity.

This pack also brings memory functionality to the Touareg; if you want to have multiple memory seat positions you have to tip in for this $8k upgrade: a big ask.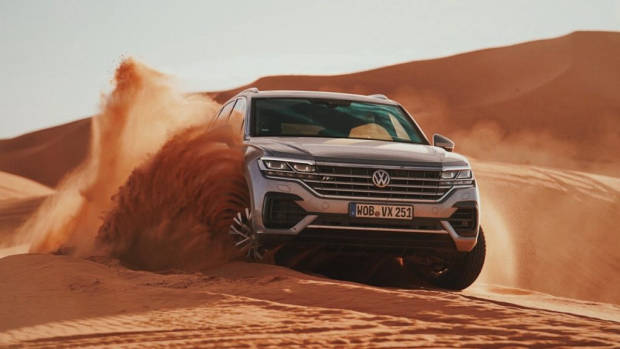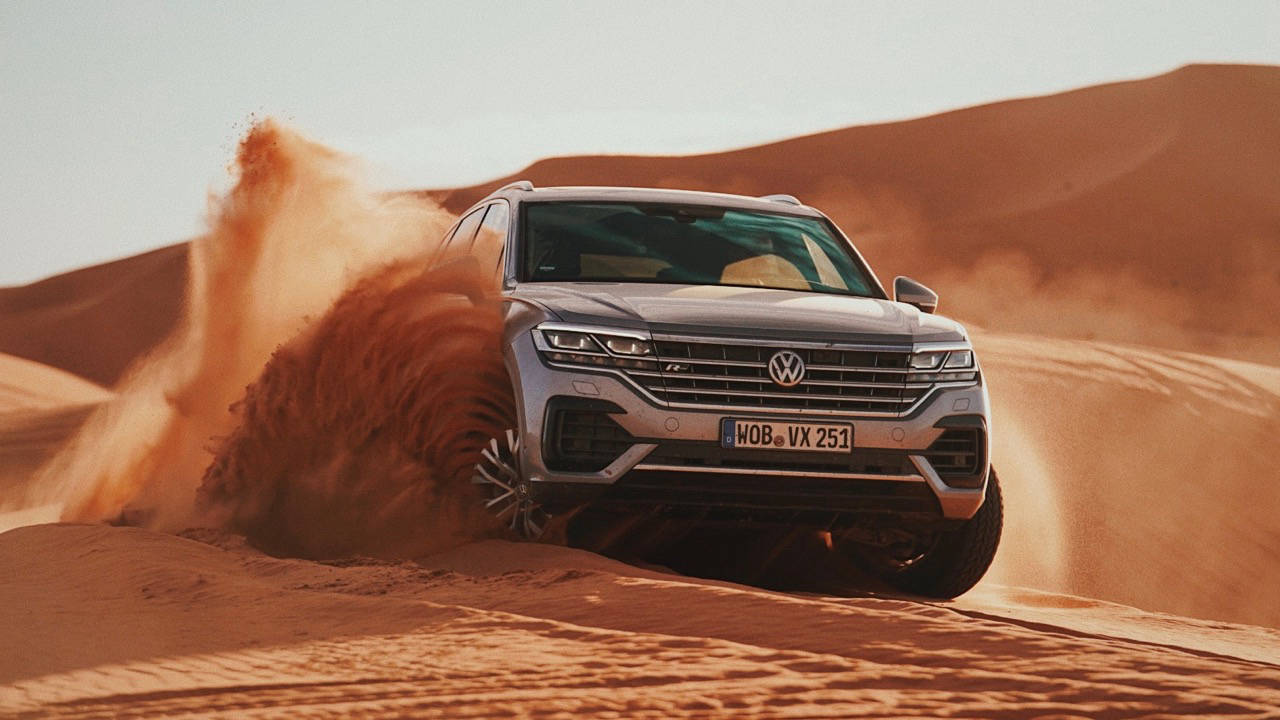 The second package – R-Line – includes sportier styling outside and in, differing 20-inch wheels, four wheel steering, and an active sway bar for more secure hard cornering.

A panoramic sunroof is available on the Premium for $3,000.

For both models, the colour set includes the traditional 'German rainbow' of white, black, grey, and silver, but also two brighter shades in Aquamarine Blue and Malbec Red. Reef Blue will be deleted with the departure of the Launch Edition.

The last Launch Edition cars will arrive in Australia in September, with the 190TDI and 190TDI Premium taking over the reins in late October.
Read more