Volkswagen's top-of-the-line V8 Touareg will arrive in Australia in R-line guise in the fourth quarter of this year. An astonishing 900Nm of twisting force is to be dished out by a twin-turbo diesel V8, and it sounds like this brute of a Touareg will be priced below $160,000.
A range-topping, barnstorming Touareg may sound a little silly, but it's not something new for Volkswagen; the original Touareg had a whopping great V10 hung over its front axle back in 2007.
And it promises plenty of value, too, if the indication that the new variant will start at under $160,000 is correct it will drastically undercut similarly powered rivals. That is, except for the unhinged Jeep Grand Cherokee Trackhawk which has a frankly insane dollars to kilowatts ratio.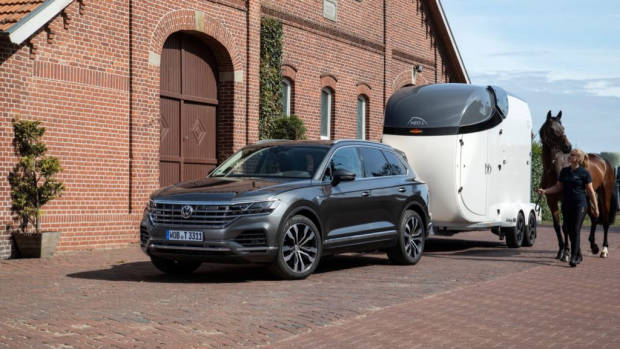 Of course, the Touareg V8 shares many of its underpinnings with Audi's recently updated SQ7, including that diesel V8, there's also the brand-new BMW X5M Competition and Mercedes-AMG GLE 63 S, both lither, honed, and more expensive.
Powering the range-topping Touareg is a four-litre twin-turbo diesel V8. The power output isn't crazy at only 310kW. However, the 900Nm dollop of torque should make for swift progress.
There's some cool tech on the Volkswagen engine, too, the larger of the two turbos gets exhaust gas diverted away, essentially shutting off below 2,200RPM to improve response.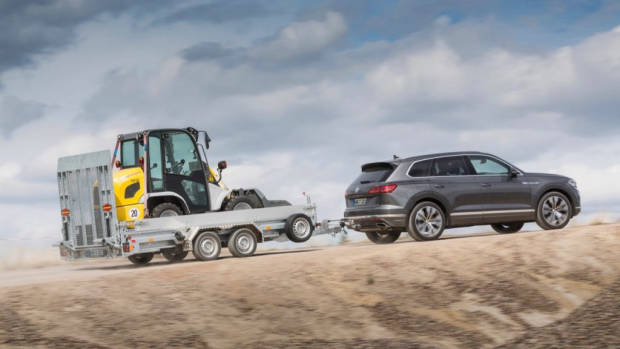 Above that, the diverter valve re-opens, allowing the larger second turbo to come into action. Those 900Nm of torque are on tap between 1,250-3,250 RPM, and peak power arrives between 3,500-5,000RPM.
To top it off the WLTP claimed fuel consumption is 7.4l/100km, we reckon that's pretty impressive and will surely make for an excellent highway bruiser.
We presume air-suspension – a must on other grades of Touareg – will be standard on the V8 TDI; it just makes sense. And if that is the case, our testing has confirmed the big Volkswagen to be a comfortable, surprisingly opulent beast.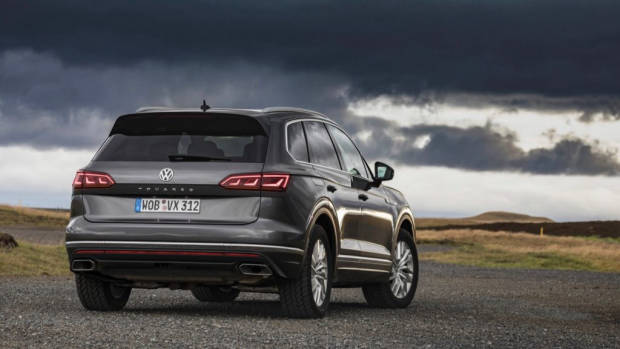 And yet the V8 TDI R-Line doesn't boast its credentials with a shouty exterior. The R-Line looks mildly more aggressive than a cooking Touareg, but there's a pleasing absence of black trimmings so usually associated with 'sporting' intentions.
In fact the pictures from Volkswagen spruik the Touareg's towing prowess, it's even fitted with bog-standard 17-inch alloys shod in all-terrain tyres, something we're unlikely to see in Australia.
Because if we're honest with ourselves, does anyone really need a seven-seat SUV honed for track use? It's undoubtedly an impressive feat of engineering, but we like the idea of a more laid-back touring Touareg with effortless torque and long legs.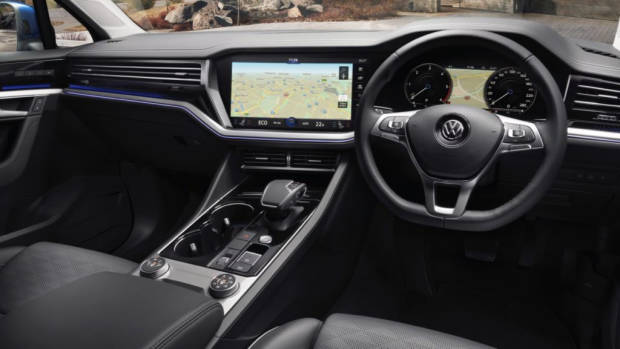 Inside the Touareg expect to find Volkswagen's fantastic digital driver display and a generous 15-inch touchscreen on Australian cars, we usually get them pretty loaded. It's also a lovely place to spend a lot of time.
With the Touareg already proving itself a strong performer in 190TDI guise, we reckon the brawnier V8 should lend the Volkswagen even more refinement and luxury feel that may very well be enough to shake-up in-house competitors from Audi and even Bentley.
The V8 TDI arrives in Australia in the fourth quarter of 2020.