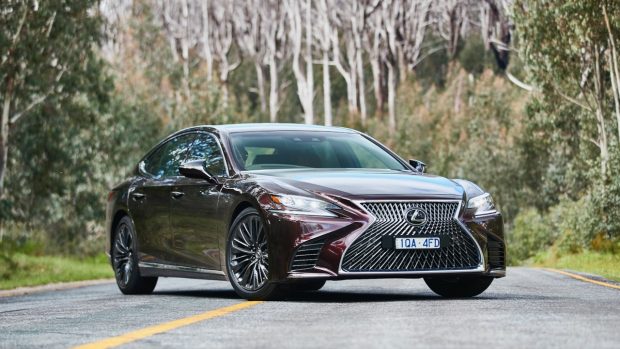 Thirty-one years ago, Toyota shocked the world with the largely unexpected introduction of a bona fide luxury arm: Lexus. The new badge sat on a breakthrough large luxury saloon – the LS – which catapulted into a market largely cornered by the early eighties-era Mercedes-Benz S-Class, vaulting the segment to new standards of build quality, refinement, and computer-driven technology.
The first Lexus LS was a bellowing wake-up call to German premium manufacturers. In the intervening three decades, Japan's pre-eminent premium marque has never overwhelmed their Teutonic rivals – but it has clearly succeeded in keeping them honest: first in terms of quality and reliability, which have dramatically improved in the automotive industry, and more recently in terms of emissions reduction.
While much of the attention on Lexus since the early days of the 1990s has been on their range expansion – into plush grand-touring coupes and then into forward-thinking SUVs, like the RX, before many thought a luxury crossover was necessary – the flagship LS sedan has quietly improved.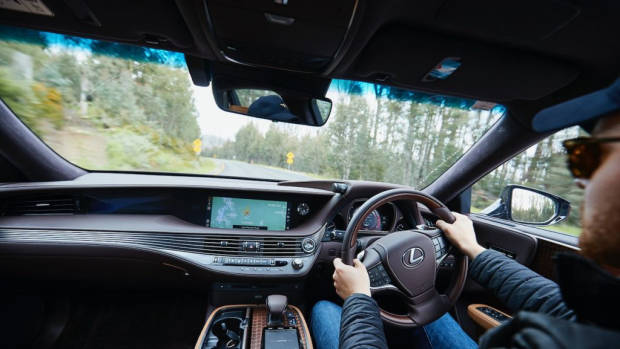 A fifth generation was revealed in 2017 and while it is not a prominent seller in Australia, a small cache of Lexus loyalists know the value of this large, luxurious Japanese saloon. However, while the LS retains the spacious and technologically advanced virtues of the first of its kind, the latest LS 500 is the first of the species to have more than a modicum of athleticism to its chassis.
Not ones to forget about opulence, however, Lexus commissioned special editions of the LS sedan – and the LC coupe, which we'll drive soon – to mark the thirtieth anniversary that occurred in 2019.
The LS Inspiration Series – as the ultra-limited run is known – is being discreetly offered in Australia, with less than eight hitting local shores in the final weeks of last year. Sold at a modest premium to the standard, $195,542 LS 500 Sports Luxury grade, the $198,922 Inspiration Series receives a number of unique appointments.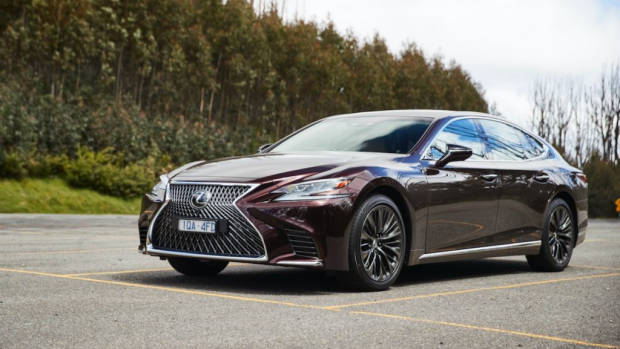 Supremely deep, memorable paint colours are just the beginning. Our test car's glinting Scarlet Crimson is one of four hues that also include the very classic Khaki Metal – a deep green. An imposing grille is the ultimate manifestation of the Lexus brand's current design language while intricate, 20-inch dark grey alloy wheel designs appropriately fill the guards.
Inside, supersoft chestnut semi-aniline leather joins a myriad of other brown tones, including tactile tan-brown alcantara door trim – along with laser-etched houndstooth walnut inlays on many surfaces. Where metal is used, it is hefty and cold to the touch.
Visually, it's a feast for the eyes – for some, the Inspiration Series will undoubtedly be a little much, but for a model meant to mark the achievements of thirty years in the luxury space, the apex LS 500 is pitch-perfect.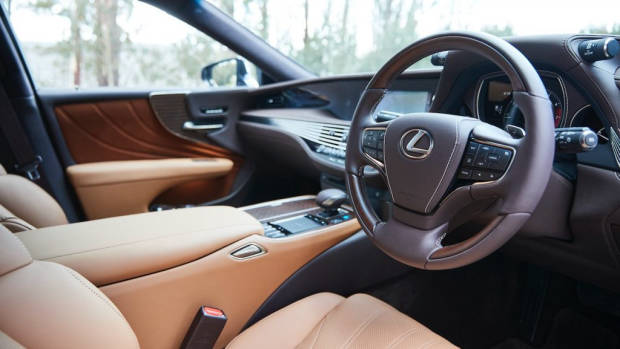 Five-point-two metres in length and two-point-two tonnes in mass, the LS is a classically big car for a big country, and we wager that many of its private owners will use this flagship Lexus for country touring, as well as town commuting.
A generous engine is a necessity – but under the flowing bonnet, it is not the five-litre naturally aspirated petrol V8 you may be accustomed to seeing in top-shelf Lexus vehicles. The LS 500 uses a new twin-turbo petrol V6, which casts aside the sonorous brilliance of the eight-cylinder in favour of much more accessible torque – 600Nm comes on in its entirety at just 1,600rpm. The power of 310kW is just a tenth less than the V8 afforded.
Progress is swift and effortless, with the nose gently rising on hard throttle inputs as the mass of the LS relaxes onto the aft support of the all-corner air suspension. Compared to, say, the high-performance, V8-equipped GS F – a size smaller – the LS 500 is at once more effortless from behind the wheel, calling up surging twist with a breath of the throttle. The ten speed automatic is mostly seamless, quietly working to keep the LS 500 within its peak torque band.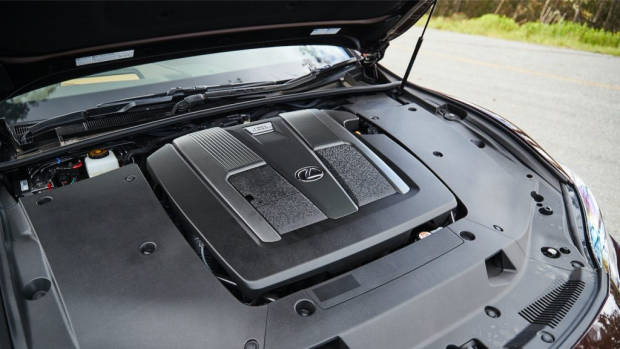 But it's also less of an event. With the switch to a twin-turbocharged six-cylinder, the LS 500 more closely mirrors its German rivals – but a switch away from an older-school atmospheric V8 is a natural consequence of tightening eco-regulatory nets, world-wide.
This being a Lexus, a hybrid version is also available, for a modest $600 premium. Pairing a different, naturally aspirated 3.5-litre V6 with around 264kW of total system power, the petrol-electric alternative cuts fuel use by a third from 9.6L/100km in the twin-turbo to a claim of 6.6L/100km.
We'd buy the twin-turbo, though, because it's an excellent match for the LS 500's crisp, remarkably athletic ride and handling. Air-suspended and built around the new Lexus TNGA-L modular rear-drive architecture, the big Lexus is entirely at home delivering whisper-quiet highway commuting – but show it a quality piece of tarmac, and it can, and will, boogie.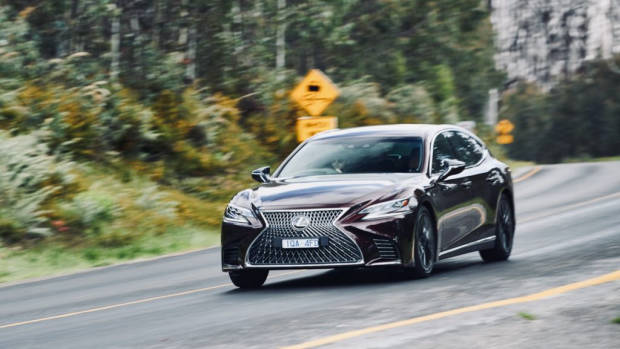 Sure, it's a big, heavy bruiser that will roll into and around corners to relieve its tyres, but quick and accurate steering, excellent compliance and true ambivalence toward mid-corner bumps means that, if you have to – or want to – you can hustle the LS 500 with confidence. Boot the throttle on corner exit and the immediate arrival of 600Nm of torque guarantees some rear-end fun, too.
Such shenanigans might make the LS lose its proverbial monocle but stand up – in near silence – it will. A recent update to the motion of the air suspension and to the damping characteristics have improved the body control.
That said, it is no criticism that the natural habitat of this vehicle is cruising Australia's urban and rural highways. Here, the recently-updated semi-autonomous tech can really shine – with accurate adaptive cruise control and lane tracing assist standing front and centre, though these systems also cope, to varying degrees, with curving country roads.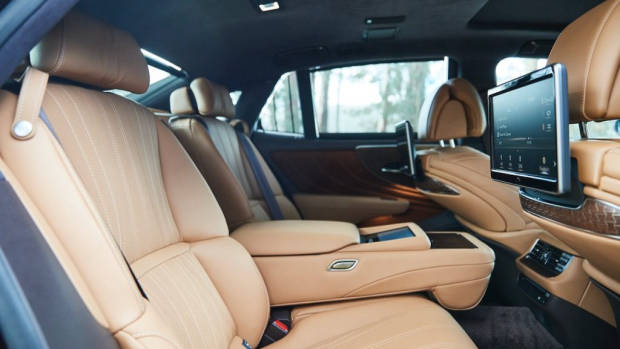 It is especially comfortable in the passenger-side rear seat, which is endowed with enormous legroom – once the front passenger seat glides up and out of the way at the tap of a rear-touchscreen command.
Both back pews have twenty-two ways of motion – including an impressive degree of recline – but the passenger side commands the most lush environment, with a generous ottoman and footrest deploying, albeit at a glacial pace. Heated and ventilated, the rear seats have highly cushioned headrests, making dozing off on an arduous drive a doddle. A cooled storage compartment sits between the seats to keep drinks cold.
Twin eleven-inch screens provide for entertainment in the rear – but we would love to see a manufacturer incorporate Apple's AirPlay technology to make beaming content from an iPhone or iPad possible – just as a number of television manufacturers now do.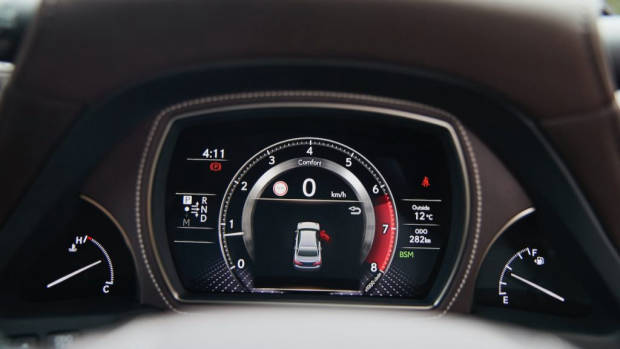 Wired Apple CarPlay and Android Auto systems appear on the 12.3-inch infotainment display in the front row – which also serves up satellite navigation, digital radio, and Bluetooth audio – all through a 23-speaker Mark Levinson Reference stereo that renders our favourite tracks in cracking quality. The user interface up front is still based around a finicky touchpad which takes some getting used to.
The trick rear seats mean boot space is limited to 440 litres, which is on the small side for a large sedan, but given the cargo area is sensible and square, a couple of large suitcases fit without drama, while a net can divide the space into two smaller compartments.
While it is obtuse to use phrases like "value for money" when discussing a vehicle that tallies over $210,000 when the transaction is all said and done, it's all relative – and the Lexus LS shows it hasn't forgotten its own heritage in this regard.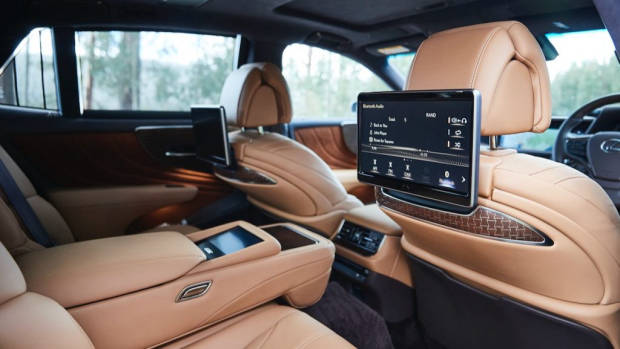 When the original LS 400 of 1989 entered large luxury sedan market, it cornered a good portion of the US and UK markets thanks to early-bird pricing that radically undercut far better-known German rivals.
Today, there is no need for Lexus to underprice its vehicles, but it is a fact that the LS continues to offer a remarkably high specification at this price point. Configuring the rival Audi A8 L 55 TFSI with a similar level of opulence and comfort results in a driveaway price of close to $285,000. The Audi is a little longer – offering slightly more legroom for tall Australian types – but we're not sure we'd pay around $75,000 for sixty-seven additional millimetres…
Finally, there's the fact that Lexus stands behind the quality of their vehicles for a little longer than the European manufacturers. A four year, unlimited kilometre warranty is included, besting the three years you get on an Audi, BMW, Jaguar, or Mercedes-Benz.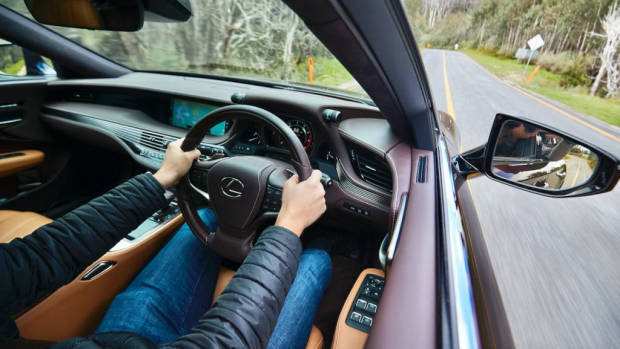 Large luxury sedans are niche – that won't change any time soon, especially considering how effectively large luxury SUVs have muscled them out of being the default family motoring choice for Australia's well-heeled elite.
However, for sheer refinement, opulence, and even value for money, the Lexus LS 500 – particularly in Inspiration Series form – shows more than ever why that feels a shame.