Nissan has revealed a refresh for its tough-but-luxe Patrol Y62, with updated styling, cabin tech and safety features ushering this behemoth of a large SUV into the next decade. Arguably the most luxurious and smartest Patrol in the badge's 69-year history, Nissan's full-size four-by-four has come a long way from the 1951 original.

In recent times, the Patrol's popularity has sky-rocketed in the Middle East – where this Y62 generation was initially launched – offering a blend of luxury and sand-dune crushing capability to rival the Toyota Land Cruiser, that car's upmarket Lexus LX cousin, and Land Rover Discovery.

The 2020 updates bring much needed safety and tech features, as well as a styling refresh with substantially more front-end bling. However, the engine, chassis and diff remain unchanged, so don't worry about the Patrol losing its off-road chops.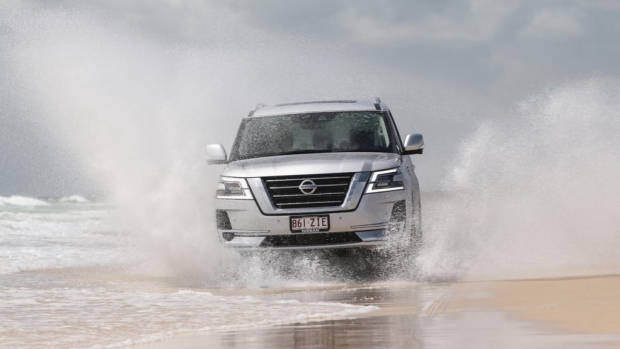 Nissan Australia have confirmed that the facelift is on its way to Australia, with the structure of the local two-strong Patrol offering remaining the same though prices do rise to reflect the equipment additions. The entry point is the $75,990 Ti (driveaway price not yet available) model – up $3,110 – which now sees the same autonomous tech as the range-topping $91,990 Ti-L (driveaway price not yet available) variant, which increases by $2,110.

Nissan has incorporated its "Intelligent Mobility" suite of autonomous technology into the revised Patrol, which sees high and low speed AEB added along with forward collision warning and rear cross-traffic alert. For 2020, active cruise control, lane departure warning, and blind-spot monitoring will make it to the base Ti.

Several other updates include power mirrors with auto-fold are added to both variants, as well as the Ti gaining an auto dimming rear mirror, both gradients also receive full LED light treatment, with 52 individual diodes in the redesigned headlights, and 42 in the taillights.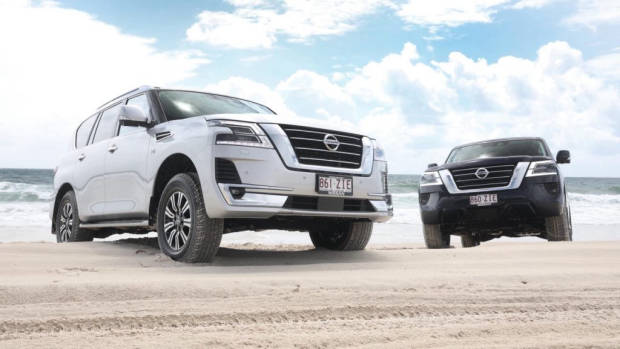 The facelift Patrol has ditched the bulbous bumper of the outgoing model in favour of a squarer snout that incorporates a larger, chrome-er grille. The upper-spec Ti-L variant will be distinguished by extra chrome surrounds around its low-mounted LED fog-lights.

From the side, the Patrol's profile is as boxy as ever, the boot has been massaged and – as seems to be the trend with this facelift – covered in yet more chrome, with a more prominent Patrol badge. Overall the facelift looks to be successful, especially from the front, though it's still undoubtedly a Patrol.

Inside, the Patrol remains largely unchanged, not as luxurious as a Lexus LX, but with a much lower price. The chintzy wood panelling remains, with both variants getting keyless go, tri-zone climate control with improved flow and an eight-inch touch-screen with satellite navigation. The Ti-L variant gets television screens for the spacious rear-set too.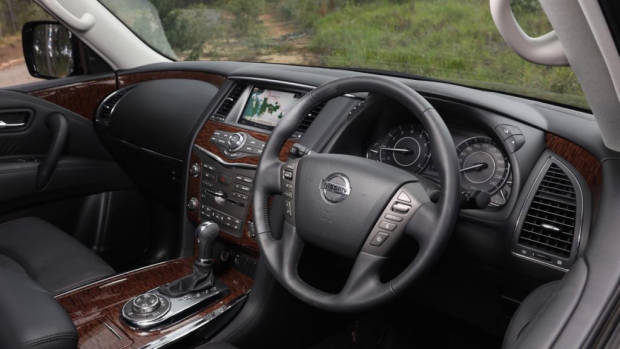 As well as tech, the facelifted Patrol has had its suspension re-worked, with Nissan fiddling with the high-speed frequency of the dampers to provide a more refined ride at speed.

There's no downsizing or turbocharging to be found under the bonnet, the refreshed Patrol carries over its 5.6-litre atmospheric VK56 V8, which produces an identical 290kW and 550Nm of torque. Matched with a seven-speed torque converter automatic and an electronic lockable diff with hill descent control and hill-start assist, it's a proven combination unlikely to leave you stranded

That is, unless you run out of fuel. One obvious downside of the V8 is its thirst, the outgoing Patrol had a claimed fuel efficiency of 14.4l/100km, which we doubt will have improved much, but that's not really what counts with this behemoth.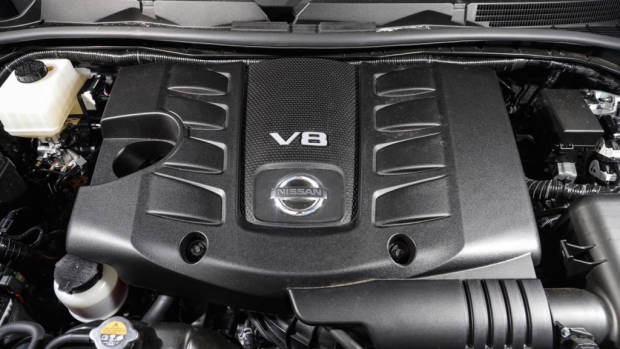 The Patrol's facelift and tech updates are welcomed, adding value to the go-anywhere ability of the luxury SUV. Nissan is taking orders now and we expect Patrol fans to love this update.