Alfa Romeo has revealed a brace of hardcore sedans based on the Giulia Quadrifoglio we already know and love. Power is up, but most importantly, the boffins in Turin have shed weight and tweaked suspension settings to harness that prodigious pace with greater accuracy.
It's a nameplate revived from the slight 1965 Giulia Sprint GTA – the acronym stands for Gran Turismo Alleggerita (the Italian equivalent to GT lightweight).
Alfa has also added a more honed GTAm variant – the 'm' standing for modified – with racing bucket seats and six-point harnesses. Nuts.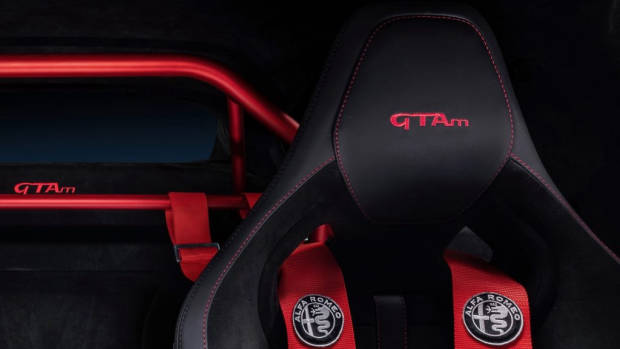 Limited to 500 combined units of the Giulia GTA and GTAm there will be few on the ground. The Italians have employed a philosophy not dissimilar to BMW with the M2 CS, certainly more focused than any C63 S offered by Mercedes-AMG.
It looks seriously wild, too, there's an aerodynamics kit developed by the Sauber F1 team affixed to both cars (but only the GTAm gets the crazy wing). The package is reminiscent of the wedgey Alfa 155 DTM car.
Tracks have been widened 50mm front and rear to improve stability and overall grip, you can see this with the more intensely flared guards. There's a set of bespoke 20-inch centre-lock wheels presumably shod in Pirelli P Zero Corsas.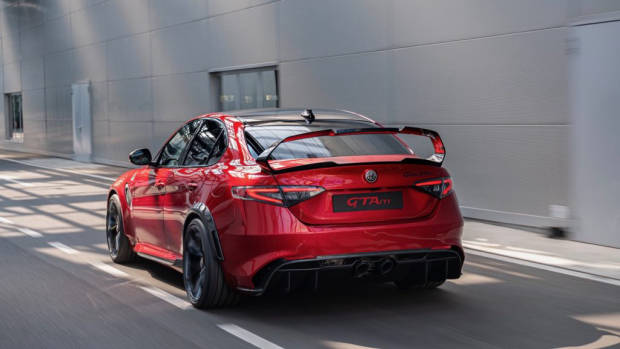 Power is up from the standard Giulia QF – a car that already produced a generous 380kW – thanks to the precise tuning of Alfa's twin-turbo 2.9-litre V6 and a freer-flowing (and louder) Akrapovic titanium exhaust, the GTA and GTAm outputs climb to 402kW.
That Akrapovic exhaust is lighter, too. And when combined with a carbon-fibre prop shaft, bonnet, front bumper, roof, wheel arch inserts and seats adds up to a Biggest Loser level weightloss of 100kg.
Naturally, the GTAm goes further with polycarbonate side and rear windows, rear strut-brace, no rear seats, a carbon fibre front splitter and that flagrant rear wing, making for a kerb weight of 1,520kg.
Alfa say they developed a whole new suspension set-up designed with more track use in mind. The pair of cars will get specific springs, dampers and utilise stiffer bushings to quell roll and increase accuracy.
Considering a standard Giulia QF weighs in at 1,726kg, that's impressive work from the Alfa Engineers. All this performance makes for a 0-100km/h time of 3.6 seconds, quicker than many more powerful cars (Audi's RS6 for one).
A venerable set of top trumps figures should see the GTAm have a good run at the production sedan lap record at the Nurburgring Nordschleife – Alfa held the SUV crown with the Stelvio Quadrifoglio after all.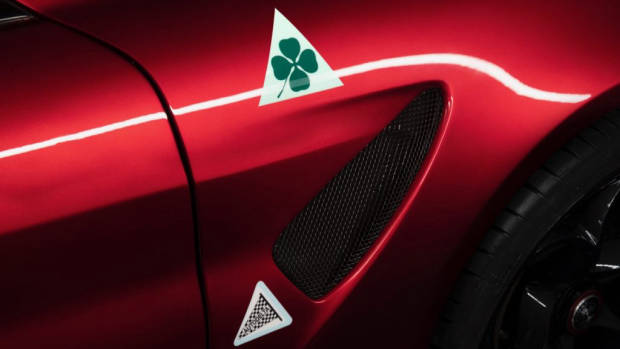 Now, obviously, if we had to choose between the GTA and GTAm we would probably opt for the four-seat variant. Sure that wing is proper DTM, but if it was to be the only car then six-point harnesses would get tiring pretty fast.
Alfa Australia has not confirmed whether Australians will be getting the pair of fast four-doors but if you want one you'll have to get in quick. Alfa has confirmed production of no more than 500 combined units.
It's certainly a flamboyant way to kick off Alfa's 110th anniversary and it sounds like more cool models will be arriving throughout 2020 to celebrate.