Ferrari has unveiled its new 812 Competizione special series in both coupe and targa-top form that are based on the 812 Superfast.
The ionically Italian car marker has badged the coupe simply as the 812 Competizione while the open-top version adds an extra suffix to be known as the Competizione A.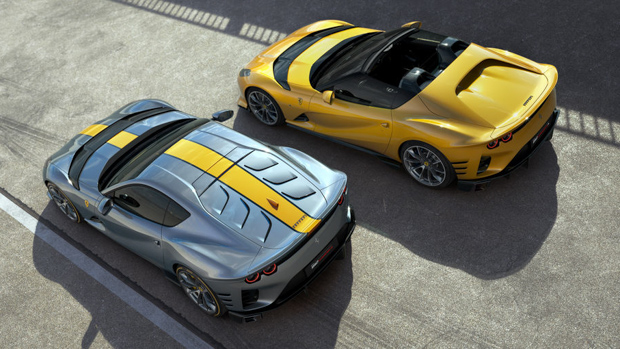 Both make good use of the classic GT driving dynamics with what may be Ferrari's last non-hybrid naturally aspirated V12 upfront that sings all the way to 9,500rpm and has been overhauled to reduce friction losses by swapping in parts like lighter titanium con-rods.
Measuring 6.5L in size, the 812 Competizione's engine puts out 610kW of power when wound up to 9,250rpm with the 692Nm torque peak arriving a bit earlier at 7,000rpm.
Power is sent through a seven-speed dual clutch that shares the same ratios as the 812 Superfast donor car but the gear changes are now five times snappier than before.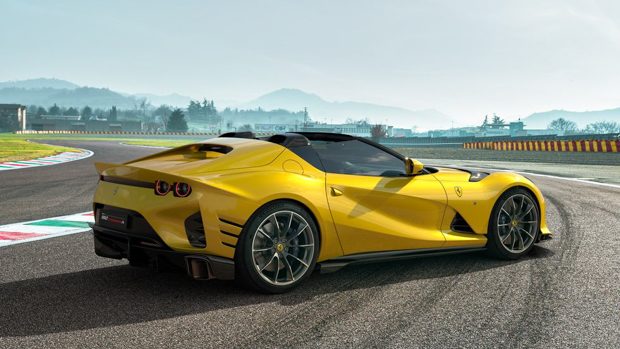 With only 1,487kg to move the 812 Competizione is certainly brisk, hooking up the 315mm wide rear tyres to accelerate from 0-100km/h in 2.85 and will get to 200km/h in just 7.5 seconds – according to Ferrari.
Ferrari says the 812 Competizione twins are "dedicated to a very exclusive group of collectors and enthusiasts" and has given the pair a fittingly exclusive exterior to match.
Along with a bigger oil sump to keep the engine safe at higher revs, Ferrari have made an effort to keep it cool by reshaping the exterior package that makes use of a huge single air duct at the front.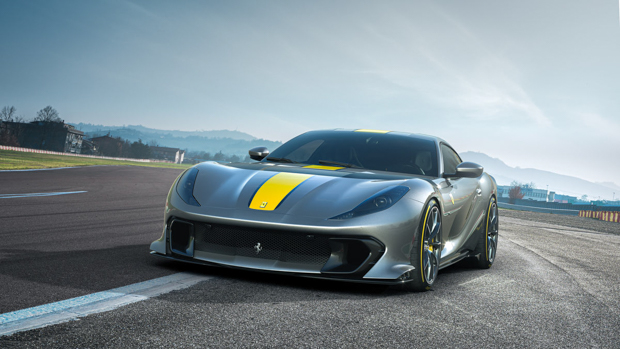 Once the air has passed through the car and over the radiator Ferrari says it exits more efficiently than in the 812 Superfast, while two gapping intakes on either side of the main grille take care of cooling down the front brakes.
In a small but significant touch Ferrari has added two smaller wings on either side of the front bumper that channel the air around the car more efficiently.
A series of tweaks to the complex underbody aerodynamics has meant Ferrari is able to achieve greater aerodynamics and on-track performance without opting for a huge wing at the rear, with a more subtle duck-tail type wing.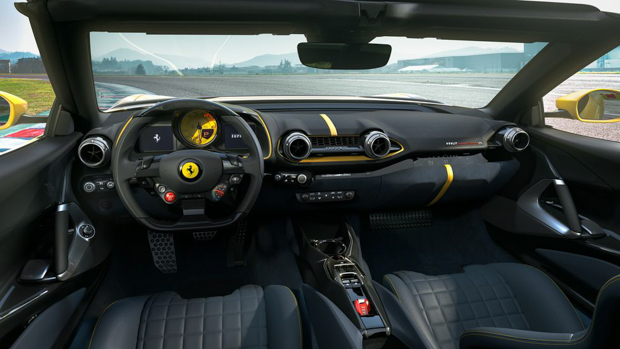 Sitting at each corner are all-carbon fibre 20-inch wheels that offer a combined 3.7kg saving over the forget wheels on the 812 Superfast. For optional track performance, Ferrari has wrapped them in newly developed Michelin Cup2R tyres.
Ferrari is yet to confirm if the 812 Competizione or 812 Competizione A will be available in Australia but customer deliveries are expected to take place in 2022.