BMW unveiled the i Vision Circular concept as a vision of what the future of individual mobility could look like at the 2021 IAA show in Munich.
For Pieter Nota, member of the board of management at BMW, the future of the brand means "premiumness, sportiness, luxury power go hand in hand with sustainability"
The BMW i Vision concept represents the potential of the brand "focused squarely on sustainability and luxury". Measuring only 4.0m long, it's a properly small vehicle designed with urban use in mind.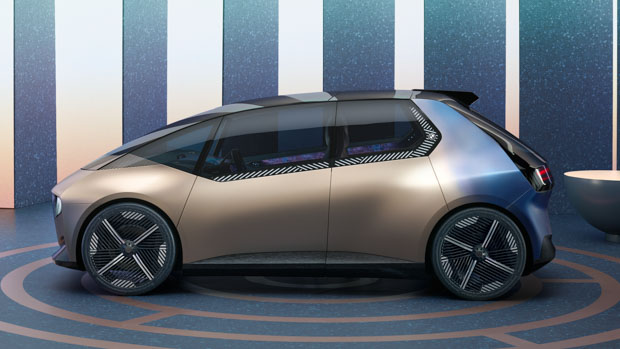 Aside from being an interesting design study (that harks back to the 1991 E1 concept car) this compact BMW is focused on one goal: reducing lifetime CO2 production through a circular economy.
What does the circular economy mean to BMW?
The term 'circular economy' involves going beyond approaches like reducing tailpipe emissions and carbon neutral production processes and addressing the issue of sourcing finite materials such as steel and aluminium.
Oliver Zipse, chairman of the board of management at BMW pointed out that increasing "commodity prices clearly show the financial consequences in store for any industry that is reliant on finite resources."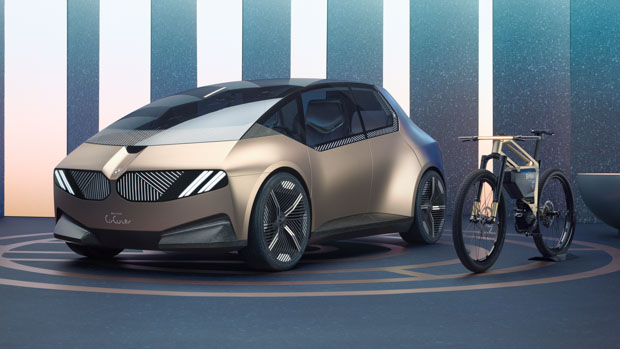 Hence, BMW's i Vision Circular is made from recycled materials with a goal to create a vehicle that can be easily recycled at the end of its life. That is, neatly, the brand's definition of a 'circular economy'.
What makes the i Vision Circular so sustainable?
For the i Vision Circular BMW interrogated every step of the process to develop a sustainable concept. For a start, it uses 100 per cent recycled materials in its production.
This starts with the steering wheel which is 3D-printed from wood dust and runs from the recycled 'taupe' upholstery to the exterior panels made from recycled aluminium and steel.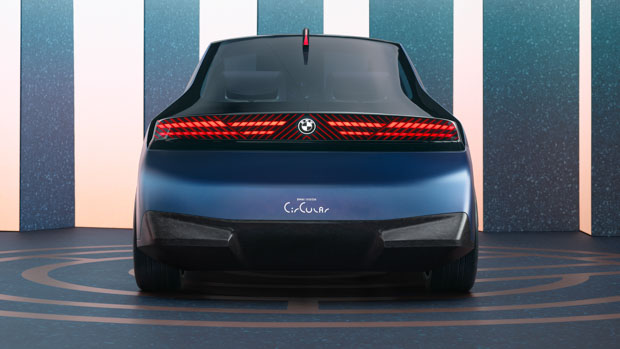 Additionally, the concept has been developed with ease of recycling in mind; that means no paint. Instead, the aluminium body panels are anodised – a technique common in the bicycle industry – resulting in a unique satin finish called 'Mystic Gold'.
The anodised colour scheme is complemented by a laser-etched logo and blue steel detailing, the colour of which comes from specific heat treatment instead of paint.
Focusing on recyclability at every step, BMW claims the i Vision Circular will utilise a solid state battery. The solid electrolyte used in this technology allows greater recyclability than gel electrolytes used in lithium-ion batteries.
Lowering reliance on new materials through design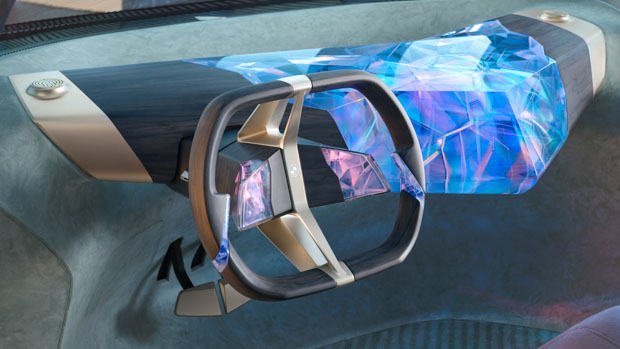 One of the simplest and most obvious ways BMW has reduced reliance on new materials are the kidney grilles, which do without a chrome surround on the i Vision Circular. The grilles themselves have morphed into digital surfaces which can function as lighting or a way to communicate with other road users.
It's a similar story in the airy cabin. BMW has dropped all traditional gauge clusters, instead relying on augmented reality projections on the windscreen, and a projected surface to interact with features.
This is a move we're already seeing, with vehicles like the Volkswagen Gold Mk8 ditching physical buttons in favour of touchscreens and digital displays.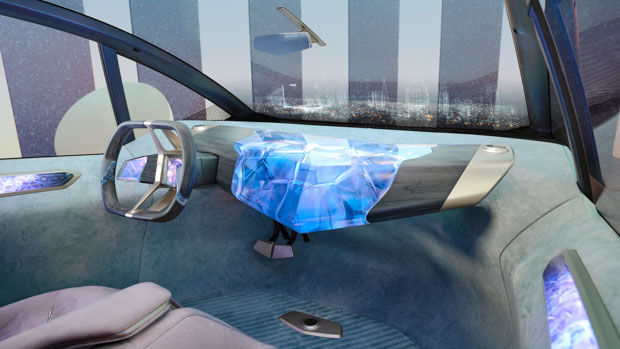 In designing a new-age cabin concept, BMW has made sure to turn their attention to features like a glass roof that incorporates shading, seats that nod to a mid-century loungeroom and sound design by Hans Zimmer to put drivers at ease.
While the concept is very futuristic, BMW head of design Adrian Van Hooydonk has made sure to retain legacy features like the Hofmeister Kink to hint at BMW's past.
2040 is a long way away, what about sustainability now?
BMW claims that its current crop of production vehicles, like the X3, already use around 30 per cent recycled materials in production.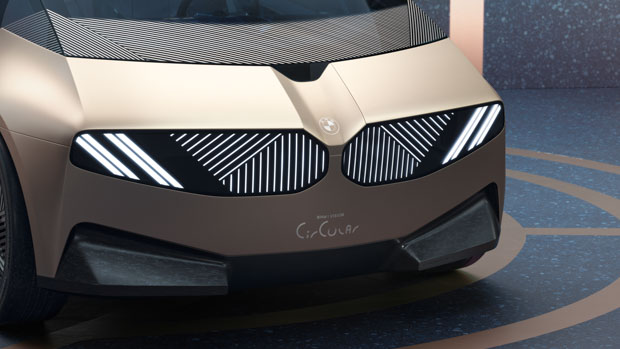 he interim target for BMW is to reach 50 per cent recycled materials in its production vehicles by 2025. This will be accompanied by the 'Neue Klasse' of BMW arriving in 2025, the term a nod to the vast changes made at the marque in the 1960s.
When pressed, Mr Nota confirmed that the 100 per cent recycled construction of the i Vision Concept was still a long way away.
Mr Nota confirmed that "the i Vision Circular is not a 'Neue Klasse' concept… But many ideas around circularity that we display in the Vision car will flow into the Neue Klasse in 2025".