Electric vehicle sales have doubled in Australia since the end of 2020 with the rapid growth expected to continue and see sales double again before the year is out.
The data released in a market report from the Electric Vehicle Council shows EV sales climbed from a low base of 0.78 per cent of the overall market at the end of 2020 to 1.57 per cent as of August 2021, following a similar pattern of growth in previous years.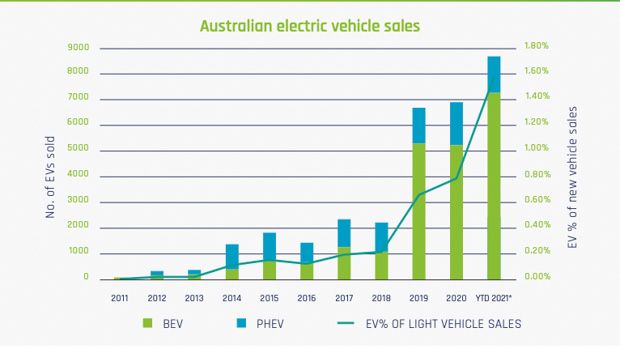 Correlating to 7,248 traditional battery electric vehicle (BEV) sales so far this year, an additional 1,440 plug-in hybrid (PHEV) sales were recorded but saw less popularity than in 2020.
The sales data is based on reports from the Federal Chamber of Automotive Industries and conservative estimates on Tesla sales, as the latter does not publicly release its figures.
Behyad Jafari, CEO at the EV Council, told Chasing Cars Australians had a growing selection of EVs to choose from with cheaper examples such as the MG ZS EV small SUV entering the market and existing models often discounted as a result.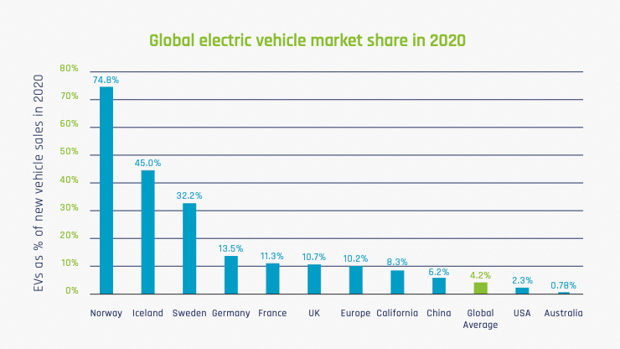 We saw an example of this shift earlier this month, with Hyundai opting to slash the entry price of the Kona Electric from $62,000 to $54,500 by expanding its lineup with cheaper variants and lowering the price of the broader range.
Mr Jafari said even small price reductions can make all the difference to the bulk of electric car buyers, and rubbished sneering comments from politicians that EV buyers were just "millionaires driving Teslas".
"It's usually people who are stretching well above what they would normally pay for a car because they want to buy an electric car," he said.
"So when a car company reduces the price of their electric vehicle by just a couple of thousand dollars it opens up access to a whole lot more customers because there are people that are just on that edge and can't quite afford it and so that's opened up a lot more sales."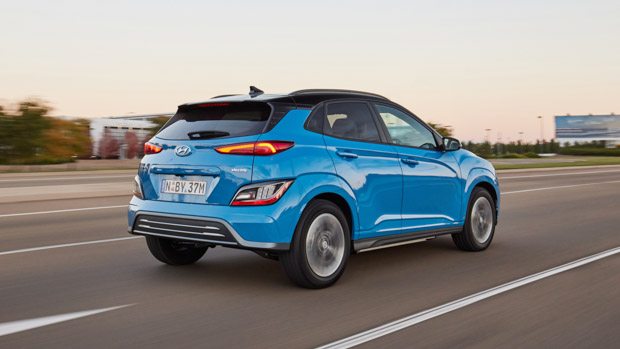 This choice is expected to grow even further with the EV Council predicting the current crop of 31 electric passenger vehicles will almost double to 58 next year.
Mr Jafari said a range of government financial and lifestyle incentives that are available to buyers, or soon will be, will drive this growth further.
"We've now got five of the eight state and territory governments providing a form of financial rebate whether it be a stamp duty exemption or a rebate to customers to buy an electric vehicle and that always has an accelerating effect.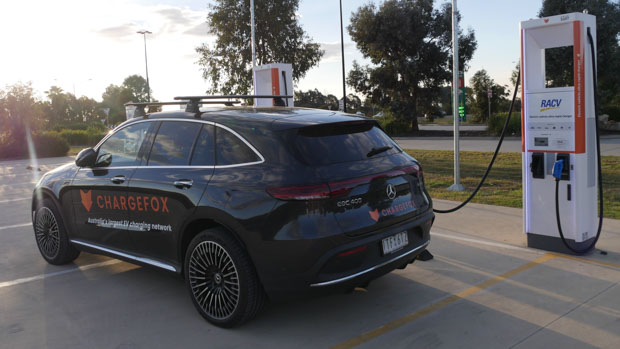 Mr Jafari said the EV Council's goal for 50 per cent of Australian car sales to be made up of EVs by 2030 required early and steep growth to succeed but pointed out the country was still well behind other regions such as Europe where EVs already make up 10-15 per cent of sales.
Additional incentives include the growing number of public chargers available with 3,000 installed across Australia at over 1,650 locations, growing by around 600 chargers compared to last year.
Of these 3,000 chargers, 470 are capable of charging at a rate faster than 50kW making them ideal for road trips. Significant investment from government and private institutions should see the network expand further.
Away from passenger vehicles, the EV Council's report indicated EVs were gaining traction within the transport sector which we have seen with companies such as Volvo trialling electric trucks in Australia.