When the message came in to be included in the Roadx drifting team's invitational event at Raleigh International Raceway near Coffs Harbour, I jumped at the opportunity to get the hell out of Sydney's busyness and take a couple of days rest … or so I thought.
It would involve 12 hours of driving over two days to get there and back from Sydney, but for some reason I thought it would be a relaxing experience. And I wasn't entirely wrong, for the event itself was a good way to unwind doing things I love – chatting to like-minded people, getting seat time in a competition-spec drift car and sleeping under the stars in my swag.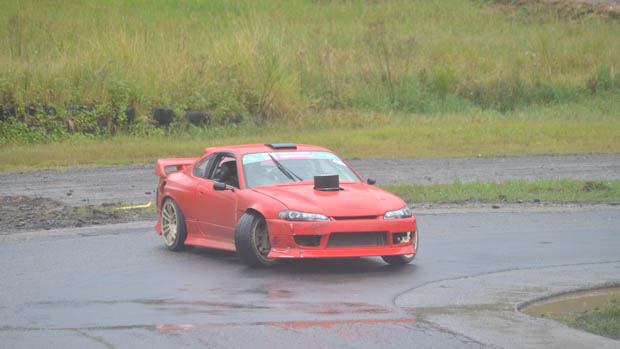 But when I saw the forecast in the days leading up to the event, I had second thoughts. It was predicted to rain more than 30 millimetres a day – if the forecast was accurate – meaning our campsite would be a flood risk. But I said "why not?" and went anyway. This is the short story of my journey and time at Raleigh with the drifting boys and girls on one of the wettest New South Wales weekends in memory.
Departing Sydney: let's go watch some drifting!
Before I could even leave for Raleigh, I needed a vehicle for the adventure. My car is currently in a bit of a state so I needed to use something else. Fellow Chasing Cars scribe John Law needed kilometres on his long-term Hyundai i20 N hot hatch – and this was the perfect job for it.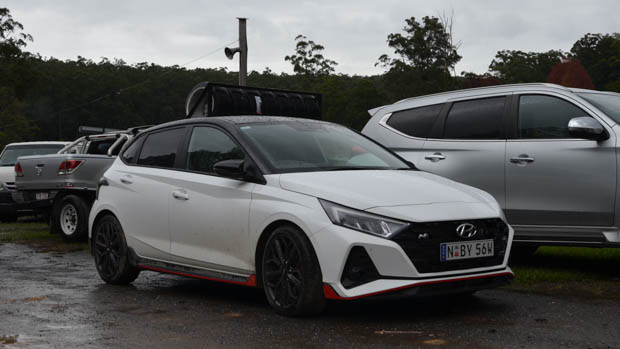 Beating the northbound coastal traffic means leaving Sydney early on a Friday afternoon and I got out of the big smoke without too much difficulty using the various northern toll roads – soon enough I was out past the 'burbs and heading toward Newcastle.
It immediately became clear that the i20 N is not a fan of wet roads at higher speeds and that could largely be due to the shall-we-say 'well-worn' Pirelli tyres on the car. We test hot hatches thoroughly in these parts! Still, a new set of boots is clearly in order as the i20 N was a little wayward on the wet tarmac of the Pacific Motorway.
Luckily the road dried out for some stretches, and I was able to get a good, safe run in and of course stuck to the strict 110km/h speed limit as the highway patrols are fierce on this stretch of road. In the end, no matter how early I left, I was forced to drive in pitch dark conditions as I got close to Raleigh and the surrounding Coffs Harbour area.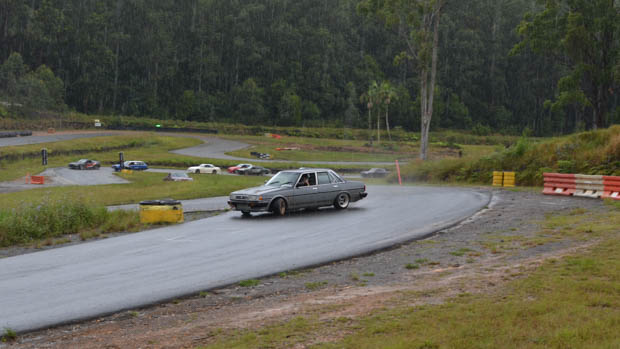 All I had was my Waze maps to guide me, but the highway became so dark it became a concern. When I turned off to Raleigh, the road turned to goop with potholes scattered everywhere which was wild in the dark, but somehow I got to the campsite and racetrack without any issues. Six hours since departure and I had made it.
Setting up camp at Raleigh International Raceway
When I arrived, I couldn't see anything but the faint lights of the campers scattered across the area. The boys greeted me with warm reception despite the chilling conditions and had my camping setup all done for me. What legends! They said that the place was like a mini Jurassic Park in the daytime and I laughed. Surely not?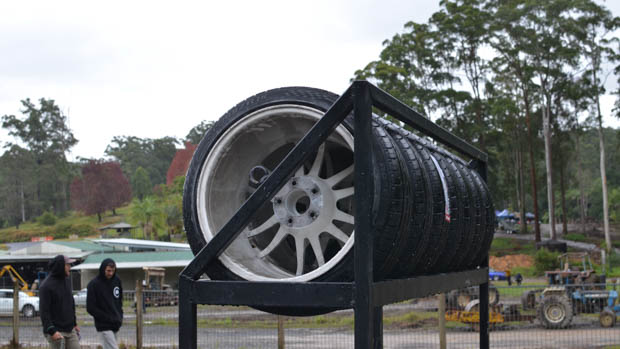 When I woke up in the pouring rain the next morning, the faint sunlight revealed that, yes, it truly was a mini Jurassic Park with a little racetrack in the middle of it. Raleigh International Raceway is around 20 minutes south of Coffs Harbour and was a waterpark in a past life that also offered go-karting.
The track is small compared to more typical competition tracks like Queensland Raceway or even Goulburn's Wakefield Park, but it has some elevation to it and some really gnarly corners that make for some very sketchy but fun 'entries' – where the car is set up either by handbrake or scandinavian flick for the corner.
For the next two days, it rained almost constantly. The rain was so bad in fact that the track began to simply fall apart with use, with huge potholes beginning to form on corner entry and exit. This made drifting even more hazardous than it usually is, with several cars having to pull out due to suspension and wheel damage.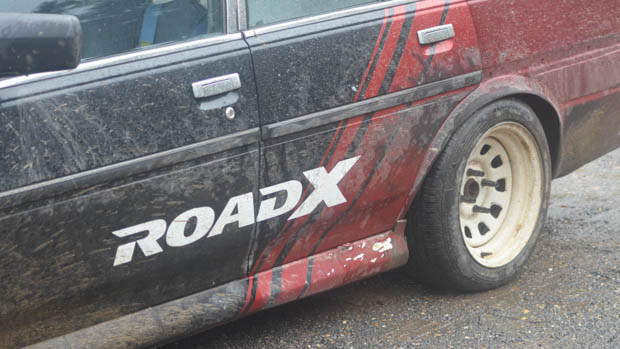 But when it did occasionally fine up, the track was a dream. I was lucky enough to be a passenger with my good mate Sam Dudley who brought along his Nissan Silvia with a 500-horsepower L98 V8 engine up front. In the wet, you definitely don't need that kind of power, however it was refreshing to see Sam drive differently for the conditions.
We did solo runs, then transitioned to tandems (where two cars run side by side together at close proximity) and that was a wild experience, let me tell you. Never have I been so close to another car whilst being sideways. I could almost touch the driver's door of the other car in a right-hand corner slide.
The event was also such a great way to meet like minded people who share the same passions. I met people from all walks of life from all over Queensland and New South Wales who are all great at what they do.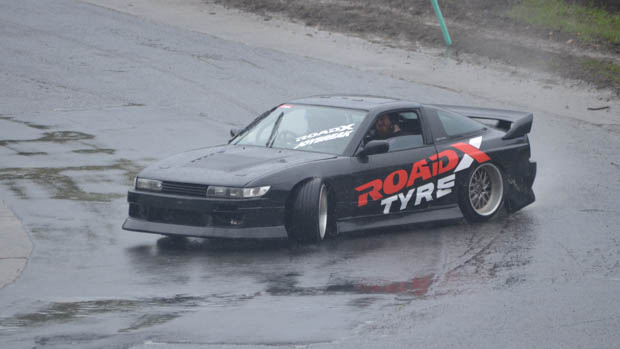 The cars they piloted ranged from LS-swapped Nissan R34 Skylines to classic V8 Ford Falcons and plenty of standard JDM drift missiles like Nissan Silvias and Toyota Cressidas.
As the sun began to set over the track, we squished our way through the mud back to the campsite. Although almost 99 percent of the camp was soaked, our tent and belongings were dry. Pizza arrived to fill our cold and empty bellies and unlike the rest of the group, I tucked in early for the big Sunday ahead. After all, I would have to drive another six hours home during the day.
Sunday at the racetrack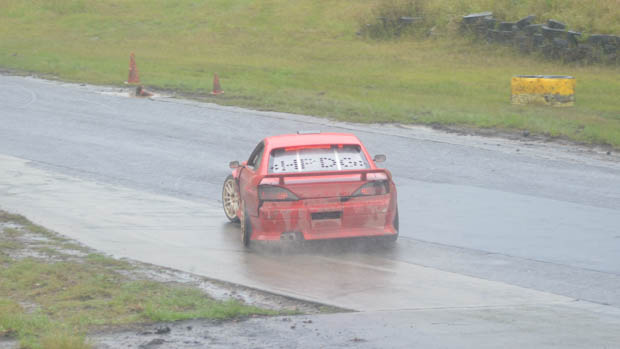 I awoke to the sound of very heavy rain at about 4am, which didn't stop until 8am, maybe even later. There was much more rain falling than was ever predicted by the weather boffins back at the Bureau of Meteorology. We were only millimetres from being completely rained out – everything was soaked and the water was starting to get into the tent.
But Sam and I got up, drove to Coffs harbour for a bite to eat and to re-energise ourselves somewhat and with that we felt a little better. A hot shower would have been nice, but hey, that's camping!.
When we returned back to the track, Sam and I took the mean red machine out for another run. The windscreen fogged up so bad we were completely blinded and could not see a thing (despite adding RainX to stop fogging). We had a couple of bad spins and decided to retire until the rain settled down – which just didn't happen.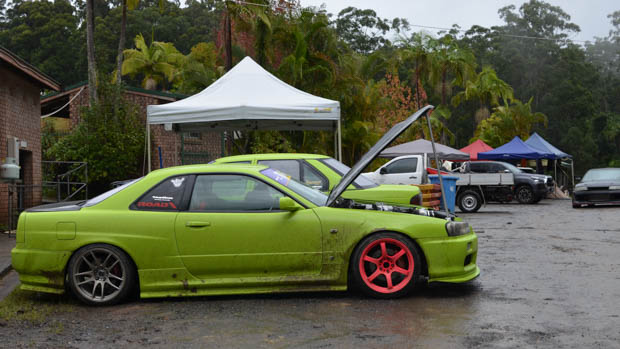 I managed to get some great video on Sam's phone along with some more content on the DSLR and really, despite the conditions, I had an absolute blast. But you can only last so long standing in disgusting mud all day, so I decided to call it quits and head off on my journey back to Sydney.
The rain continued to belt down time and time again as I headed toward Sydney, doing my best to grip the wheel tight through patches of standing water which caused the Hyundai i20 N to aquaplane for a second or so. It was pretty sketchy but I pushed through hoping the weather would improve.
At times the rain got so bad everyone was forced to slow right down as visibility was terribly low. Eventually, the weather cleared closer to Sydney and the run was pretty good. I was exhausted – the i20 N is not kind on the back and neck when driving for more than two hours or so – but before I knew it I was back home in Kensington in time for some dinner.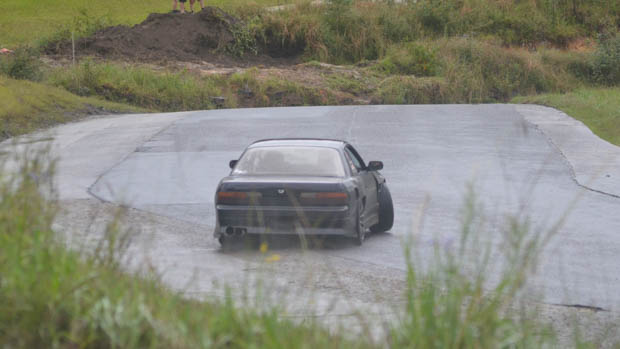 Having a shower and something to eat, I simply collapsed on my bed. I thought back to the mud, the fun, the drifting, the people and what I really needed – the peace and quiet of the bush. Now I'm back to the hustle and bustle of the city and all I want to do is go back. What a weekend.
The weekend at Raleigh was a perfect example of when the car community comes together and bonds as one. It's what I love about cars – it isn't just about the cars themselves but those who surround themselves and dedicate their lives to the craft of driving and, also, constantly having to fix their often unreliable drift cars! I often ask myself the question; what would we do without the car community? It wouldn't be the same, that's for certain.