Japanese brand Mazda confirmed in a brief message today that the 2019 Tokyo Motor Show will play host to the debut of the production version of the marque's first electric vehicle. Chasing Cars will be present, and we'll be hosting an in-depth walk-around of the Mazda EV on 23 October.
The 2020 Mazda electric car is yet to be publicly named, though Chasing Cars has driven a prototype of the brand's full-electric drivetrain. You can watch and read Iain Curry's report from this year's Mazda EV drive here.
On the question of whether Mazda's first electric car will come to Australia, the brand remains coy. Chasing Cars understands that a final decision has not yet been reached, and that Mazda's local arm continues to study the potential of bringing the electric vehicle to our market.
If the production Mazda EV sports specifications mooted in the prototype E-TPV we drove last month, it will utliise a 35.5kWh battery, producing 105kW of power and 265Nm of torque, with a predicted range of 250km.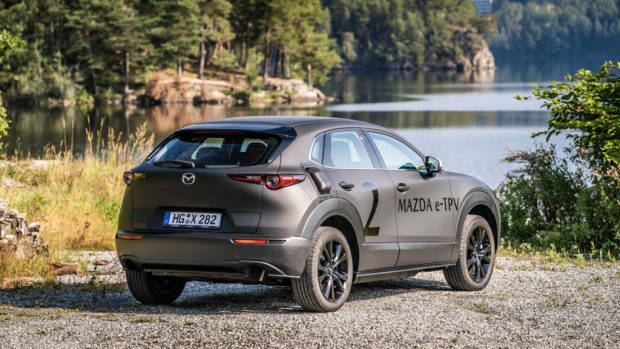 Prototype Mazda EVs have utilised CX-30 skins, but this isn't the final design.
It has also been confirmed today that the Mazda electric vehicle will sport an aesthetic in keeping with the brand's current interpretation of their trademark Kodo design language. Specifically, we're told the EV will "further push the boundaries to explore the car as art."
While the Mazda electric car will sit on a bespoke architecture, Mazda are categorising the vehicle as the third iteration of their new-generation lineup, following the Mazda 3 small car and CX-30 SUV, which we've also driven recently.
Though the prototype Mazda electric vehicle we drove recently sat beneath a CX-30 body shell, it has not yet been confirmed whether the production car will enter the market as a crossover. Based on shifting market trends, an educated guess suggests the Mazda EV will be an SUV.
Make sure to bookmark Chasing Cars and our YouTube channel – we'll have much more information on the 23rd of October.