Search Results for ""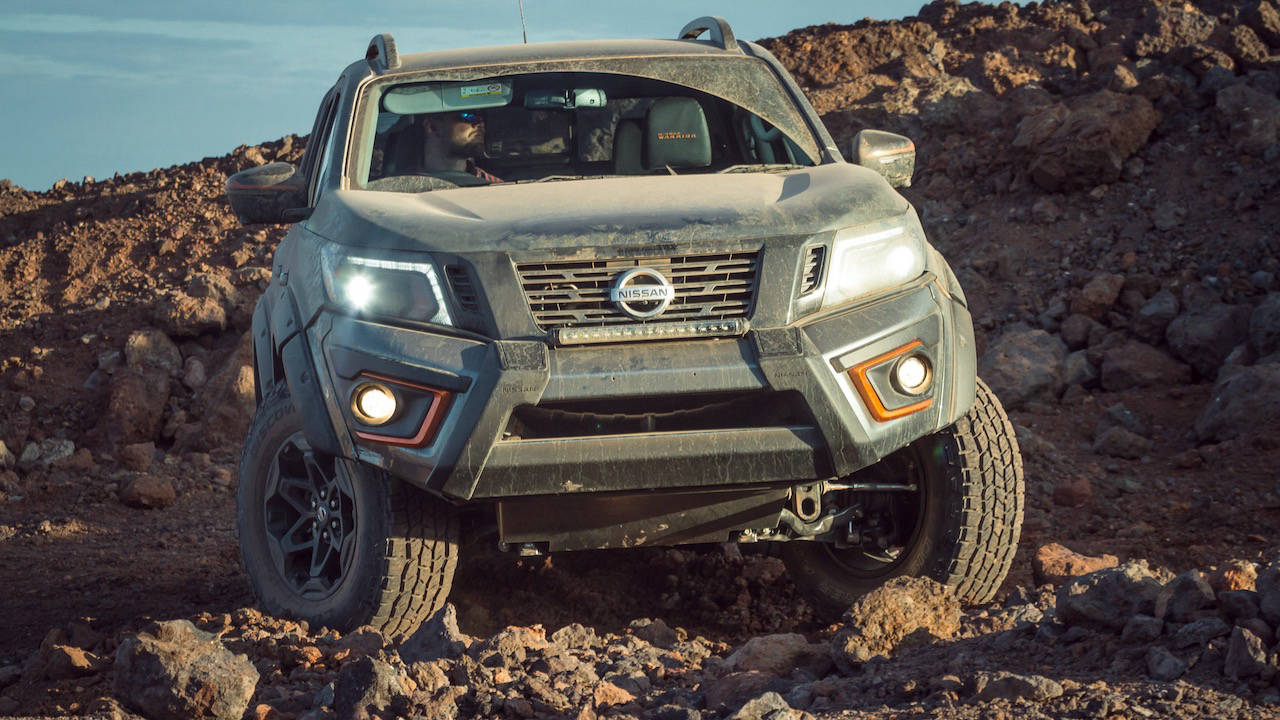 Nissan Navara Warrior: detailed look at Aussie-developed ute
In December of this year, the 2020 Nissan Navara N-Trek Warrior will join the growing club of premium utes pre-customised by their makers with common off-roading accessories. Running in the over-$60,000 end of the Australian pick-up market, the Navara Warrior's mechanical and aesthetic additions over the N-Trek are fitted in Victoria and many are assembled in Australia.
The Nissan Navara Warrior will compete with tricked-up utes like the Toyota HiLux Rugged X ($64,490, $70,455 driveaway) and Holden Colorado Xtreme ($69,990, all sold) – but the Nissan, which sits on a bespoke lifted suspension and 32.2-inch Cooper all-terrain rubber, like the Ford Ranger Raptor ($75,990, $82,635 driveaway) aims at both off- and on-road dynamic gains.
The Warrior starts life as a Thai-built Navara N-Trek. Ten Warriors will be sub-assembled daily at Premcar, the former specialist Ford performance tuner business based in Victoria's Epping. Forty Australian manufacturing jobs have been resurrected in the development and implementation of the Navara Warrior programme. Testing and tuning of the Warrior was conducted entirely in Australia.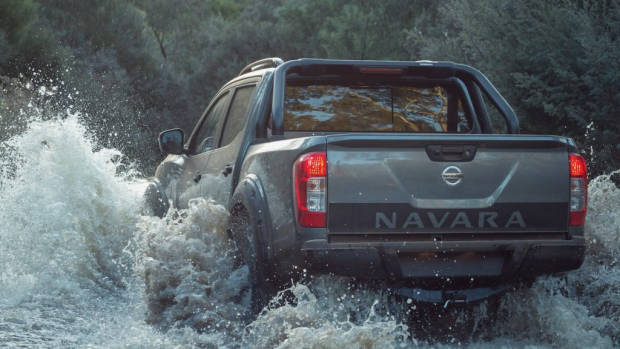 Pricing is yet to be finalised but Nissan Australia's Navara product manager Matt Baily says the combined value of the Warrior's additional specification sits in the vicinity of $10,000. For reference, the Navara N-Trek variant that the Warrior is based upon is priced at $56,450 in six-speed manual and $58,950 with a seven-speed automatic ($62,120 and $64,745 driveaway respectively).
Both gearboxes will be available in the Warrior, which exclusively uses the stronger of the Navara's two four-cylinder diesel engines – a 2.3-litre twin-turbocharged unit producing 140kW/420Nm.
An educated guess places the Navara Warrior's list price in the high $60,000 to low $70,000 range with a small premium added due to the fact Nissan's full five-year warranty will apply to the car and its accessories.
What equipment does the Navara Warrior have?
There is a bespoke spring and damper package, built locally by Monroe. The spring rates are reduced on both axles, both for greater wheel articulation off-road and more balanced handling on-road.
A new wheel and tyre package sees the wheel size downsized to 17 inches from the N-Trek's 18-inch wheel for better ride quality. The unique wheels are wrapped in Cooper Discoverer All-Terrain tyres measuring 32.2 inches in diameter. The measurement on the tyre is 275/70/R17.
The tyres (25mm) and bespoke suspension (15mm) see the Warrior's clearance lifted to 268mm – 40mm higher than the Navara N-Trek. The wider tyres see the front and rear track width increased by 40mm from 1,560mm to 1,600mm.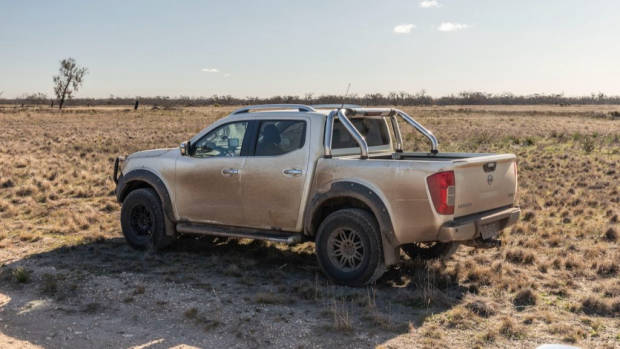 There is an integrated, body-coloured hoopless steel front bar designed by Brisbane firm EGR. The bar accommodates a 16-LED Hella light bar with a projection range of around 350mm. Premcar engineering director Bernie Quinn pointed out that this bar is designed not to disrupt airflow to the 2.3-litre engine, unlike some aftermarket solutions.
There is a 3mm stainless steel bash plate underneath the front fascia and the Warrior features are extended riveted plastic guards designed by Chinese outfit RP Prototype while Warrior-themed 3M decals are also added during the Premcar sub-assembly process.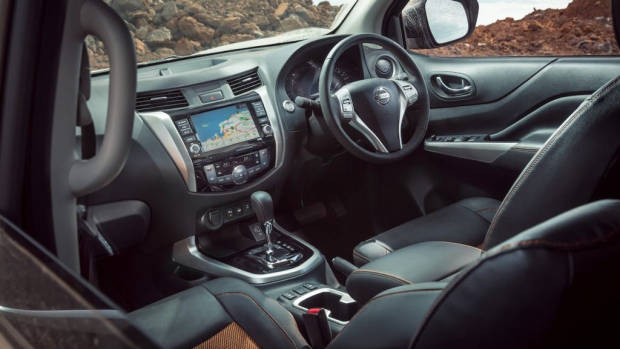 Inside, the interior is carried over almost wholesale from the Navara N-Trek. The only specific Warrior additions are embossed headrests and orange-trimmed floor mats.
The additional elements see the Warrior's payload fall to 730kg (manual) and 724kg (automatic). These figures are just shy of 200kg down on the N-Trek variant.
Compared with Holden's Colorado Xtreme or the Toyota HiLux Rugged X, the Navara Warrior skips a snorkel. According to product manager Matt Baily, that's because the Warrior strikes a balance between additional off-road capability and enhanced on-road handling and usability.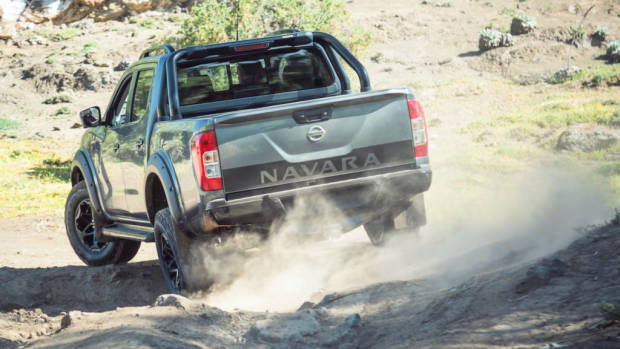 Mr Baily says Navara Warrior buyers will be driving on-road most days. "They want the vehicle to look good. They want to improve the performance of the vehicle. They want to improve the capabilities off-road, but they are not necessarily going off-road all the time."
The additions selected for the Warrior represent "the most popular [accessories] customers are looking for – the most demanded things," Baily says. "We haven't tried to line up with one competitor or another. We have focussed on customers who buy a Navara or are interested in a Navara."
Unlike the Ford Ranger Raptor, which introduced a new 157kW/500Nm two-litre turbodiesel four-cylinder to the Ranger lineup in Australia, Nissan have not taken the opportunity to select a more powerful motor for the Navara Warrior.
"We have a great-performing twin-turbo engine … it's a very capable engine. It does the job, and does the job very well," product manager Baily said.
In a considerable development, though, Mr Baily confirmed to Chasing Cars that even if they wanted it, Nissan would not able to utilise the Mercedes-Benz V6 diesel engine utilised in the Navara's platform-sharing sibling – the X-Class X350d.
Who will buy a Navara Warrior?
People shopping at the top end of the dual-cab market. While introducing the Navara Warrior, Nissan Australia managing director Stephen Lester pointed to the strong growth in the over-$60,000 portion of the ute market.
"The top end has really started to grow," Mr Lester said, pointing to almost 40 per cent growth in this price range in the last 12 months. In October 2018, utes priced at over $60,000 made up 16% of this segment. Now, that number is 22%.
"Up until now, Nissan hasn't played in that space – so what is the opportunity? More so than ever, consumers are demanding something that is not just a 'mid-life cosmetic crisis solution' – they are actually demanding that fit-for-purpose deliverable that showcases not only something about what they want to be perceived as, but [a ute that] also delivers in the real world," Mr Lester said.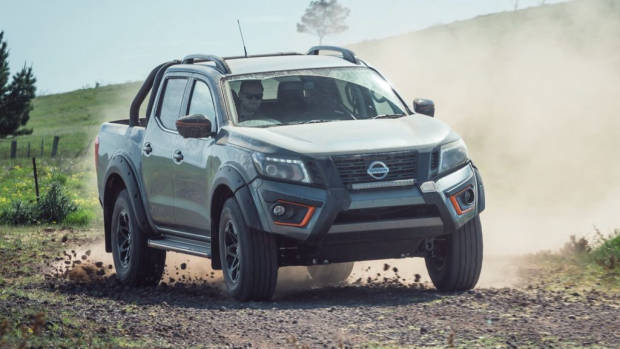 Lester said the ute segment in Australia is transitioning away from "tradie's mate" to vehicles that can easily blend into family use. "They go to the job site during the week, but [they are also a] weekend warrior."
At present the Australian-developed Navara N-Trek Warrior will be sold locally and in New Zealand, but there is the prospect that other Navara markets, which include Europe and South America, will take up the Warrior treatment.
"What I can tell you is that since we have brought the project to global attention, we have got a tremendous amount of interest from a number of other markets within the [Asia-Oceania] region and beyond," Mr Lester said.
How can you get a Navara Warrior?
By expressing interest with a Nissan dealer, mainly. The first deliveries will be in December.
Production of the Warrior grade in Melbourne will start in November at the aforementioned rate of ten sub-assemblies per day, though Premcar say that in the event of considerable demand, production could be upped to "at least 12 or 13 per day by rebalancing the line" and by hiring additional staff.
Unlike the Holden Colorado Xtreme, which was a limited-edition variant, Navara product manager Baily says the Warrior will be a permanent addition to the range.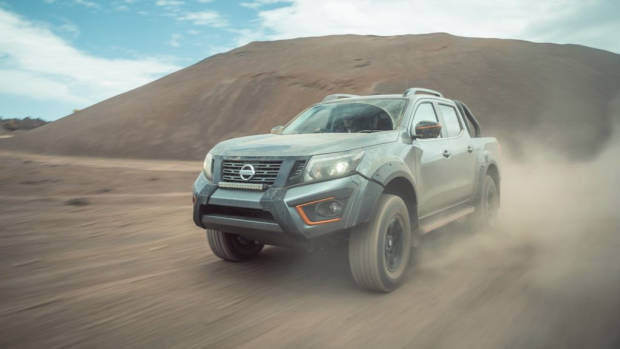 But Mr Baily stopped short of confirming that 10 units per day extrapolated to 48 production weeks per year would total about 2,400 units – or about five per cent of Navara sales.
"We don't normally talk about our sales volumes … but as you can see, the [Premcar] facility is a significant facility. I have every confidence the vehicle will be a competitive model in this segment and perform well for us, and grow Navara sales," he said.
So, while early on there will likely be waits for supply to open up, it is likely that picking up a Warrior will become a little easier into 2020.
How does the Navara Warrior drive?
You'll have to wait for our first off-road drive and on-road review, which we'll be doing at the end of this year. For now, you can check out our walkaround video by streaming it at the top of this article.
Read more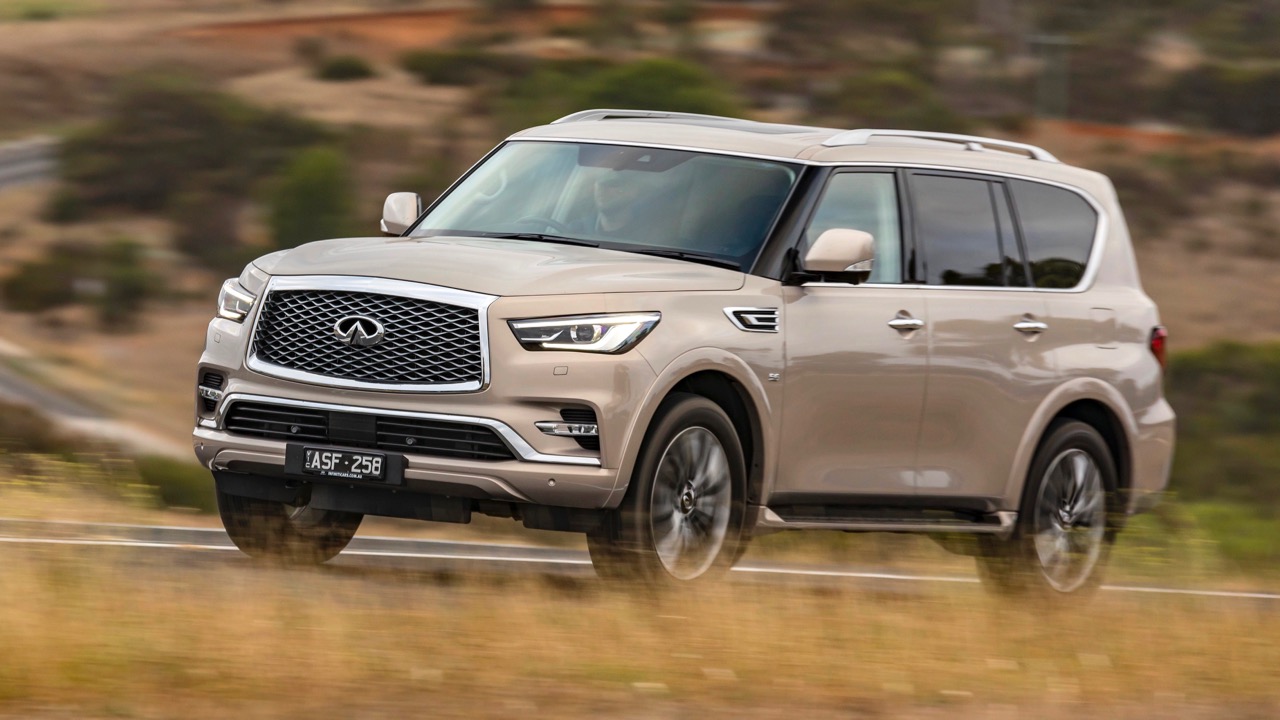 "Rebuild" under way at Infiniti Australia: Lester
Nissan's most senior executive in Australia has backed the state of the Infiniti luxury brand locally, acknowledging that there is a process of "rebuilding" underway with the goal of development a "healthier business".

Stephen Lester, the managing director of Nissan Motor Company in Australia, spoke with Chasing Cars this month about the progress of Nissan's luxury marque. Infiniti was introduced to Australia in 2012 as part of an expansion into new markets after successful growth in the United States since 1989.

Infiniti has continued to struggle to gain traction in the fickle Australian premium car market. From sales of 304 in the brand's first full year – 2013 – volumes grew to their best result of 807 in 2016. Sales receded to 649 units last year. By contrast, fellow Japanese luxury brand Lexus managed 8,819 sales; both were a far cry from the premium segment leader Mercedes-Benz, who shifted 32,201 cars in 2018.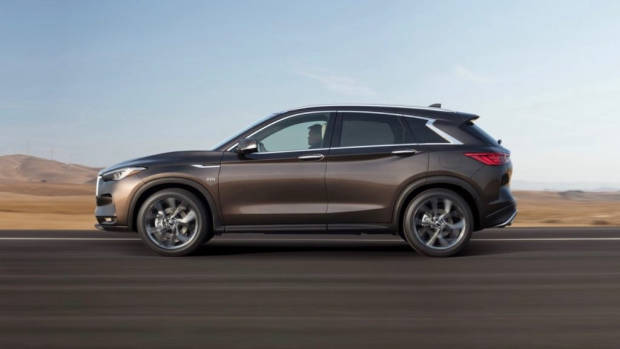 "At the moment we're under a rebalancing or a rebuilding of the network on an individual basis," Mr Lester said, adding that he was "quite pleased with the performance of the dealers themselves." The brand's dealer count was reduced to seven last year as part of a rationalisation of the business.

"I think we have to do a better job overall with the Infiniti business in general to continue to grow it. I'm very pleased with the work [we're] doing in terms of making a healthier business and starting to rebuild, and we will work with the global team on plans going forward."

Part of Infiniti's expansion earlier this decade also saw the brand push into Western Europe, though Nissan recently announced the luxury brand would be departing that continent by 2020.

Mr Lester would not speculate on whether Infiniti Australia could suffer the same fate, and would not name how many years Nissan Motor Company was committed to funding the brand-building effort locally.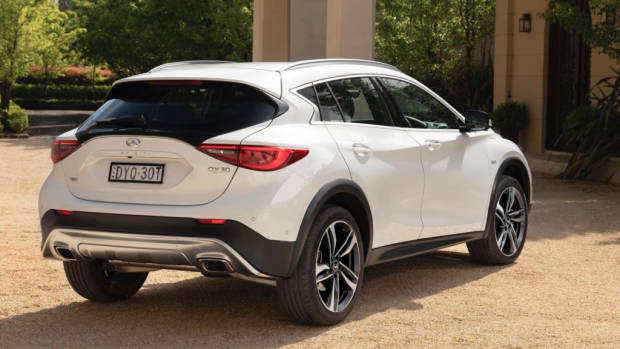 In Australia, the premium end of the car market remains quite soft in the face of unsteady consumer confidence and tighter credit restrictions in the wake of the recent banking royal commission.

"I think the market is tough across the board in Australia," Mr Lester said. "I think some of that is cleaning up some of the [car] business, to be honest. The reality is that like every other brand out there, we've got a challenge to get that share."

Failing very stiff headwinds, 2019 should result in a return to sales growth for the brand, with the scheduled launch of the QX50 midsize SUV. The QX50, which is still slated for arrival this year once right-hand-drive production commences, will compete in the competitive medium premium SUV set alongside the BMW X3 and Audi Q5.

Lester says he wouldn't be surprised if the QX50 became the brand's top seller, but wouldn't be drawn on specific volume predictions.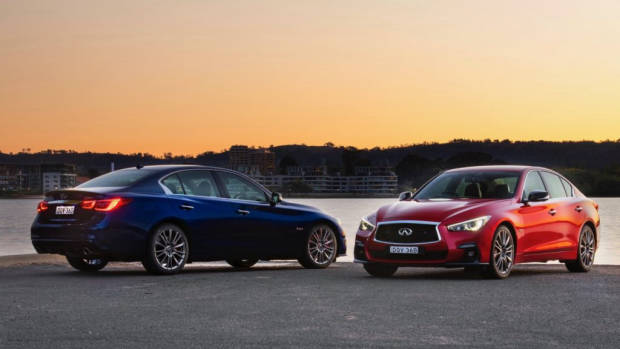 "To be honest, I haven't seen what the production plan looks like for it, or the allocation we're getting – but when you consider the rise in the popularity of SUVs and crossovers in that segment, I think it could certainly take a heck of a shot at [becoming the brand's top seller]."

Perhaps the QX50's most direct rival will be seen to be the Lexus NX, which managed 3,697 sales in 2018 while the Mercedes-Benz GLC-Class sold 5,605 copies to Australians.

On the flip side, Infiniti may suffer losses from the departure of the Q30 hatch and QX30 small SUV from the range next year. These vehicles were developed by Infiniti Europe – which is shutting down – and are restyled versions of the last-generation Mercedes-Benz A-Class. The '30' siblings accounted for 26% of Infiniti's Australian sales in 2018.

The brand's other offerings include the Q50 sedan (33% of 2018 sales), related Q60 coupe (14%), QX70 medium SUV (11%), and the upper-large QX80 SUV (14%).

Should the QX50 fail to gain a foothold against the likes of the Lexus NX, the immediate consequences aren't clear.

"I'm not going to speculate at this time on whether or not a product would be successful, or what our decisions would be. We don't know how successful other models could be, so we'll have to cross that bridge when we get to it."
Read more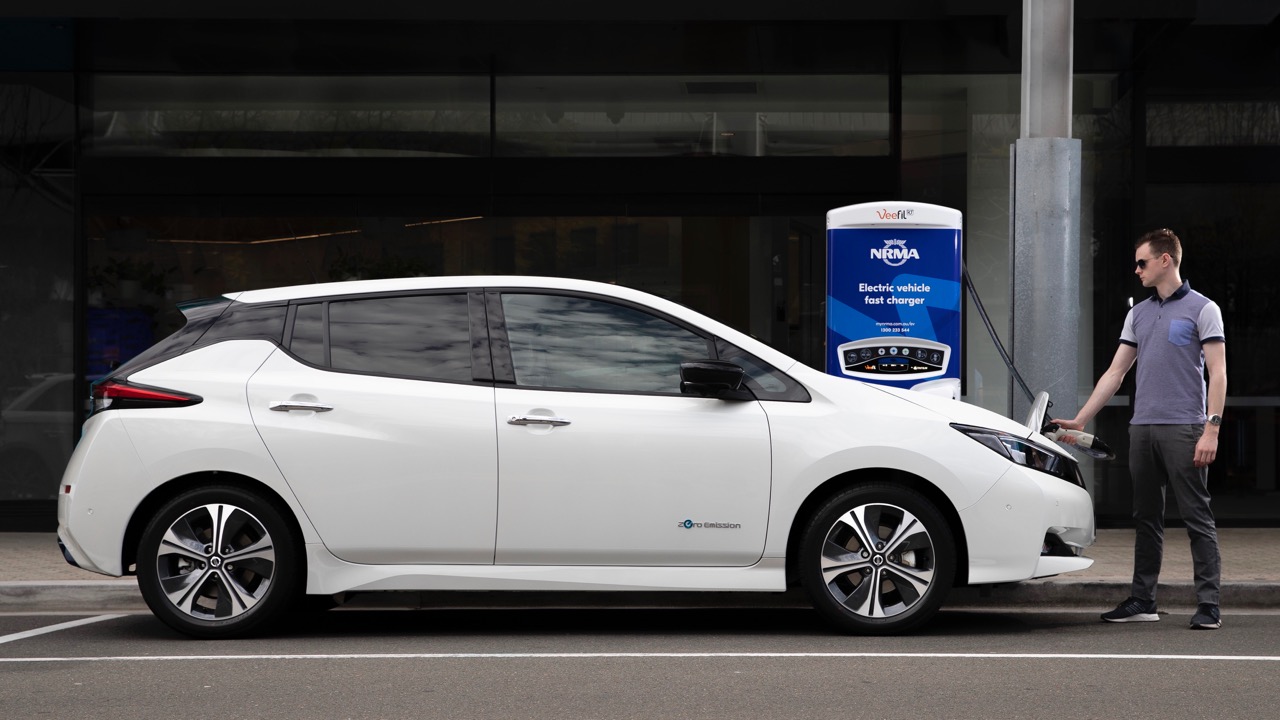 Nissan to offer 16 electrified vehicles by 2022
Japanese carmaker Nissan remains bullish about its stated goal of electrifying one-third of its sales volume by 2022, with senior executives confirming that the goal will be supported mainly through a substantial launch programme for new Nissan electric vehicles.

It's an ambitious plan that will require achieving about 20,000 sales annually of electrified Nissans in Australia, encompassing full electric vehicles, EVs packing a petrol-powered generator aboard, and more traditional hybrid systems.

Getting to 20,000 'electrified' sales will require Nissan to extend its electric tech to new segments, given the brand currently offers just two qualifying vehicles in Australia: the battery-electric Leaf, and a mild-hybrid Pathfinder SUV.

Chasing Cars spoke with Nic Thomas, Nissan's global head of EVs, on the sidelines of the launch of the second-generation Leaf in Melbourne this month about the brand's looming EV push.

"We've announced as part of our mid-term plan that by 2022, which is obviously not far away at all, we will have eight battery electric vehicles on sale around the world, and eight E-Power vehicles," Mr Thomas said. The new Leaf makes up one of the aforementioned battery EVs.

The brand counts full EVs like the Leaf hatch as battery electric vehicles, while E-Power Nissans carry a petrol engine aboard to act as a generator or charger for an EV drivetrain.

"E-Power is a derivation of electric vehicles where you take the battery EV drivetrain – the motor, the inverter – providing that instant acceleration, fun to drive, really quiet ride, but then you have a range extender petrol, a generator, as well," Mr Thomas explained.

Nissan are close to finalising development on an all-new electric vehicle platform shared between the brand and its alliance partners, Renault and Nissan. This platform will support both full electric and range-extending E-Power derivations.

This modular platform will underpin several of the electrified Nissans that arrive by 2022. Mr Thomas confirmed that a new Nissan electric SUV will sit on the platform, sized similarly to a Qashqai in the small-to-medium crossover segment.

"Many of our vehicles can be based off this modular platform, which gives the opportunity to reduce costs," Mr Thomas said.

Renault and Mitsubishi will also build cars off the new modular electric platform, Mr Thomas confirmed, but noted that these vehicles would not constitute part of the eight-Nissan figure.

Thomas downplayed suggestions that Nissan would also look to leverage alliance partner Mitsubishi's existing plug-in hybrid tech as seen in SUVs like the Outlander PHEV.

"I can't comment on Mitsubishi's strategy. At Nissan we focus very much on electrification using our battery EV and E-Power technologies," he said.

As for which of these new electric Nissans will be offered locally, Nissan Australia managing director Stephen Lester confirmed there would be several product launches over the next three years in support of the one-third of volume goal.

"I can't confirm specific plans or products that we have in the pipeline, but I think you can certainly look to the suite of products we've got and the things we've talked about," Mr Lester said.

"We have technology such as e-Power in other markets already, and you can be sure that we'll be looking at ways to bring those types of things into Australia."
Depending on battery sizes, it's likely that in the medium term Nissan electric vehicles will continue to be more expensive than their combustion counterparts. The Leaf is priced at $49,990 before on-road costs and offers 230km of range from its 40kWh battery.
Lester additionally confirmed that it was "very likely" that electrification would spread into Nissan's commercial vehicle lineup, which consists solely of the Navara ute in Australia – though an full-electric NV-series small van is available overseas utilising the same 40kWh battery as the Leaf.

Other short-term options include bringing the hybrid version of the existing Japanese-market X-Trail to Australia, which adds a small 0.9kWh battery producing 31kW/160Nm to the 107kW two-litre X-Trail for a combined output of 134kW.

Mr Lester also reflected upon the shifting demand for low- and zero-emissions vehicles in Australia.

"Here in Australia and around the world, we are under a tremendous shift and change in how people engage with…the types of vehicle they are buying," he said.

"Now that technology has progressed, and continues to progress, we're seeing greater opportunities in a diversified powertrain lineup."
Read more