The Mercedes-Benz C-Class is the best-selling small luxury sedan, despite current runout models being in their seventh year of production. Mercedes-Benz is now readying showrooms for deliveries of the all-new W205 C-Class, which will start from $60,900.
Though the new model sees incremental pricing increases — the previous C200 listed for under $60,000 – Stuttgart tells us that the base car alone benefits from $10,000 of added features and technology. The C200 is the most popular model in the range, so a generous value equation is crucial to attract customers away from the competitive BMW 3-Series, Audi A4, and Lexus IS.
All models benefit from higher standard equipment levels
The most affordable way into a C-Class remains the turbocharged petrol C200 sedan ($60,990), with all C-Classes now benefitting from MapPilot satellite navigation, DAB+ digital radio, push-button start, autonomous parking, and adaptive drive modes as standard. Performance for the C200 petrol has also been boosted, with sprint times close to those of the outgoing C250.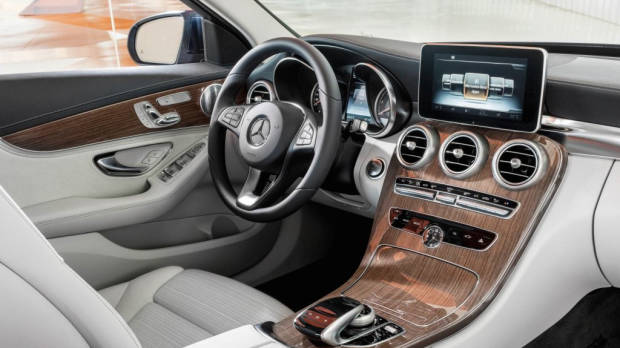 The C250 remains, though, in a more powerful guise, available as either a petrol or diesel. Headlining features at this mid-range level is the inclusion of the S-Class's active cruise control functions, which will steer the car through its lane for about ten seconds if the driver's hands are not on the steering wheel. Opting for the C250 also brings full leather, as well as a smart entry system.
The flagship C300, available only as a sedan, focuses on efficiency gains over the C250, rather than more sumptuous equipment levels: using an unusual diesel-electric hybrid motor, it will achieve a remarkable economy figure of less than 4L / 100km of diesel.
New C-Class pricing
C200 petrol sedan: $60,990
C200 petrol estate: $63,400
C200 BlueTec diesel sedan: $62,400
C200 BlueTec diesel estate: $64,900
C250 petrol sedan: $68,900
C250 petrol estate: $71,400
C250 BlueTec diesel sedan: $70,400
C250 BlueTec diesel estate: $72,900
C300 BlueTec diesel-electric hybrid sedan: $74,900