BMW has announced a new range-topping model for the G30 5 Series, the M550i xDrive. The new variant acts as an M5-lite if you will, packing a very respectable 390kW from its twin-turbo V8, this might just be the ultimate kilometre crushing 5 Series model.
There will be two specification levels available upon arrival in early 2020, with the base-model Pure edition starting at $134,990 (driveaway pricing not yet available), and the regular variant from $149,900 (driveaway pricing not yet available), so roughly the same as an F80 M3 competition.
The M550i won't face competition from Ingolstadt's Audi S6 as that car isn't brought to Australia, instead, it will face up against the slower and more expensive $169,941 ($183,333 driveaway) Mercedes-AMG E53, while offering a compelling option for disgruntled former HSV Senator customers.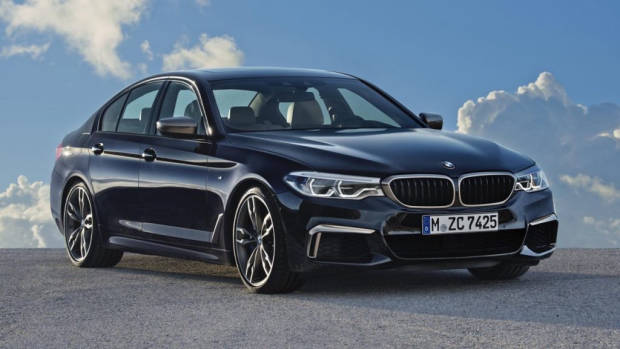 Power comes courtesy of BMW's N63 4.4-litre twin-turbo V8, with outputs of 390kW and 760Nm of torque being enough to propel the M550i from 0-100km/h in just 3.8 seconds. The M550i also produces more ten more Newton metres of torque than the 750Nm M5 Competition, which commands an $85,000 premium.
The M550i is priced competitively with the brand's own M3 sports sedan, and is actually faster, with the 317kW M3 Competition completing the 0-100km/h sprint three tenths slower, at 4.1 seconds.
Those are seriously impressive performance figures for a 'non M' car, and with a suspension tune that prioritises comfort over a full M car's absolute performance, while providing more occupancy space than a similarly priced M3, the M550i makes a seriously good case for itself if regular trackdays aren't your thing.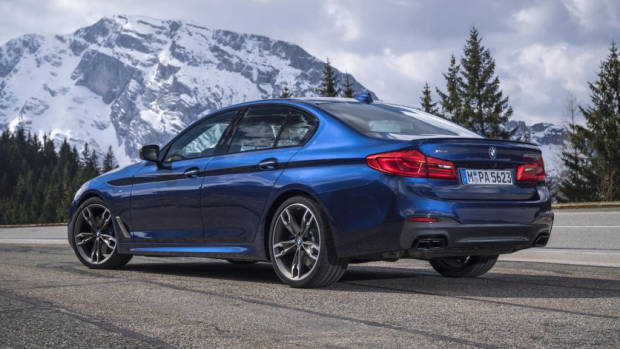 Transferring the prodigious power will be the tried-and-tested ZF eight-speed torque converter automatic, with all four wheels driven via BMW's xDrive system. As standard, the power split is 40:60, with the system able to send nearly 100% of drive rearwards, where an M limited-slip diff is found.
M Sport addenda found on the M550i serves to distinguish it from cooking 5 Series models, with cerium grey mirror caps and kidney grilles, larger air intakes, a lower stance, and our current favourite BMW wheels. To our eyes then, the M-lite exterior treatment works just as well as the full-fat M5 Competition.
We have been impressed with the interior quality of the G30 5 Series, even if the design isn't quite up there with Audi's ultra-modern interiors, we found it to be a lovely place to whittle away the hours on a previous continental road trip.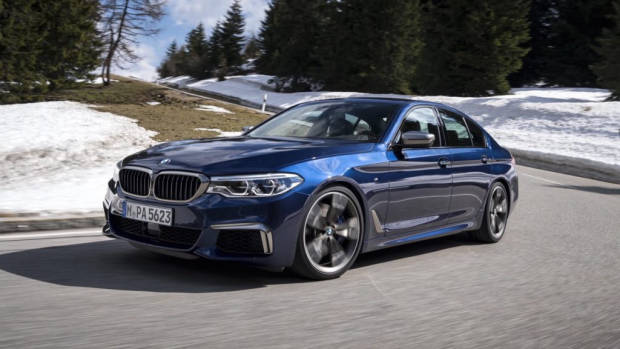 Standard specification on the $134,990 (driveaway pricing not yet available) Pure edition is ample, with M sport brakes, adaptive suspension, 20-inch alloy wheels, keyless go, woodgrain interior trim, four-zone climate control, adaptive LED headlights, digital cockpit with BMW's latest iDrive infotainment system, a head-up display, a premium Harman Kardon stereo and heated leather-appointed seats.
The standard specification M550i xDrive sees increased luxury levels for the $149,900 (driveaway pricing not yet available) asking price, with the addition of active roll stabilisation, laser headlights, soft-close doors, sunroof (a $3,000 option on the pure) and metallic paintwork ($2,000 extra on the pure).
Options packages are available too, the innovations package adds remote control parking and gesture control for an extra $1,700, with the $7,500 Indulgence package adding rear-seat entertainment with TV capability, and massage function for the heated front seats.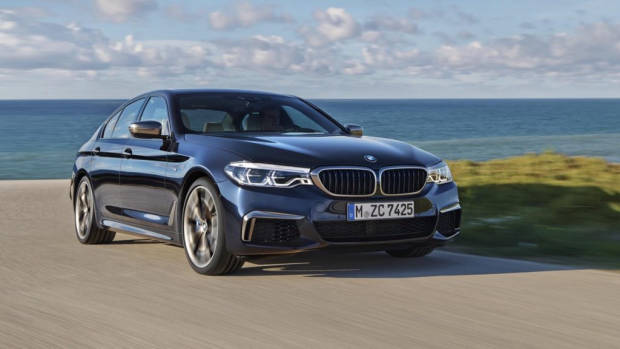 This might be the perfect stealth-speed 5 Series, with enough money left over from an M5 to purchase an i3 as a city car, or (nearly) an M2 as a weekend toy. We'll take a Pure edition in green with a tan interior, thanks.