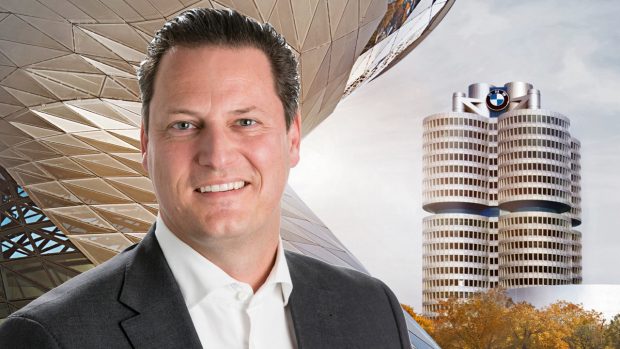 BMW Group Australia CEO Marc Werner has again used the BMW range event day for 2018 to heavily criticise the Turnbull Government for its lack of leadership on promoting electric vehicles – including the failure to fund financial incentives and supporting EV infrastructure. Speaking with Chasing Cars at the launch of the brand's 2018 range in regional Victoria, Mr Werner noted that "a range of solutions can be implemented to catch Australia up with the rest of the western world" when it comes to electric vehicle infrastructure and incentives, and that BMW Group Australia would "go it alone if nothing continues to result from the government" with electric vehicles.
The comments came against the backdrop of Mr Werner's overview of the immediate future of the BMW brand in Australia, which includes the core BMW badge, MINI, and BMW's the i-Performance electric sub-brand. Though BMW Australia sales were down by 15.7 percent to 23,619 units in 2017 and the brand won't launch any substantial models throughout 2018, models such as the new X2 and recently launched X3 SUVs are billed as adding incremental growth to the brand's sales in Australia.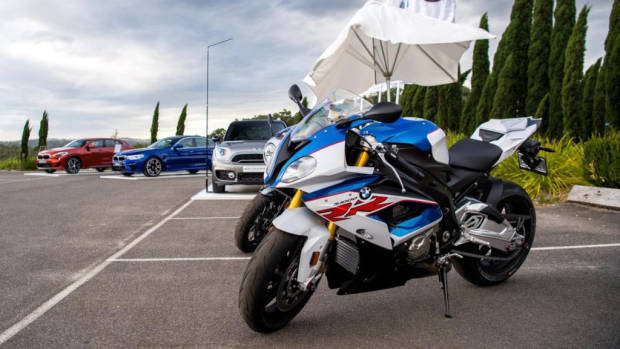 Mr Werner's remarks echoed those made a year ago at the launch of BMW's 2017 range, where he heavily criticised the then-lack of tax and registration incentives and the lack of state-supported infrastructure. This year, Mr Werner escalated his criticisms, telling Australian media that "the government is living in the doldrums."
"As politicians focus on their affairs rather than the advancement of this country, our industry is doing the heavy lifting. Our short-sighted government is holding our country back – I urge our Prime Minister to think further about electric cars.
"The short-sighted attitude of the government is, to be honest, disappointing.
"I again call on the Prime Minister Malcolm Turnbull to take action the action this country desperately needs. We live in hope."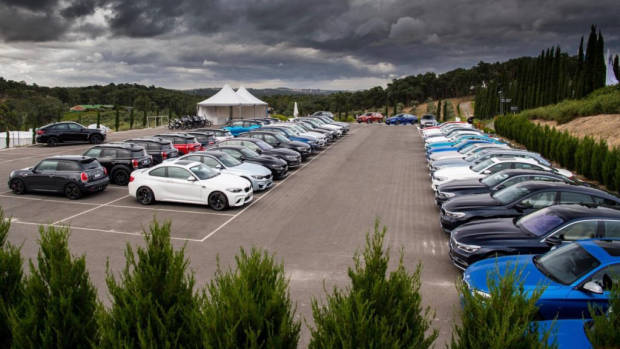 Mr Werner did acknowledge the "heartening" op-ed piece that appeared in Fairfax mastheads in January by federal energy minister Josh Frydenberg, who predicted one million electric vehicles will be on Australian roads by 2030.
"While these targets are extremely light compared to other countries' targets, it shows that at least the government is thinking about the situation and the policy for lower emissions and we commend the minister's foresight," Mr Werner said.
In 2017, electric cars accounted for just 0.1 percent or 191 sales of the new Australian car market. Combine that with hybrid and plug-in hybrid vehicles, and that number rises to just over one percent – a clear contrast with other developed nations that Mr Werner gave as examples. These included Norway, the US and even smaller nations including Thailand, and Malaysia.
In New Zealand, electric vehicle owners are exempt from the country's road user tax and other measures until electric vehicles make up for 2.0 percent of the country's fleet.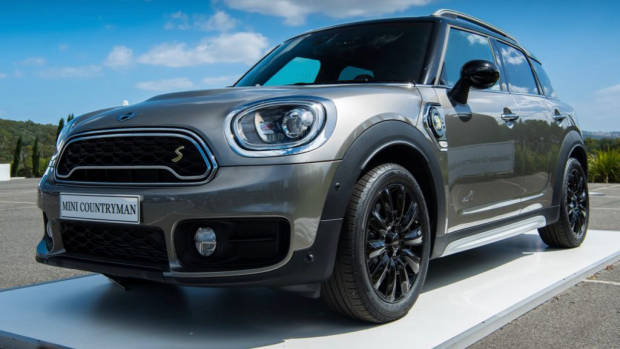 The MINI Countryman PHEV plug-in hybrid, which may come to Australia in 2018.
Mr Werner was quick to list a range of incentives that could possibly used in Australia to encourage electric vehicle sales. The first of which was removing luxury car tax for electric vehicles, whilst lower stamp duty, cost of registration and GST could be taken as immediate action to stimulate electric vehicle purchasing.
"We have markets around the world such as Norway, Malaysia, Thailand, the Netherlands and California obviously, that are really pushing electric vehicle mobility, particularly on the infrastructure side and providing the required tax incentives to get more customers behind this technology."
"That works in other countries quite well, so why not in Australia? The future is definitely electrification," Mr Werner said.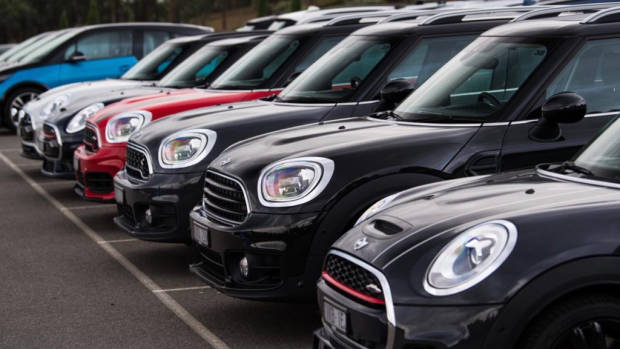 Key to BMW's electrification strategy is the BMW-i sub-brand, which presently includes models like the i3, 330e, 530e and X5 xDrive40e. Mr Werner suggests that BMW-i is moving BMW from a car brand into a technology company, a push which will broaden with the inclusion of deeper autonomous driving technology in future versions of BMW's i-branded cars.
"We took the deliberate decision to launch the BMW i brand at the end of 2014, first with the i3 then with the i8, and that has been successful.
"From a pure product point of view, BMW i serves to showcase that BMW is the leader when it comes to this kind of technology. And going forward, BMW i will be … the incubator for this kind of new technology.
"When we showed the BMW i Vision as part of the Frankfurt motor show in September 2017 we made it very clear that autonomous driving is definitely very closely related to the BMW i brand – we predict that autonomous driving will be the next big thing in the automotive world."
The brand's iNext SUV will be on sale in 2021, complete with level three autonomous driving capability.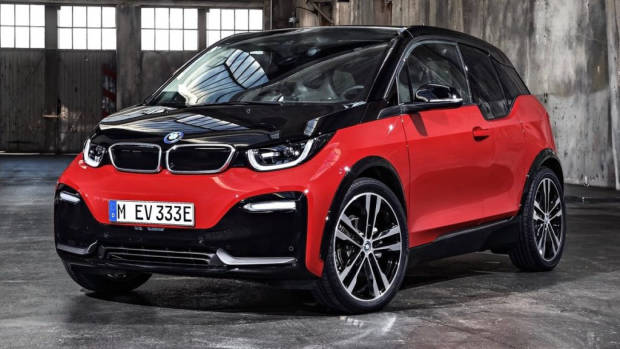 The new BMW i3s electric car.
"With all the technology that we have in our vehicles now, driving is possibly as safe as it can be and will only improve as we go forward with autonomous vehicles, and we believe BMW will make the next big step," Werner said.
"But as we mentioned before, it's a question of legislation. What happens in the case of an accident? Who's at fault? And the whole discussion with insurance companies starts.
"I believe that it will still take time before we see actual autonomous vehicles on the road, possibly more than a five year timeframe." he said.
Despite much talk of future products and electric vehicles, Mr Werner was positive about the brand's Australian fortunes for 2018. BMW sales took a hit by 15.7 percent to 23,619 units in 2017 but Mr Werner insists that the brand isn't worried about its sales levels, instead focusing on the profitability of the company.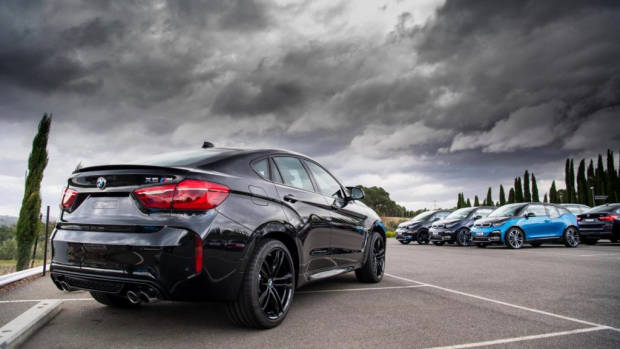 "It's about profitability – you can have high sales without high profit, or low sales with high profit but rarely both. In 2017 our sales were down, yes, but we reached a good level of both sales and profit. We're not going to discount everything to crazy levels just to get cars out the door." Mr Werner said.
First cab off the rank is the midlife update for the BMW i3, including a sportier i3s model, which is designed to appeal to BMW's enthusiast base while blending the efficiency dividends of electric technology. Priced from $69,900 plus on-road costs, the i3s adds $1,200 to the price of the 'regular' i3 by adding larger 20-inch alloy wheels and a performance hike to 135kW/270Nm – 10kW/20Nm more than the normal i3 thanks to a more powerful battery pack. BMW i3 sales improved by 28.3 percent to 118 units in 2017.
"When the BMW 'i' brand was launched [in] 2014 here in Australia, the i3 was clearly the pinnacle of electric vehicle innovation and of that technology that cemented our technological leadership, and that will continue to be the case," he said.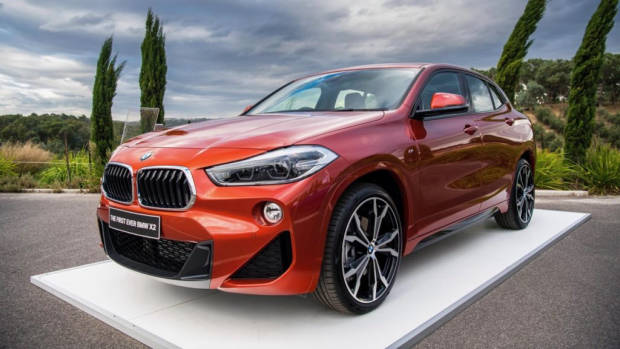 The BMW X2 M Sport.
The new BMW X2 SUV will also launch soon, which represents new territory for BMW. Following the success of its larger X4 and X6 siblings, the X2 exists as an X1-based 'sports activity coupe' to appeal to SUV buyers preferencing racier styling over outright practicality. A single X2 variant will be offered at launch – a front-wheel drive 141kW/280Nm 2.0-litre turbo petrol sDrive20i, and will be priced from $55,900 plus on-road costs.
At the upper end of BMW's 2018 calendar in Australia is the launch of the new M5, priced at $199,900 plus on-road costs. The M5 packs an uptuned version of the outgoing generation's 4.4-litre twin-turbo V8 engine, producing 441kW/750Nm, which now sends power to all four wheels through a new xDrive AWD system.
Like the Mercedes-AMG E63 S, the new M5 allows drivers to decouple the front axle, essentially turning the vehicle back to a RWD super-sedan. The new M5 recently set a number of world records, including the longest continuous drift in a car at over 374km and even the longest simultaneous drift with two cars at over an hour. Just to add even more hair raising action to the attempt, the M5 was fuelled whilst in motion by another M5 that drifted alongside it.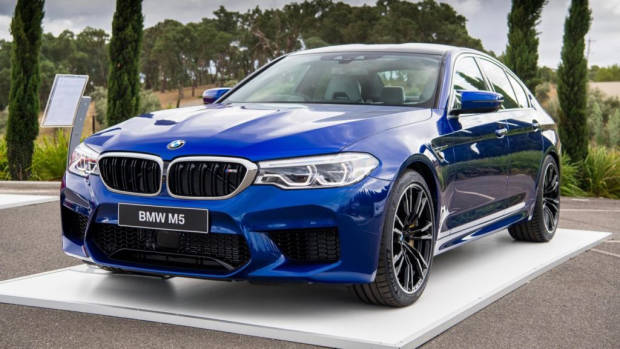 The new BMW M5.
Before the year is out, BMW's new halo luxury coupe, the 8 Series – with a M version dubbed M8 – will be revealed, and a new generation of the X4 coupe-SUV will arrive in Australia. A performance X3 M40i will arrive, and we expect to see the production version of the seven-seat X7 SUV revealed – and perhaps even the new X5, depending on timing.
The MINI range will be bolstered in 2018 with midlife update for the hatchback and convertible body styles. A plug-in hybrid version of the Countryman SUV was previewed at the event and while the Countryman PHEV is not yet confirmed for Australia, MINI hope to market the car in Australia in the third quarter of this year. Utilising the same 1.5-litre turbo three cylinder petrol engine, six-speed automatic and rear-mounted battery pack as plug-in hybrid variants of the 2 Series Active Tourer and X1 not sold in Australia, the Countryman plug-in offers a range of up to 45km from a single charge, and thanks to the electric motor driving solely the rear wheels, is able to be driven in pure rear drive mode.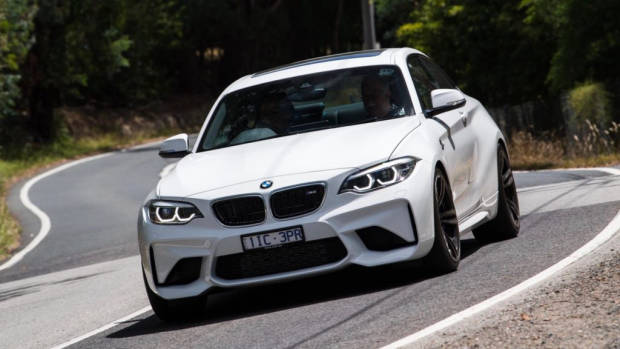 BMW Group Australia has also committed $400 million to improve its overall dealer network across its BMW, MINI and BMW Motorrad brands. A new dealership in Hornsby, NSW, as well as the continued refurbishment of BMW Sydney and upgrading current dealerships in Melbourne and Brisbane is planned to 2018 and is aimed at improving customer experience.
"2018 is going to be a great year for BMW Group Australia. Our saying for 2018 is this: start your engines," Mr Werner concluded.