Using this year's Paris motor show, Skoda has chosen to reveal the new Vision RS concept car to preview the next generation of Rapid small car. More of a traditional small hatchback than the small wagon/hatch combination like the current Rapid, Skoda is supposedly going more upmarket with the new generation of the car.
As highlighted by the Vision RS, Skoda is pushing part-electrification for its next generation of performance RS-badged vehicles with the concept using a plug-in hybrid drivetrain mixed with good performance figures. The Rapid is due to be revealed next year.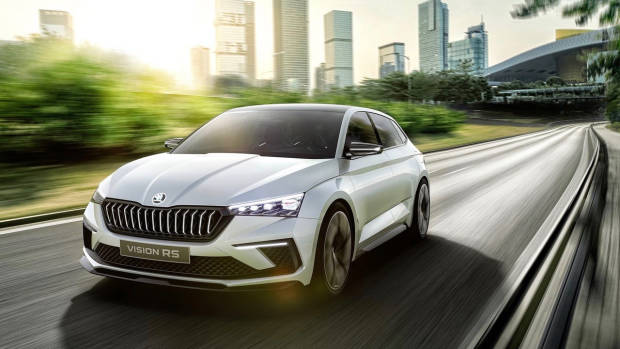 Sitting on the same MQB-A0 platform as the Volkswagen Polo, the Vision RS concept car uses a plug-in hybrid drivetrain coupled to a 110kW/250Nm 1.5-litre turbocharged petrol engine that is used in the Karoq small SUV. In combination with the 13kWh lithium ion battery pack and 75kW electric motor, a maximum of 180kW of power is available, enough for a 0-100km/h sprint time of 7.1 seconds and a top speed of 210km/h.
Up to 70km of electric-only range is available after a full charge, and Skoda claims a 1.4L/100km combined fuel figure. A six-speed dual-clutch automatic transmission is the only available transmission, and the concept is matched to an on-demand all-wheel drive system.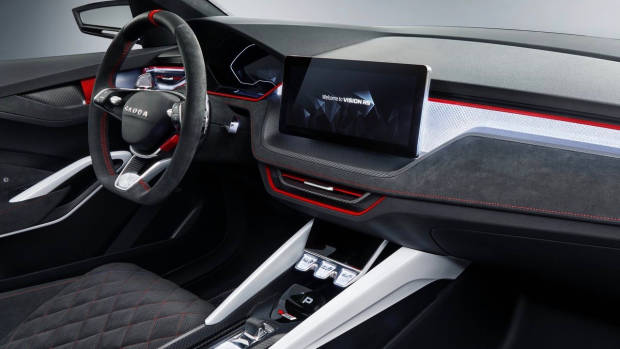 In addition to a part-hybrid future, the Vision RS concept also previews the next generation of Rapid small car. The next Rapid is due in 2019, and instead of the budget-focus of the current model, it will take a similar position to the Volkswagen Golf and compete against the whole spread of the small car class. The styling of the Vision RS concept car is unlike other Skoda products – it's low-slung, wide and aggressive. The interior offers a glimpse into the next Rapid's cabin, with a freestanding tablet-style infotainment system for the first time in a new Skoda car.
Measuring 4,356mm long, 1,810mm wide, 1,431mm tall and with a 2,650mm wheelbase, the next Rapid will likely be around 50mm longer, 100mm wider, 30mm taller than the current model. Skoda claims the bootspace is 430-litres – 46-litres larger than the current model.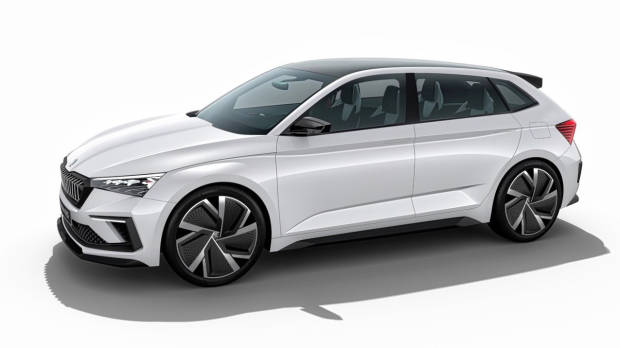 The next generation Skoda Rapid has already been confirmed for Australia, though when it will arrive is currently unknown. Skoda have said that the next Rapid will be placed more upmarket compared with the more budget-focused current model, and will be marketed as Skoda's competitor to the Volkswagen Golf, which will share its range of engines. A Rapid RS is believed to be part of the range for the first time as well, which could use the same drivetrain as the Vision RS concept.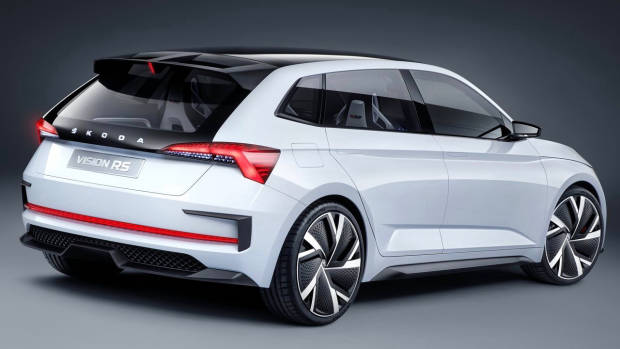 Stay tuned to Chasing Cars for more Skoda news and reviews.