The coupe-SUV has been the most unusual new car segment to emerge from the last decade. However, the barnstorming BMW X6 – of which nearly 250,000 have been built – has proven that there's a serious market out there for sporting dynamics and sleeker looks, on a high-riding chassis.
After contemplating an entry into that segment for six years, Mercedes-Benz settled on building the X6-rivalling GLE-Class Coupe last year. The traditional ML-Class SUV will be renamed GLE this year, making the GLE Coupe the X6 to your X5.
Mirroring the Stuttgart maker's approach to many of its other vehicles, the GLE range will be headed by the stonking, 430kW Mercedes-AMG GLE63, revealed today at the North American International Auto Show in Detroit.
A trend has emerged at AMG to produce a standard model, and a faster 'S' model, and we'll see that with the GLE63. The two will share the ML63 SUV's biturbo 5.5-litre V8. Regular cars will produce 410kW and 700Nm, while the S cuts the 0-100 sprint to 4.1 seconds (from 4.2) by boosting outputs to 430kW and 760Nm.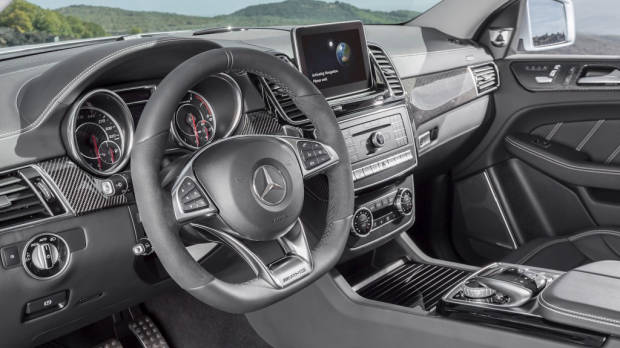 Affalterbach are already claiming to have bested BMW's X6 M, which displaces a smaller 4.4-litre V8 producing 423kW.
Based on the standard GLE Coupe, which will launch with a GLE450 AMG Sport model, the GLE63 sends power to the ground through a 60:40 rear-biased 4Matic all-wheel-drive system. AMG's dual-clutch automatic isn't employed this time around: the regular Benz 7G-Tronic seven-speed box is the sole option.
Numerous AMG-specific cabin elements remind you that you invested in the flagship sports model: a flat-bottomed three-spoke wheel, sports seats in nappa leather, and carbon trim among them.
So, how much for your high-riding four-door coupe-bodied monster? About $200,000 when the GLE63 lands down under in the second half of 2015.