Overnight, Genesis has revealed images of the latest addition to its line-up which is, predictably, an SUV dubbed the GV80. It was inevitable that Genesis would swing into the competitive world of luxe soft-roaders, the brand says it will be on sale in the Korean home market by January and arrive in Australia soon after.
When the GV80 arrives in Australia with its seven-seat capacity we expect the pricing to be fairly consistent with Lexus' RX range while doing battle with established segment dominators – The BMW X5, Audi Q7 and Mercedes GLE.
It's undeniably a hot market right now and Genesis will have to try hard to take sales from the tyrannic German trio when badge prestige rules the game, but the Koreans can offer similar poke and tech for less cash. The brand's range-topping G70 packs 272kW/510Nm for $79,950 ($88,175 driveaway) – significantly less than BMW's $99,900 ($108,440 driveaway) M340i which you then have to tick plenty of option boxes on.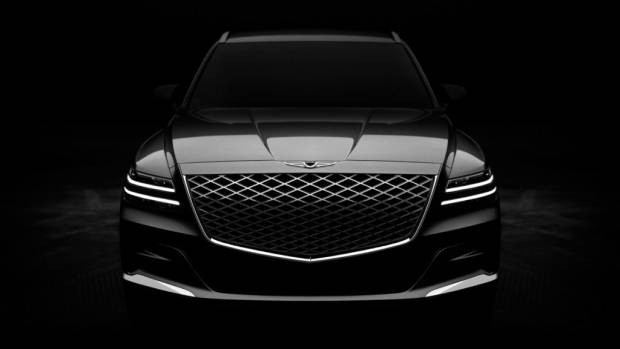 The GV80 will be based on an exclusive to Genesis rear-wheel-drive platform that will underpin the soon-to-be refreshed G80 sedan. That will mean a familiar engine selection, think two-litre turbo four-cylinder as a base model and excellent 3.3-litre twin-turbo V6 on higher trims.
When shown as a concept in 2017 there was a promise of hydrogen powertrains, though it's unlikely that will be available at launch. Genesis' parent company Hyundai has some great EV tech though, so it's almost certain something will be available in time.
Although the images released aren't that clear, it's not hard to imagine that the GV80 will be imposing on the road. If you thought BMW was getting silly with the grille game, think again, the GV80's monster item leaves little space for the headlights which, incidentally, look somewhat Benz S-Class.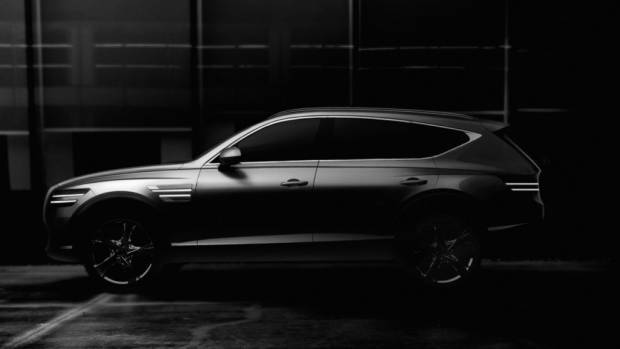 In profile it looks more conventional, the snout that looks a little Volvo XC90 gives way to conventional slab-sides that Genesis say are divided by "parabolic lines". The tapered c-pillar detail has hints of dynamism to it, though we wonder how much that will compromise the view out for third-row passengers.
While the GV80 generally looks like a successful design and we've enjoyed seeing the restrained G70 sedans out on the road, we'll reserve judgement for when we spot one in the flesh.
We do hope Genesis swaps the cheap-looking alloys pictured for production models though.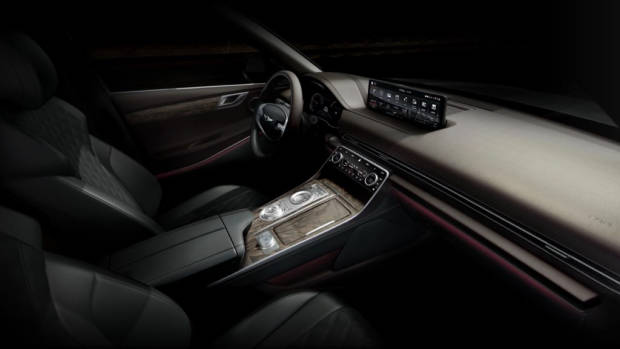 Inside is a beautiful sea of brown on the specification shown – though we assume there will be other choices of course – but if you're a long-time reader you'll know that here at Chasing Cars we don't mind a bit of that.
Wood panelling on the centre console is a welcome player too, it looks as though there will be a rotary style controller for the infotainment system exclusively because reaching to touch that large centre screen will be a stretch.
Although no details on price or specification have been revealed, Genesis has assured us there will be more info dropping as we approach the Aussie arrival date.