BMW has begun trickling out details and images of the upcoming G80 M3 and G82 M4, both cars boast of a twin-turbocharged six-cylinder engine producing up to 375kW currently deployed in the X3 M and X4 M and Alpina B3 Biturbo.
The return of BMW's seminal sports sedan is certainly something to get excited about. It may not have strictly been the first, but the E30 M3 set a precedent for the brand's performance future.
Now, of course, the E30 M3 was only available as a two-door, and the G82 M4 really will wave that car's flag.
And while there's no confirmation yet on the weight of the pair of new M cars, the new engine more than doubles the outputs of their great-grandpa's 175kW naturally-aspirated four-cylinder.
In fact, the 'S58' lump found under the bonnet of the coming M3 and M4 competition models producing 375kW, we doubt that's a coincidence as it exactly matches the efforts of the current Mercedes-AMG C63 S' four-litre twin-turbocharged V8.
Although the torque is still in favour of the C 63 S, producing 700Nm to the BMW's 650Nm, numbers are up by a maximum of 44kW, with BMW claiming a "significant increase in performance".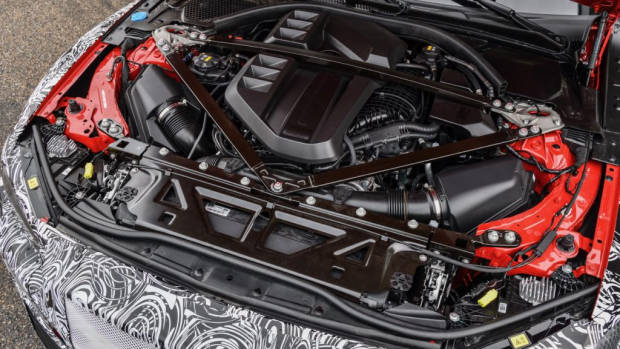 Note that there will be two states of tune offered for all markets. The' regular' M3 and M4 get outputs of 353kW and 600Nm from the S58. The more focused Competition pumps out 375kW and a maximum of 650Nm of torque.
While the X3 M and X4 M are offered exclusively in Competition trim in Australia, we doubt that will be the case for the M3 and M4. That's because a six-speed manual linked up to an M rear differential will handle power transfer in the 'regular' M3/M4.
Meanwhile, the Competition cars will move to an eight-speed torque converter gearbox and, while initially rear-drive only, BMW says that all-wheel-drive will be an option shortly after release.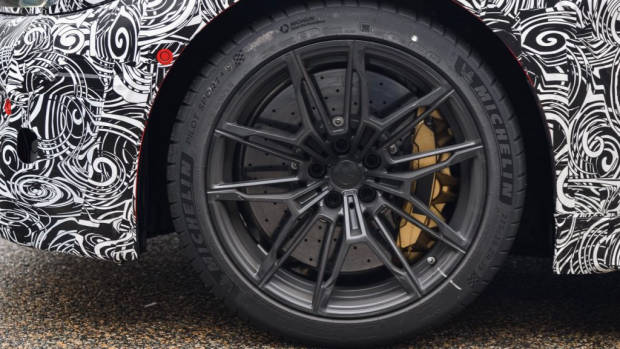 But you know us, and here at Chasing Cars and it's impossible to go past the increased interaction the manual will bring. Though we'll have to wait to drive one before making up our minds.
2022 will see the M4 GT3 take the reigns as the customer racing car from the current M8 GT3. That car will use this S58, presumably with a dry-sump, higher rev-limit and other tweaks, but it's great to know this is a competition-ready engine.
But as the E30 M3's precedent suggested, the new M cars are about more than just straight-line fire-power.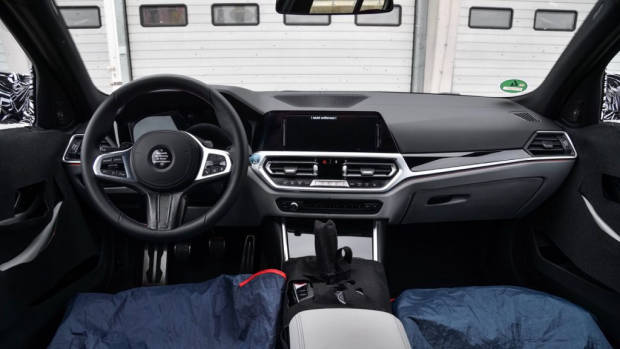 It's no secret that 'M' stands for motorsports and, naturally, the M3 and M4 are being developed extensively on fearful tracks like the venerable Nurburgring Nordschleife and the pictured Sachsenring. Severe tests of brakes, all-out road-holding and ability to deploy power are all tested to their limits.
As head of M Division, Markus Flash asserted, an M car is more than a track toy "with each BMW M automobile, we put motorsport technology on the road".
To regain their top-dog honours, the new M3 and M4 need to do more than just go fast – something that saw the previous F80/82 models lack charm. That means the new cars are being tested exhaustively on roads in the South of France and Arjeplog in Sweden, BMW says.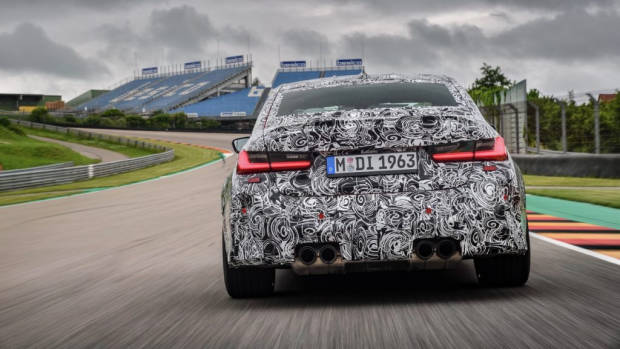 Unfortunately, in camouflage, it's hard to tell precisely what the new M3 and M4 will look like, though initial impressions suggest each car will retain their respective base model's grilles – even more reason to go for the 3 Series Sedan. Still, the M4's added muscle may make it a more appealing vehicle than its 4 Series sibling. 
More details on the coming M3 and M4 will be coming soon, but for now, we await a combination we thought might be dying – a rear-drive sports sedan with a manual gearbox – with bated breath.