BMW has announced a new PHEV powertrain for the handsome 5 Series line-up. The 545e teams a silky smooth inline-six with an electric motor for a combined output of 290kW.
This is supplemented by an electric-only range of over 50km and combined fuel consumption claimed as low as 2.1L/100km. Not bad for a three-litre 'six.
The Bavarians say the 5 Series has sold "nearly 50,000" PHEV models, making it the most popular choice, even though BMW offers this same drivetrain in its trendier X5 SUV.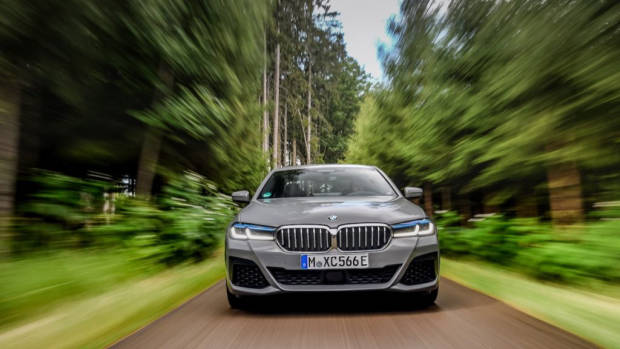 As for whether the electrified 'six will make it to Australia to replace the now-defunct 540i, we'll have to wait and see. If the 545e joins other 5 Series models here, the vehicle will face tough competition from Mercedes-Benz's new E300e and Audi's A6, though that car has no PHEV option.
BMW has spread its eggs quite wide, not just focusing on all-electric vehicles like the iX3 and Concept i4, but also on sneakily sliding electrification alongside otherwise mainstream cars, a sort of preparation for future mobility, if you like.
Vital statistics for the 545e are as follows – up front is a familiar 'B58' turbocharged three-litre straight-six that produces 210kW on its own. The combustion engine is teamed with an 80kW synchronous electric motor for combined system outputs of 290kW and 600Nm.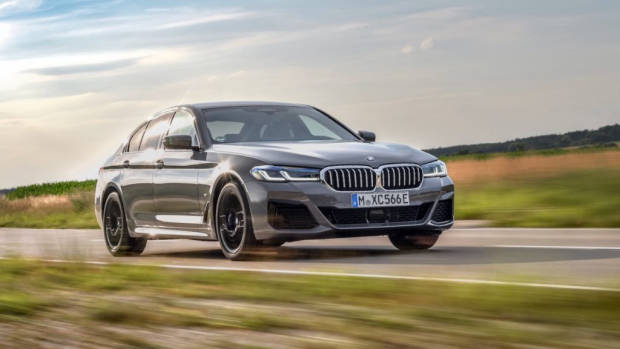 In combination with a ZF eight-speed torque-converter gearbox and xDrive all-wheel-drive, the 545e should complete the standard sprint in 4.7 seconds, or one tenth faster than the 540i xDrive sedan.
Compared to the 250kW 540i, the 545e improves fuel use drastically. Claimed consumption for the combustion 'six is 7.7L/100km, the 545e is claimed to sneak under 2.5L/100km. This isn't just affected around town, on the freeway the larger battery size of the 545e will allow sailing at higher speeds for further fuel saving.
The 400V lithium-ion batteries are, however, situated under the boot floor of the 545e which encroaches on luggage space slightly. Boot volume shrinks from 530L to 410L.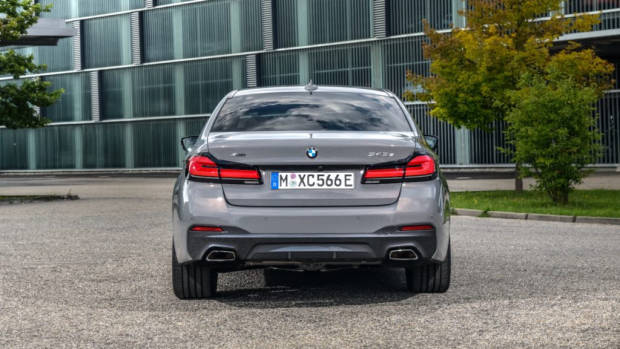 Switchable drive modes naturally rear their head, and drivers will be set to Hybrid mode by default, which uses a combination of two power sources without restriction pace too much. Selecting Sport mode means all 290kW will be available to the driver, though we presume fuel consumption will suffer somewhat.
Double pressing the Hybrid button activates Eco Pro which will dull responses and prioritise electric power. BMW claims the 545e can travel up to 57km on battery power alone, and reach 140km/h, or more than quick enough to hurt your license in Australia.
A unique jingle, designed by Hans Zimmer, will greet drivers when they switch on the 545e, BMW says. There is also an exterior acoustic warning engineered into the 5 Series, which activates below 30km/h to warn pedestrians of its presence.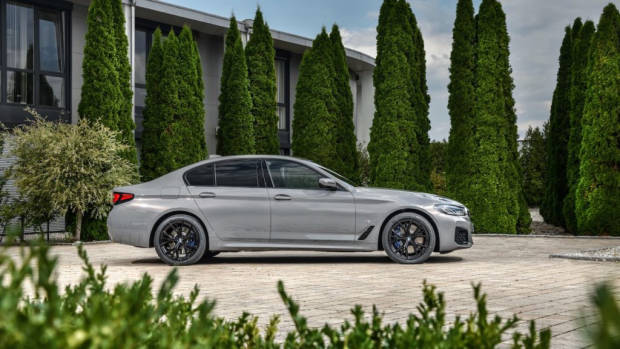 In European settings the navigation system is smart enough to know when a driver has entered a low emissions zone and, BMW says the vehicle will default "the drive system to purely electric mode" without human intervention.
It's all pretty intelligent, but whether the 545e will join the rather popular 530e here in Australia is yet to be confirmed. We hope it does, because right now the Australian 5 Series range is sorely lacking the brand's signature petrol 'six.