Search Results for ""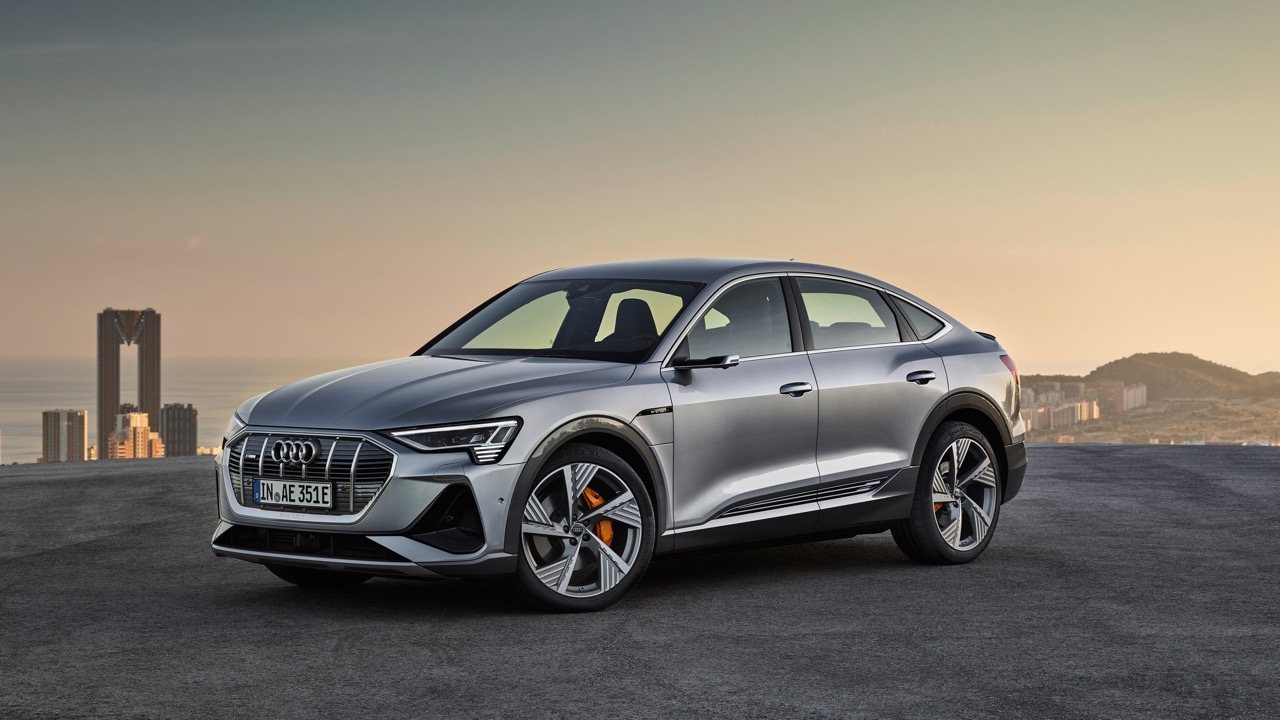 Audi's sleek e-tron Sportback is coming to Aus in late 2020
Audi has ditched the concept-car wrapping from the second model in its e-tron family, the swish looking e-tron Sportback. Boasting 300kW and 446km of WLTP certified range, the brand is certainly cementing the design language for their electric future.
Electric mobility has been a hot topic lately, with legacy brands like Audi now catching up with innovators like Tesla's Model X and Model S, while trying to beat german competitors such as coming BMW iX3 and Mercedes-Benz EQC to market.
Although no pricing has been confirmed, Audi expects the e-tron Sportback to arrive in the second half of 2020. European pricing starts €83,000 for the 55 Quattro, which converts to $135,000 (at current rate), matching Benz's EQC, also taking sales away from their own combustion-engined Q7, BMW X5 range and Mercedes-Benz GLE.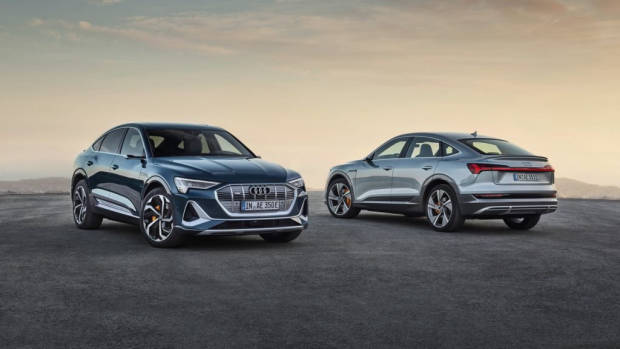 At launch two powertrains will be available, the headline Sportback 55 Quattro produces 265kW and 560Nm with two dual electric motors, by depressing the 'S' button and burying the throttle, the 55 Quattro will give eight seconds of power boost, raising power to 300kW and sending the SUV to 100km/h in 5.7 seconds.
Holding power is a 96kWh battery which sits beneath occupants, which adding to the chassis rigidity of the Sportback. The cell will fast-charge at 150kW, achieving 80% charge in just 30 minutes.
The other powertrain is the Sportback 50 Quattro, with outputs of 230kW and 540Nm from a smaller 71kWh battery. The fast-charge is limited to a lower 120kW, but the 120kg lighter battery will charge to the same 80% in an identical 30 minutes.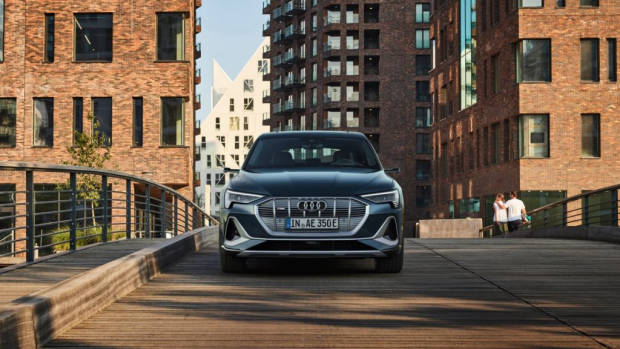 Regen braking will be adjustable via steering wheel paddles, and at maximum will regen an impressive 70% of the cars outputs, so 300Nm and 220kW, when slowing from 100km/h.
For efficiency, the e-tron Sportback pootles around in rear-wheel drive most of the time, when slip is detected or low-grip modes are activated the front axle comes into play for extra security.
For the e-tron Sportback Audi has achieved a drag coefficient of 0.25 CD, fairly impressive, with Audi claiming this improves range over the conventional e-tron by 10km in WLTP testing thanks to the smoother detachment of air from the sloping rear window and flat boot deck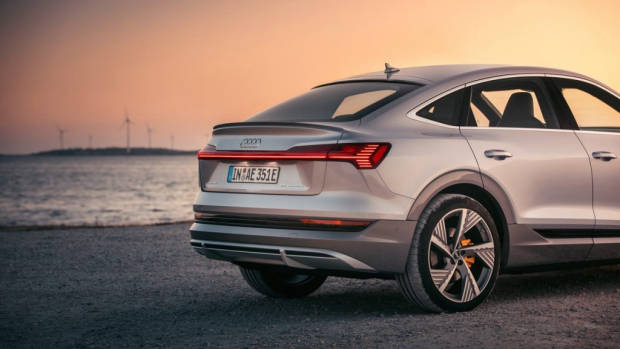 The mirrors, or rather lack thereof, contribute to the low drag of the car too, the virtual system will display a camera feed inside the car and automatically adjust to the situation for highway, city, and parking situations.
Aerodynamically optimised wheels help lower the CD too, while sculpted brake cooling ducts should help performance potential.
The e-tron Sportback also debuts digital all-new matrix LED tech which will accurately light the road using micro mirrors that can adjust up to 5,000 times per second to provide optimal lighting in any situation.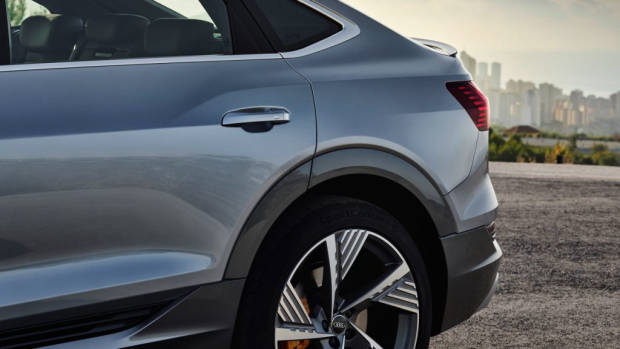 Corporate design is all over the e-tron Sportback which looks ever-so Audi, not a bad thing if you ask us. The profile sees distinct cues from other Sportback models, and the brand's prominent hexagonal front grille which is closed off here as cooling is not necessary.
The tough SUV look is complemented by the anthracite black wheel arch extensions as standard, though these can be specified in body colour or gloss black instead.
On that topic Audi claim to have maintained almost identical rear-seat room as the regular e-tron, while offering 60 litres of storage up front, bringing the total to a very impressive 615 litres.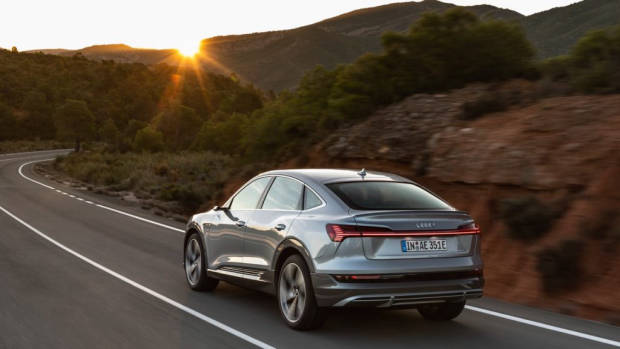 Pictures of the interior are yet to be released, though it is one of Audi's strong suits at the moment, and with a centrally mounted 12.3-inch touchscreen and a digital dashboard, it should be a lovely place to spend time.
Audi has managed a 50:50 weight distribution in the e-tron Sportback, which in conjunction with a five-link suspension system and air suspension that can vary ride height by 76mm depending on drive modes, so it should make for a confident handling car in any situation.
As standard 19-inch wheels with low rolling-resistance tyres are specified, though punters will be able to opt for larger 20-inch, and up to 22-inches if they wish.
Pricing and exact specification are yet to be locked in, but the e-tron Sportback will offer a stylish and presumably very nice place to spend time when it arrives in Australia in the second half of 2020.
Read more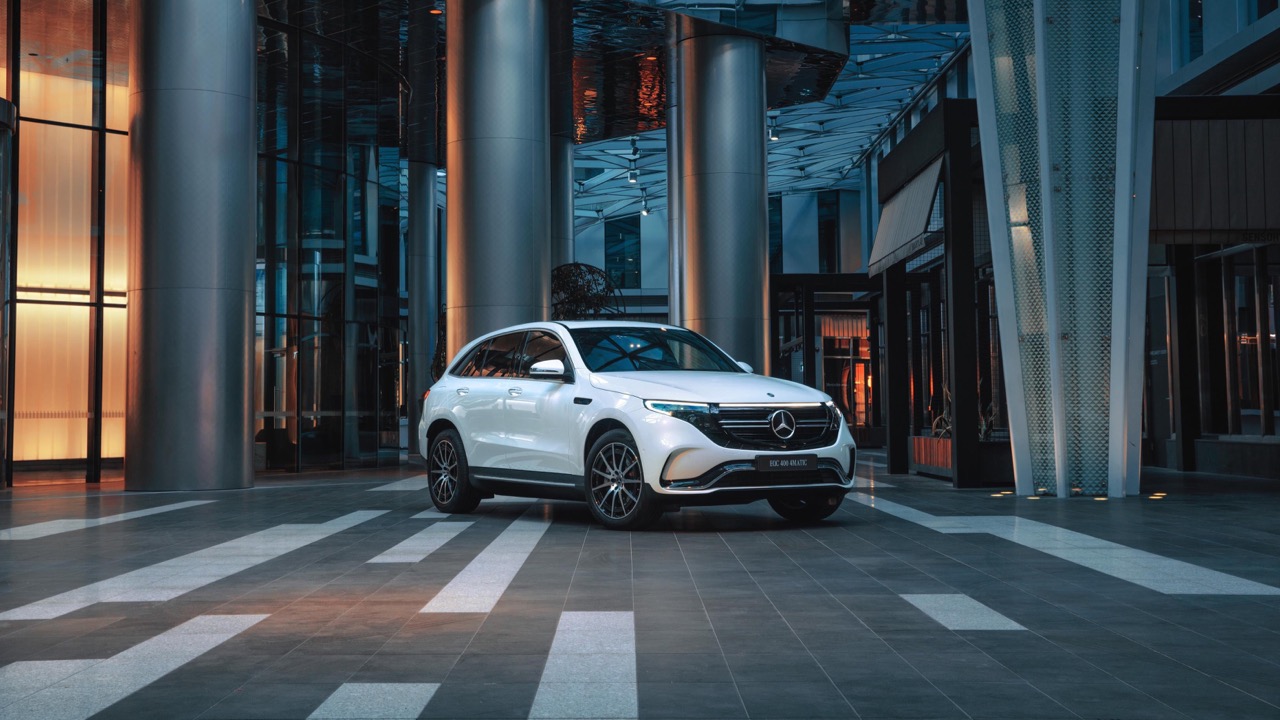 Mercedes-Benz goes electric: All-new EQC arriving 2020
Mercedes-Benz has this week confirmed Australian pricing and arrival for the brand's first battery electric vehicle, the EQC. Debuting the new model is the EQC 400 variant, which will start at $137,900 (driveaway pricing not yet available), available to order from the 9th of December, with customer cars arriving in early 2020.

With the all-electric vehicle comes the first fledglings of the EQ brand, Mercedes-Benz's 'green' arm, which brings with it an online sales model and separate showroom where EVs rule the roost, the brand is likely to add plug-in hybrids to the line-up soon.

The EQC sits in a popular market segment with premium SUVs, for the same money you'll get a well-specced BMW X5, Audi Q7, or Mercedes-Benz GLE. As for electric competitors the Benz will be arriving around the same time as Audi's e-tron range.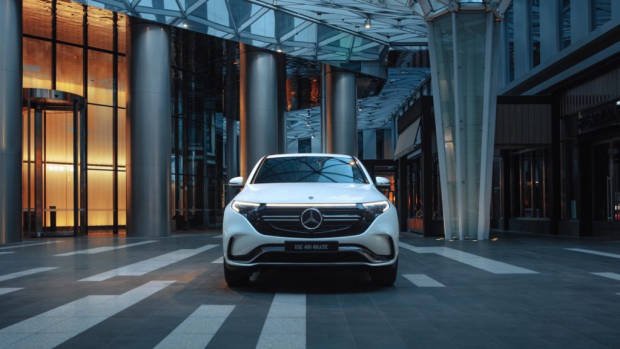 The brand claims that the EQC 400 represents a game changing powertrain while retaining the elevated premium feel of Mercedes-Benz products, providing a complete solution to suit current Benz buyers and EV fans alike.

Powering the EQC 400 will be a pair of dual asynchronous electric motors each producing 150kW, which when combined gives juicy outputs of 300kW and 760Nm to all four wheels, instantly available at any speed.

With a single speed gearbox on each axle, the prodigious grip and instant power delivery should be enough to see the near two-and-half ton SUV reach 100km/h in 5.1 seconds.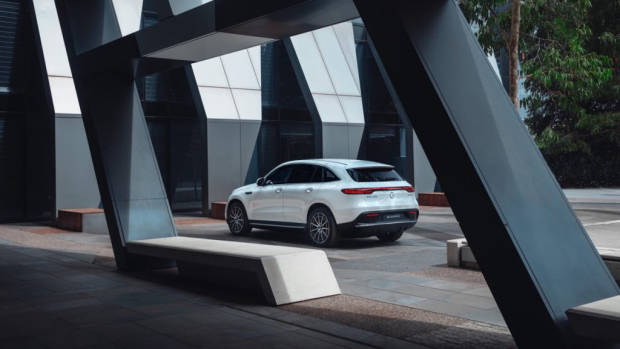 Energy consumption is rated at 21.4kWh/100km, which with 80kWh usable potential of the lithium-ion batteries should mean a range of 434km (ADR). The battery has insurance of eight-years or 160,000km of warranty, with 3 years on all other components.

Fast-charging is possible at a maximum capacity of 110kW, capable of adding 220km of range in 30 minutes. Mercedes-Benz also offer a home charging solution with the Homebox which can charge at 22kW, compared to 6kW home outlet.

To ensure infrastructure growth in Australia, Mercedes-Benz is working with Chargefox to provide more fast-charge stations. When the EQC starts arriving there will be 20 stations across Melbourne, Sydney, Adelaide, and Brisbane, with more to come in 2020.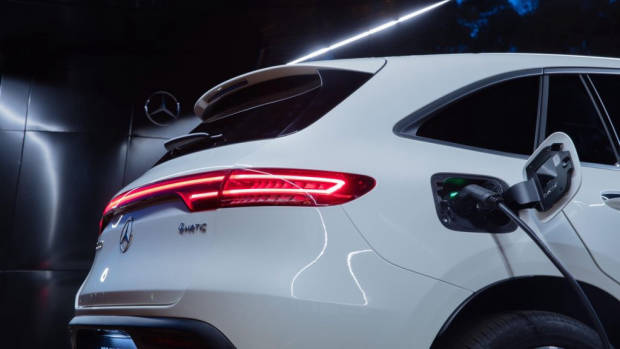 Chargefox fast-charging infrastructure will be available free for the first five years of EQC ownership, which should sweeten the cheap propulsion deal even more.

The EQC looks great, sleeker than other Mercedes-Benz SUVs to our eyes, with strong lines highlighted by the pearl white hue pictured. The classy germanic appearance stays in tact, the EQC doesn't shout its eco credentials with odd-looking wheels or excessive blue badging, we reckon it will be a real looker in the flesh.

As with all modern Mercedes-Benz models, the EQC gets a full digital cockpit courtesy of dual 10.25-inch colour screens to drive the MBUX infotainment system with voice activation which is able to 'learn' habits of the driver.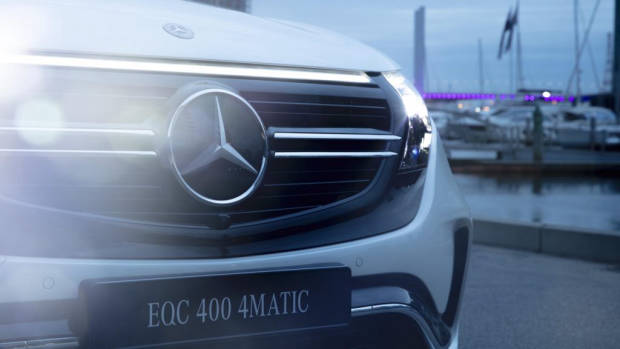 As you might expect at this price, specification is fairly generous. Metallic paint is included in the price – though the optional diamond white pictured here is an additional $1,700 – as is ash wood trim and black, leather appointed seats, though Mercedes-Benz Artico can be optioned, as can softer Nappa leather.

There will be two option packages available at launch with the exclusive Edition 1 package – limited to 25 units – includes larger 21-inch alloy wheels (19-inch items are standard), two-tone Nappa leather interior, heated and cooled front seats, tri-zone climate control, augmented reality functionality, with the option of graphite grey paint for $5,900, or the pictured diamond white for $8,600.

The other option package, dubbed Electric Art Line, sees the addition of rose gold stitching, massage function and adjustable bolsters for the front seats which can be appointed in leather colour of your choice.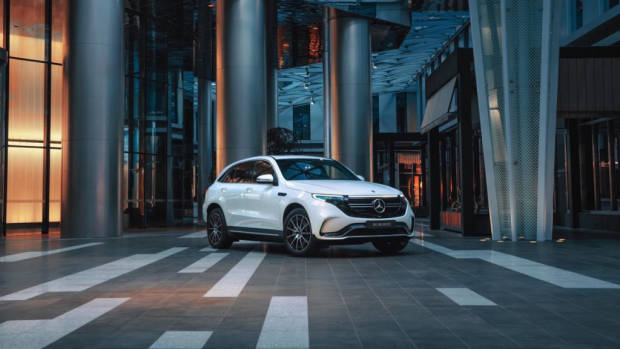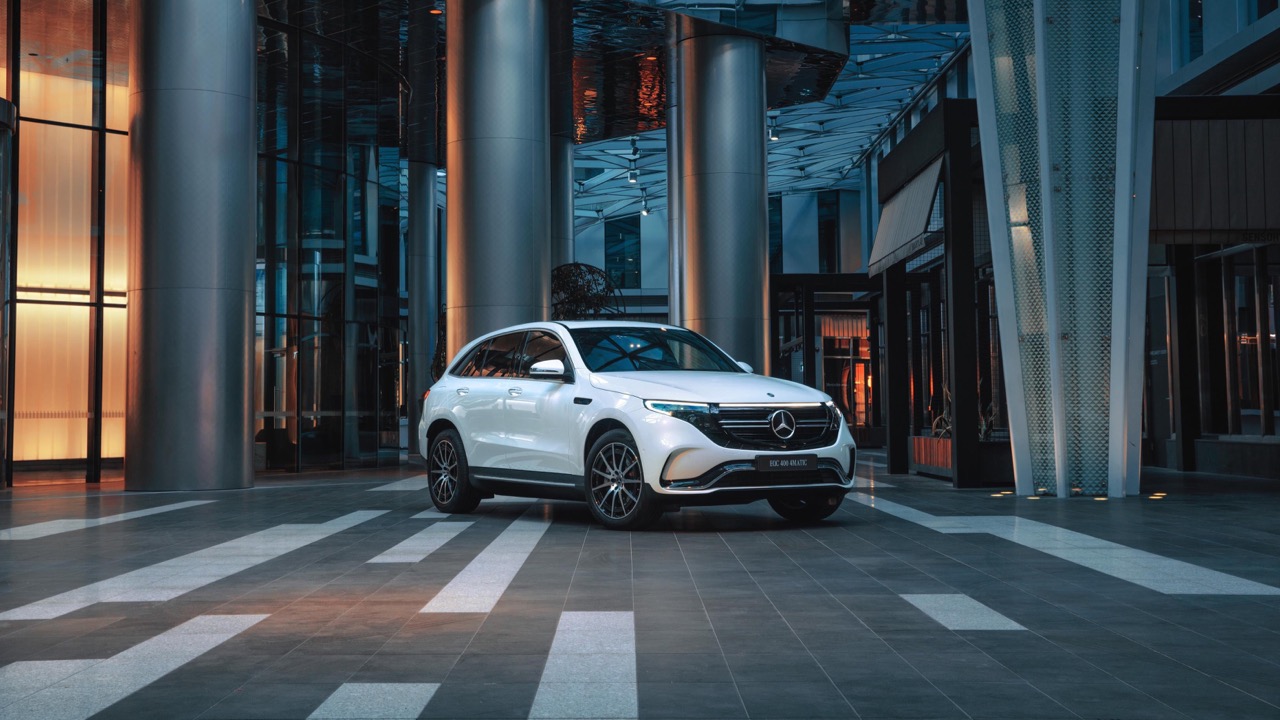 Australia will initially receive a limited lineup of EQC 400 variants, missing out on the progressive and premium, receiving only the advanced line.

It will be interesting to see how the EQC sells, presumably the free charging and investment in infrastructure will make it a more viable option in time, we can't wait to get behind the wheel

Read more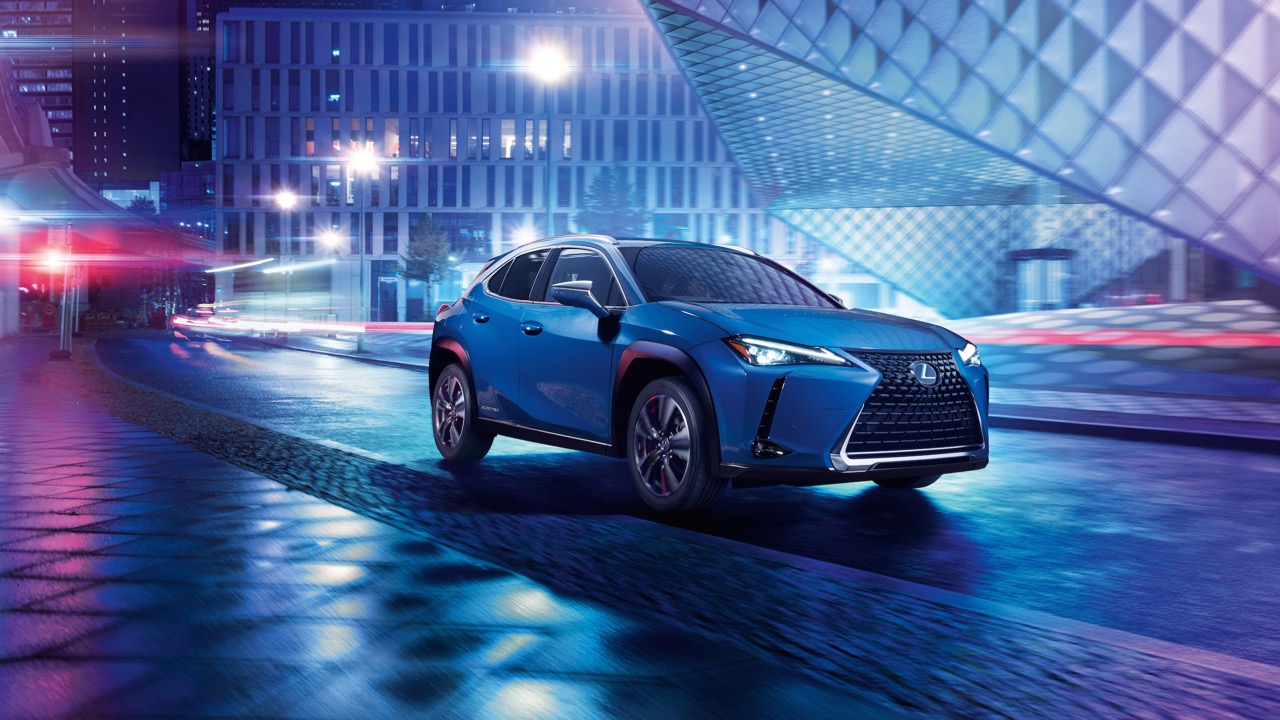 Lexus' first EV is an urban crossover, Australia likely
The unveiling of Lexus' innovative LF-30 concept at last month's Tokyo Motor Show was accompanied by the promise of the brand's first ever production battery electric vehicle, and here it is, as a 300e variant of the chic UX crossover.

The UX 300e had its covers lifted in Guangzhou, China, where the electric UX will first go on sale in 2020 in a growing market in which Lexus is hoping to make serious sales in-roads. However, there is no official word the the electrified crossover will reach Australia.

Think of the UX 300e as a premium take on the Hyundai Kona Electric, while offering a greener option than traditional competitors like the BMW X2 and Mercedes-Benz GLA-Class.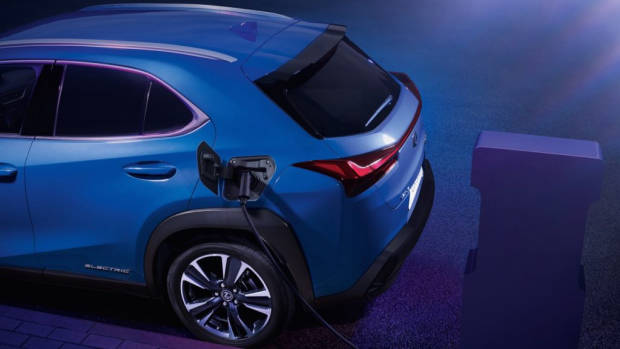 With access and know-how from Toyota's hybrid technology, Lexus has been somewhat of a pioneer in the green SUV segment, bringing the hybrid RX 400h to market back in 2005 to impressive critical reception.

However, when Chasing Cars had a chance to sit down with Lexus designer Ian Cartabiano, the suggestion was that EVs should "employ radical new body shapes", so it's strange the first battery electric vehicle from the brand has adopted the shape of an urban crossover.

Powering the UX 300e is a front-mounted electric motor, with outputs of 150kW and 300Nm, not exactly Tesla troubling, but Lexus claim they wanted acceleration that felt natural and matched to ICE variants for the UX.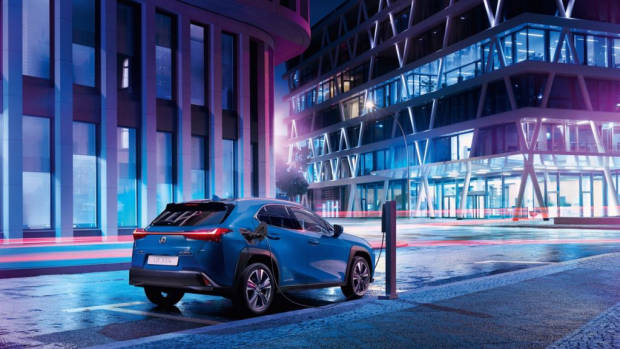 Range will be sufficient for the UX 300e's stomping ground, with 54.3kWh of batteries beneath the floor said to provide 400km of range. Fast-charging is possible at a 50kW capacity, bringing the 300e back to full charge in 50 minutes. Plugging into a home outlet will see a full charge in seven hours.

As with the internal combustion variants, we reckon the UX 300e looks great from the outside, especially the sharp creases on the boot. The only notable changes being more aerodynamic wheels fitted to the battery-powered variant.

The UX 300e will be equipped with selectable drive mode to adjust throttle response and steering weight, with regenerative braking strength managed by wheel-mounted paddles.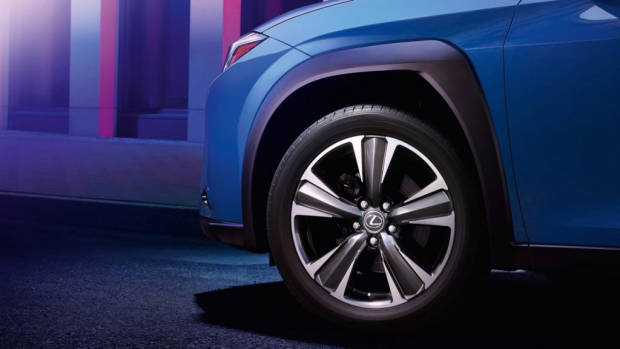 When Chasing Cars reviewed the petrol-powered UX 200 we were very impressed by the quality of materials in that car, as well as cabin insulation, Lexus claim to have improved insulation further over the already class-leading UX with more insulation in the wheel-arches and cabin.

Apparently the UXs sound insulation is so good that Lexus has engineered in a system dubbed "active sound control", which will beam sounds in from outside to give an indication of surface conditions – say gravel or cobblestones – to provide a more normal driving experience.

The UX 300e should also address our concerns with the slightly disappointing two-litre naturally aspirated four-cylinder in the UX 200, and lend a real classiness to the urban runabout.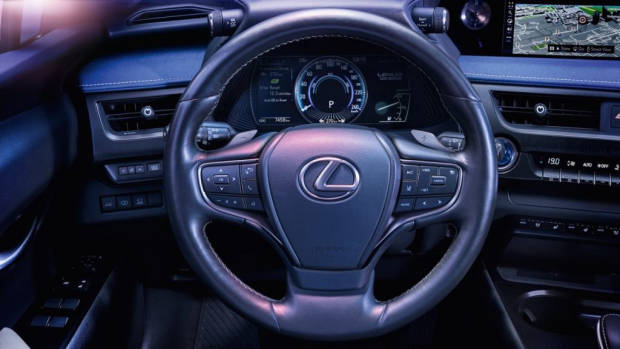 Cabin design maintains very cockpit-like, with digital instrument binnacle qne 10-inch centrally mounted main screen, we assume the 300e will come fairly loaded with leather seats and safety features like AEB and adaptive cruise, however full specification is yet to be locked in yet.

Lexus has not confirmed the UX 300e for the Australian market yet, though it will come on sale in China and Europe in 2020, with the home Japanese market receiving it in 2021.

Although pricing has yet to be confirmed, the current range-topping UX 250h Sport Luxury variant lists for $61,450 ($67,280 driveaway), we expect the price of the UX 300e to reflect it's advanced propulsion, potentially pushing over $70,000 before on-road costs in Australia.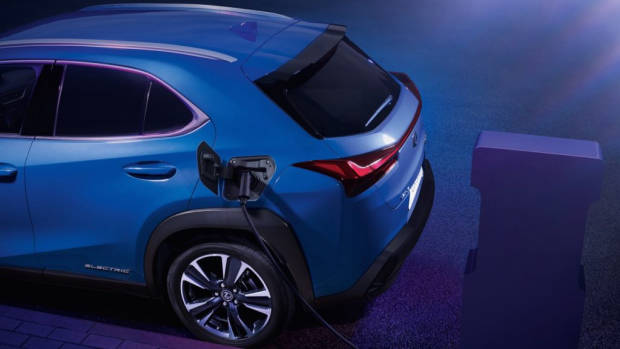 With our experience of the other UX variants, we think this battery powered variant would prove a popular option, normalising electric propulsion and silencing powertrain noise, while offering range enough for inner-city journeys and occasional weekend trip, we eagerly await Lexus Australia's confirmation of the 300e's arrival.

Read more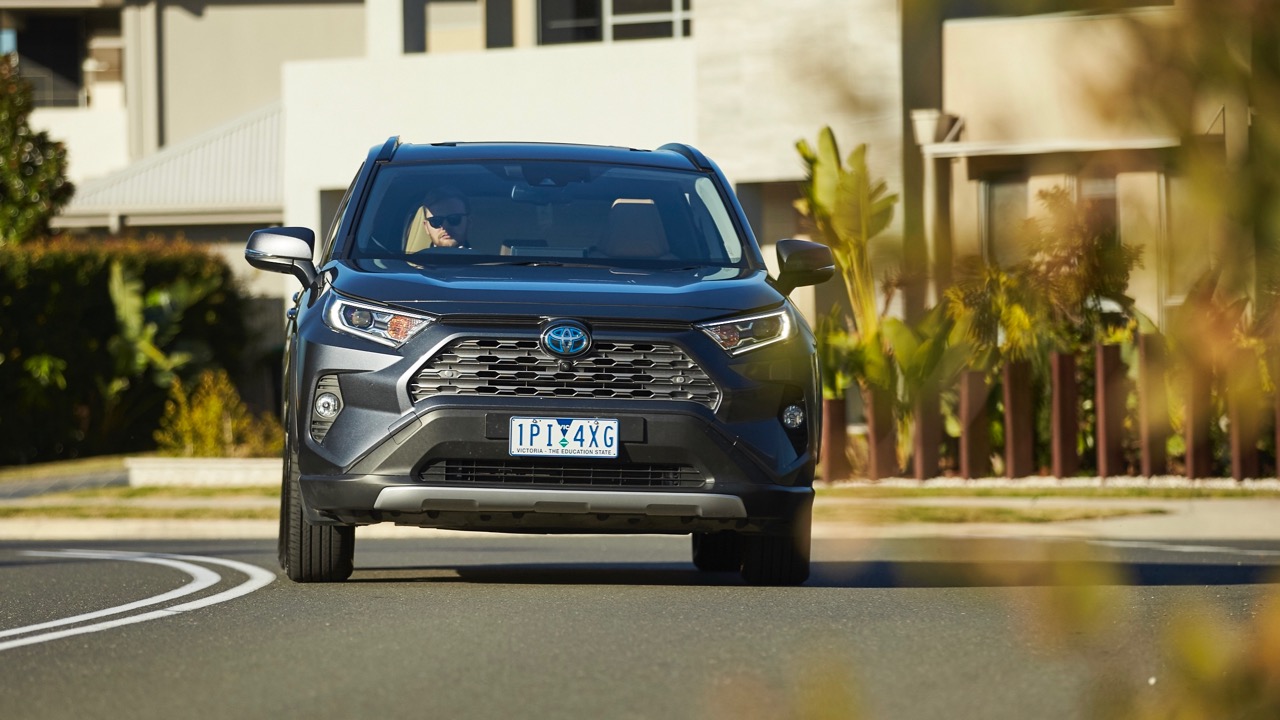 Long Term Log: Toyota RAV4 Hybrid, Part 2
Even for those that aren't on the SUV bandwagon, it's hard to dispute the utility of crossovers for driving around the 'burbs. They're easy to buckle children into, they can jump kerbs if your parking angles are a little off and their cushy seats and suspension make the school run that much more relaxing. Only problem? SUVs are large and heavy, so they suck fuel, be it petrol or diesel.
The 2019 Toyota RAV4 Hybrid is the first mainstream SUV in Australia that can really bust that myth. When I say mainstream, I mean a car that most people can afford – there have been luxury hybrid SUVs, like the six-figure Lexus RX hybrid, and even the more-expensive-again electric Tesla Model X – but you can walk into a Toyota RAV4 for less than forty grand.
Read the first instalment of our RAV4 long-term review here.
Urban driving in the Toyota RAV4 hybrid
We've been driving the range-topping RAV4 Hybrid Cruiser for a couple of months now, and we spend about three-fifths of our time driving around Sydney's suburbs. There's my commute on the lower north shore, regular runs to the northern beaches and all manner of work commitments. Point being, our Graphite-over-Nutmeg RAV4 spends a lot of time in bumper to bumper traffic.
But bumper to bumper is where hybrids do their best work. Content to run in electric-only mode at low speeds, you crawl along with zero tailpipe emissions and zero petrol being channeled through the Toyota's innards – which meant a month where all our driving was urban resulted in E10-petrol consumption of just 5.4L/100km. Holy cow.
By contrast, petrol SUVs that swung by for comparison from Volkswagen and Mazda used more than double that figure.
If you want an easy way to drastically cut your fuel bills and reduce your environmental footprint – without having to do anything drastic – swapping into a RAV4 Hybrid is a great start.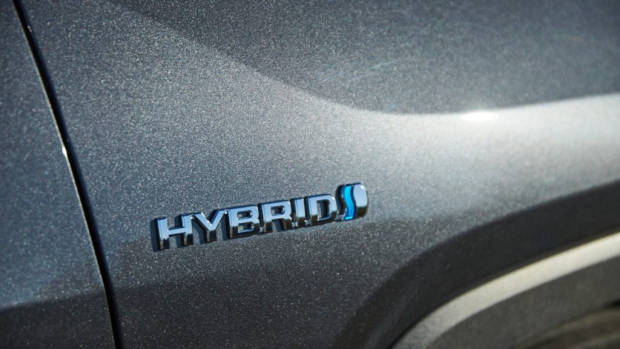 The stellar fuel consumption is one thing but the instant torque from the three electric motors when darting around the city is a bonus, too. We're not saying it's Tesla-like in its acceleration – it certainly isn't – but the little squirt from the battery essentially operates like a low-blow turbo.
There used to be a horrible sound and vibration when older Toyota hybrids switched from electric power to the petrol engine, but substantial NVH work means that this transition is now much smoother and vibe-free. If you have music on, you won't actually know when you're running on volts or on gasoline, except for the 'EV' symbol in your instrument cluster.
The hybrid battery and motors do add some weight to the RAV4 but that doesn't fundamentally affect this SUV's dynamics, which are pleasant and light. Direct steering combines with a soft but controlled ride, making the Toyota a surprisingly fluent drive but also a very comfortable one.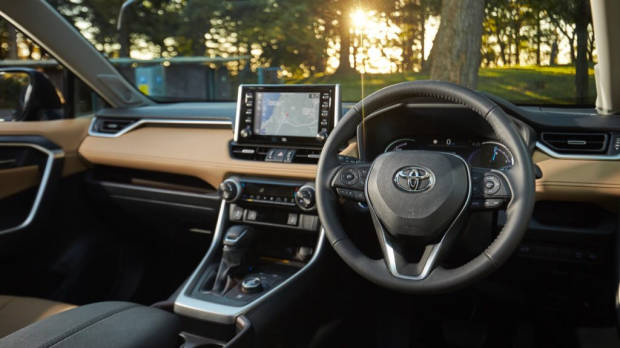 Toyota haven't tried to make the RAV4 sporty; they have aimed for comfort, and all the better for it. Having said that, it's not floppy at all; it's a great balance.
The spacious interior includes a set of good, heated front seats, a good JBL stereo (on our Cruiser) and heaps of rear legroom and headroom. This is only a five-seater – a new Kluger seven-seater with a hybrid option will come along at the start of 2020.
Seamless is how you'd describe the experience of driving the 2019 RAV4 in the city. With the car's computers making all the decisions for you in terms of fuel sources, all you have to do is buy it to start reducing your environmental impact and fuel bills at the same time. What more could you want at this point in time?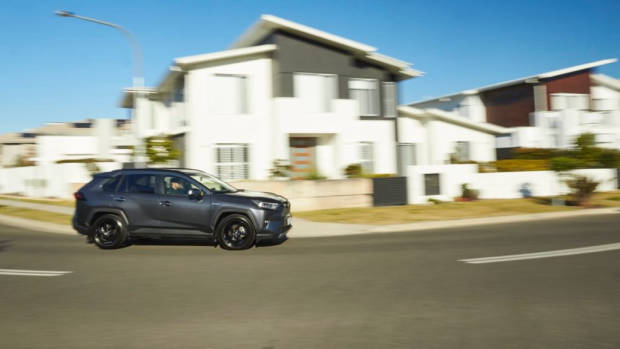 Read more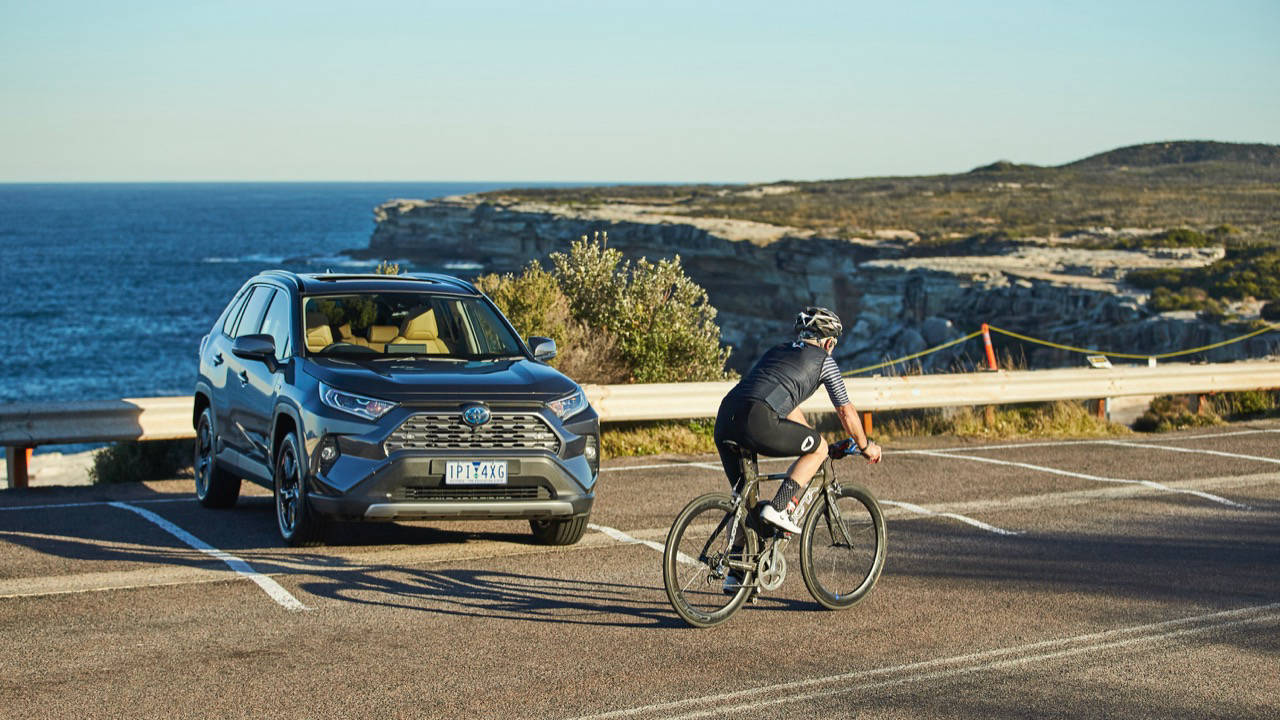 Long Term Log: Toyota RAV4 Hybrid, Part 1
Time on test: 6 weeks
Total test time: 12 weeks
Mileage on test: 1,500km
Fuel economy on test: 6.2L/100km
The latest Toyota RAV4 burst onto the SUV scene earlier this year, sporting better driving dynamics, a more plush interior, and an emphasis on fuel-saving hybrid engines. We were so impressed with the RAV4 that we've brought one into our long-term fleet.
Wearing three hybrid badges – one on the tail, two on the flanks – the new 2019 Toyota RAV4 certainly doesn't shy away from demonstrating its fuel-saving cred. And so it should: hybrid power is the RAV4's major unique selling point in the crowded Australian car market. You'll find a plethora of decent choices with petrol or diesel engines, but the RAV4 is the first really affordable hybrid SUV to be brought to Australia.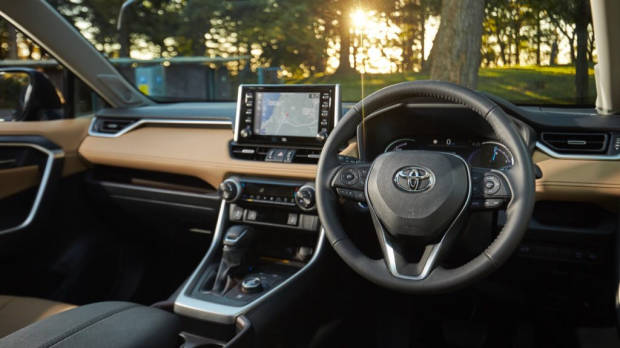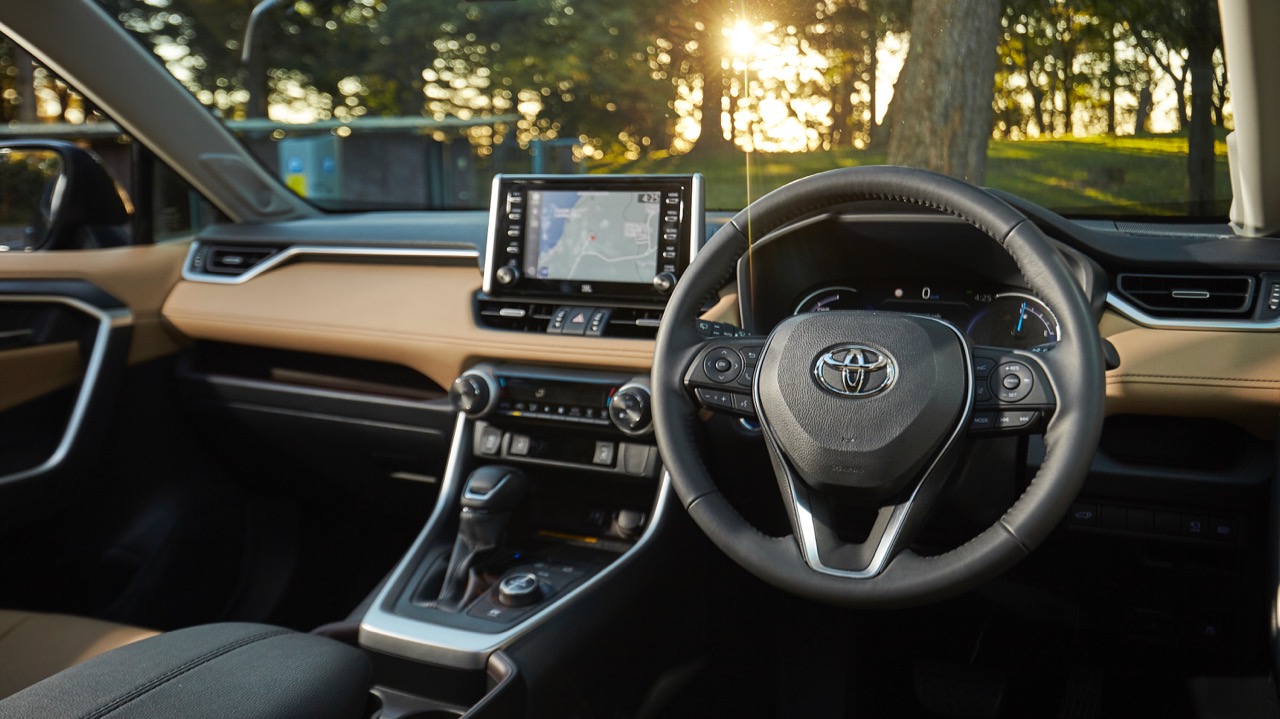 If that results in real fuel savings at the bowser, then hybrid tech is likely to be embraced by a much larger cohort of Australian car buyers. The low running costs of hybrid Toyotas have long made them a mainstay of this country's taxi fleet but making hybrid engines appeal to the substantial number of private SUV buyers out there is a big priority of the new RAV4.
We're six weeks into a twelve week run at integrating the new Toyota RAV4 into our lives, where it's doing diverse duties – some weeks as a commuter, some as a long-distance road tripper and even some as a light off-roader.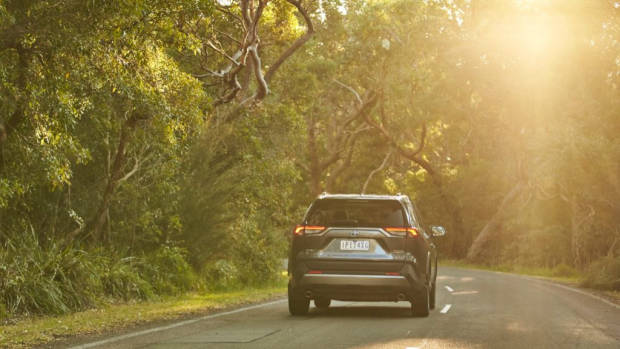 From the RAV4 range, We chose the high-specification but remarkably affordable RAV4 Cruiser AWD grade, which goes for $39,140 with a conventional petrol two-litre, while adding the hybrid battery pack (that also beefs up the petrol engine to 2.5-litres) costs another $2,500. AWD adds a further $3,000. Wearing graphite grey metallic paint and a contrast sandy leather interior, our RAV4 hits the road at $49,624 driveaway.
Given this SUV weighs in at a hefty 1,710 kg before you load passengers and cargo, we were a little sceptical that a small electric motor and battery would provide enough motivation in the RAV4 to prevent the old-school, non-turbo petrol engine from carrying most of the load most of the time.
After all, the RAV4 AWD's battery capacity is fairly modest – 1.9kWh, with the two electric motors mounted on the front axle producing 88kW and the rear electric motor – added if you opt for AWD – producing 40kW. It's fascinating to compare those stats to the cheapest all-electric SUV offer – the $60k Hyundai Kona Electric, which has 64kWh of capacity and produces 150kW of power.
If our first month-and-a-half of motoring is a guide, though, these concerns were unfounded. The hybrid system is more than powerful enough to take over during significant tracts of driving – especially at town speeds, where the RAV4 takes off from a stop in pure-EV before the engine kicks in, usually around 25km/h. We're finding that once we have built up to about 50km/h, a lift of the throttle re-engages EV mode where it is happy to mostly maintain pace with the engine off.
The real beauty of hybrids over their more sophisticated full-electric counterparts is that this system requires no management from the driver. Charging the battery is done mostly by braking, with the occasional use of the petrol engine as a generator.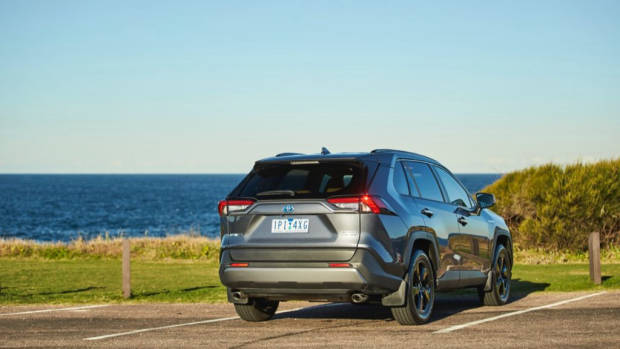 With around 60% of our first 1,500km being spent in-town, our current fuel economy of 6.2L/100km is very low for this segment and is within a reasonable margin of Toyota's official claim of 4.8L/100km. Also impressive is the fact that town economy doesn't seem to suddenly blow out with four passengers and cargo aboard.
This sort of economy figure is achievable by the most frugal of turbo diesel SUVs, but the petrol engine used by the RAV4 produces cleaner emissions and doesn't actually require a particularly economical driving style to reproduce. We haven't been deliberately light on the throttle!
We're looking forward to the second half of our test, where we'll continue to monitor our RAV4's fuel consumption and resulting CO2 production, but also delve into more depth about this SUV's upgraded interior, how practical the new RAV4 is, and whether you actually need a Cruiser grade – or if the cheaper GX or GXL are a better buy.
Read more