Genesis has detailed the all-new G80 sedan targeted directly at luxurious Germans that, for a while at least, have had this segment all to themselves.

The Korean brand sits at the luxury end of the Hyundai and Kia brand umbrella, the GV80 SUV detailed last month being their competitor in the hotly contested large, luxury SUV space.

Both Genesis vehicles share the same platform, that means the G80 will be offered in both rear-wheel-drive and all-wheel-drive configurations.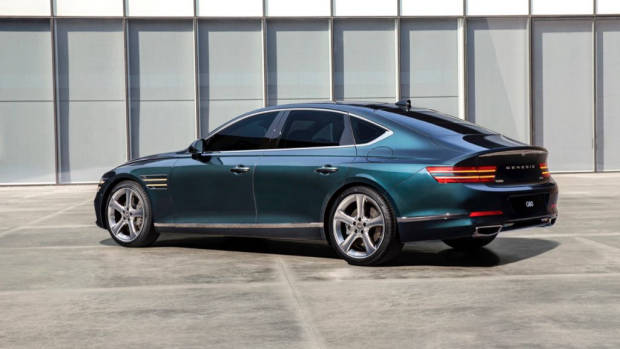 As for what class the G80 is aimed at, that's still unclear from the car's dimension. At 1,925mm wide, the Genesis is wider than the granddaddy of this segment, the 1,899mm Mercedes-Benz S-Class.

However, the Koreans have opted to keep it a shorter vehicle at 4,995mm versus the S-Class' 5,129mm. It's still roomier than a BMW 5 Series or Mercedes-Benz E Class, though, splitting the difference between the established classes.

As for powertrains, they've now been confirmed by Genesis for world markets. There's a single oil-burning option; a 2.2-litre turbo-diesel four-cylinder with outputs of 154kW and 441Nm.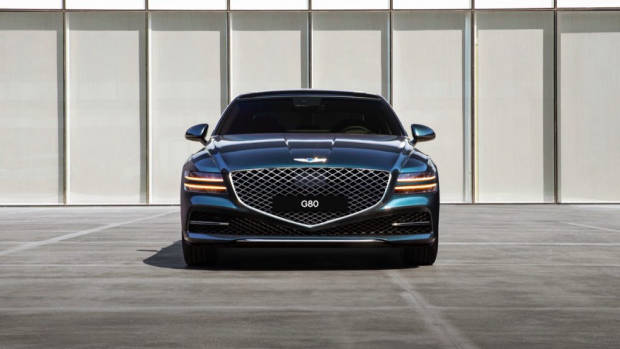 Two petrol engines will be available, the less powerful and, presumably less expensive, 2.5-litre petrol engine that is new for Genesis. That boasts outputs of 223kW and 421Nm to compete with BMW's '30i' and Mercedes-Benz' 300′ engines.

Moving to the range-topping engine, it's a 3.5-litre twin-turbocharged V6 producing handsome outputs; 279kW and 530Nm; directly competing against the German's '40i' and '450' designations.

There's an omission of a true flagship engine for the G80 so far, no twin-turbo V8s here, and no hybrid powertrain either.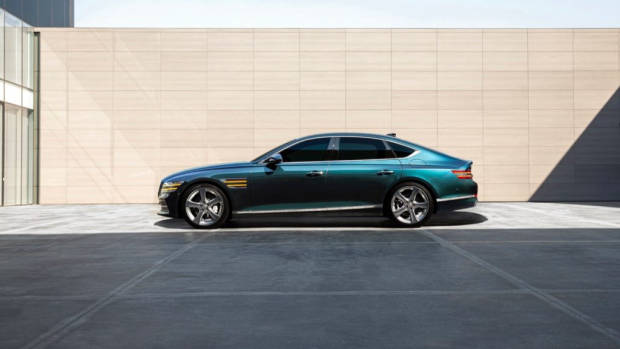 It's clear that Genesis is pitching the G80 as a vehicle more luxurious than sporty, though. The exterior first and foremost displays some fine craftsmanship with Genesis' parabolic signature running down the flanks.

A set of LED headlights sit astride what is a very imposing grille, there's a real presence to this Korean luxe-mobile (in photos at least).

Inside that high-class image is conveyed by lashings of wood trim and – in the model pictured – contrast blue and brown leather. Nice.

Technology abounds inside, too, Genesis has packed a 12.3-inch digital instrument cluster with a 3D above a lovely four-spoke wheel. A centrally mounted 14.5-inch touchscreen controls the lion's share of infotainment settings, though smartly Genesis has included a track-pad style controller for those who prefer the more traditional.

That infotainment system naturally includes Apple CarPlay and Android Auto, there's also the very cool inclusion of augmented reality navigation and wireless system updates.

Safety features include the usual high and city-speed AEB and blind-spot monitoring with collision assistance. Genesis has included an adaptive cruise system with machine learning which will adapt to a driver's preferences over the car's life.

The Koreans have focused heavily on NVH suppression, we can't comment on this until we've driven the car. Despite a 125kg weight reduction over the outgoing G80, there's acoustic glass, more sound-deadening around the engine compartment and better door seals.

Launching in the home market today (March 30th), it's unlikely Australia will see the G80 launch until the second half of 2020, especially with the current global condition.

We will have more information on Australian pricing as it comes available.