The 2019 Tokyo Motor Show has been heavy with concept cars and visions of future mobility and autonomy, and the Nissan stand was no exception. The Japanese brand showcased two electric vehicle concepts: one 'realistic' Ariya SUV concept and a more abstract IMk vehicle.

These concepts are heavily focussed on electrification and autonomy and show Nissan's designers working with an open canvas. Moving to electrification removes many of the impediments to conventional car design, with the requirements to accommodate bulky front-mounted engines and gearboxes eliminated. That's what Nissan is really trying to show with these two design concepts.

Grilles have long been features of brand identity, though some EVs – Tesla's Model 3 – completely ignore them as the cars don't require cooling in the same way ICE powered cars do. Instead of removing the brand identity of the grille, both the IMk and Ariya retain the distinctive idea, with what Nissan are referring to as a "shield".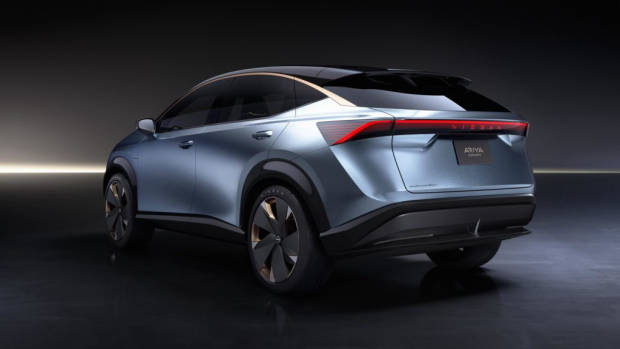 In times gone by a shield would be emblazoned with a coat of arms and Nissan intends to use their "shield" in the same way. Nissan's executive Satoru Tai said that the design feature both communicates the futuristic vision of the Ariya, while being used practically to house the radar, LED lights, camera and sensor technology for the brand's all-new AutoPilot2.0 system.

Subtle design traits like this aren't initially recognised when you lay eyes on the Ariya concept, instead it does appear immediately Nissan. The front end and the "shield" is somewhat reminiscent of the polarising Murano SUV of the mid-2000s, but we think it works well.

Overall the design in remarkably restrained for a concept, it doesn't look like Nissan designers let loose on the clay model with a sharpened blade, instead surfaces blend together with well-judged creases that lends a sharp, futuristic but pleasingly minimal appearance to the Ariya.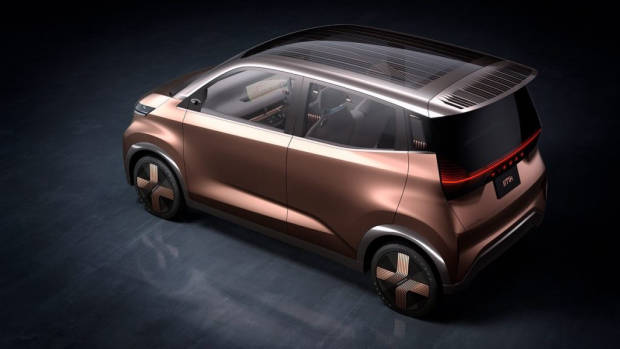 Apparently the IMk and Ariya represent the "bookends" of Nissan's EV design language, suggesting there are probably small hatchbacks, mid-size sedans, and a bunch of SUVs to come in Nissan's electrified future.

Though the two concepts look wildly different, there are plenty of similarities to be found inside. Again, EVs remove the need to work around bulky driveshafts and bell-housings, so both concepts maintain an airy, minimal interior design. Interestingly Tai mentions that because of this, even the carpet – usually hidden in shadow – must be designed with "pleasing materials".

For the kei-car sized IMk concept Nissan decided that a bench seat would be the most appropriate way to package the front compartment. The lack of combustion engine allows a completely flat floor with no separation between driver and passenger, so when the car is in autonomy mode one could conceivably lay out and relax.

Inside, the Ariya is less space-age – in fact it looks quite conventional. The concept uses a traditional round steering wheel, gear selector, centre console, digital display, and centrally mounted touch-screen display.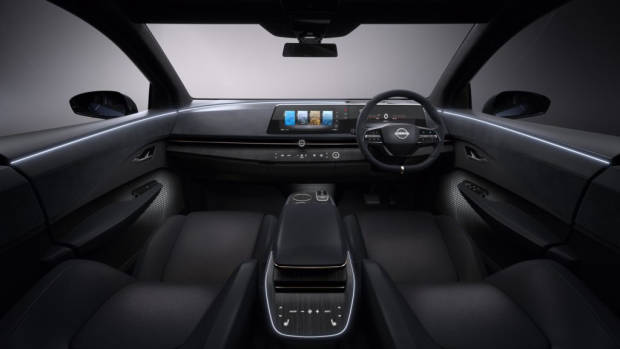 It's peculiar that for a concept the designers chose to leave the centre display floating so jarringly – like in the first generation of BMW's iDrive – instead of seamlessly incorporating it into the dashboard. Haptic touch controls, however, will be neatly incorporated and when not in use will fade back into the piano black of the dashboard.

Interior space is not compromised, the concepts have had their wheels pushed right into their corners, minimising overhang and maximising interior space. Nissan claims this allows a C segment exterior size that packs D segment interior space.

So who are these cars designed for, well Nissan's executive design Satoru Tai says that the Ariya was designed for a "young family" who wants an athletic, and contemporary expression of an EV, with the IMk designed for use in the city as a take on a refined, luxury kei car.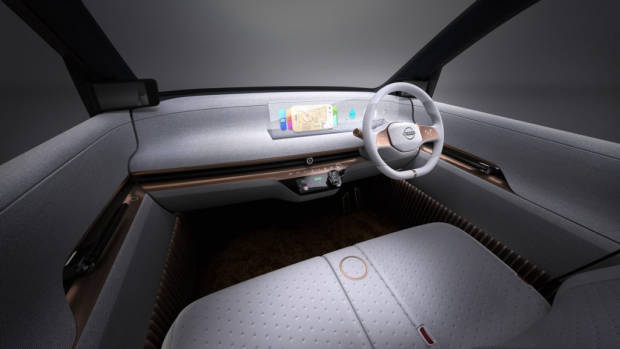 By experimenting with design language and packaging with the Ariya and IMk, Nissan claims this new design language will pervade future models. Although there are some futuristic, far-flung features to these concepts, overall there is a lot of practical information we can take away about practicality and design of forthcoming Nissan electric vehicles.