Search Results for ""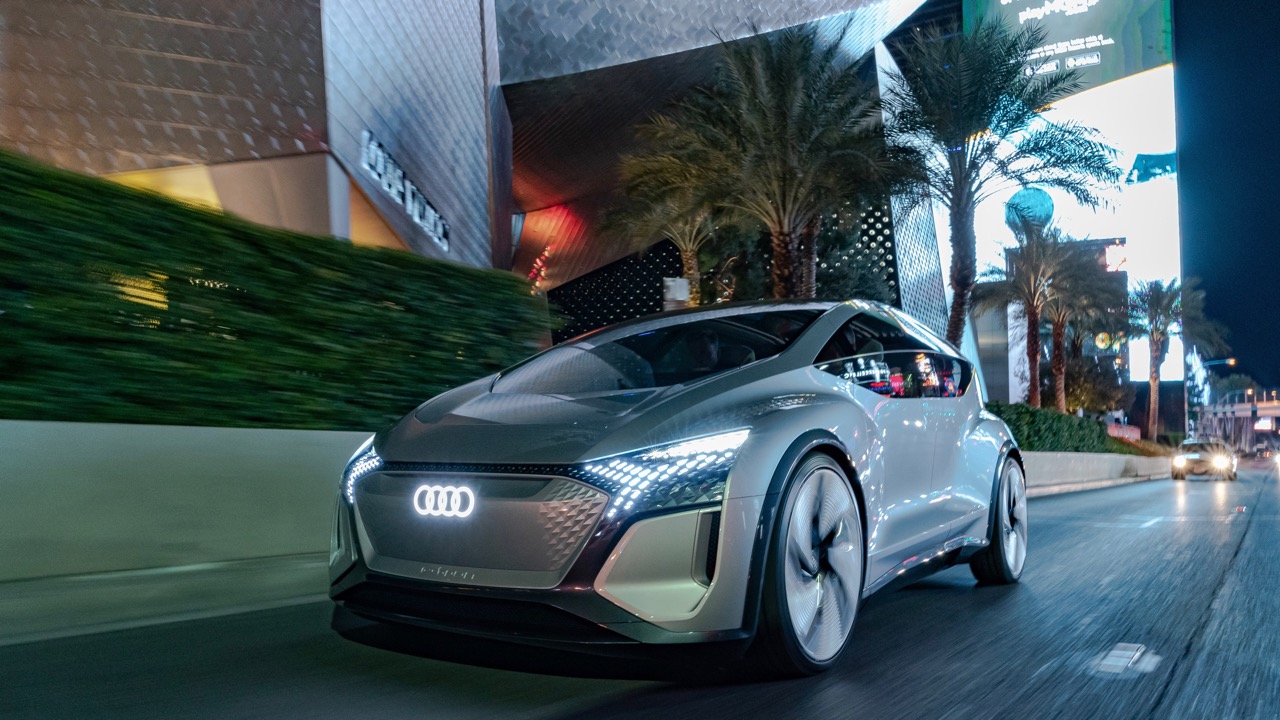 Audi shows Autonomous and intelligent future at CES 2020
Audi will be showing several concepts at the 2020 Consumer Electronics Show in Los Angeles. Their AI:ME autonomous vehicle will grab headlines, but it's the 3D augmented reality tech set to make an appearance in passenger cars and new MIB3 infotainment software that has us excited.

After showing their awesome AI Trail at last year's Frankfurt Autoshow Audi has released a more subdued take for the city use with the AI:ME. The exterior already looks pretty out there, but it's what this concept promises for the driving experience – or lack thereof – that makes it different.

Audi has promised the world with the AI:ME, for a start it claims the car will be "empathetic" to the user's needs – even adjusting to their preferred fragrance – while representing a "third living space" away from home and work.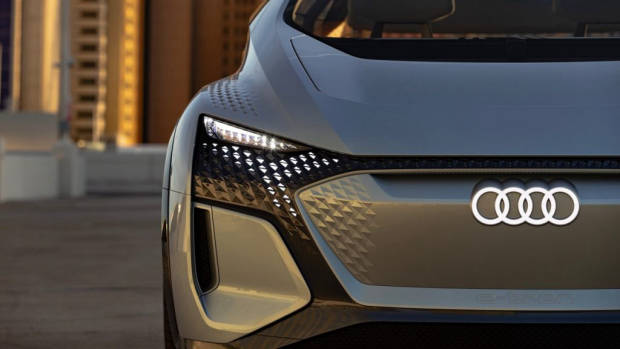 The concept is autonomous, too, so driving is no longer the verb of choice, perhaps operating but even that might be a stretch.

Naturally, if you become distracted and tired by hustle and bustle going on around you Audi has a solution; the AI:ME promises a set of VR goggles to transport you on "a virtual flight through spectacular scenery".

Eye-tracking will be employed by the Audi, allowing operators to communicate with the vehicle. The AI:ME will even order Uber Eats to your destination of choice, perhaps they should have called it the 'Audi Jeeves' instead.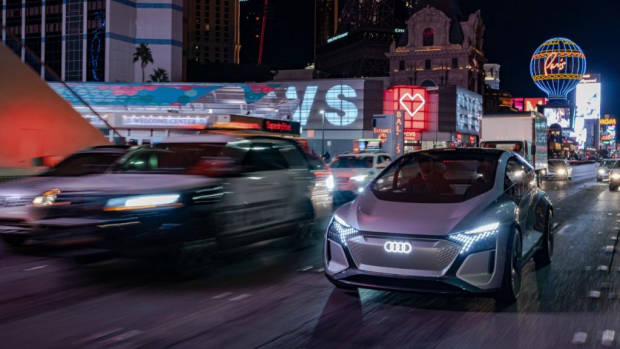 Closer to production is Audi's MIB 3 infotainment system – not to be confused with any Will Smith movies. This should improve on what is already one of our favourite systems to use and promises a processor ten-time faster than current systems.

Faster processors mean better ability to alter route guidance, quicker responses and an overall higher quality experience. Ambient lighting will also be incorporated into the new system.

MIB 3 shown on the concepts at the 2020 CES also features a new transparent digital display for traditional information. Audi says the screen will be 15cm tall and 122cm wide and be made up of two layers, one a transparent OLED and a black backing.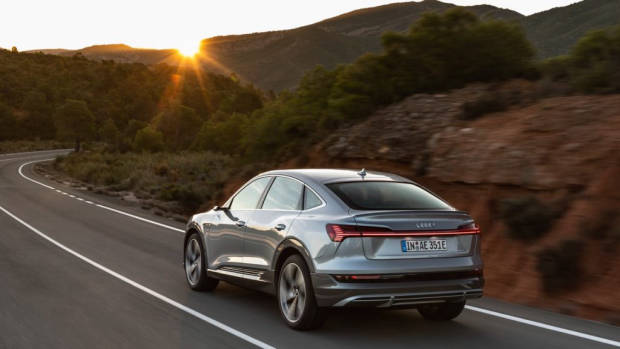 Augmented reality (AR) has been a big talking point of late too, and Audi will be demonstrating the tech in the fresh e-tron Sportback and Q4 e-tron concept at the 2020 CES. 

Audi's AR system is essentially a step-up from the current crop of head-up display systems which – with the help of electronics giant Samsung – uses 3D technology borrowed from televisions to help with sat-nav, lane choice, speed limits and more.

We're not sure when the AI:ME will be arriving, if it does, but we know the AR systems will be emerging in 2020 on some models and MIB 3 will eventually be rolled out across the range.
Read more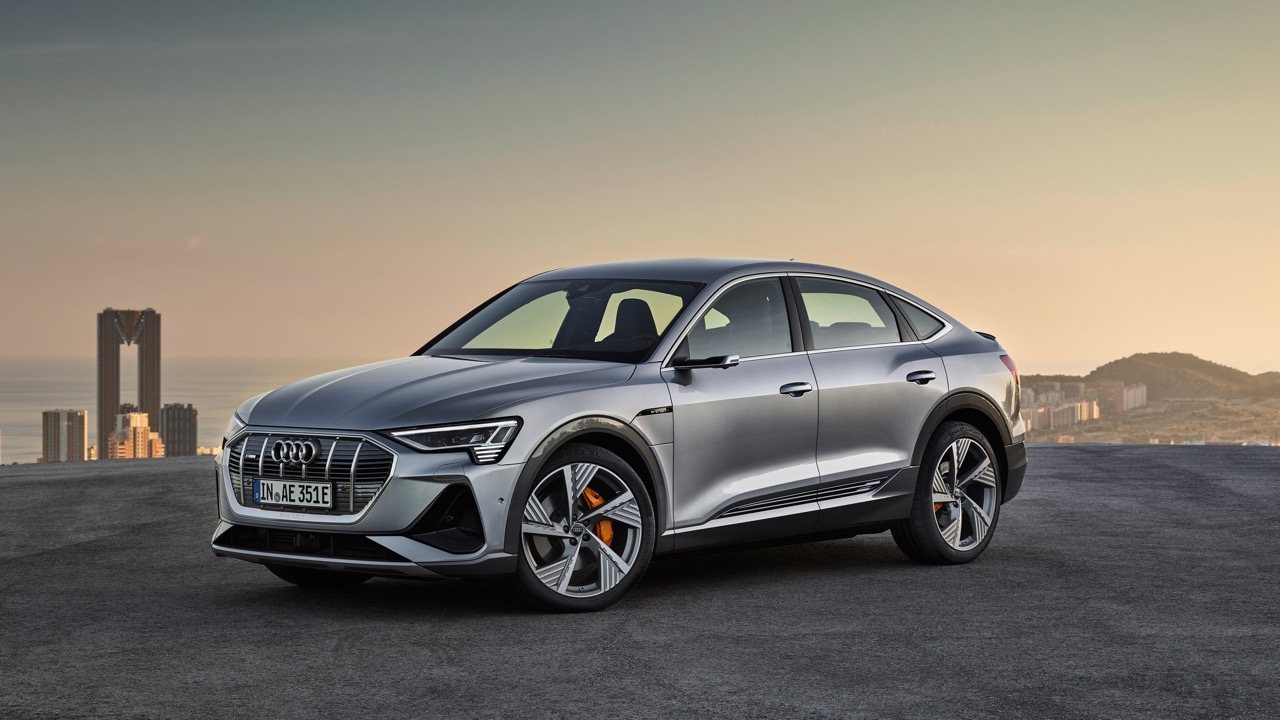 Audi's sleek e-tron Sportback is coming to Aus in late 2020
Audi has ditched the concept-car wrapping from the second model in its e-tron family, the swish looking e-tron Sportback. Boasting 300kW and 446km of WLTP certified range, the brand is certainly cementing the design language for their electric future.
Electric mobility has been a hot topic lately, with legacy brands like Audi now catching up with innovators like Tesla's Model X and Model S, while trying to beat german competitors such as coming BMW iX3 and Mercedes-Benz EQC to market.
Although no pricing has been confirmed, Audi expects the e-tron Sportback to arrive in the second half of 2020. European pricing starts €83,000 for the 55 Quattro, which converts to $135,000 (at current rate), matching Benz's EQC, also taking sales away from their own combustion-engined Q7, BMW X5 range and Mercedes-Benz GLE.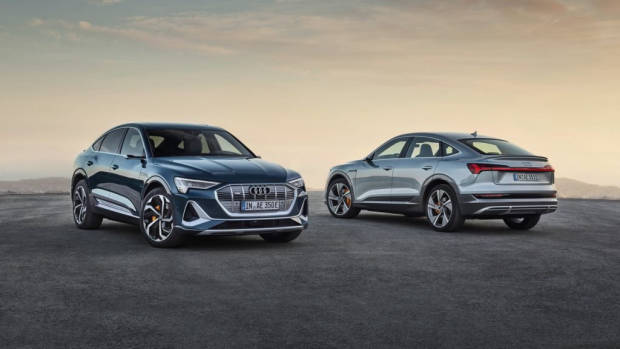 At launch two powertrains will be available, the headline Sportback 55 Quattro produces 265kW and 560Nm with two dual electric motors, by depressing the 'S' button and burying the throttle, the 55 Quattro will give eight seconds of power boost, raising power to 300kW and sending the SUV to 100km/h in 5.7 seconds.
Holding power is a 96kWh battery which sits beneath occupants, which adding to the chassis rigidity of the Sportback. The cell will fast-charge at 150kW, achieving 80% charge in just 30 minutes.
The other powertrain is the Sportback 50 Quattro, with outputs of 230kW and 540Nm from a smaller 71kWh battery. The fast-charge is limited to a lower 120kW, but the 120kg lighter battery will charge to the same 80% in an identical 30 minutes.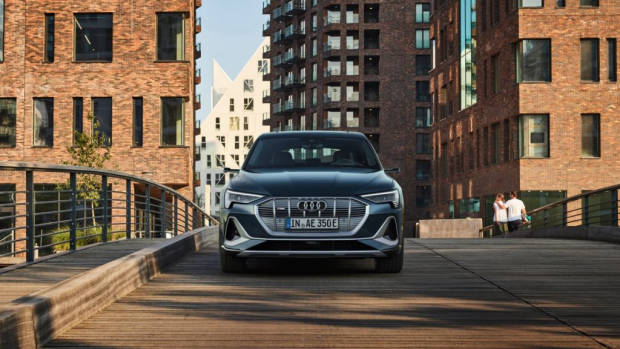 Regen braking will be adjustable via steering wheel paddles, and at maximum will regen an impressive 70% of the cars outputs, so 300Nm and 220kW, when slowing from 100km/h.
For efficiency, the e-tron Sportback pootles around in rear-wheel drive most of the time, when slip is detected or low-grip modes are activated the front axle comes into play for extra security.
For the e-tron Sportback Audi has achieved a drag coefficient of 0.25 CD, fairly impressive, with Audi claiming this improves range over the conventional e-tron by 10km in WLTP testing thanks to the smoother detachment of air from the sloping rear window and flat boot deck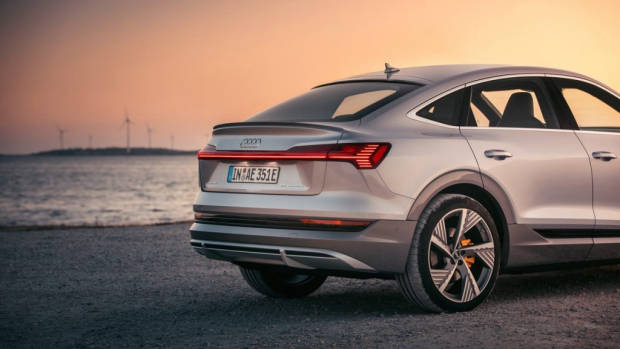 The mirrors, or rather lack thereof, contribute to the low drag of the car too, the virtual system will display a camera feed inside the car and automatically adjust to the situation for highway, city, and parking situations.
Aerodynamically optimised wheels help lower the CD too, while sculpted brake cooling ducts should help performance potential.
The e-tron Sportback also debuts digital all-new matrix LED tech which will accurately light the road using micro mirrors that can adjust up to 5,000 times per second to provide optimal lighting in any situation.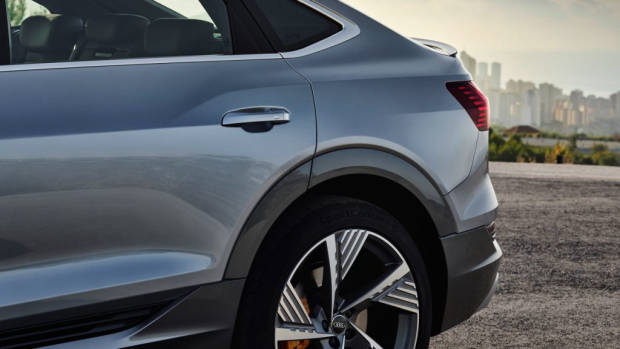 Corporate design is all over the e-tron Sportback which looks ever-so Audi, not a bad thing if you ask us. The profile sees distinct cues from other Sportback models, and the brand's prominent hexagonal front grille which is closed off here as cooling is not necessary.
The tough SUV look is complemented by the anthracite black wheel arch extensions as standard, though these can be specified in body colour or gloss black instead.
On that topic Audi claim to have maintained almost identical rear-seat room as the regular e-tron, while offering 60 litres of storage up front, bringing the total to a very impressive 615 litres.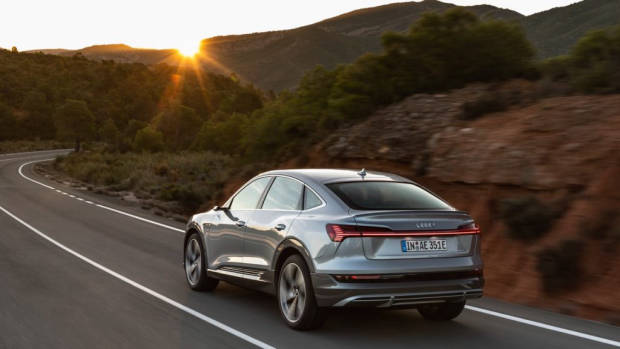 Pictures of the interior are yet to be released, though it is one of Audi's strong suits at the moment, and with a centrally mounted 12.3-inch touchscreen and a digital dashboard, it should be a lovely place to spend time.
Audi has managed a 50:50 weight distribution in the e-tron Sportback, which in conjunction with a five-link suspension system and air suspension that can vary ride height by 76mm depending on drive modes, so it should make for a confident handling car in any situation.
As standard 19-inch wheels with low rolling-resistance tyres are specified, though punters will be able to opt for larger 20-inch, and up to 22-inches if they wish.
Pricing and exact specification are yet to be locked in, but the e-tron Sportback will offer a stylish and presumably very nice place to spend time when it arrives in Australia in the second half of 2020.
Read more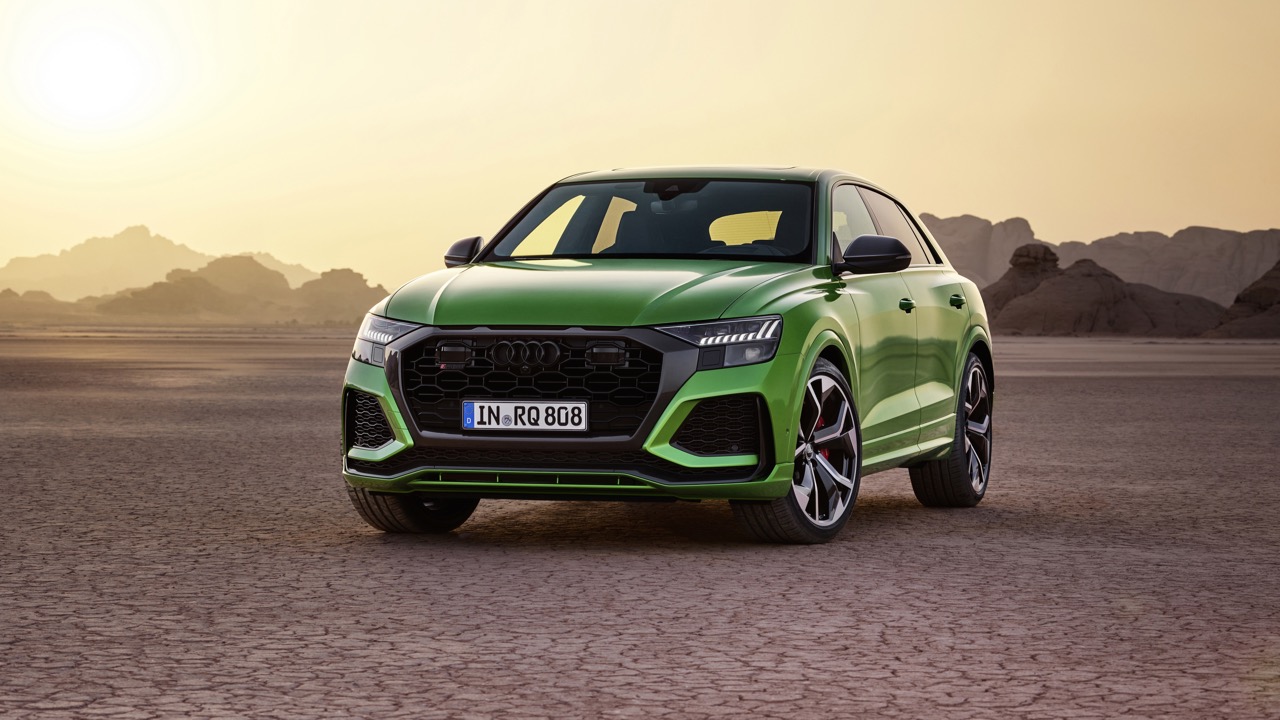 Bonkers Audi RS Q8 bound for Australia in late 2020
Audi has confirmed the bonkers RS Q8 for Australian shores, with the behemoth packing a 441kW punch from its turbocharged V8 drives. In fact, this RS variant of Q8 uses the same engine and underpinnings to the more exotic Lamborghini Urus, think of it like the R8 to the Huracan, but bigger.

With an all-electric future becoming an increasingly real possibility, with the brand's e-tron Sportback released in close succession, the RS Q8 Uber SUV may be the last hurrah for this kind of vehicle.

Alongside the Lamborghini Urus, the RS Q8 will be vying for market share with the petrol swilling BMW X6 M, Mercedes-AMG GLE 63 S, while tempting customers out of more traditional fast station wagons like the brand's own RS6 Avant.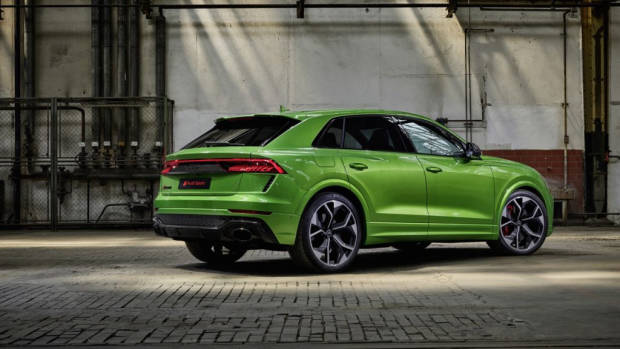 The RS Q8 boasts impressive outputs from its four-litre twin-turbo V8 – the same found in the RS6 Avant – with 448kW and 800Nm, though in Urus guise this same engine manages to push out 37kW more power at 478kW. Audi claims the turbocharged V8 will get the RS Q8 from 0-100km/h in an impressive 3.8 seconds.

Top speed is nothing to be sniffed at either, for the regular RS Q8, the speed limiter will cut in at 250km/h, though if you pay extra for the dynamic package, the behemoth will reach a whopping 305km/h, equal to that of the Urus.

High performance means lots of fuel is needed, to combat this Audi have implemented a 48 Volt mild-hybrid tech and cylinder deactivation, which the brand claims saves 0.8l/100km savings. Between 55-160km/h the car can coast for up to 40 seconds, using regenerative braking to generate power for the electrical system.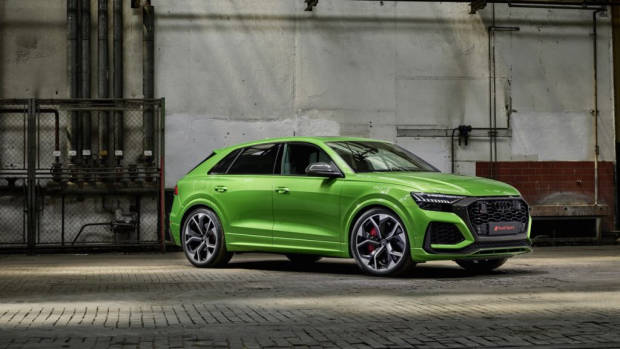 A bold and brash front end features on the RS Q8 with the biggest hexagonal grille on any Audi joining the three nostril vents between the nose and bonnet for cooling, referencing the original Sport Quattro.

As standard, an intricate looking set of 10-spoke 22-inch alloy wheels are specifed with 295/40 series all around, optionally an even larger 23-inch set of five 'Y-spoke' alloys can be specified.

Inside expect contemporary Audi, that means quality and pleasing minimalism. The RS Q8 will feature the brand's virtual cockpit, new centrally-mounted MMI touchscreen, plenty of optional alcantara appointments, RS sports seats and optional head-up display.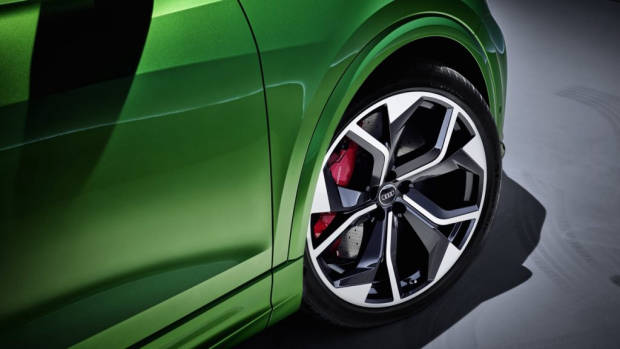 As you would expect, the RS Q8 has switchable drive mods, with two customisable RS1 and RS2 buttons to store your favourite settings, as well as plenty of safety tech including a 360 degree camera system, rear traffic assist, and active cruise control functionality.

Suspension has been specifically tuned for the RS Q8, the five-link system is teamed with air suspension to provide variable spring-rates and ride height with 90mm between the highest and lowest setting, so the big SUV should feel at home both on and off-road.

There will be an optional active roll stabilisation system available on the RS Q8, and is included with the dynamic package, which allows the wheels to track the ground freely on a straight, with roll bars stiffening when cornering to keep body roll to a minimum.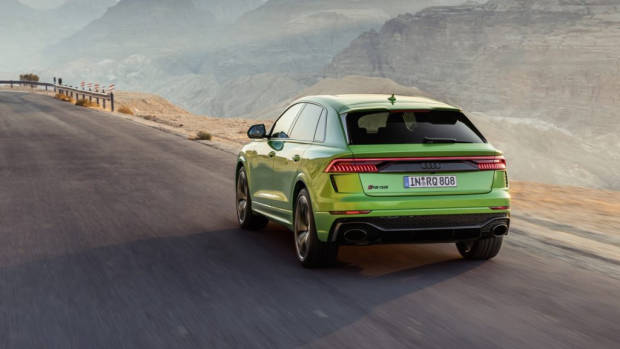 When driving normally, the Quattro all-wheel-drive system has a torque split of 40:60, when necessary up to 70% of the power can be sent to the front wheels, or up to 85% to the rear axle, where a limited slip diff can dish power out between each side.

Braking is taken care of by massive 420mm front rotors (370mm at the rear) and 10 piston brake calipers.

Rear-wheel steering is standard on the RS Q8, allowing the rear wheels to turn in the opposite direction at low speed to improve turn-in sharpness, and rotating in the same direction at high speed offering greater stability.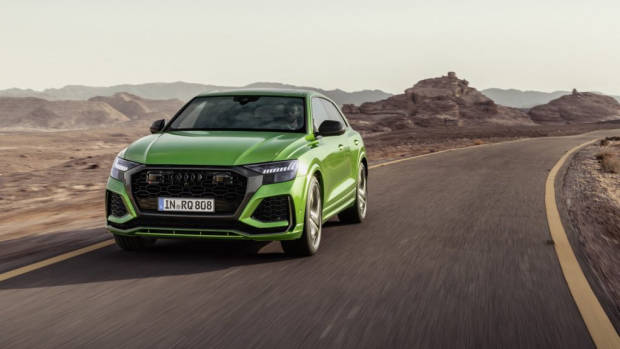 Exact specification and pricing will be available closer Australian launch in the third quarter of 2020, but we can safely bet it will arrive at less than Lamborghini's equivalent.

Read more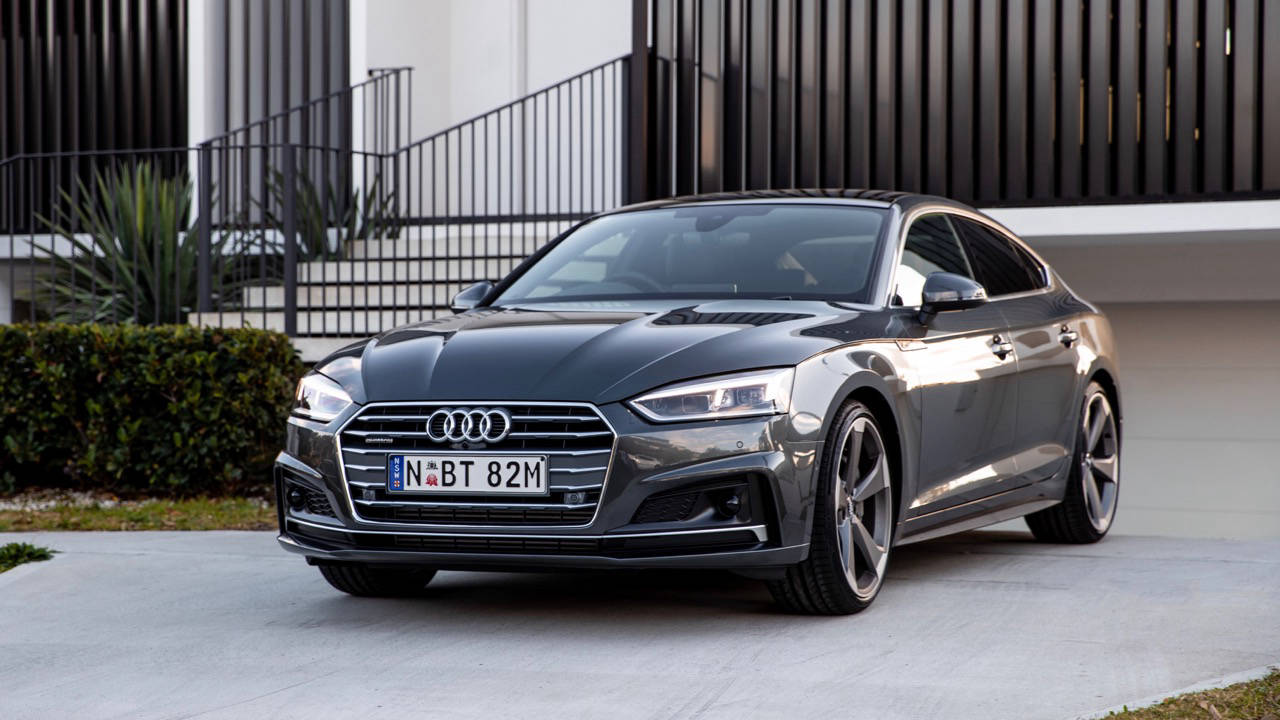 2020 Audi A5: lower price, more equipment for Australia
In an effort to stimulate sales of its A5 midsize sports cars, Audi has announced a slate of changes including a reduced price on a popular petrol variant and a raft of new equipment for the A5.
The changes for the 2020 model year all relate to the A5 45 TFSI – the higher of two petrol four-cylinder grades that make up the A5 range. The 45 TFSI unit is a two-litre producing 185kW/340Nm, channelled through a seven-speed dual-clutch automatic gearbox and Audi's Quattro all-wheel-drive system.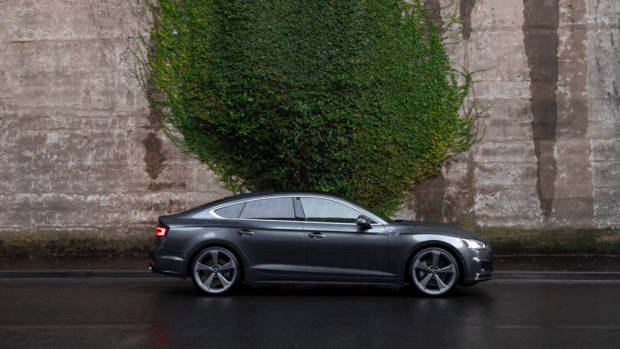 The Audi A5 continues to be offered in three body styles: a traditional two-door coupe, a drop-top convertible and a more practical five-door Sportback. Two higher-performance variants sporting six-cylinder petrol engines are available higher in the Audi range – the three-litre S5 (from $114,802 driveaway) and the 2.9-litre twin-turbo RS5 ($171,140 driveaway, reviewed here).
This week's changes see the 45 TFSI engine discounted by $2,800 across the board. The coupe and Sportback body styles will now set you back $78,900, while the convertible has seen its price similarly cut to $92,400. Driveaway pricing is yet to be confirmed.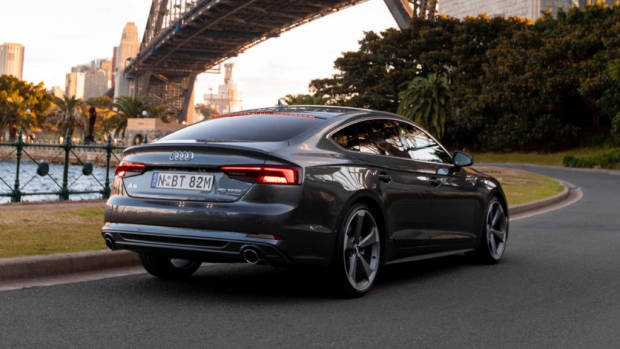 Alongside the price cut, specification for the 45 TFSI is now more generous, with Audi claiming to have added an additional $9,000 in equipment value. The 45 TFSI now arrives dressed in sportier S Line styling by default, wearing 19-inch wheels. Inside, the driver's seat (and external mirrors) gain memory functionality. The front pews are now heated and rear passengers pick up USB ports, and there's a wireless smartphone charging bay.
Additional safety tech has also been added to the 45 TFSI in the form of adaptive cruise control with stop-and-go capability, lane keeping assist with steering intervention, and a 360-degree parking camera. You also now score automatic high beam and an automated parking system.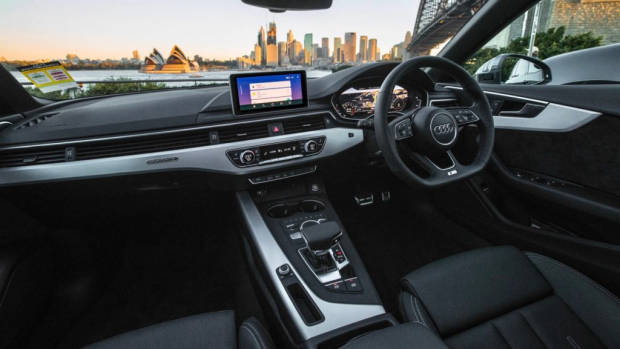 Entry to the Audi A5 range continues to be the 40 TFSI base grade, which retains its current pricing of $70,100 for the coupe and Sportback ($77,443 driveaway), and $83,600 in the convertible ($92,747 driveaway). The 40 TFSI is front-wheel-drive, sporting a more conservative tune of the two-litre turbo engine, producing 140kW/320Nm.
The base car continues to sport Audi's MMI infotainment system, with navigation, Apple CarPlay and Android Auto, plus the brand's Virtual Cockpit digital driver display. All cars also receive LED headlights, full keyless entry and start, DAB digital radio, and a 180-watt stereo.
The 2020 Audi A5 45 TFSI Quattro is available in Australia now.
2020 Audi A5, S5 and RS5 Australian pricing
A5 40 TFSI coupe: $70,100 ($77,443 driveaway)
A5 40 TFSI Sportback: $70,100 ($77,443 driveaway)
A5 40 TFSI convertible: $83,600 ($92,747 driveaway)
A5 45 TFSI Quattro coupe: $78,900 (driveaway pricing TBA)
A5 45 TFSI Quattro Sportback: $78,900 (driveaway pricing TBA)
A5 45 TFSI Quattro convertible: $92,400 (driveaway pricing TBA)
S5 Quattro coupe: $104,042 ($114,802 driveaway)
S5 Quattro Sportback: $104,042 ($114,802 driveaway)
S5 Quattro convertible: $117,582 ($129,017 driveaway)
RS5 Quattro coupe: $157,700 ($171,140 driveaway)
RS5 Quattro Sportback: $157,700 ($171,140 driveaway)

Read more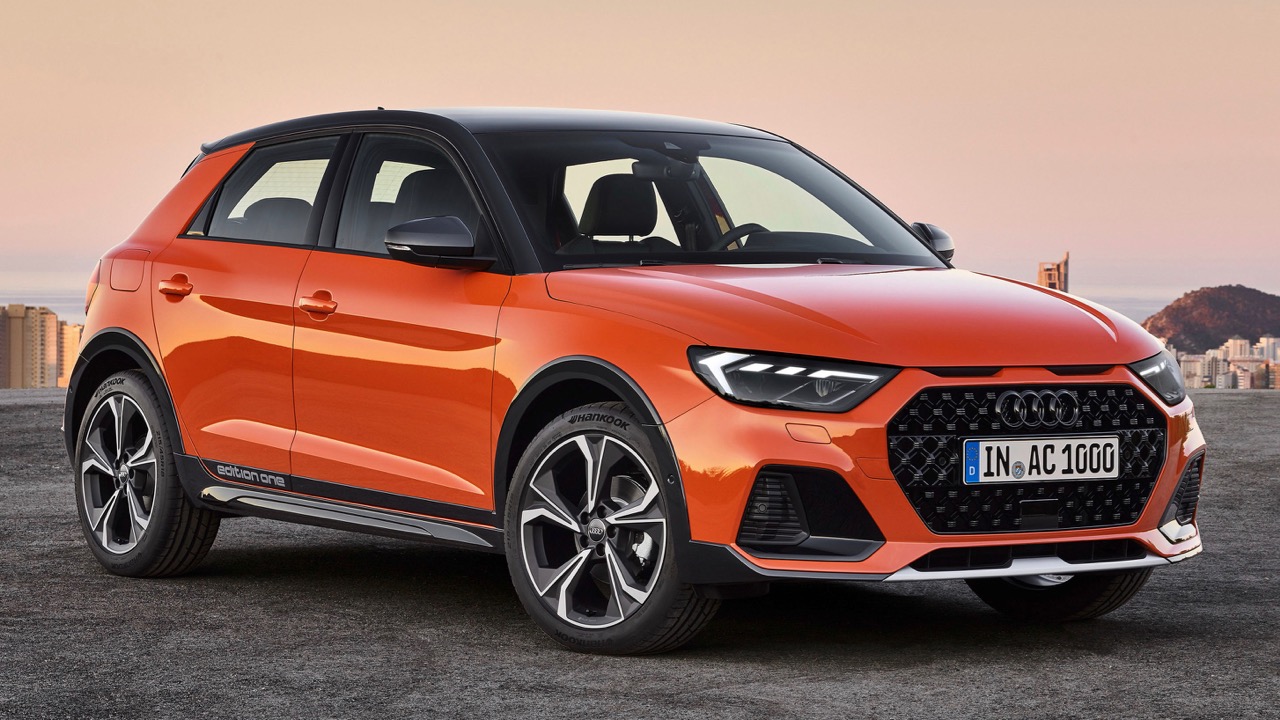 Audi A1 Citycarver: FWD-only cladded hatch revealed
Audi has revealed a lifted version of the yet-to-arrive second generation A1 named the Citycarver. Much like Audi Allroad models, the Citycarver will sit on mildly raised suspension, and offer a 'robust off-road look' – though it will not be offered with Quattro all wheel drive. 

Although the Citycarver is not yet confirmed for Australia, if it does arrive it will sit in a niche that is so far occupied by less premium, larger hatches such as the Ford Focus Active and Subaru XV (reviewed here). On the premium landscape the Citycarver would slot in below premium small SUVs such as Audi's own Q2 (reviewed here) and the Mini Countryman (reviewed here).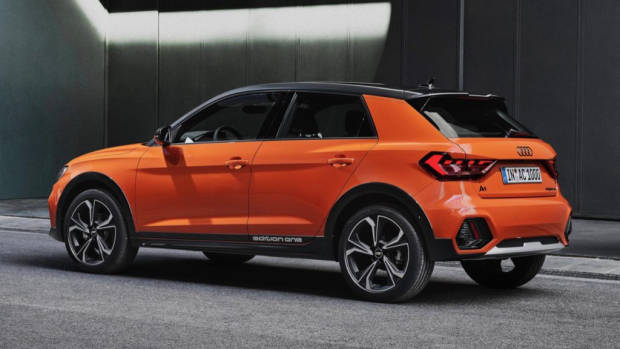 The Citycarver will be available in Europe in the fourth quarter of 2019 in three equipment levels, the base Advanced, Design Selection, and top model S-line. Audi is offering a myriad of customisation with the Citycarver range, with nine exterior colours, four choices of interior highlights (including mint and copper), the option of three contrasting roof panel colours, and three exterior highlight colours to choose from.

The interior is shared with the new A1 small car which means a digital instrument cluster, and 10.1 inch touchscreen is included as standard, with Audi's excellent MMI system optional. With more standard safety kit than the regular A1 including adaptive cruise control and park assist on all models, with lane departure warning and forward collision warning standard across all A1 variants.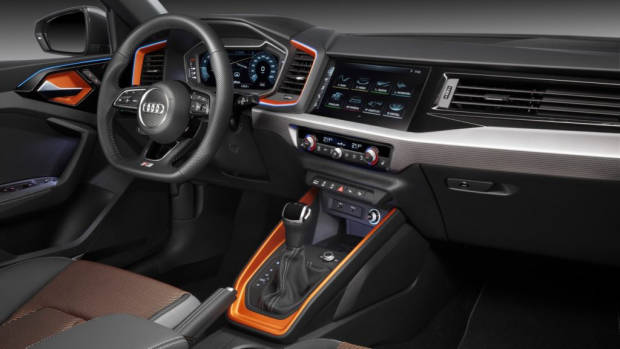 The A1 Citycarver is striking in its orange hero colour, muscular without looking overly tall like jacked up small cars have in the past. Audi has claimed of design cues coming across from Audi's Q range in the form of the large octagonal honeycomb grill and LED headlights.

Like the A1 upon which it's based, the Citycarver will be offered initially with either the 85kW/100Nm 30 TFSI triple, or more powerful 110kW/250Nm 35 TFSI four cylinder, with a 147kW 2.0 litre engine slated to arrive later on, which should make for an entertaining pocket rocket that is still exploitable on rougher roads.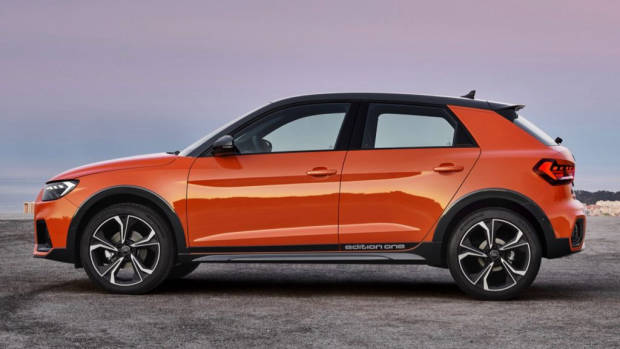 The Citycarver is set apart from the regular A1 with a 35mm lift in the suspension, and presumably the car will have a more forgiving ride than the A1 it's based on. It will depend on which wheel and tyre combination is optioned, Audi offer 16 inch or 18 inch as an option for the Citycarver. Claiming a 'self-confident road stance' for the Citycarver's suspension, Audi will offer a 'dynamic suspension tune' as an option.

The current popularity of SUVs and Audi's history of Allroad models suggest there is a niche to fill with the Citycarver. It will be interesting to see if Audi bring the Citycarver downunder alongside its A1 sibling, though sources suggest it is unlikely for the time being.

Read more