Search Results for ""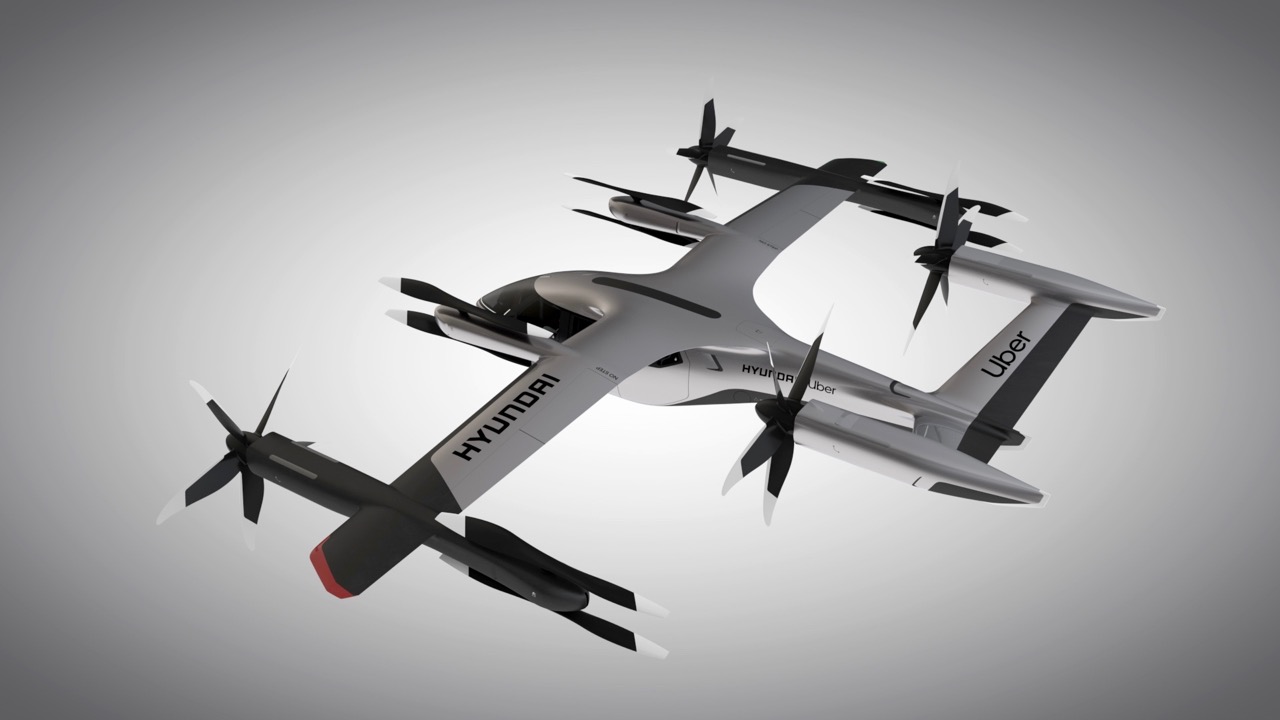 Hyundai partners with Uber, but not where you might expect
The 2020 Consumer Electronics Show has thrown up some imaginative ideas for future mobility from big brands, including BMW and Audi, but neither are as radical as Hyundai's partnership with Uber Elevate, a rather out-there aerial ride-sharing concept.
The arrangement with the rideshare platform was built after Uber was suitably impressed with Hyundai's production facilities. Together the brands believe they can out-produce established aviation companies in both quality and speed.
Hyundai's know-how with electric vehicles, hydrogen fuel-cells and experience producing cars has grown hugely in the last twenty years and with electric models of the Kona and all-green Ioniq, it's a brand that is certainly looking to the future.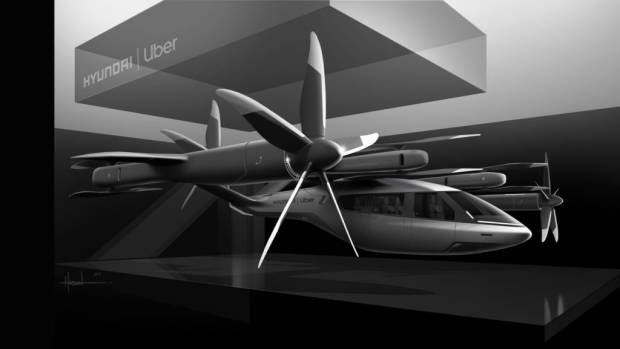 If you've watched any sci-fi movies then you might be familiar with the concept of jet-fighter like vehicles taking off vertically from the ground, before joining a stream of aerial traffic 50-metres up and speeding off to their destination.
To most, this is tech reserved for those futuristic thrillers and military-grade jets. Yet, at CES 2020 Hyundai detailed their S-A1 personal air vehicle (or PAV), which promises just that.
The design is reminiscent of a helicopter, the main fuselage taking a very similar shape to the more traditional aircraft, but numerous vertical and horizontal propellers give it the look of something lifted out of James Cameron's Avatar.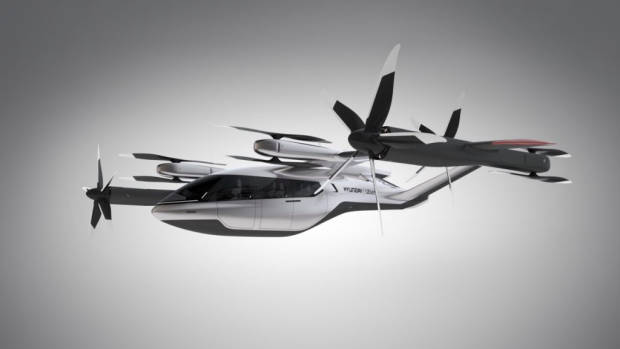 Some headline figures of the S-A1; it will perform vertical take-off like a helicopter, before transitioning to wing-borne flight much like a traditional propeller plane at between 300-600m.
Hyundai say that initially the PAVs will have pilots installed, though as tech becomes more advanced there is the potential to automate the S-A1.
Top speed is slated at 290km/h and it will be able to fly distances of around 100km using electricity to power the props. Hyundai claims a full charge will be achieved in as little as seven minutes.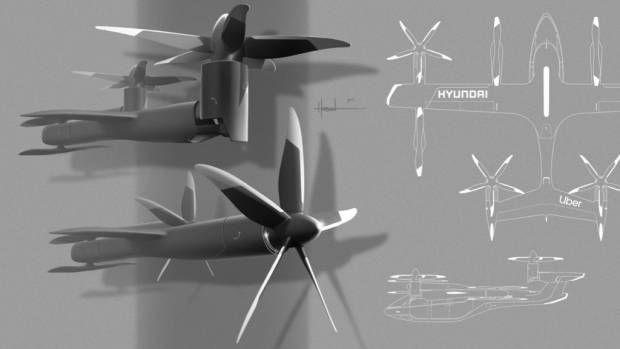 With electric power and the compact size of each propeller, Hyundai is claiming that the production version of the S-A1 will be far quieter compared to a similarly sized helicopter and, obviously, more environmentally responsible.
Passenger capacity is tight though, with only four seats onboard – this is spun as a positive because no one will have to sit in a middle-seat – and is designed to take flight strictly in urban areas.
As for where it might work in Australia, our ever-sprawling urban areas may prove prime candidates for the Uber Elevate concept, but surely the vehicles will need greater passenger space.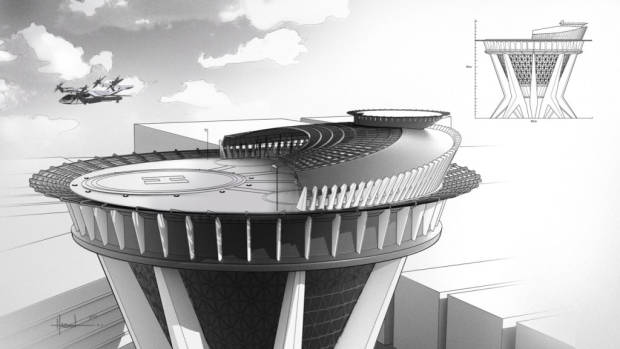 Hyundai and Uber Elevate sound confident and both have excellent track records of fast growth in their respective industries. Yet, we can't help but think that the development costs of this program might be astronomical. With limited passenger space, it seems like a program aimed at a small-slice of uber-rich of society, of course, we're more than happy to be proved wrong.
Whether these concepts will arrive in production as we see them pictured we're completely unsure, what's clear to us at Chasing Cars is that Hyundai wants to be on the cutting edge of mobility for the coming years.
Read more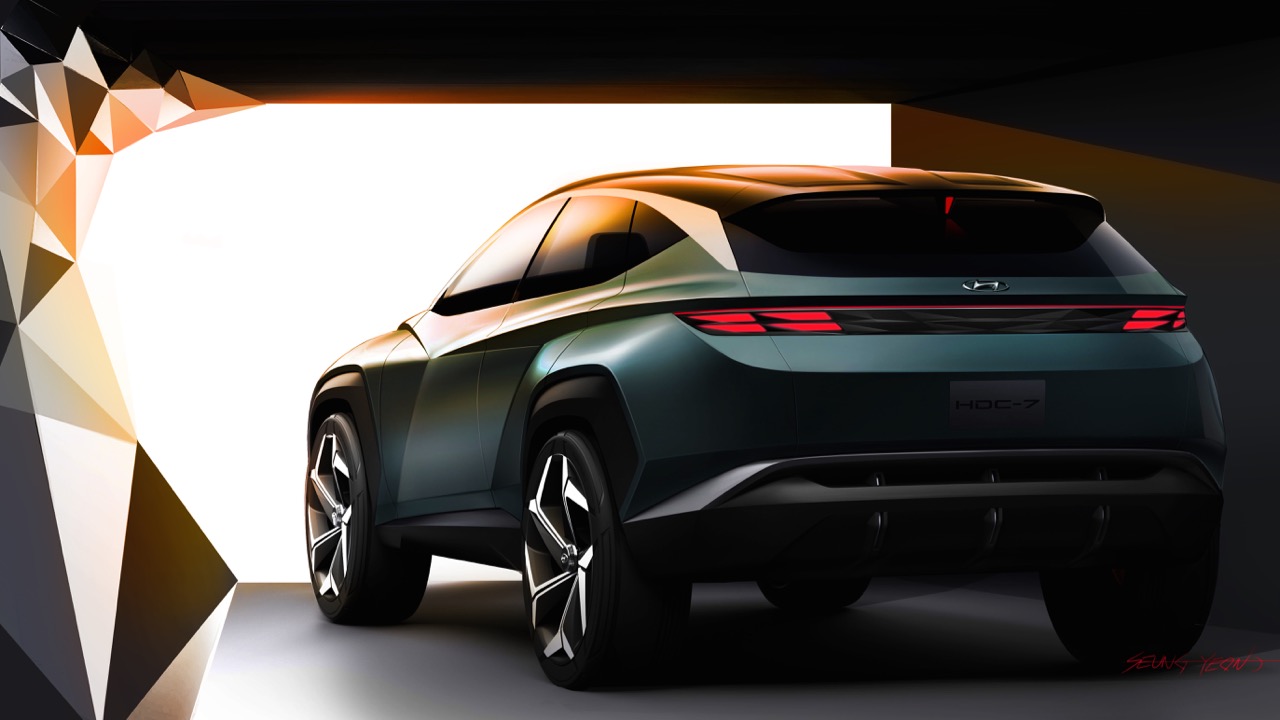 Hyundai's PHEV Vision T Concept Foreshadows brand's green Future
Hyundai has unveiled a plug-in hybrid concept at the 2019 Automobility LA Show dubbed the Vision T Plug-in. This is the seventh concept to come out of the Hyundai design centre and both foreshadows the coming electrification of the brand's SUV range, as well as representing the future of the brand's design language.
As for what the Vision T points to, it seems likely a look to the next generation of Tucson SUV, for a start the overall length is very similar at 4,610mm, and although the concept is wider at 2,000mm, we can put that down to exaggerated styling. Of course, the concept is also named the vision T, vision Tucson? Doesn't seem coincidental to us.
It also makes sense as the Tucson is getting long in the tooth, lagging behind rivals such as Toyota's latest star – the RAV4 – in terms of green drivetrain options, the concept addresses this with the claimed plug-in hybrid tech.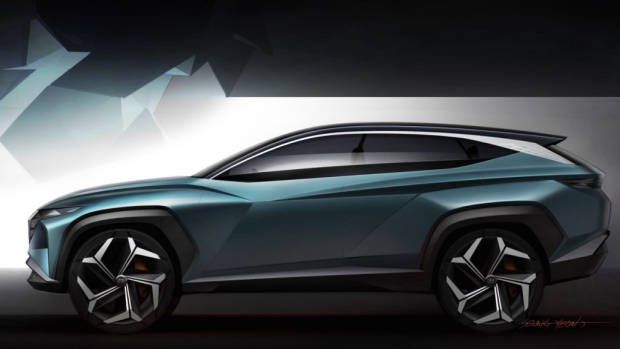 At the recent launch of Hyundai's refreshed Ioniq green car, Chasing Cars had a chance to speak to Senior Manager of Future Mobility & Government Relations Scott Nargar about the future of the brand's drivetrains, specifically in SUV form-factor.
When quizzed on the future of electrified SUVs Nargar claimed that creating a hybrid mid-size competitor would be "an easy win, but we want those wins for the long term as well."
Going further Nargar mentioned that "the next variation of our SUVs which will still have diesel, petrol and alternate drivetrains – what those alternate drivetrains are we won't go into, but it's a big future", and with the claim of 44 green drivetrains to come, we can assume this Vision T isn't just a pretty shell with nowhere to go.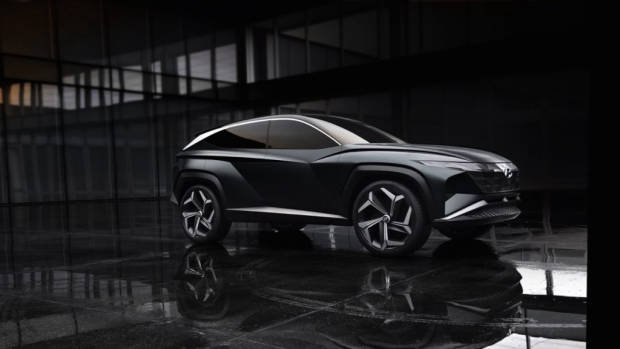 And it is quite a pretty shell from the what we've seen, finished in a matte green hue – which Hyundai claims to symbolise its eco-credentials – sharp lines flow well from front to back, creating interesting surface contrasts to break up the normally slab-sided SUV profile.
Hyundai claim this concept is a "vision of the new urban adventurer SUV design direction", and certainly the box-arch haunches give the Vision T a hunkered-down stance – though it's unlikely such width will make it to production – it certainly gives the concept some aggression not usually found in a grocery getter.
"Parametric Fantasy" is one of the core principles of the Vision T design, as a brief definition, parametric design refers to the use of algorithmic thinking to reproduce patterns organically.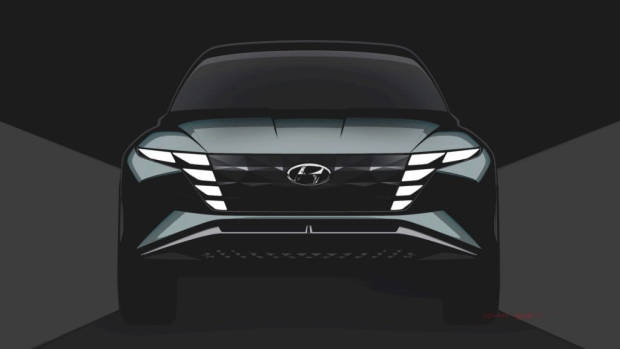 Hyundai reference this directly in the Vision T's grille, which remains closed at stand-still, but when at speed each individual shutter dances in a prescribed parametric motion to both control engine cooling, and optimise aerodynamic efficiency.
The headlights also act in a parametric way as a contemporary take on pop-up headlights, when the lights are disengaged the glass will be covered by a reflective material, and when turned on these covers retract to reveal the LEDs hidden beneath.
Hidden within the side profile where you would expect to find a fuel filler, Hyundai has placed the charging port behind a sliding flap which should help normalise the feeling of the plug-in hybrid experience.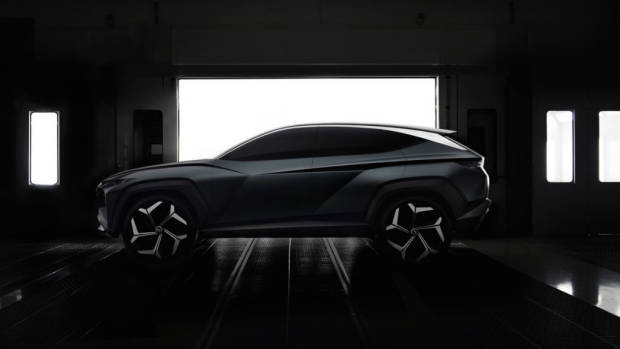 Although this is a concept car, Hyundai claims both design features like the parametric grille and lighting systems are likely to make it into production cars design language.
Similarly, after our chat with Scott Nargar, it's clear the plug-in hybrid system will make way into the next generation of Hyundai SUVs. The Vision T is a potential look into the next-gen Tucson, and if it looks much like the concept here, it's safe to say we're excited about that launch.
Read more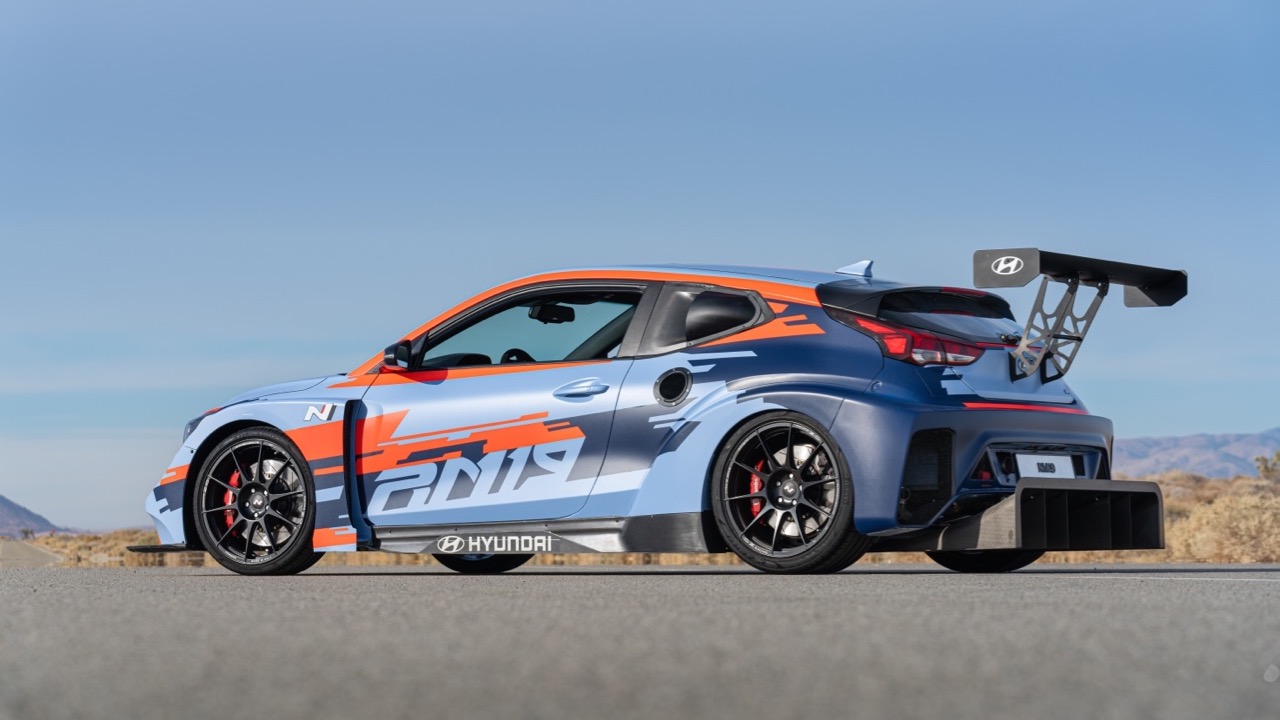 Hyundai RM19 Concept unveiled: Modern take on the Clio V6?
With the incredibly positive reception of the brand's first performance car, the i30 N, Hyundai's motorsport arm continues to expand its operations. The N Brand is starting to look a lot like Renault Sport in the early 2000s with a fantastic handling hot-hatch, growing motorsport prowess, and now a mid-engined prototype based on a regular hatch.
Hyundai N unashamedly benchmarked the Renault Megane RS in the creation if the i30 N, with that car suitably destabilising the hot-hatch kingdom, it now seems they've consulted Dieppe's back catalogue with a contemporary incarnation of the Clio V6.
The Korean brand claims the RM19 concept could be the beginning of a premium sports-car assault, with engineers referencing hallowed sports coupe names – think Hyundai versus the Porsche Cayman, BMW M2, and – another Renault reference – the Alpine A110.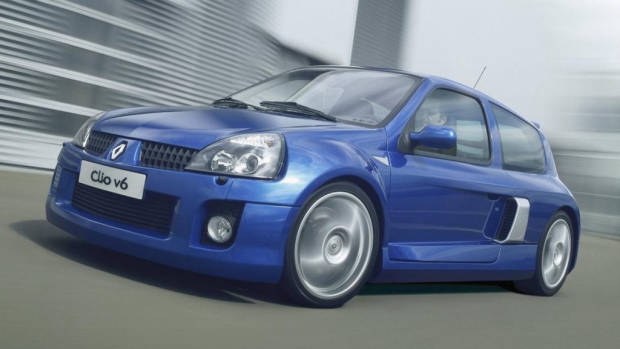 With Albert Biermann – director of the storied BMW M brand during some fine years – spearheading the RM19's development, we can expect the production car to perform well indeed.
For now, the RM19 remains just a concept, with the name standing for 'Racing Midship', the functional prototype is equipped with a mid-mounted 290kW two-litre turbocharged engine borrowed from the brand's TCR series racecar, powering the rear-wheels only.
According to Hyundai, the RM19 should complete the 0-100km/h sprint in under four seconds, though with midship handling balance this prototype will be more than merely a straight-line bandit.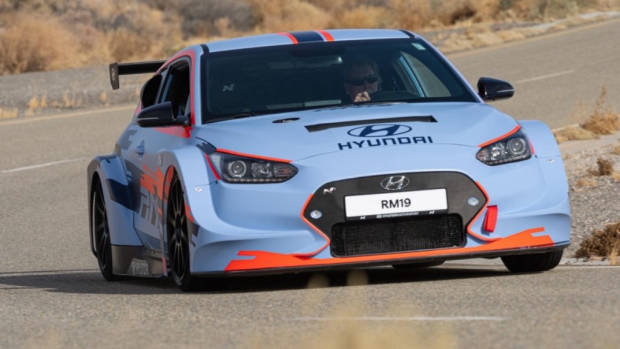 The RM19's shell is based on a three-door Veloster, though there are some pretty glaring modifications, starting with huge eighties-style box-flares which increases the car's width to 1,945mm, a massive 145mm wider than 1,800mm road-going car.
From the rear it's clear the RM19 prototype is a race car (for now), the humongous chassis-mounted rear wing protrudes hilariously from the body-work, the vast rear-diffuser poking out of the bumper like the bottom lip of an irate six-year-old, it looks proper nuts.
And yet, Hyundai claim this concept will lead to something that has "racecar-like levels of performance, balance, braking, and grip while retaining daily road-going capability", so expect more refinements in the future, though it's unlikely the wing and diffuser would pass Australian design rules.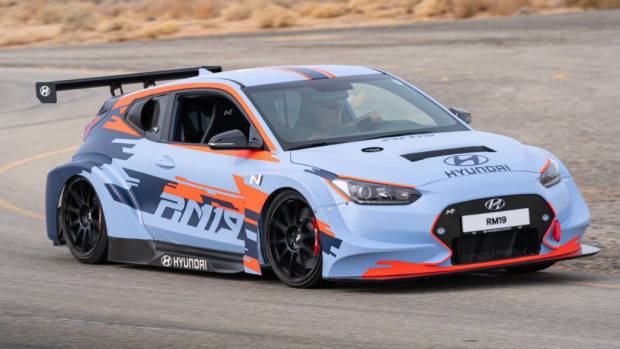 The concept shown here is not the first development of midship for the N brand either, the project began back in 2012 and has created previous prototypes the RM14, RM15, and RM16, it's obvious Hyundai wants to create something proper, then.
As well as a turbocharged petrol engine, Hyundai claims that additionally, we can expect to find variations on the theme, with high-performance hybrid, plug-in hybrid, and full battery electric powertrains all on the cards.
It's in collaboration with Croatian EV startup Rimac – which Hyundai and Kia have invested $90 million US in – that the company will develop these high-performance battery electric drivetrains, we can't wait to see what kind of mind-bending acceleration will come from that powertrain.
Hyundai's ambitious targeting of hot-hatch titans has proven successful, we can't wait to see the RM19 evolve into Porsche Cayman rival.
Read more