Search Results for ""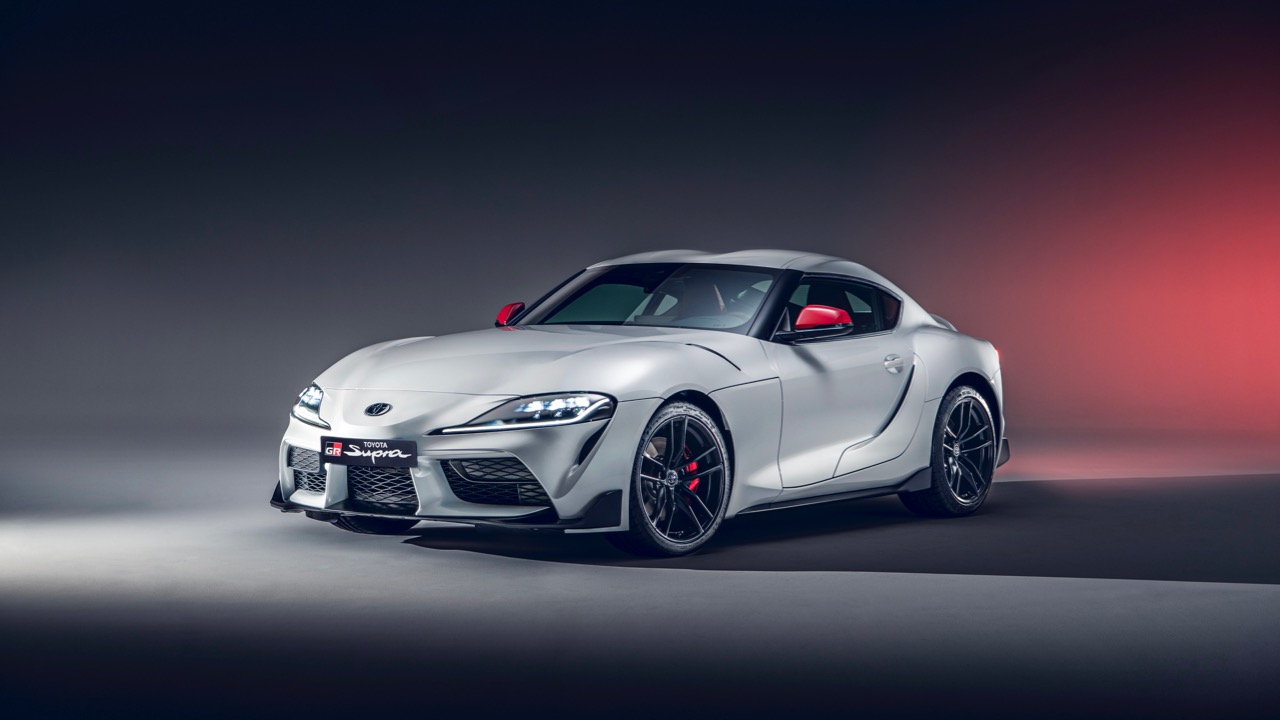 GR Supra gets four-cylinder option, Australia unlikely
After being mentioned at the launch of the A90 generation Supra, Toyota has detailed an entry-level GR Supra replete with the same exciting exterior design but a four-pot where six-cylinders sat before. Sadly it's unlikely the new variant will make it downunder.
A four-cylinder Supra variant will arrive at a more affordable price to do battle with less focussed sports coupes. Think of the BMW 2 Series and Audi TT, but it will also offer a stepping stone for current 86 owners.
This isn't the first time Toyota has offered a lesser Supra, the 90s A80 generation is best known for fire-spitting, 1,000hp antics courtesy of a twin-turbo 2JZ engine, but it's easy to forget the four-speed slushbox and uninspiring aspirated engine of the base model.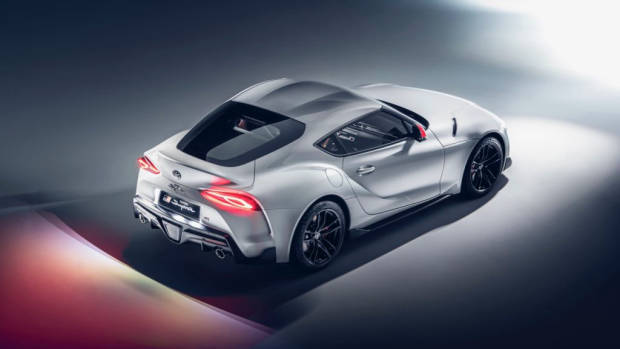 Sadly, Toyota Australia confirmed there are currently no plans to introduce the four-cylinder which we reckon is a real shame with the value proposition of the base model.
BMW's range-topping Z4 M40i lists for $111,160 ($135,443.80 driveaway) and shares a drivetrain with the Supra GT. The new four-cylinder Supra borrows the engine of the $98,121 ($114,276 driveaway) Z4 sDrive 30i.
That's a $13,000 difference between four and six-cylinder Z4s, by applying that logic to the $84,900 ($91,771 driveaway) GR Supra GT, the new four-cylinder variant would end up around $75,000.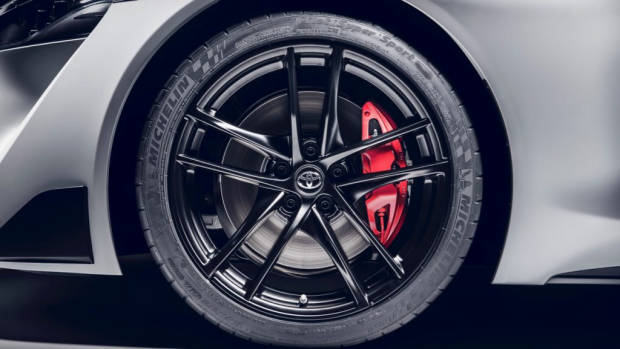 That's a lot of unique sportscar for the money in our book. It's not like BMW's four-cylinder is a slouch either.
Courtesy of a twin-scroll turbocharger the two-litre B48 boasts outputs of 190kW/400Nm and a 0-100km/h time of 5.2 seconds. Admittedly, that's nearly a second slower than the B58 equipped Supra, but only half a second behind a BMW M240i.
Power will be transferred to the rear-wheels only via an eight-speed ZF automatic – not a bad 'box by any means, but we would love to see a manual for greater driver involvement.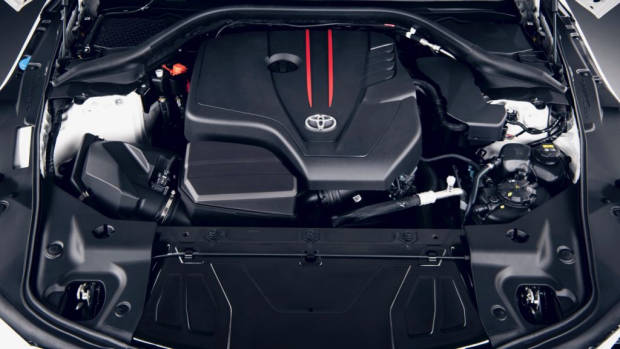 The GR Supra already has a pretty tenacious front end and by swapping to BMW's B48 four-cylinder the Supra drops 100kg. Most of the weight is lost from the front end, too, improving to a perfect 50:50 weight distribution. You can see just how far back the diminutive engine sits, too.
The global specification starts with the base live variant that will deliver a no-frills Supra experience. An 8.8-inch screen has by BMW's old iDrive system, a four-speaker sound system and Alcantara seats complete the interior.
In rather German fashion there are option packs for the supra four-cylinder; the connect packs adds a navigation system and connected apps.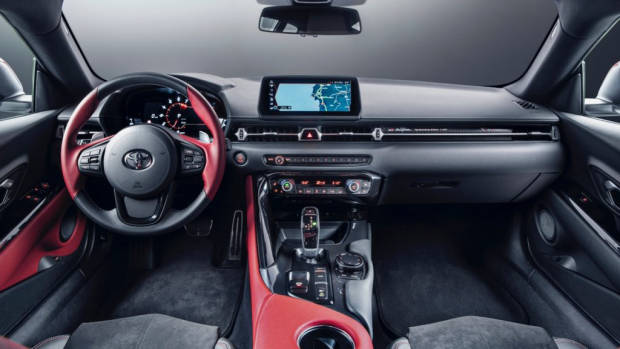 The premium pack mirrors the Australian GTS specification so, naturally, a 12-speaker JBL stereo, wireless charging, storage nets, leather-appointed seats and a head-up display are found inside.
But it's the sport pack we're most excited about; with an active LSD, adaptive suspension and a set of uprated brakes this may be a very compelling package.
Pictured here is the Fuji Speedway edition, a variant that cherry-picks the good option packs – connected and sports – a pearl white hue, larger 19-inch alloy wheels, red mirror caps and carbon interior appointments.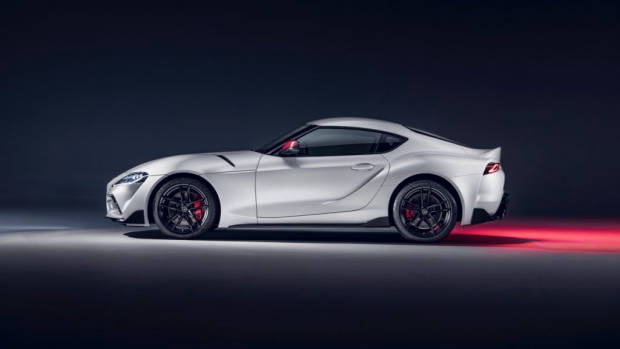 A more affordable Toyota Supra with a more tenacious front end, lighter overall weight and better fuel consumption sounds pretty enticing to us.
The two-litre GR Supra will go on sale globally in March this year. If Toyota Australia does bring the four-cylinder to Aus we reckon there is real sales potential.
Read more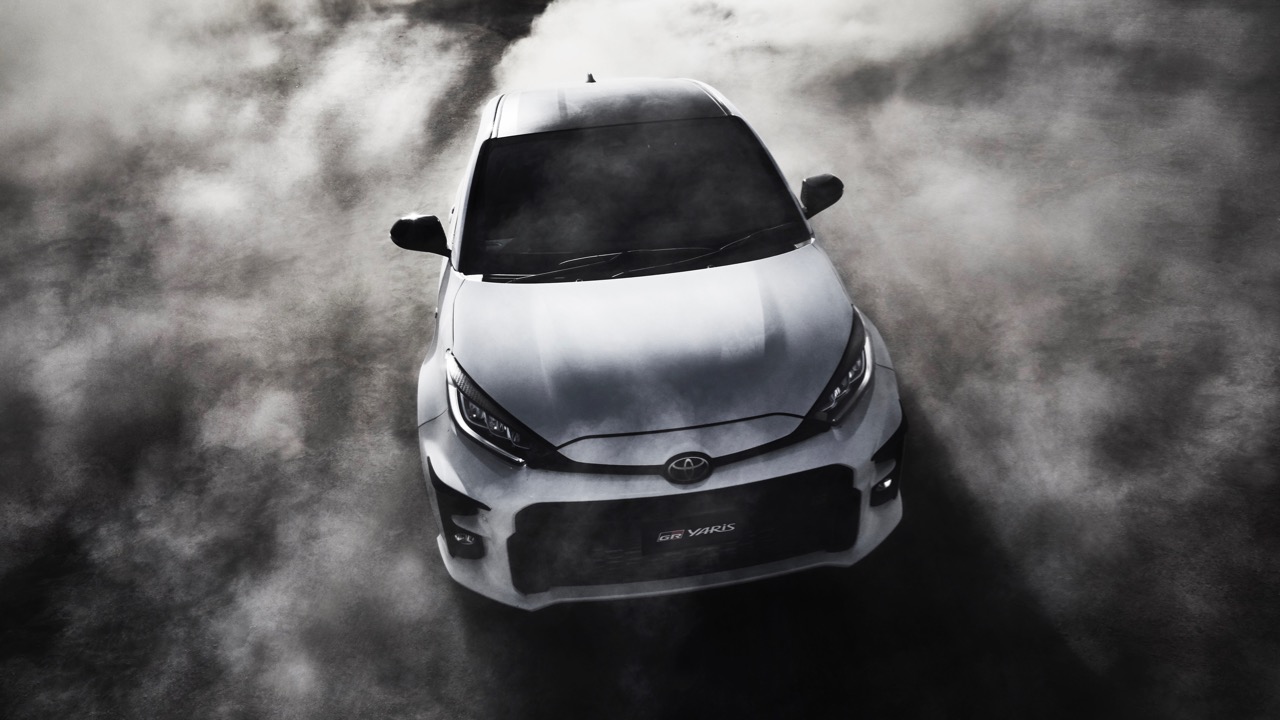 Toyota Details Unhinged GR Yaris Replete With WRC DNA
All-wheel drive, a bespoke 200kW turbocharged engine and unique body shape; you could be forgiven for thinking I'm talking about a rally car here. Those are but some details of Toyota's new GR Yaris, a serious performance machine with performance enough to hang with the brand's Celica WRC car from the 90s.
Toyota claims the GR Yaris is a product of the brand's experience racing in one of the toughest motorsport disciplines, it's a concept not unlike the Celica GT-Four the brand produced in the 90s to homologate their infamous WRC cars. And yet, the GR Yaris is a purely indulgent exercise.
Hot hatches in the Yaris' regular class don't stand much of a chance on paper; the Suzuki Swift Sport will be seriously outgunned with just 104kW, while the Renaultsport Clio 220 EDC and Volkswagen Polo GTI lack the all-wheel-drive tenacity promised by the GR Yaris.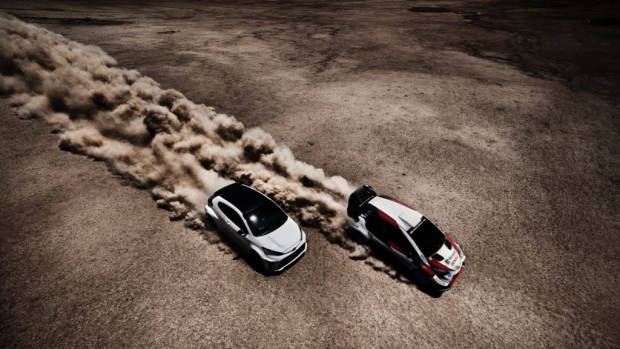 Instead – by the time it arrives in Australia likely this year – the GR Yaris' pricing will probably see it line-up against a larger class of rivals like the all-wheel drive Golf R and tenacious Hyundai i30 N.
Gazoo Racing has developed a bespoke turbocharged 1.6-litre three-cylinder engine for the GR Yaris that summons absurd outputs of 200kW and 370Nm – making it the most powerful three-pot available. Toyota says this is possible thanks to 'motorsport technologies' gleaned directly from its WRC program.
An impressive kerb-weight figure of 1280kg is quoted which, combined with the bespoke engine, should see the GR Yaris complete the standard sprint in around 5.5 seconds.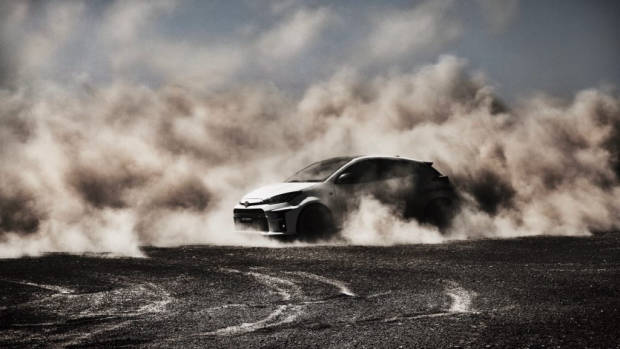 Enthusiastic drivers can rejoice that despite the gram-and-second focussed racing program having much to do in developing the GR Yaris, there is no lightning-fast paddle-shift found here. Instead, power is transferred by a proper six-speed manual gearbox which we already know Toyota does well.
There's a trick all-wheel drive system tasked with putting the power to the road which Toyota (unsurprisingly) have called GR-Four. It's a system unlike any other currently found in a production car that, thanks to trick gearing found in the front and rear differentials, can allow up to 100% drive to be sent to either front or rear axle.
In normal driving modes the default split is 40:60, while a sport setting can be selected where the car will default to 30:70 and in track mode – designed with maximum lap times in mind – the car will start from an even 50:50 torque distribution.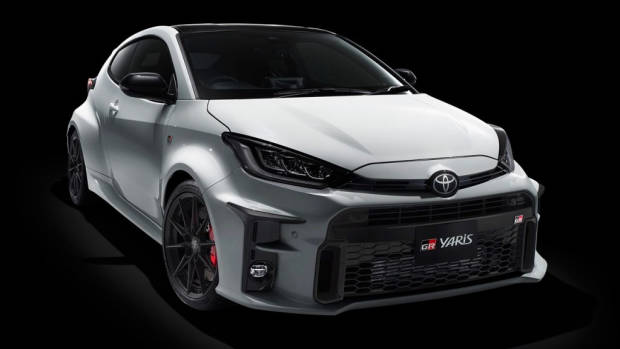 A bespoke body was needed for the GR Yaris, to start the roofline sits a whole 91mm lower than a regular model with frameless doors to boot, while the imposing-looking fender flares see the GR swell to 1,805mm compared to 1,695mm for the regular grocery-getter.
Look closely and the number of doors of the GR Yaris is only three, chopping two from the five-door shell, the whole thing looks more like the WRC car than grandma's Yaris.
Not content with unique bodywork and engine the chassis is also a custom item. Toyota says they combined the front half of their TNGA-B platform that underpins the normal Yaris with the more sophisticated TNGA-C platform as it offers sophisticated double-wishbone rear suspension and pre-existing all-wheel drive capability.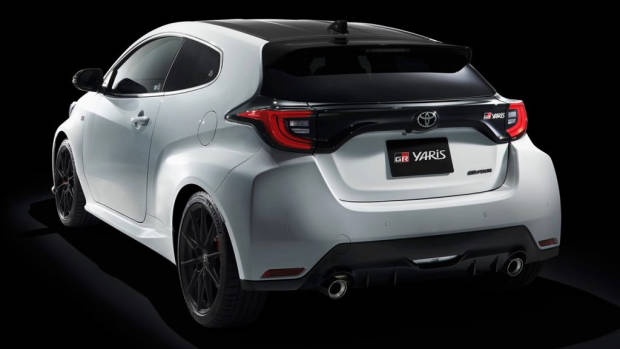 It's claimed that choosing this mix of platforms allowed the Gazoo Racing team to locate the engine lower and further back in the chassis too.
Toyota Australia is yet to confirm an arrival date but we expect the GR Yaris to arrive later this year. Sadly Australia isn't slated for the 'high-performance' version that gleans stickier rubber and a rear LSD, but we still can't wait to have a steer in this unhinged city-car.
Read more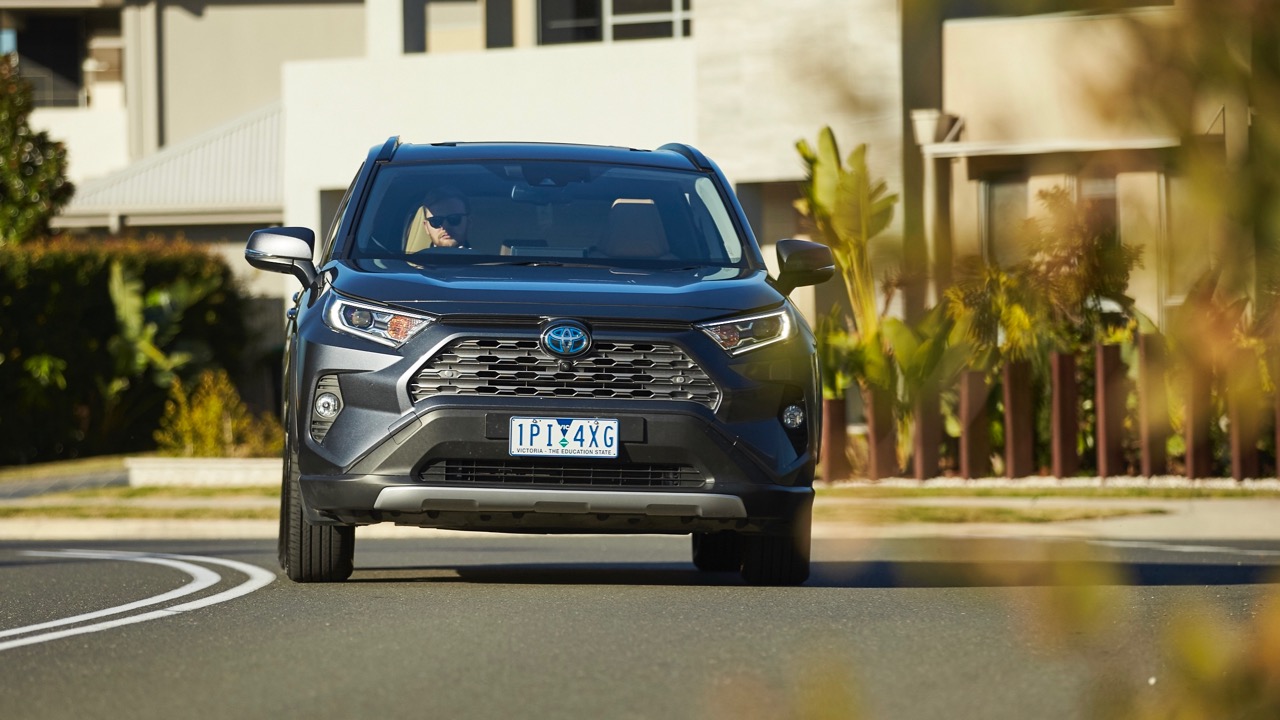 Long Term Log: Toyota RAV4 Hybrid, Part 2
Even for those that aren't on the SUV bandwagon, it's hard to dispute the utility of crossovers for driving around the 'burbs. They're easy to buckle children into, they can jump kerbs if your parking angles are a little off and their cushy seats and suspension make the school run that much more relaxing. Only problem? SUVs are large and heavy, so they suck fuel, be it petrol or diesel.
The 2019 Toyota RAV4 Hybrid is the first mainstream SUV in Australia that can really bust that myth. When I say mainstream, I mean a car that most people can afford – there have been luxury hybrid SUVs, like the six-figure Lexus RX hybrid, and even the more-expensive-again electric Tesla Model X – but you can walk into a Toyota RAV4 for less than forty grand.
Read the first instalment of our RAV4 long-term review here.
Urban driving in the Toyota RAV4 hybrid
We've been driving the range-topping RAV4 Hybrid Cruiser for a couple of months now, and we spend about three-fifths of our time driving around Sydney's suburbs. There's my commute on the lower north shore, regular runs to the northern beaches and all manner of work commitments. Point being, our Graphite-over-Nutmeg RAV4 spends a lot of time in bumper to bumper traffic.
But bumper to bumper is where hybrids do their best work. Content to run in electric-only mode at low speeds, you crawl along with zero tailpipe emissions and zero petrol being channeled through the Toyota's innards – which meant a month where all our driving was urban resulted in E10-petrol consumption of just 5.4L/100km. Holy cow.
By contrast, petrol SUVs that swung by for comparison from Volkswagen and Mazda used more than double that figure.
If you want an easy way to drastically cut your fuel bills and reduce your environmental footprint – without having to do anything drastic – swapping into a RAV4 Hybrid is a great start.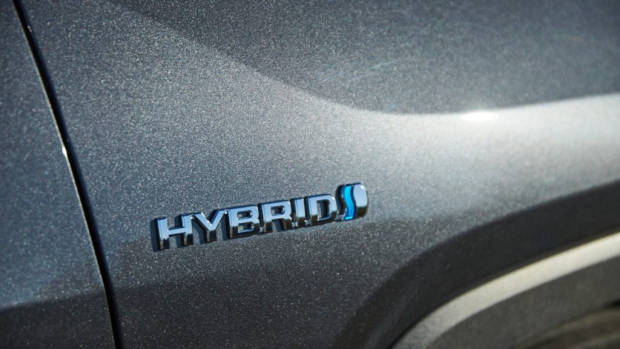 The stellar fuel consumption is one thing but the instant torque from the three electric motors when darting around the city is a bonus, too. We're not saying it's Tesla-like in its acceleration – it certainly isn't – but the little squirt from the battery essentially operates like a low-blow turbo.
There used to be a horrible sound and vibration when older Toyota hybrids switched from electric power to the petrol engine, but substantial NVH work means that this transition is now much smoother and vibe-free. If you have music on, you won't actually know when you're running on volts or on gasoline, except for the 'EV' symbol in your instrument cluster.
The hybrid battery and motors do add some weight to the RAV4 but that doesn't fundamentally affect this SUV's dynamics, which are pleasant and light. Direct steering combines with a soft but controlled ride, making the Toyota a surprisingly fluent drive but also a very comfortable one.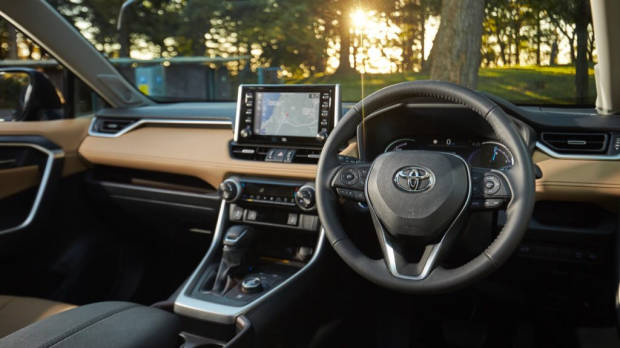 Toyota haven't tried to make the RAV4 sporty; they have aimed for comfort, and all the better for it. Having said that, it's not floppy at all; it's a great balance.
The spacious interior includes a set of good, heated front seats, a good JBL stereo (on our Cruiser) and heaps of rear legroom and headroom. This is only a five-seater – a new Kluger seven-seater with a hybrid option will come along at the start of 2020.
Seamless is how you'd describe the experience of driving the 2019 RAV4 in the city. With the car's computers making all the decisions for you in terms of fuel sources, all you have to do is buy it to start reducing your environmental impact and fuel bills at the same time. What more could you want at this point in time?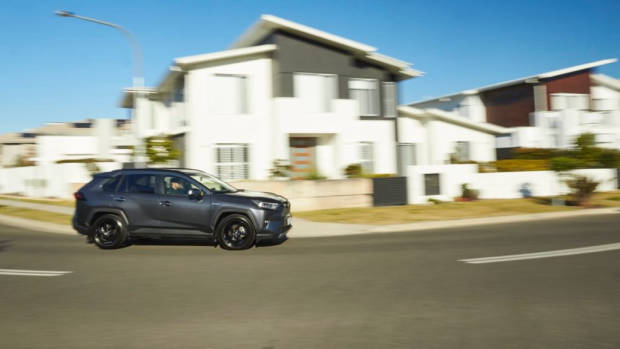 Read more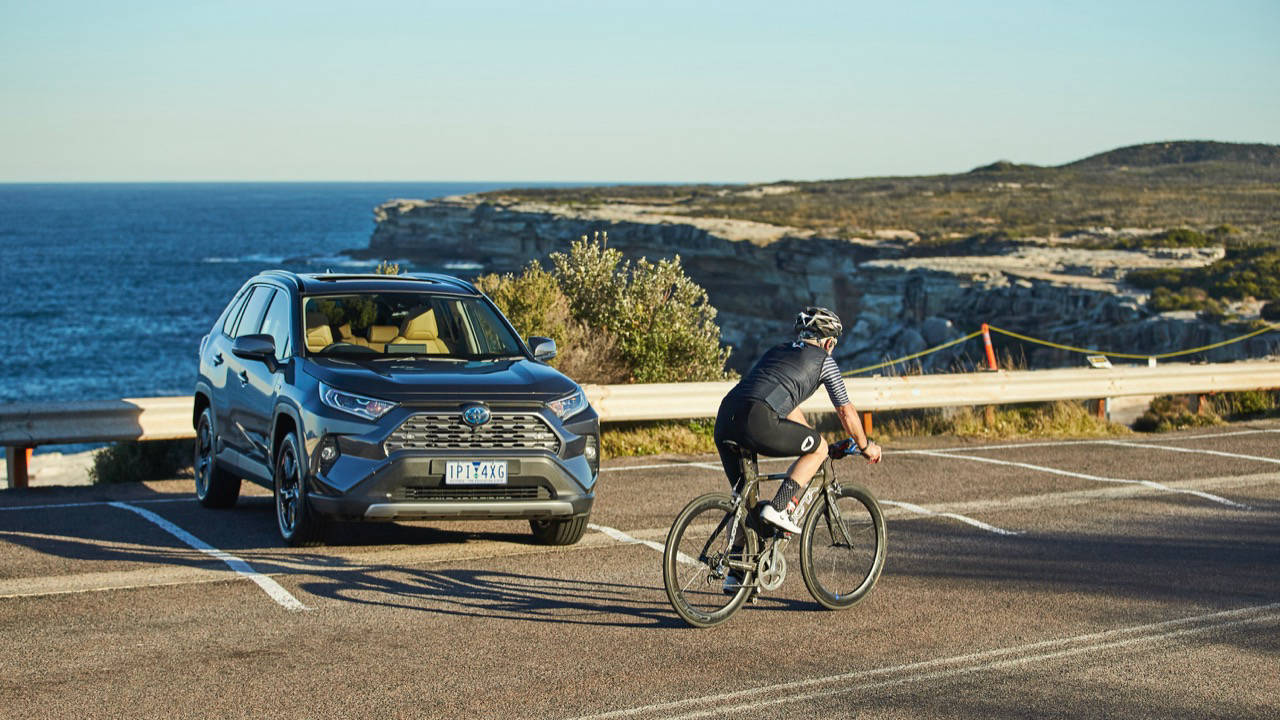 Long Term Log: Toyota RAV4 Hybrid, Part 1
Time on test: 6 weeks
Total test time: 12 weeks
Mileage on test: 1,500km
Fuel economy on test: 6.2L/100km
The latest Toyota RAV4 burst onto the SUV scene earlier this year, sporting better driving dynamics, a more plush interior, and an emphasis on fuel-saving hybrid engines. We were so impressed with the RAV4 that we've brought one into our long-term fleet.
Wearing three hybrid badges – one on the tail, two on the flanks – the new 2019 Toyota RAV4 certainly doesn't shy away from demonstrating its fuel-saving cred. And so it should: hybrid power is the RAV4's major unique selling point in the crowded Australian car market. You'll find a plethora of decent choices with petrol or diesel engines, but the RAV4 is the first really affordable hybrid SUV to be brought to Australia.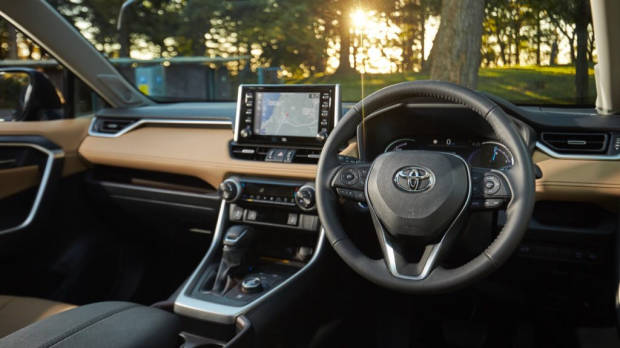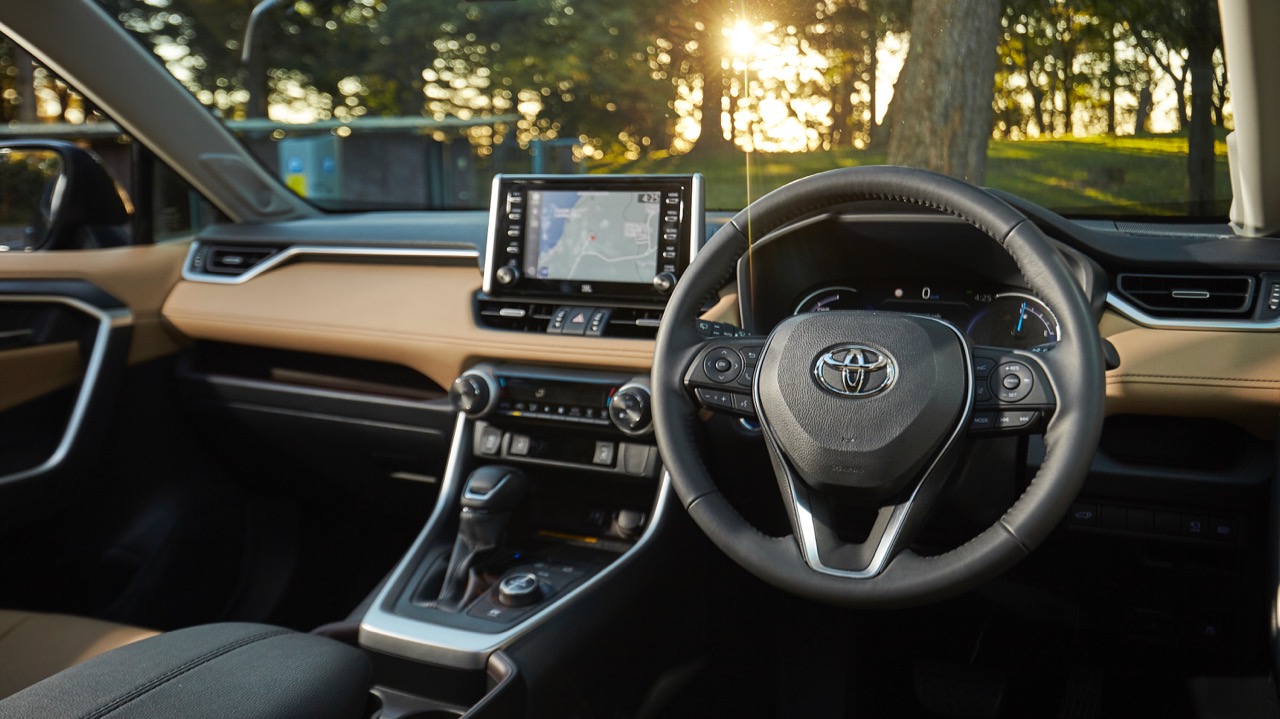 If that results in real fuel savings at the bowser, then hybrid tech is likely to be embraced by a much larger cohort of Australian car buyers. The low running costs of hybrid Toyotas have long made them a mainstay of this country's taxi fleet but making hybrid engines appeal to the substantial number of private SUV buyers out there is a big priority of the new RAV4.
We're six weeks into a twelve week run at integrating the new Toyota RAV4 into our lives, where it's doing diverse duties – some weeks as a commuter, some as a long-distance road tripper and even some as a light off-roader.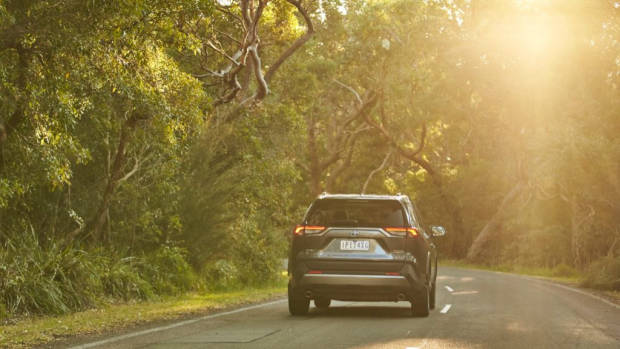 From the RAV4 range, We chose the high-specification but remarkably affordable RAV4 Cruiser AWD grade, which goes for $39,140 with a conventional petrol two-litre, while adding the hybrid battery pack (that also beefs up the petrol engine to 2.5-litres) costs another $2,500. AWD adds a further $3,000. Wearing graphite grey metallic paint and a contrast sandy leather interior, our RAV4 hits the road at $49,624 driveaway.
Given this SUV weighs in at a hefty 1,710 kg before you load passengers and cargo, we were a little sceptical that a small electric motor and battery would provide enough motivation in the RAV4 to prevent the old-school, non-turbo petrol engine from carrying most of the load most of the time.
After all, the RAV4 AWD's battery capacity is fairly modest – 1.9kWh, with the two electric motors mounted on the front axle producing 88kW and the rear electric motor – added if you opt for AWD – producing 40kW. It's fascinating to compare those stats to the cheapest all-electric SUV offer – the $60k Hyundai Kona Electric, which has 64kWh of capacity and produces 150kW of power.
If our first month-and-a-half of motoring is a guide, though, these concerns were unfounded. The hybrid system is more than powerful enough to take over during significant tracts of driving – especially at town speeds, where the RAV4 takes off from a stop in pure-EV before the engine kicks in, usually around 25km/h. We're finding that once we have built up to about 50km/h, a lift of the throttle re-engages EV mode where it is happy to mostly maintain pace with the engine off.
The real beauty of hybrids over their more sophisticated full-electric counterparts is that this system requires no management from the driver. Charging the battery is done mostly by braking, with the occasional use of the petrol engine as a generator.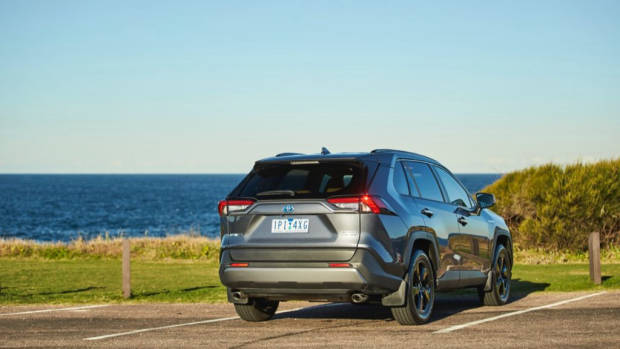 With around 60% of our first 1,500km being spent in-town, our current fuel economy of 6.2L/100km is very low for this segment and is within a reasonable margin of Toyota's official claim of 4.8L/100km. Also impressive is the fact that town economy doesn't seem to suddenly blow out with four passengers and cargo aboard.
This sort of economy figure is achievable by the most frugal of turbo diesel SUVs, but the petrol engine used by the RAV4 produces cleaner emissions and doesn't actually require a particularly economical driving style to reproduce. We haven't been deliberately light on the throttle!
We're looking forward to the second half of our test, where we'll continue to monitor our RAV4's fuel consumption and resulting CO2 production, but also delve into more depth about this SUV's upgraded interior, how practical the new RAV4 is, and whether you actually need a Cruiser grade – or if the cheaper GX or GXL are a better buy.
Read more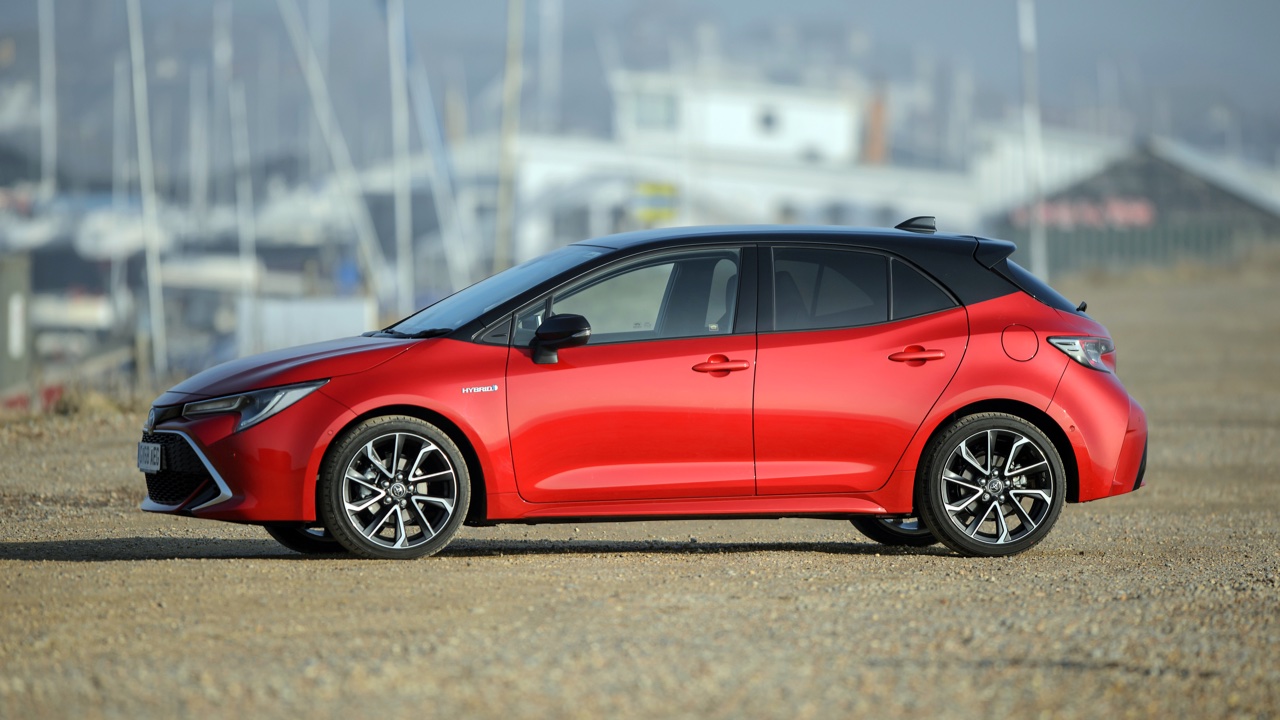 2020 Toyota Corolla update brings CarPlay to Australia
The twelfth-gen Toyota Corolla hatch has received its first annual update, with a suite of changes for 2020 that bundles smartphone integration, additional safety tech and an available, racier two-tone colour scheme. No pricing changes have been announced.

Arriving in November this year, Toyota will make Apple CarPlay and Android Auto smartphone mirroring tech a standard feature of the Corolla range, senior sources have confirmed.

The Corolla will continue to be offered with a choice of 2.0-litre petrol (125kW/200Nm) or 1.8-litre petrol-electric hybrid (90kW) engines. Hopes that the Corolla would be upgraded to Europe's punchier 132kW 2.0-litre hybrid were not met this year.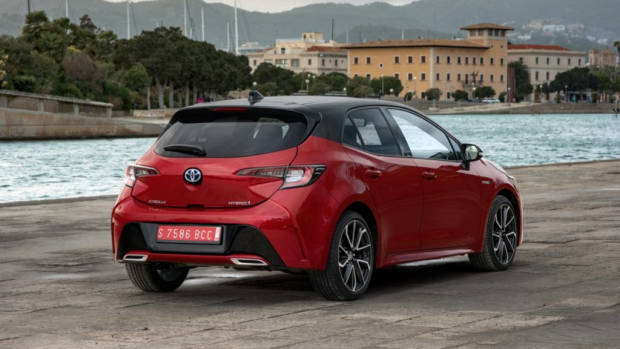 On the safety front, a new low-speed manoeuvre emergency braking system primarily designed for use while parking will be added to the mid-tier SX and high-spec ZR grades. The system, called Parking Support Brake, detects static objects and rear cross-traffic while the Corolla is travelling at up to 15km/h.

The new 'colourway' paint jobs will allow those buying the top-spec ZR to have the Corolla hatch's roof painted black when paired with a range of colours that include a new shade of 'Feverish' red (replacing 'Volcanic' red). This two-tone scheme has been available in some markets since the new shape launched but it's only now reached Australia.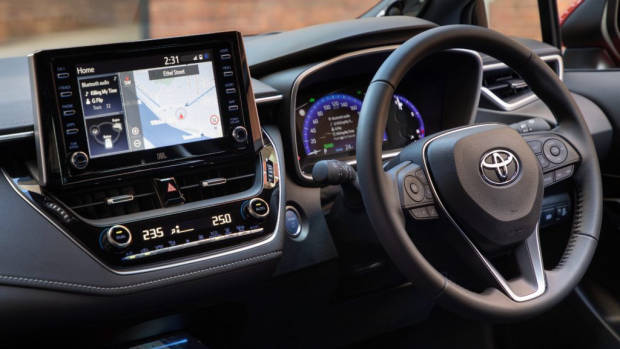 Inside, the ZR also picks up eight-way electric adjustment for the driver's seat, replacing manual control.

Finally, the base Ascent Sport grade will now be optionally available with a tyre repair kit replacing the standard full-size spare wheel. If that option box is ticked boot space increases from 217 litres to 333 litres.
For those looking for a boot, a new Toyota Corolla sedan will launch later in 2019.
2019 Toyota Corolla Australian pricing (plus on-road costs)

Ascent Sport hatch petrol manual: $22,870
Ascent Sport hatch petrol CVT: $24,370
Ascent Sport hatch hybrid CVT: $25,870
SX hatch petrol CVT: $26,870
SX hatch hybrid CVT: $28,370
ZR hatch petrol CVT: $30,370
ZR hatch hybrid CVT: $31,870
Read more