Search Results for ""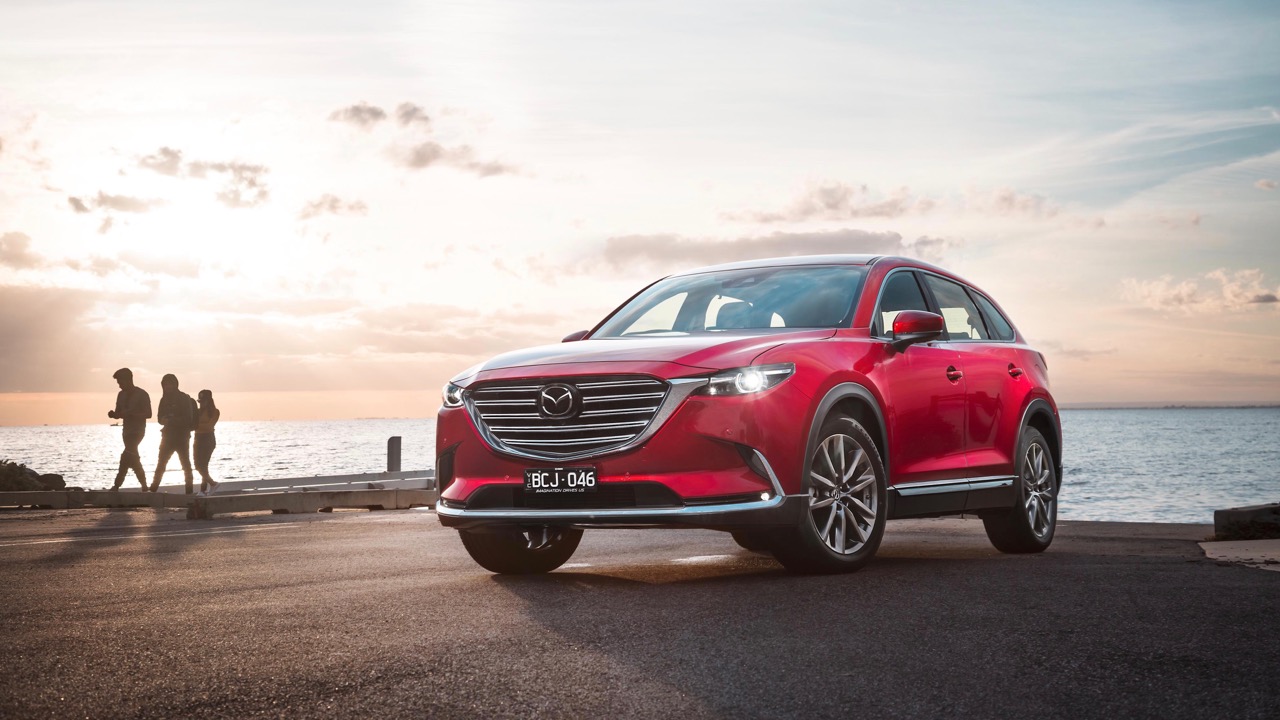 Mazda CX-9 gets updated for 2020: More tech, comfort, GVC Plus
Mazda Australia has announced some specification updates for their CX-9 SUV. Although the big family wagon was facelifted only a year ago, the 2020 year model brings greater functionality, safety, mild styling tweaks and new pricing (detailed at the end of this article).
The CX-9 range continues to span wide; there's the Sport FWD model for $45,920 (driveaway pricing not yet available) that offers affordable family transport. But of course, there's the range-topping Azami AWD with swisher materials and experience to rival more expensive competitors at $69,303 (driveaway pricing not yet available).
For 2020, Mazda's large SUV will continue to pitch itself as more premium family transport than the likes of Kia's Sorento, Toyota's Kluger and Holden's Acadia.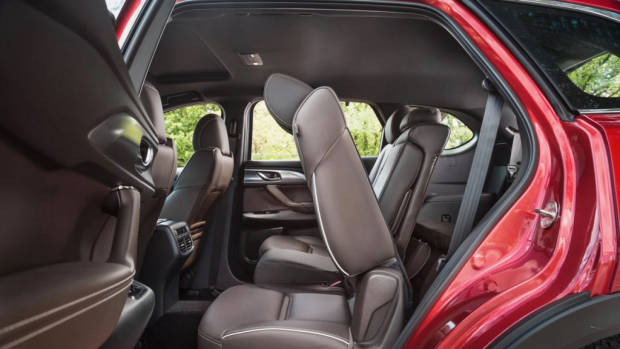 Several concessions have been made for third-row occupants with the 2020 update; USB ports are now found back there to provide maximum tablet life. Ingress has been improved with a switch that electronically tilts second-row seats forward, but make sure to keep an eye on kids who might like to squash their 'friends'.
Upfront there is now a larger 9-inch colour digital screen, it's not touch-operated though, it's still controlled by Mazda's rotary dial interface. Apple CarPlay and Android Auto are standard across the range.
Although pitched more at inner-city families, the CX-9 still needs to offer some rugged capability. For 2020 the big SUV gets an off-road traction assist system, we presume with different settings to suit sandy, icy or rocky conditions, only available on all-wheel drive variants.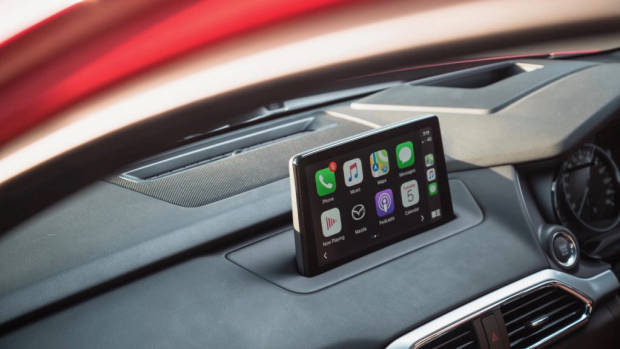 We doubt whether that's enough to make the CX-9 a true off-roader but we'll have to get one to test ourselves.
More driving tech arrives, the whole range gets Mazda's much-lauded GVC Plus safety system which vectors torque – though not through a differential or brakes – to provide confident, safe handling in all conditions.
More safety feature updates for 2020 include an auto-hold function for the electronic handbrake to prevent roll-back on steep inclines and an AEB system updated with night-time pedestrian detection.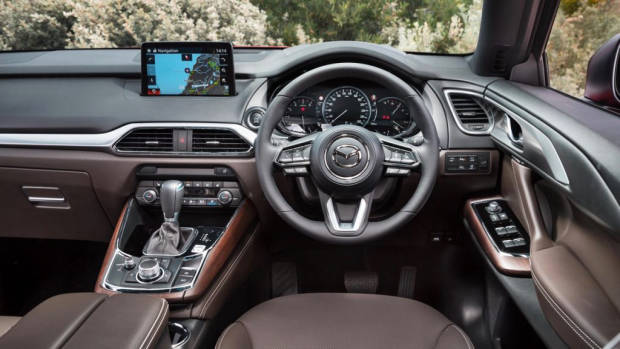 Comfort features are improved too, with a hands-free tailgate (yes, we know they often don't work that well!) as standard. There's a new key, too, it's classier and borrowed from the Mazda 3.
To simplify the line-up Mazda Australia has dropped the range-topping Azami LE model $68,523 ($74,397 driveaway), although the regular Azami AWD variant $69,303 (driveaway pricing not yet available) gains soft Nappa Leather.
That Nappa leather can be optioned in two lovely colours – Walnut Brown or Pure White – both contrasted against dominant black.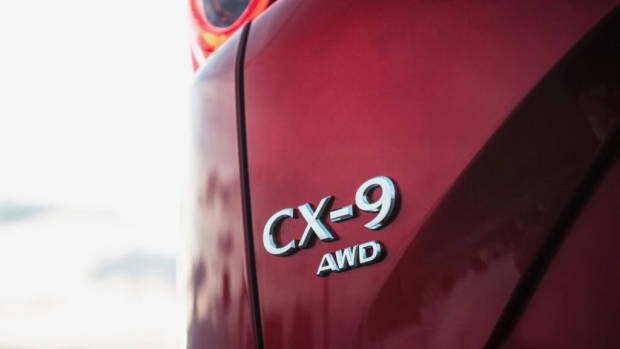 To round off the small updates we see an updated CX-9 badge which matches the fresh-faced Mazda 3, as well as new 18-inch wheels for lower and 20-inch items for upper-range variants.
Pricing is similar to the 2019 model year but does fluctuate across the range – some variants are up, some down, check the list below for full details. The updated 2020 CX-9 is available now.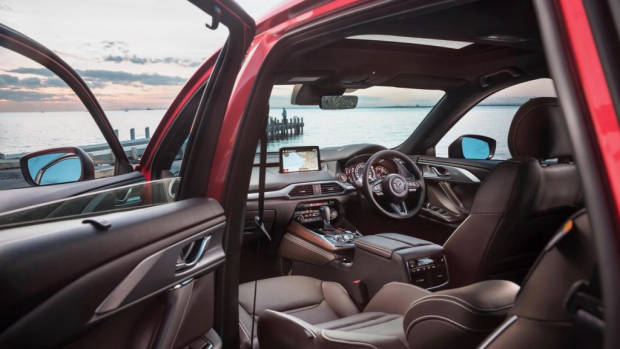 2020 Mazda CX-9 Pricing

All prices are before driveaway costs.
CX-9 Sport FWD $45,920 (down $500)
CX-9 Sport AWD $49,920 (down $500)
CX-9 Touring FWD $53,310 (up $350)
CX-9 Touring AWD $57,310 (up $350)
CX-9 GT FWD $61,720 (up $600)
CX-9 GT AWD $65,720 (up $600)
CX-9 Azami FWD $64,893 (up $2,133
CX-9 Azami AWD $69,303 (up $2,543)
Read more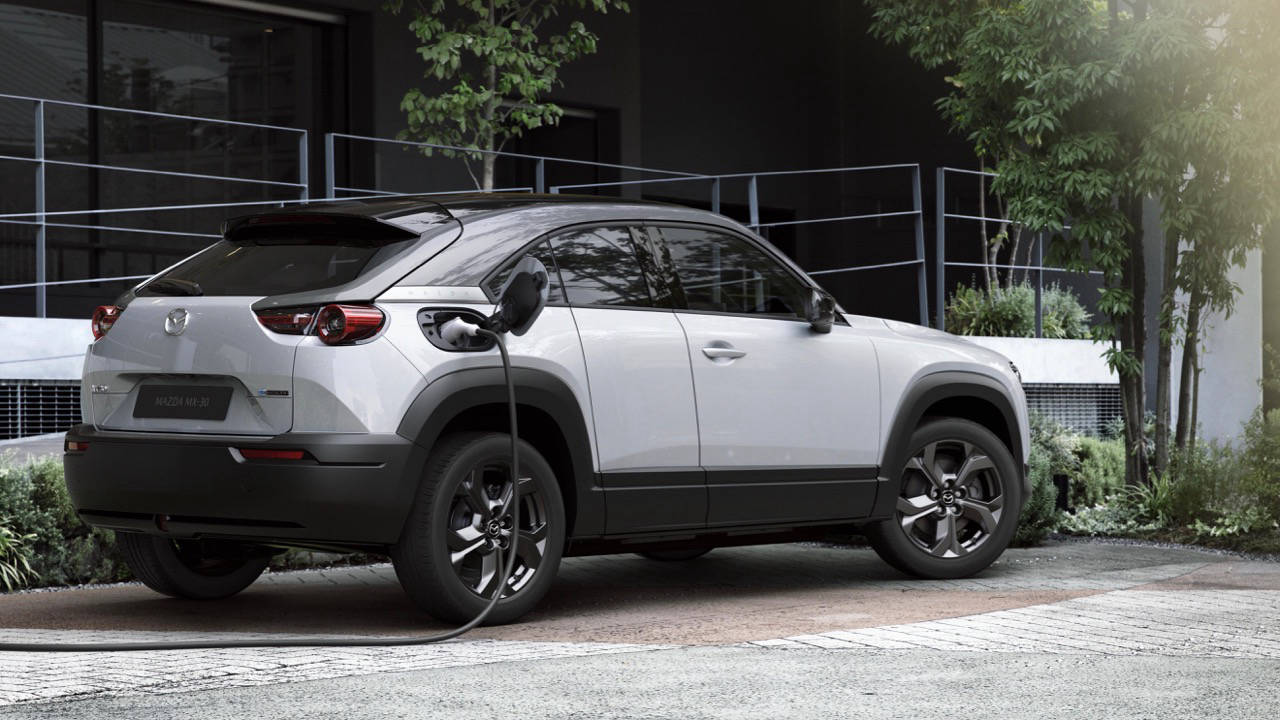 Mazda Australia cautious on EVs as debate heats up
Mazda has launched their plan for "sustainable zoom-zoom" in Australia, with the company targeting a goal of 50% reduction in emissions from 'well-to-wheel' – a perspective that takes into account all steps of vehicle production, from the first concepts to eventual disposal. Mazda say that different solutions will be required in different world markets – which means that full electric vehicles may not be considered appropriate for Australia at first.
We've heard plenty about this regional approach at a high level from Mazda, but the specific outcomes for Australian buyers are becoming clearer. We were present for the unveiling of Mazda's first battery electric vehicle – the MX-30 SUV – this year, but senior product planners within the Japanese brand continue to debate the right time to bring the 250km-range EV to Australia.
Mazda's approach is distinctly different to that of Toyota, which has slowly built up the profile of electric-hybrid vehicles in Australia over two decades. Fuel-sipping hybrid versions of the popular RAV4 SUV and Corolla small car use about half the fuel of their petrol-only siblings but cost little more to purchase. Mazda will dip a toe into the water of mild hybrid motoring in Australia next year with the release of the new Skyactiv-X petrol engine.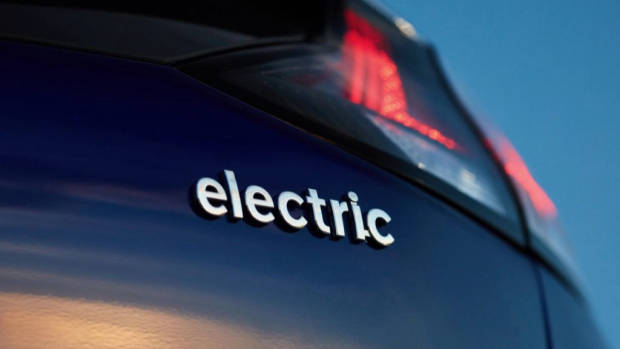 Mazda executives rightly point out that many hybrid Toyotas are pressed into fleet service, skewing the numbers, but there is little doubt that private buyers are becoming more aware of their carbon footprint. 'Self-charging' hybrids, as Toyota call them, allow an easy way to cut fuel use – and therefore CO2 emissions. Surely following this precedent would be an easy win for Mazda.
The brand has an answer for why they're not going to do that – and it's all down to well-to-wheel. With debate starting to pick up around the total emissions of electric vehicles – taking into account the emissions-intensive battery production process – there is a discussion to be had around comparable emissions of battery EVs and efficient combustion vehicles.
Controversy has brewed in the pages of the UK's progressive Guardian newspaper in recent months with competing studies examining whether EVs add or subtract from improvements in the total emissions of vehicles on German roads. Germany is one of Europe's more carbon-intense economies – but Australia is further behind that, with only 17% of energy generated from renewable sources.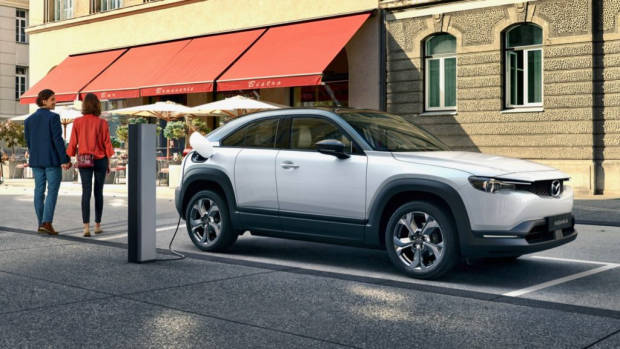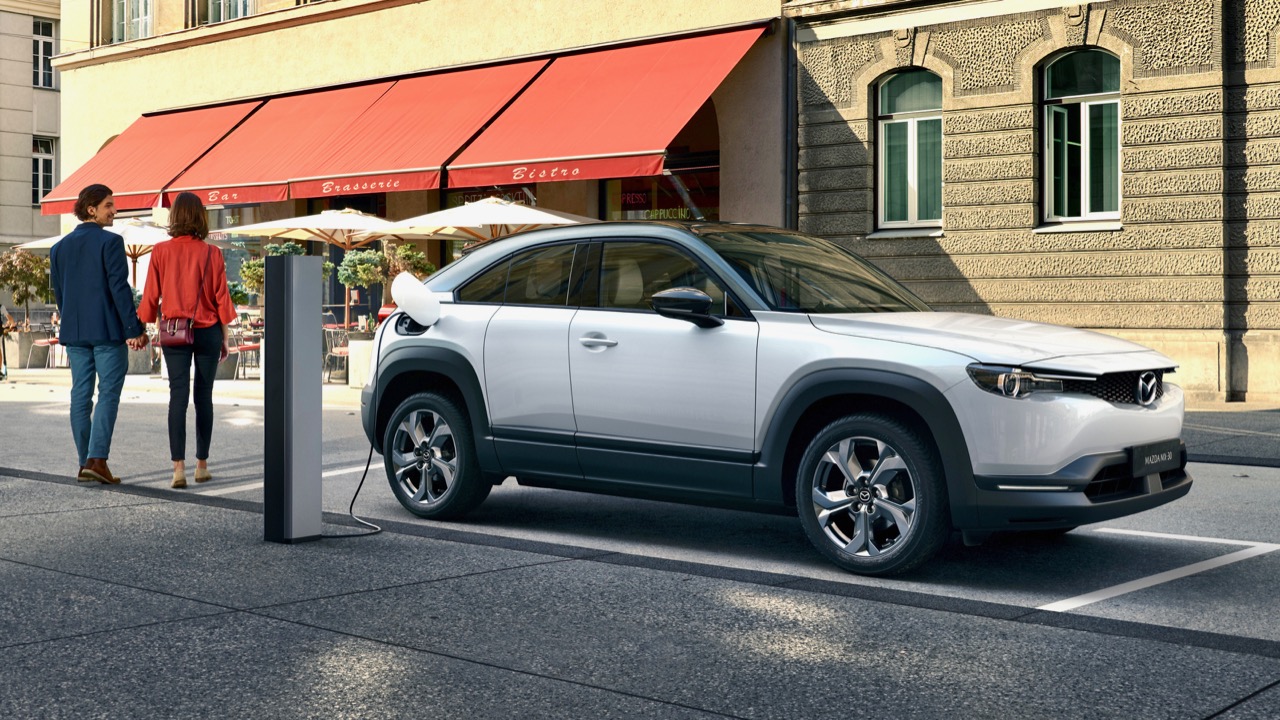 Australia's Green Vehicle Guide suggests that charging a Tesla Model 3 in a typical Australian garage yields total charging and use emissions of 186 grams per kilometre of CO2. While the zero tailpipe emissions of EVs is undoubtedly a positive for respiratory health in cities, the total fuelling and use emissions of 133 grams per kilometre of CO2 for the Toyota Camry hybrid is a revealing statistic. However, as Australia's grid becomes greener, the numbers will slowly shift in favour of EVs.
But that is what well-to-wheel is all about. Mazda want to send appropriate vehicles with appropriate drivetrains to appropriate countries at appropriate times. In the case of full electric vehicles, the natural conclusion is only sending them to Australia en masse when their total emissions is comparable or better than an efficient combustion vehicle.
Now, obviously these numbers do not paint a full picture of EV emissions. Australia has a world-first takeup rate of household solar – and more powerful solar systems have the potential to charge a full EV off the grid, bringing charge and use emissions to zero. However, on the other side of the ledger, these numbers also do not factor in the emissions in building batteries, often in coal-powered factories, or extracting oil to power combustion vehicles.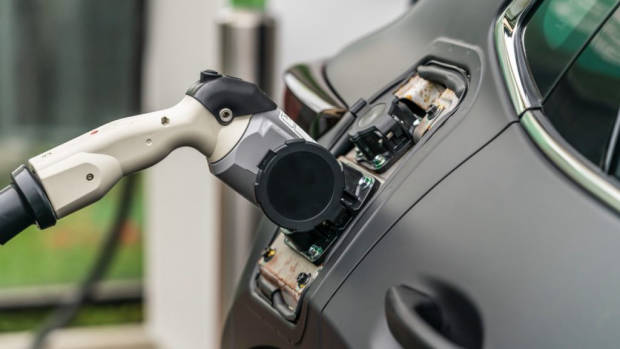 It's due to this current conjecture and confusion that Mazda Australia are holding their electric cards close to their chest. Marketing director Alastair Doak is guarded about Australia's position in the overall well-to-wheel philosophy. 
"You can be too early with these things – [and] then you have to do the heavy-lifting of education and infrastructure, or you can be too late and miss the boat – so you just want to be in that sweet-spot somewhere," says Doak.
The diversity of opinions regarding Australia's suitability for EVs is a major point of contrast in the automotive industry. For example, Hyundai Australia's future mobility boss Scott Nargar told Chasing Cars last month that had Labor government been elected federally earlier in 2019, the government would have been much more progressive with funding infrastructure and altering market regulations to support the purchase of EVs in Australia.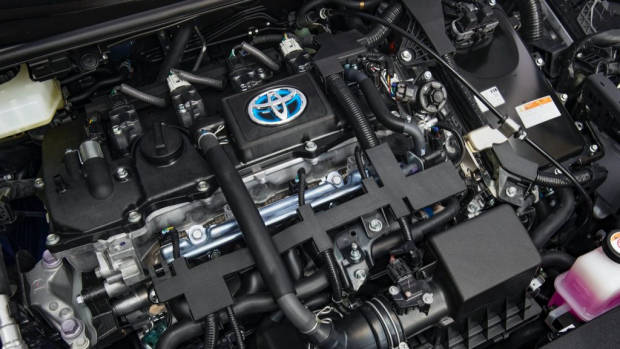 In the minds of Nargar and other outspoken figures in the burgeoning local electrification space, there is a role for car importers in leaning on governments to alter the nature of the energy production mix – and a role in supporting major infrastructure stakeholders like Chargefox.
Mazda Australia's managing director Vinesh Bhindi agrees that the federal government has to do its bit, noting that his philosophy is on the generation side – rather than simply bringing down the purchase price of EVs without making the energy network greener. "They need to focus more on the generation of renewable energy instead of incentivising private purchasing habits," Bhindi argues.
There is no question that Mazda's most senior powertrain bosses see the future as including a rich mix of electrified vehicles – but this Japanese brand does not agree that it is up to governments out outlaw combustion engine production. Cleaner energy production will benefit more than just the automotive industry too. In Mazda's view, moving emissions from tailpipe to powerplant isn't the answer.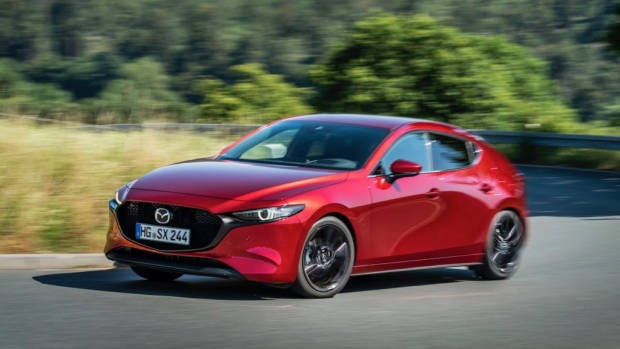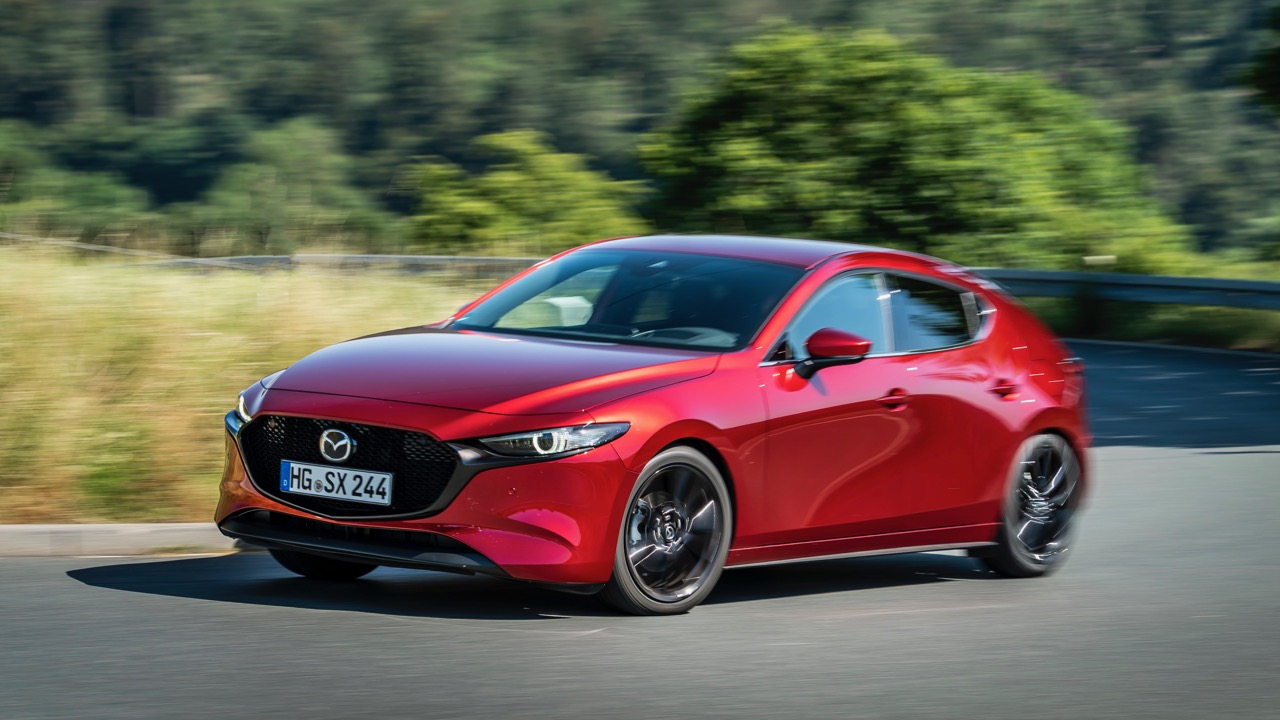 Just because the BEV is facing conjecture and an uphill battle dealing with government policy in Australia, it doesn't mean it's the wrong way forward though in Mazda's eyes, with Mr Doak adding that Mazda is "not ruling any [EVs] in or out at the moment, but they are available to us, and it's our responsibility to make sure we have the appropriate powertrain at the appropriate time."
The multifaceted nature of Mazda's sustainable plan indicates there still isn't a clear, one-size-fits-all green solution in Australia.
In the meantime, the brand will continue to offer the engines that they see as a good fit in Australia, both from a business perspective and within their well-to-wheel philosophy. There are plenty of benefits from EVs as we know already, from providing cleaner city air to better NVH and weight distribution. Obviously, Mazda obviously know this – but with the current government's slow push toward renewable energy, it's hard to see a major acceleration of EV uptake in Australia in the medium term.
To contact the editor responsible for this story:
Email tom (at) chasingcars.com.au

Read more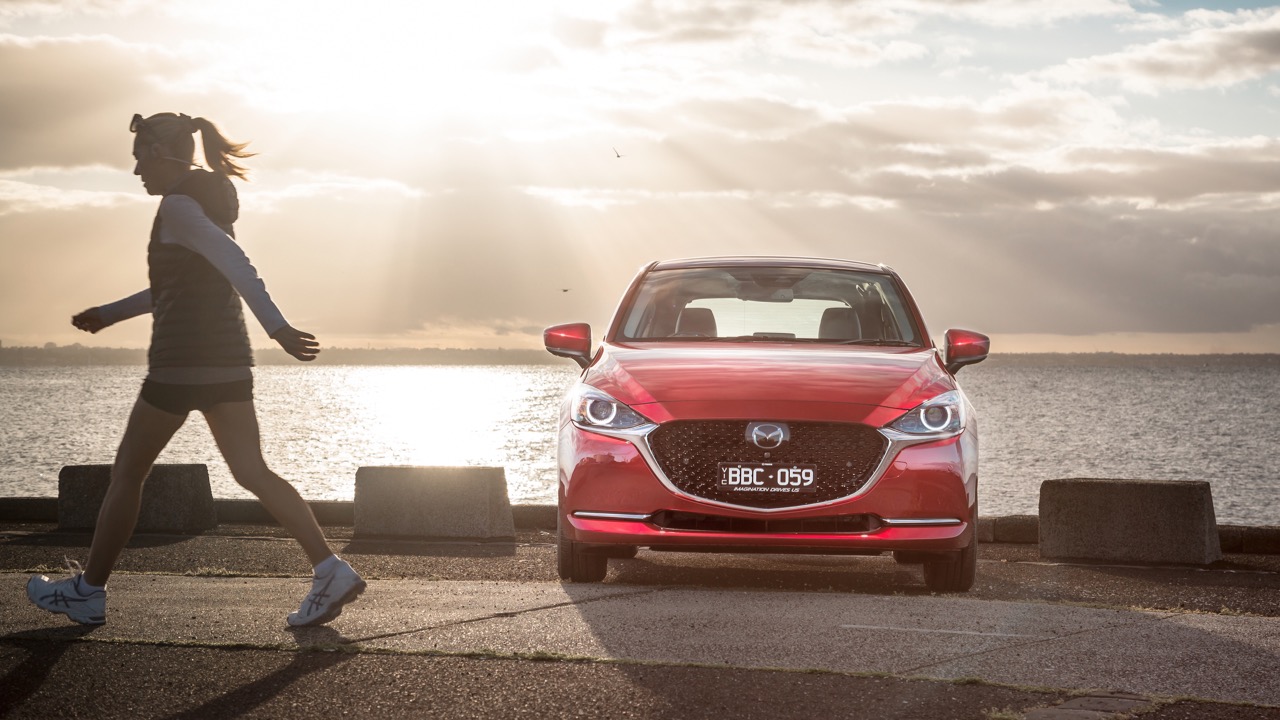 2020 Mazda 2 facelift detailed: higher-tech, higher price
Mazda has today unveiled a facelift for the ever-popular Mazda 2, the update brings tweaked styling, more tech and all-important safety features, while ushering in a considerable price rise for the dainty sedan and hatch.
Although the updates have moved the 2 upmarket, it still plays against mid-to-top spec variants of the Honda Jazz, Kia Rio and the Toyota Yaris. However, it's obvious Mazda are now targeting the more premium Volkswagen Polo.
Watch our video walkaround of the 2020 Mazda 2 by clicking 'play' above
Styling has been tweaked outside and in, with Mazda exercising seventh-gen Kodo design language, most notably on the nose. The new wider grille looks great with the updated chrome surround flowing more naturally to underscore standard LED headlights. Gone are the circular fog lights too, replaced on the range-topping GT with LED strips that double as daytime running lights.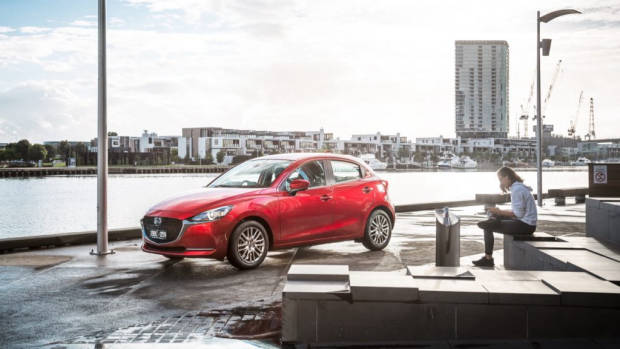 Pictured here is Mazda's soul red paint colour which has become a signature over the last few years and is one of the brand's most popular colours. You can see why in real life, there's a really pleasing deepness to the metallic ruby red.
All variants now receive a full suite of safety tech including low-speed front and rear AEB, lane-keep assist, lane-departure warning and rear cross-traffic alert, Mazda execs say they have dropped the base model Neo from the Australian line-up as it foregoes these key safety features.
The range now starts at $20,990 (driveaway pricing not yet available) for the G15 Pure manual, that's a $5,420, or 35%, increase over the now defunct Neo.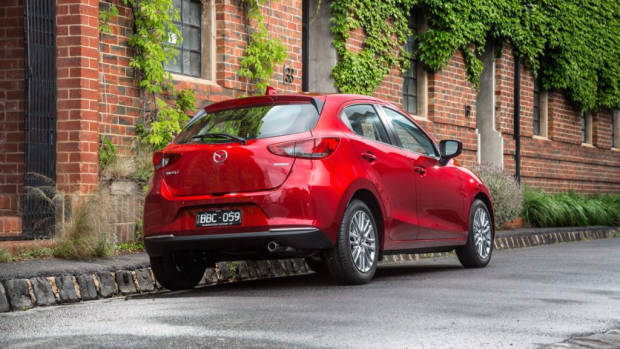 However the increased price does mean the G15 Pure variant is now packed with plenty of tech including wired Apple CarPlay and Android Auto, a centrally mounted 7-inch touch-screen with navigation, 15-inch alloy wheels, keyless go, leather-wrapped steering wheel and gear knob connected to a six-speed manual gearbox (the automatic adds $2,000), reverse camera and classy-looking brown cloth appointed seats.
The mid-spec Evolve variant replaces the Genki at $24,490 (driveaway pricing not yet available), adding a six-speed automatic gearbox, 16-inch alloy wheels, navy cloth fabric, climate control, extra chrome exterior trim and traffic sign recognition as standard.
The range-topping $25,990 (driveaway pricing not yet available) GT retains its moniker and is auto-only, with leather and faux-suede appointed seats, front parking sensors, high-gloss 16-inch alloy wheels, auto headlights and radar-guided cruise control, it's got impressive levels of kit for a Mazda 2.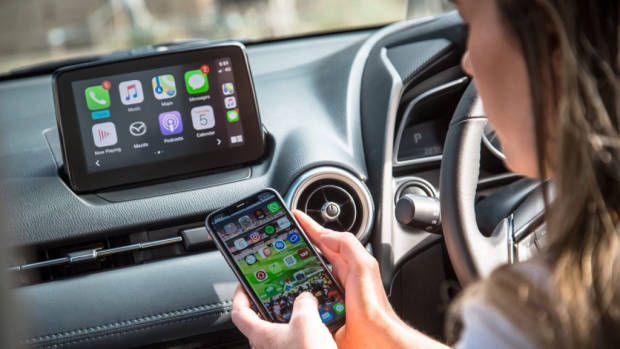 Both hatch and sedan body-shapes are available in Pure and GT variants, while the mid-spec Evolve is hatch-only.
Along with refreshed interior materials, Mazda claims to have worked on making the front seats more comfortable by adjusting spring rates and cushion placement to create more comfy pews and after sitting in them briefly we reckon they've done a great job.
Interior design has been updated slightly too, it looks very contemporary Mazda and fits in with freshly updated 3 and all-new CX-30.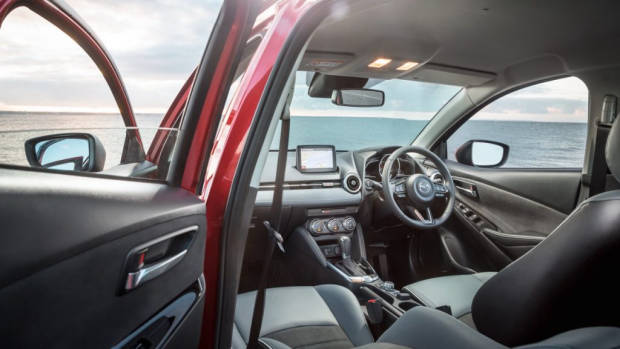 There is now only one engine tune option, a carry-over 1.5-litre Skyactiv G unit producing reasonable outputs of 82kW and 144Nm, but more importantly, we know it's a revvy and willing little unit. Fuel consumption figures are impressive, with the manual promising 5.4l/100km and the auto boasting slightly more frugality at 5.3l/100km.
For the $5,420 increase in entry price we need to find out how the updated more premium Mazda 2 will fare against some of its toughest rivals, so stay tuned for a full road-test soon.
2020 Mazda 2 Pricing
All prices are before on-road costs

G15 Pure Manual $20,990 (up $2,660)
G15 Pure Auto $22,990 (up $2,660)
G15 Evolve Auto $24,490 (up $1,100)
G15 GT Auto $25,990 (up $1,590)

Read more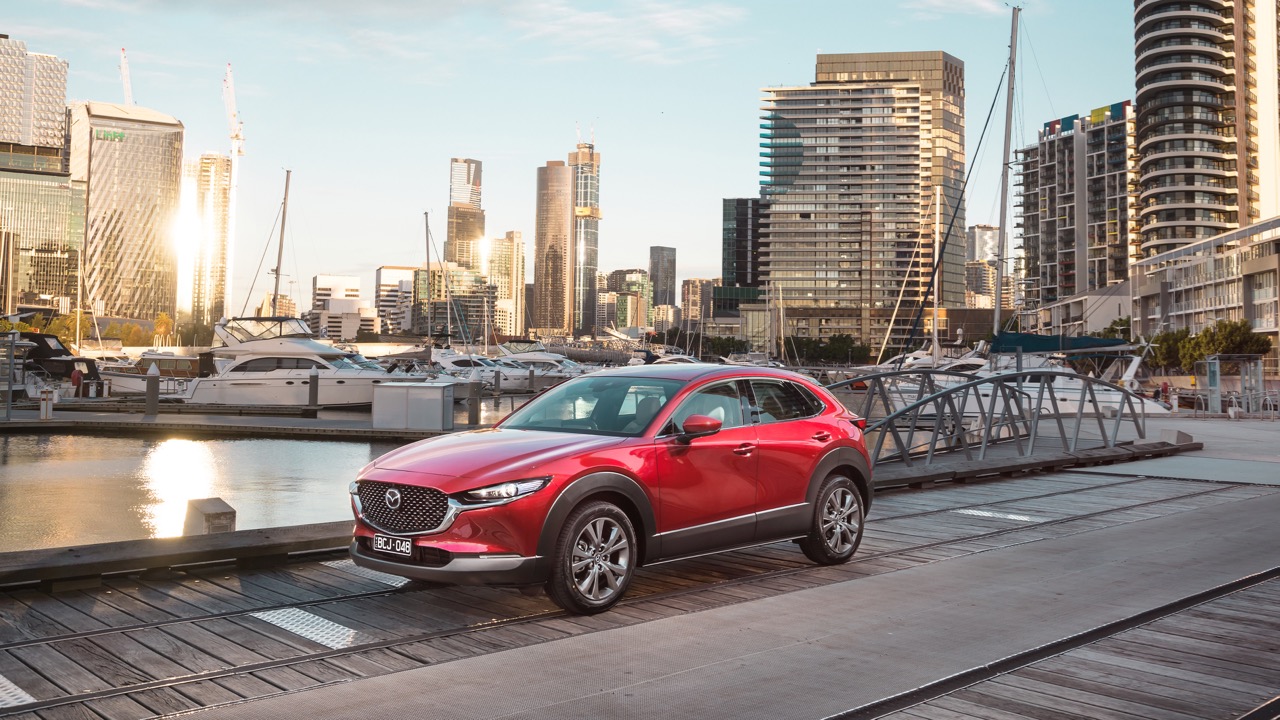 Mazda CX-30: Australian pricing locked in for goldilocks SUV
After confirming the CX-30 for Australia earlier this year, Mazda this week released final pricing and specifications for their 'goldilocks' sized SUV that slots between the CX-3 and CX-5. The handsome CX-30 features Mazda's seventh-generation Kodo design language and competitive pricing for its arrival next January.

Mazda claim the size of the CX-30 strikes an ideal point in compact SUV dimensions. The CX-30 attempts to maintain the excellent manoeuvrability of the CX-3 while affording almost as much cargo space as the larger CX-5.

With the size and pricing of the CX-30, Mazda are directly targeted the growing 'big-small' SUV niche, where cars like the funky Toyota C-HR and Honda HR-V already sit – and where the soon to arrive Volkswagen T-Roc will also compete.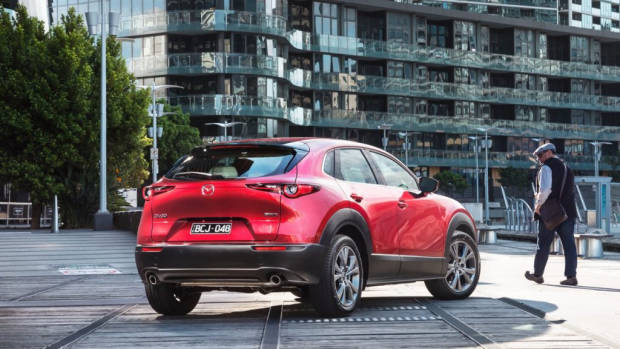 Four trim levels and two engine options will be on offer for the CX-30 in Australia at launch, kicking off with the $29,990 (driveaway pricing not yet available) G20 Pure variant and topping out with the $43,990 G25 Astina AWD (driveaway pricing not yet available).

With the entry price calling for a $450 premium over a similarly equipped $29,540 ($33,231 driveaway) Toyota C-HR, Mazda will be relying on the more premium feel to appeal to private buyers.

The CX-30 is really a handsome thing to behold in the flesh. The Kodo design language has spawned a cohesive and minimal front end, with the ingenious 'S' shape reflection on the flanks a personal highlight.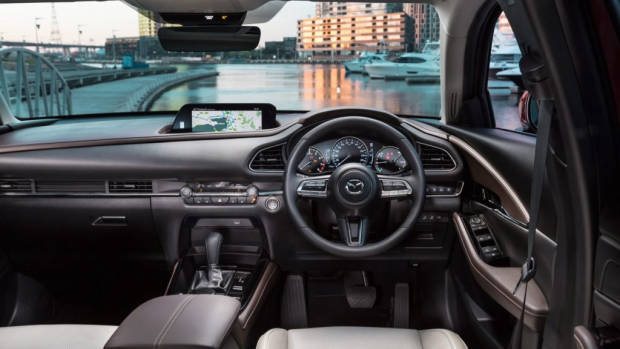 Mazda has really pushed to their premium philosophy inside the CX-30, their human centred design approach lending comfortable ergonomics which are complemented by dashes of quality leather and serious square-footage of soft-touch plastic to give the affordable SUV an ambience near Audi level.

When the CX-30 arrives it will be available with a choice of two powertrains: the first and likely biggest seller is a two-litre four cylinder Skyactiv petrol engine with 114kW/200Nm. With this engine claimed fuel consumption is an impressive 6.5L/100km, but acceleration is a more modest 10.1 second 0-100km/h claim for this G20 powertrain.

The G20 engine will be available across all variants, though only in combination with a six-speed torque converter automatic and front-wheel drive – no manual is coming to Australia.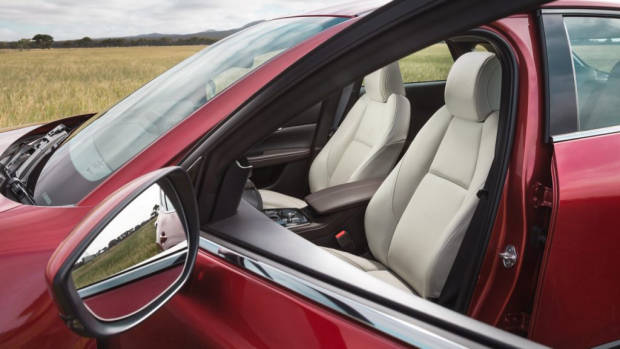 Additionally, a Vision technology package can be specified on any variant in the CX-30 range. This package includes front parking sensors, a 360º top-down view, an autonomous traffic jam function – with steering – for the adaptive cruise, driver fatigue monitoring and front cross-traffic alert for an extra $1,500. This was a calculated choice made by Mazda product planners in light of the better-than-expected 30% uptake of this package for Mazda 3 buyers.

From the entry Pure variant impressive tech joins the quality interior feel, all CX-30s will be equipped with a 7-inch digital cockpit, 8.8-inch non-touchscreen colour display with navigation, Apple CarPlay and Android Auto, 16-inch alloys, LED headlights and keyless go.

As well as in-car gizmos, all variants will be equipped as standard with adaptive cruise control, blind-spot monitoring, lane departure warning and lane-keep assist, radar cruise control, rear parking sensors, a rear-view camera and both front and rear low-speed AEB.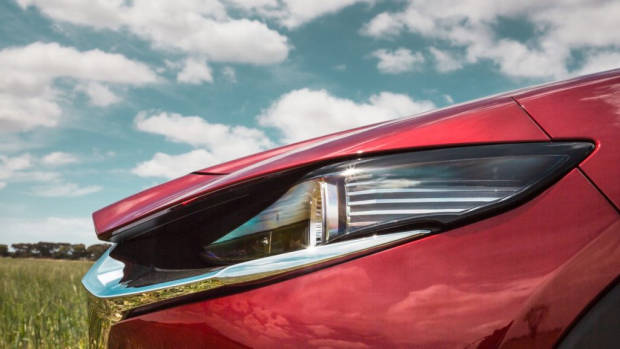 Stepping up to the mid-range, the Evolve starts at $31,490 (driveaway pricing not yet available) and gets some extra pizazz, with standard 18-inch alloys, dual-zone climate control with rear ventilation, leather wrapped gear knob and tiller and wheel-mounted paddle shifters.

A Touring variant is available from $34,990 (driveaway pricing not yet available) and will be specified with a plusher, leather appointed interior with 10-way electrically adjustable seats with two position memory, advanced keyless entry with push-button start auto-tilting mirrors and front parking sensors.

Range-topping Astina variants are available with either engine and front of all-wheel drive, they will also all be equipped with the Vision safety pack as standard. In addition, there will be bright-finish 18-inch alloys, adaptive LED headlights, a lovely 12-speaker Bose stereo, black leather or, as an option, white hue pews available on the plushest model.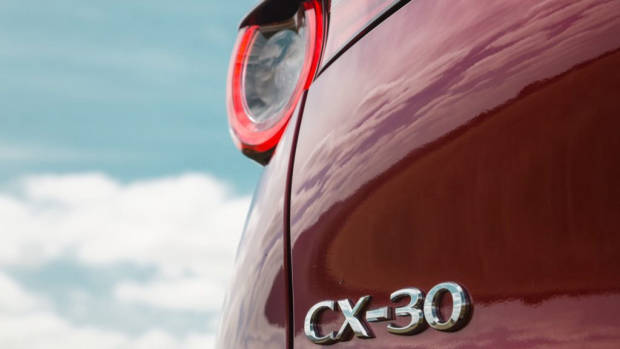 For Touring and Astina variants buyers can also option a larger engine. Monikered the G25, this 2.5-litre produces 139kW/252Nm and adds $1,500 to the price. Fuel consumption increases slightly to 6.6L/100km while the extra power sees the 0-100km/h sprint fall to 8.7 seconds.

Buyers optioning the G25 powertrain can then further add Mazda's i-Activ AWD for $2,000. For AWD privileges expect more traction on the slippery stuff but higher fuel consumption – to the tune of +0.2L/100km – and a 0.3 second penalty on the 0-100km/h sprint.

We were seriously impressed with the handling, ride and class-leading cabin quality when we road tested the CX-30. With the extra wheelbase length increasing occupancy space, combined with the peppy and efficient petrol engines, we think the 'big-small' loving SUV public will be smitten with Mazda's offering on its local arrival in January 2020.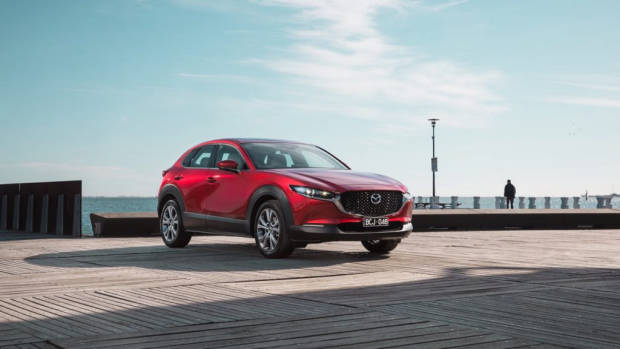 CX-30 Australian Pricing
All prices are before on-road costs.

G20 Touring FWD $34,990
G25 Touring FWD $36,490
G25 Touring AWD $38,490
G20 Astina FWD $38,990
G25 Astina FWD $41,490
G25 Astina AWD $43,490
Vision package +$1,500
Correction: a previous version of this post inaccurately stated that the CX-30 Pure is not fitted with adaptive cruise control. It is. In addition, front parking sensors were missing from a list of features added through the Vision package.
Read more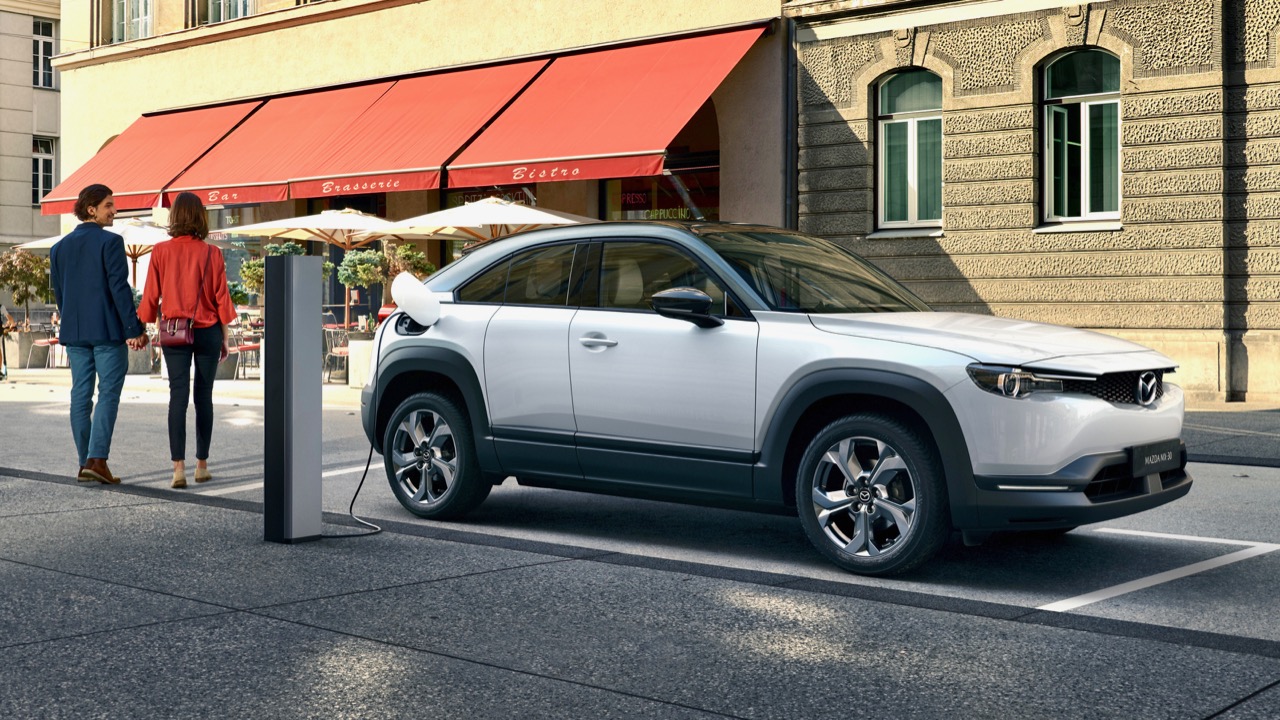 Mazda MX-30 electric SUV revealed as brand's first EV
Japanese carmaker Mazda today revealed its first production electric vehicle. A full EV equipped with a 35.5-kilowatt-hour battery, the Mazda MX-30 arrives as a small SUV. Many pundits mooted that Mazda's first battery electric vehicle would take the form of a crossover. Few would have expected the finished product to be as dramatic as the 2020 MX-30 is in the metal.
In a dramatic departure from Mazda's curvaceous exterior design portfolio of the past decade, the boxy MX-30 is all sharp angles and creases. In a design flourish few will miss, the MX-30 sports suicide doors reminiscent of another bold Japanese SUV of this century, the Toyota FJ Cruiser.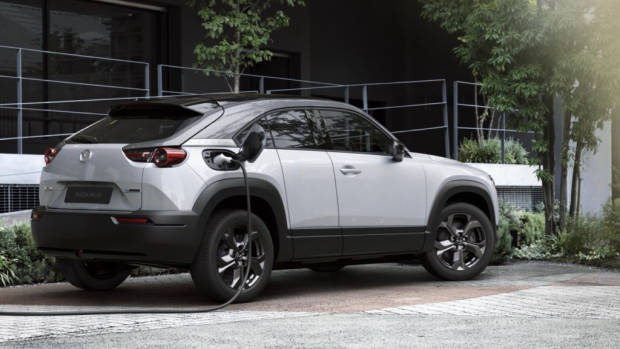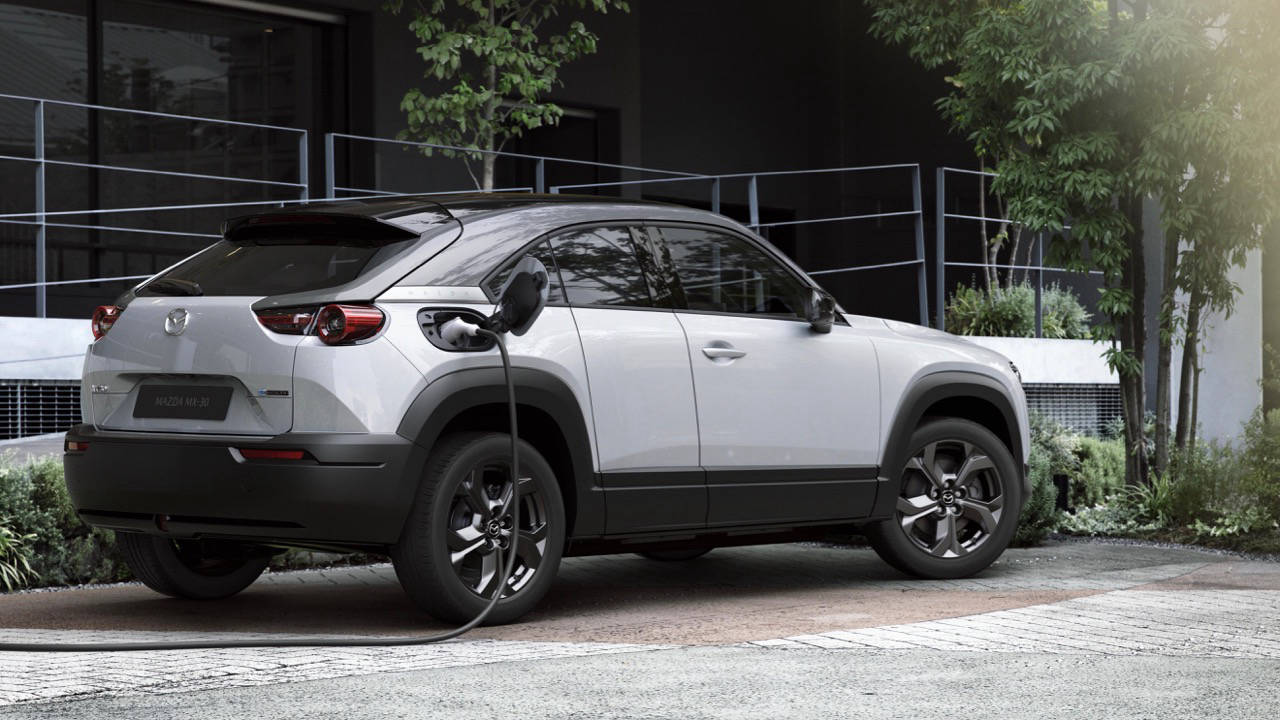 But unlike that Toyota, the MX-30 – which utilises the letter code more commonly associated with Mazda's sports cars – deploys an electric motor producing 105kW of power and 265Nm of torque. The MX-30 is the first in a series of Mazda electric vehicles. The company has set themselves a 2030 deadline for an 'e-Skyactiv' electric powertrain to be offered on every model in the Mazda lineup.
Delivering a range of around 250km in real world driving conditions, the MX-30 will be aimed at urban buyers seeking the versatility and practicality of an SUV with the zero tailpipe emissions advantages of an electric vehicle.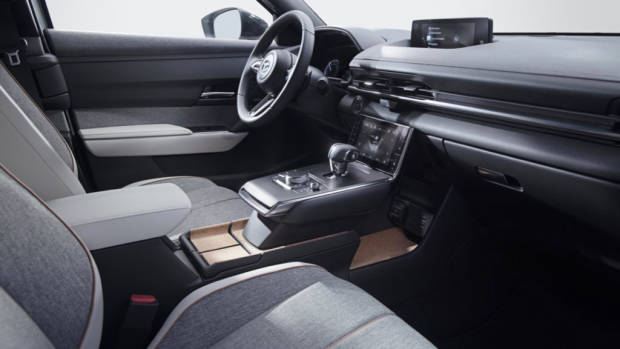 Chasing Cars drove a prototype of the MX-30's drivetrain earlier this year – underneath the body of the combustion-engined CX-30 SUV, throwing us off the scent – and the experience is relatively unlike other electric vehicles.
MORE: Watch our review of the Mazda e-TPV with the MX-30's powertrain
Designed to feel more linear and natural to drive than a Tesla Model 3 (review), Nissan Leaf (review) or Hyundai Kona Electric (review), Mazda intends for the MX-30 to help ease the transition into electrified motoring the the average buyer.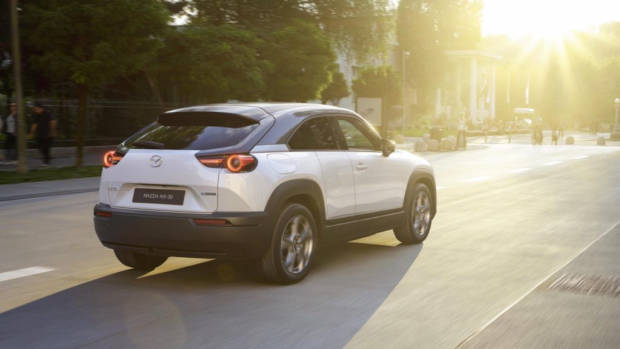 That said, the MX-30 is not destined for Australia at first, though a plug-in hybrid or conventional series hybrid version might. Underneath this SUV sits Mazda's bespoke electric platform that is modular in nature and can accommodate self-charging hybrid, plug-in hybrid and full-electric powertrains.
Mazda's 'well-to-wheel' philosophy dictates that if a market relies on non-renewable energy generation, the environmental benefits of a full EV rapidly diminish. This takes into account the substantial power and resource requirements needed in the production of the enormous batteries that go into electric cars.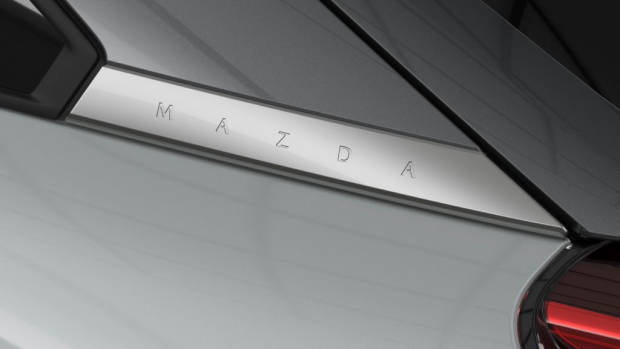 Australia falls into the category of countries with only moderate supply of renewable energy in the national grid and as such, Mazda do not feel it is appropriate to deliver full-electric MX-30s in our country.
That said, the share of renewable energy as a portion of total production in Australia continues to climb and senior Mazda product planners will continue to assess their decision, making changes where necessary.
Mazda will pitch the MX-30 into European markets with fervour, where clean energy production is more plentiful. There's also the substantial impact of the European Union's punitive taxation regimes on combustion vehicles which grow ever more tight for carmakers and car buyers on the European continent.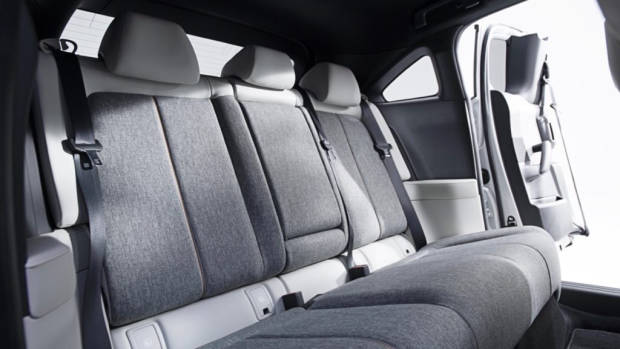 Inside, the CX-30 embraces a number of sustainable materials, with high-quality cloth seats instead of leather trim. Secondary materials feature heritage cork in a throwback to past Mazda cabins as well as plastic surfacing made from recycled bottles.
Other cabin elements are reminiscent of other modern Mazdas – including the high-set infotainment screen also seen in the new Mazda 3 and CX-30 – but the MX-30 innovates by way of a seven-inch low-set screen for climate and other controls. Drawing on the strong power supply from the battery, the MX-30 will also feature a 150-watt household power socket in some markets. That said, USB-C ports are not present.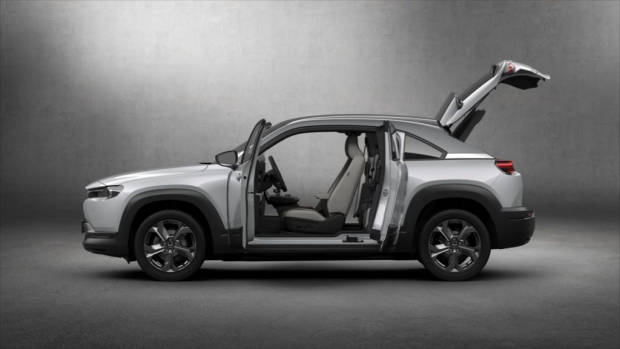 Mazda's Safety Sense technology suite is also expanded on the CX-30, with lane keep assist expanded to become road keep assist – the forward cameras can detect not just painted markings but also grass, curbs and unmarked road edges.
We expect to see the first MX-30 deliveries in Europe in late 2020, with a decision sometime next year about whether a version of this car – potentially a hybrid – will be brought to Australia.
Read more