Search Results for ""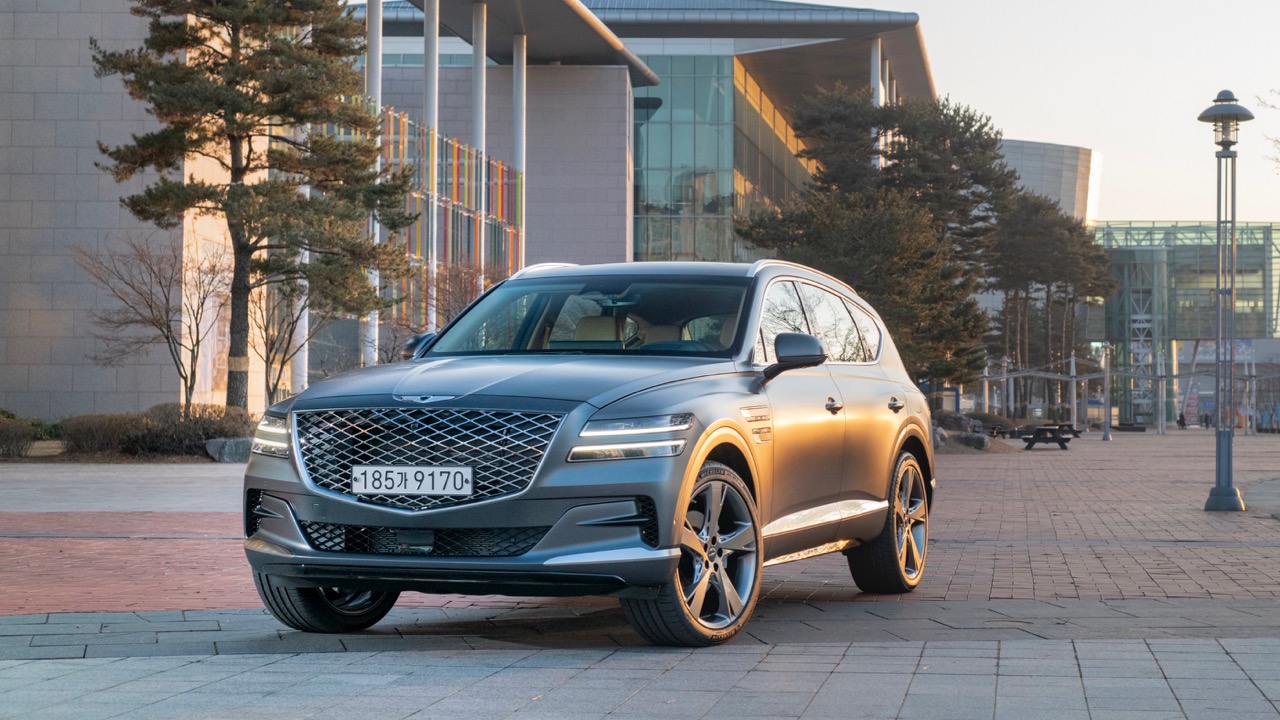 Genesis details GV80: poised to hit Germans where it hurts
After teasing us with renderings last month, new-kid on the luxury block Genesis confirmed details of its foray into the luxury SUV segment. The all-new GV80 will arrive in Australia by mid-2020 with full pricing and specification still to come.

Where the G70 is the Korean brand's answer to the unfashionable executive saloon, the GV80 is a much more on-trend vehicle aimed squarely at seven-seat SUVs from German giants; think Mercedes GLE, BMW X5, Audi Q7 and Lexus RX.

And if you're not sure what Genesis is, it's the luxury arm of Hyundai and Kia, think of the brand as the Lexus to Hyundai's Toyota. When it arrives the GV80 promises more than a new form-factor for the brand, it will sit on a unique platform with an all-new three-litre V6 diesel outputting of 204kW and 588Nm.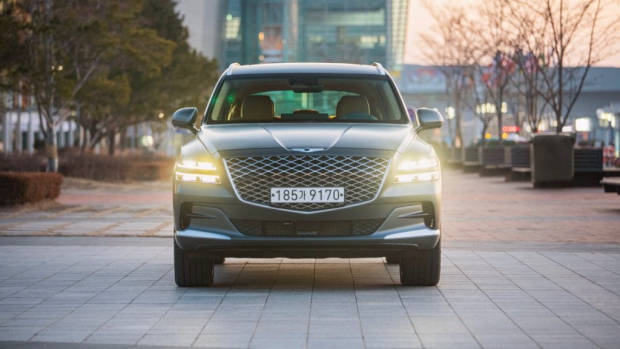 The new platform has been designed around rear-wheel drive but will allow for all-wheel-drive models, configured in two-wheel drive specification the diesel promises around 8.5l/100km.

By the time the GV80 arrives in Australia, it will also be available with a 179kW/353Nm turbo four and the brand's twin-turbo petrol V6 with 272kW and 510Nm, the same found in the stinger.

On launch in its home market, the diesel GV80 will list for 65.8 million Won – about $82,000 Aussie at the current conversion rate – which would make it excellent value against German competitors.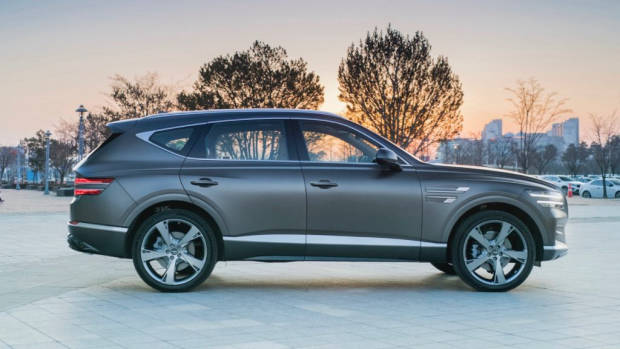 There are other new features for Genesis, there's a system that uses navigation and information from the front camera to preempt the road and adjust suspension settings; the Germans do have this available but it's reserved for more expensive cars like the BMW X7.

Similarly, there is some high-end noise-cancelling tech, the GV80 will analyse unpleasant sounds – tyre roar – and generate opposing frequencies to cancel them out, neat.

As for the design of the GV80, well it's not particularly groundbreaking nor what you might call beautiful. But then, nor are the brand's other models. There are carry-over lines though, the grille is smattered with the brand's 'G Matrix' pattern, as are the LED lights and it goes some way to shaping the Genesis brand identity.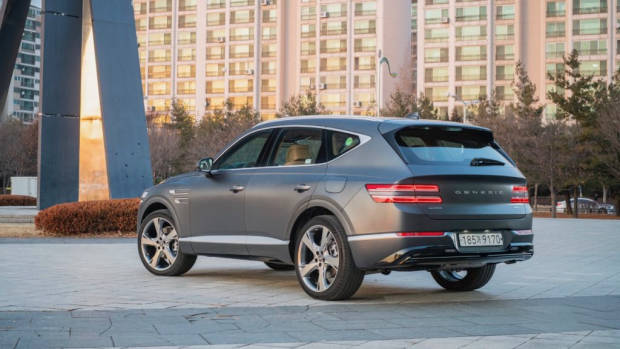 From the rear there are elements of Bentley Bentayga to be seen, Genesis says the design had input from teams in South Korea, Germany and the USA, it looks remarkably holistic considering.

Inside looks sumptuous, pictured here delightfully wrapped in tan and clay cow-hide, Genesis claims inspiration from the Korean 'beauty of white space' and it looks to be remarkably airy in there, we'll hold judgement until we sit inside though.

There's a generous 14-5-inch infotainment screen mounted high on the dashboard, Genesis says they used a minimum of hard buttons to keep the interior tidy and straightforward. Hopefully, there are some shortcut buttons though.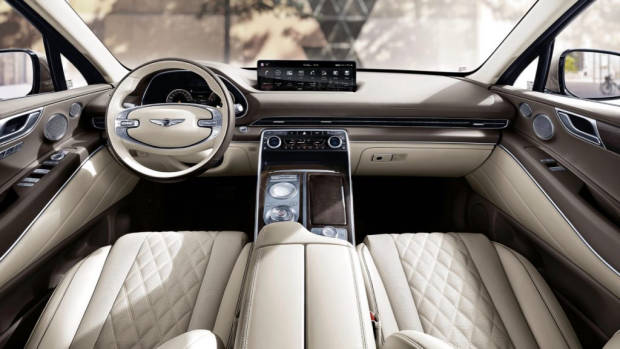 An augmented reality system works in tandem with the navigation and infotainment screen, with the ability to overlay directions and lane choice onto the windscreen to make follow directions easy. It really should take the head-up display to a whole new level.

Safety tech aplenty has made its way onto the GV80; there's a smart cruise with machine learning that will adapt to pilot preferences, we can't wait to see how that works, the cruise also has an auto-merging function when the indicator is activated. Naturally, there's AEB with blind-spot activation, rear cross-traffic alert, ten airbags and a driver alertness monitoring system.

In South Korea, there will be more involved customisation with "Your Genesis" which sounds like it might function like BMW's 'Individual' program.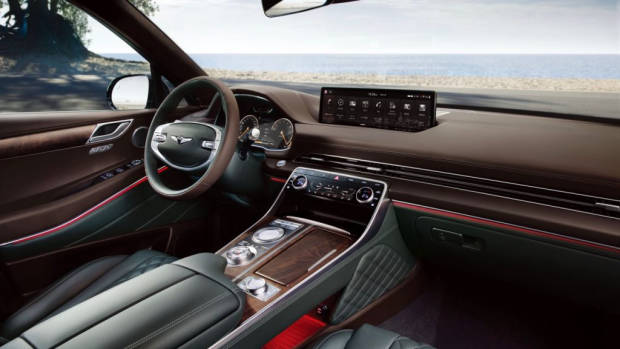 Although versions of the GV80s safety and in-car tech are available from the established marques, it sounds as though Genesis' effort will offer them at a much more affordable level. Will the GV80 shake the luxury SUV segment up like Lexus' LS400 did to the limousine?

One thing's for sure, we'll be eagerly awaiting July for a steer in one.
Read more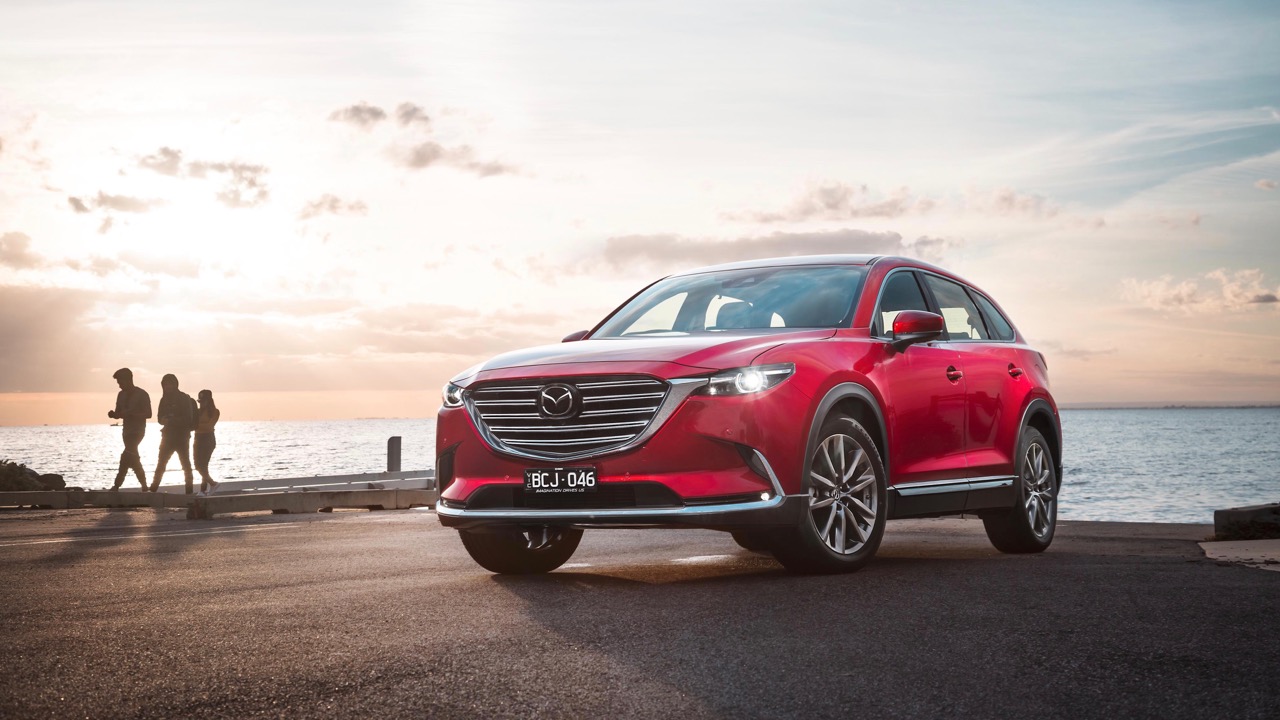 Mazda CX-9 gets updated for 2020: More tech, comfort, GVC Plus
Mazda Australia has announced some specification updates for their CX-9 SUV. Although the big family wagon was facelifted only a year ago, the 2020 year model brings greater functionality, safety, mild styling tweaks and new pricing (detailed at the end of this article).
The CX-9 range continues to span wide; there's the Sport FWD model for $45,920 (driveaway pricing not yet available) that offers affordable family transport. But of course, there's the range-topping Azami AWD with swisher materials and experience to rival more expensive competitors at $69,303 (driveaway pricing not yet available).
For 2020, Mazda's large SUV will continue to pitch itself as more premium family transport than the likes of Kia's Sorento, Toyota's Kluger and Holden's Acadia.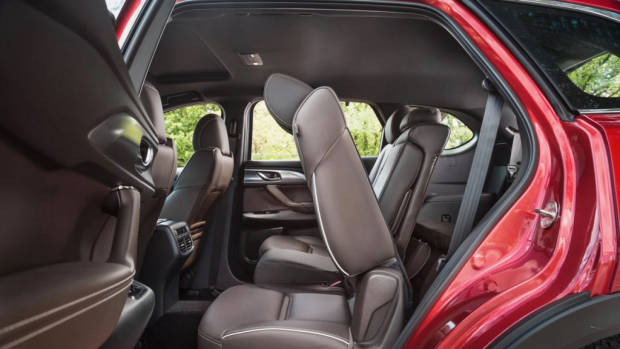 Several concessions have been made for third-row occupants with the 2020 update; USB ports are now found back there to provide maximum tablet life. Ingress has been improved with a switch that electronically tilts second-row seats forward, but make sure to keep an eye on kids who might like to squash their 'friends'.
Upfront there is now a larger 9-inch colour digital screen, it's not touch-operated though, it's still controlled by Mazda's rotary dial interface. Apple CarPlay and Android Auto are standard across the range.
Although pitched more at inner-city families, the CX-9 still needs to offer some rugged capability. For 2020 the big SUV gets an off-road traction assist system, we presume with different settings to suit sandy, icy or rocky conditions, only available on all-wheel drive variants.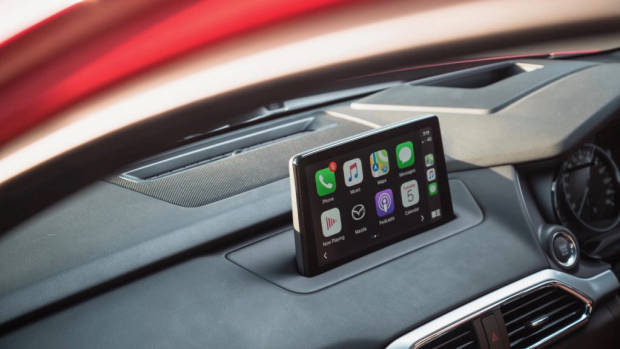 We doubt whether that's enough to make the CX-9 a true off-roader but we'll have to get one to test ourselves.
More driving tech arrives, the whole range gets Mazda's much-lauded GVC Plus safety system which vectors torque – though not through a differential or brakes – to provide confident, safe handling in all conditions.
More safety feature updates for 2020 include an auto-hold function for the electronic handbrake to prevent roll-back on steep inclines and an AEB system updated with night-time pedestrian detection.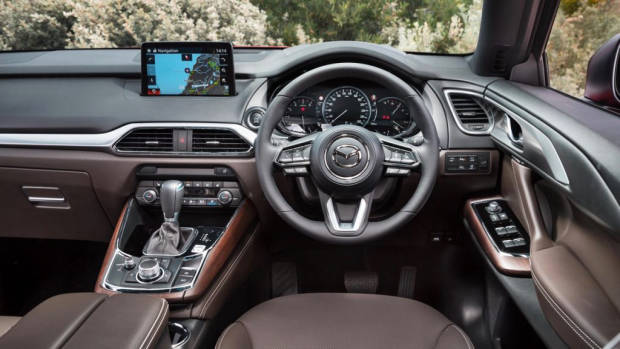 Comfort features are improved too, with a hands-free tailgate (yes, we know they often don't work that well!) as standard. There's a new key, too, it's classier and borrowed from the Mazda 3.
To simplify the line-up Mazda Australia has dropped the range-topping Azami LE model $68,523 ($74,397 driveaway), although the regular Azami AWD variant $69,303 (driveaway pricing not yet available) gains soft Nappa Leather.
That Nappa leather can be optioned in two lovely colours – Walnut Brown or Pure White – both contrasted against dominant black.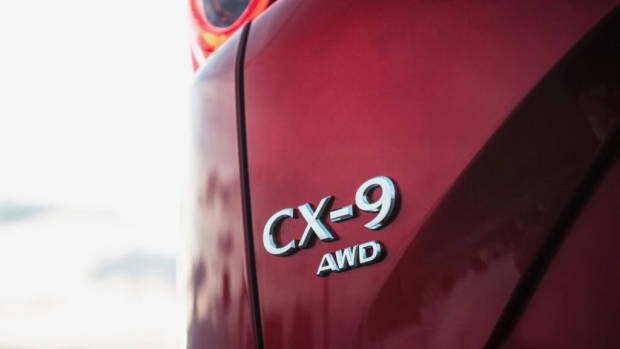 To round off the small updates we see an updated CX-9 badge which matches the fresh-faced Mazda 3, as well as new 18-inch wheels for lower and 20-inch items for upper-range variants.
Pricing is similar to the 2019 model year but does fluctuate across the range – some variants are up, some down, check the list below for full details. The updated 2020 CX-9 is available now.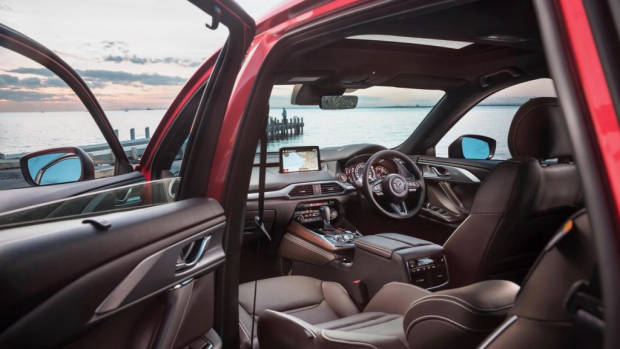 2020 Mazda CX-9 Pricing

All prices are before driveaway costs.
CX-9 Sport FWD $45,920 (down $500)
CX-9 Sport AWD $49,920 (down $500)
CX-9 Touring FWD $53,310 (up $350)
CX-9 Touring AWD $57,310 (up $350)
CX-9 GT FWD $61,720 (up $600)
CX-9 GT AWD $65,720 (up $600)
CX-9 Azami FWD $64,893 (up $2,133
CX-9 Azami AWD $69,303 (up $2,543)
Read more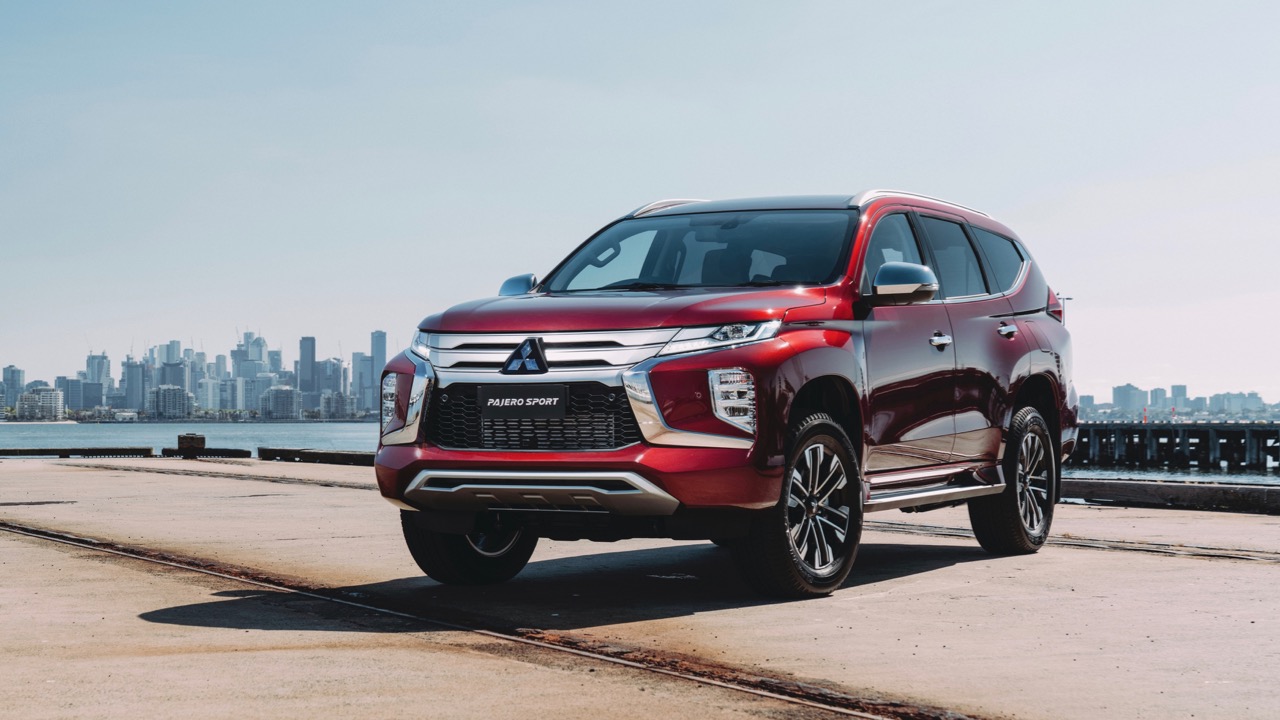 Mitsubishi Pajero Sport gets More Tech, Safety, Memorable Face
Mitsubishi has released an updated Pajero Sport for 2020. First spied back in July 2019, the refreshed off-road focussed SUV is available now and brings with it added safety and in-car tech, a tweaked interior and the new – if somewhat divisive – corporate front bumper.

For 2020 the Pajero Sport will continue to battle with other ute-based SUVs like the Isuzu MU-X, Toyota Fortuner and Ford Everest while offering greater off-road capability than lifted hatchback-type SUVs a la Mitsubishi's Outlander.

The update comes at a price though; the base-model GLX five-seater now starts at $45,990 ($46,990 driveaway), the 2019 model is currently selling for $44,900 driveaway.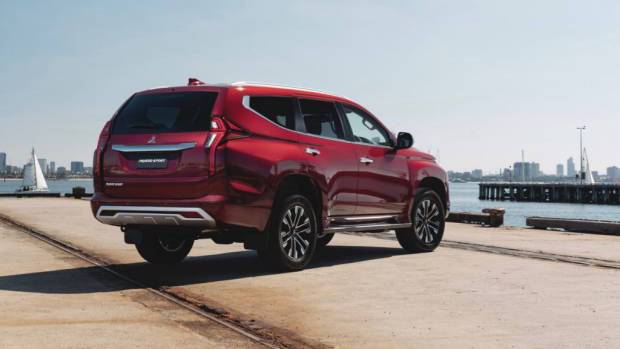 Updated exterior styling is the first thing you'll notice, the front end receives the same Ridley Scott Alien treatment first seen on the facelifted Triton and later the ASX. It's not a face you'll miss, with plenty of imposing chrome around the grille and sleek looking LED light features.

From the rear the Pajero Sport is largely identical which translates to a slightly ungainly look, you can tell from the extended rear overhang the Sport was a ute first, SUV second. But, most buyers will be more concerned with the Pajero's off-road chops.

The interior receives a larger eight-inch touchscreen across the range that sits above a redesigned floating centre console which looks swish and adds storage space. Scratchy plastics have given way to soft-touch items in key places throughout the cabin to give a more upmarket feel to the rugged beast.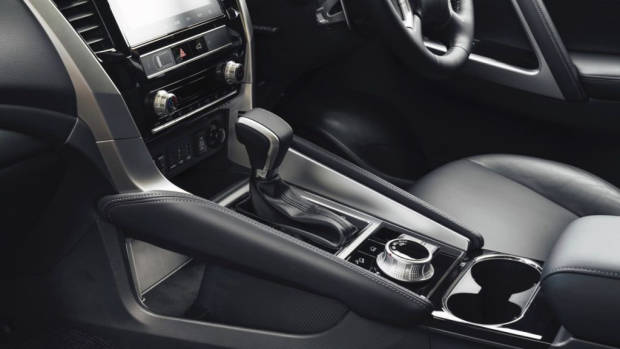 Safety has improved for the 2020 Pajero Sport too, with rear cross-traffic alert and lane-change assist added as standard. All variants are still equipped with AEB and blind-spot monitoring, while the GLS and Exceed retain standard radar cruise control.

For 2020 the Pajero Sport's powertrain remains the same, a reliable 2.4-litre turbocharged diesel unit preserves reasonable outputs of 133kW and 430Nm. It's mated as standard to an eight-speed torque converter with wheel-mounted paddle-shifters, a handy function when off-roading. No manual is available for Australia.

The calling card for the Pajero Sport over Mitsubishi's other SUVs has always been its off-road capability. It should remain that way for 2020 with the same Triton derived ladder chassis, an impressive 218mm of ground clearance and switchable four-wheel drive system with high and low range and a locking centre diff, so it won't be the car holding you back from exploring the wilderness.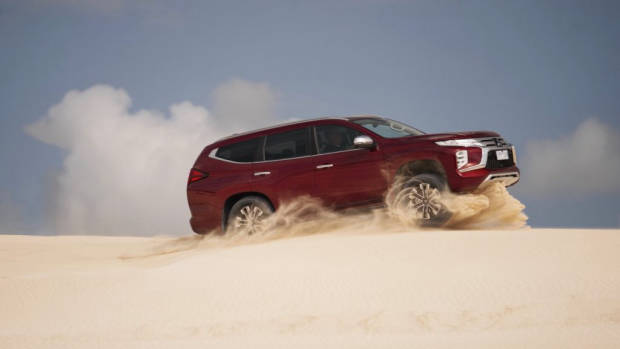 In addition to the switchable four-wheel drive system, the Pajero Sport has set modes for sand, gravel, mud/snow and rocks which can automatically select the combination of high or low range and four-wheel drive the car thinks is best for the situation.

The entry-level GLX model is well-equipped for the price but is only available with five seats, if you need the extra seating then the GLS with the option ticked starts at $51,490 ($52,490 driveaway).

A range-topping Exceed model is available from $57,190 ($59,990 driveaway) which gets all the goodies including a 360-degree vehicle display, metallic paint ($740 on other grades), digital dashboard and an Ultrasonic Misacceleration Mitigation System (UMS), a cool piece of safety tech that will cut engine power if the throttle is pressed when behind another vehicle.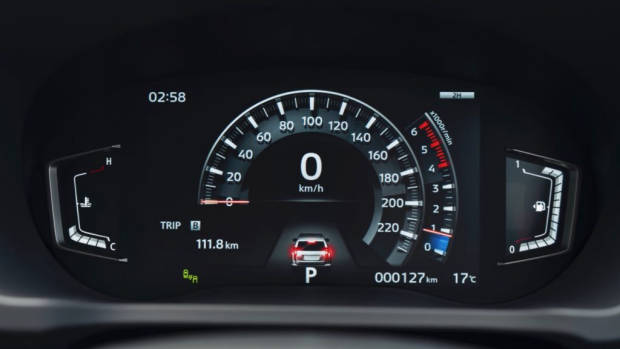 The facelift certainly modernises the Pajero Sport – we'll have to see it in the flesh before passing judgement. Thankfully the rugged off-road potential looks to be in-tact, with safety and tech updates welcomed for 2020.

2020 Mitsubishi Pajero Sport Pricing

Pajero Sport GLX 5 Seats $45,990 ($46,990 driveaway)
Pajero Sport GLS 5 Seats $51,490 ($52,490 driveaway)
Pajero Sport GLS 7 Seats $52,490 ($53,990 driveaway)
Pajero Sport Exceed 7 Seats $57,190 ($59,990 driveaway)
Read more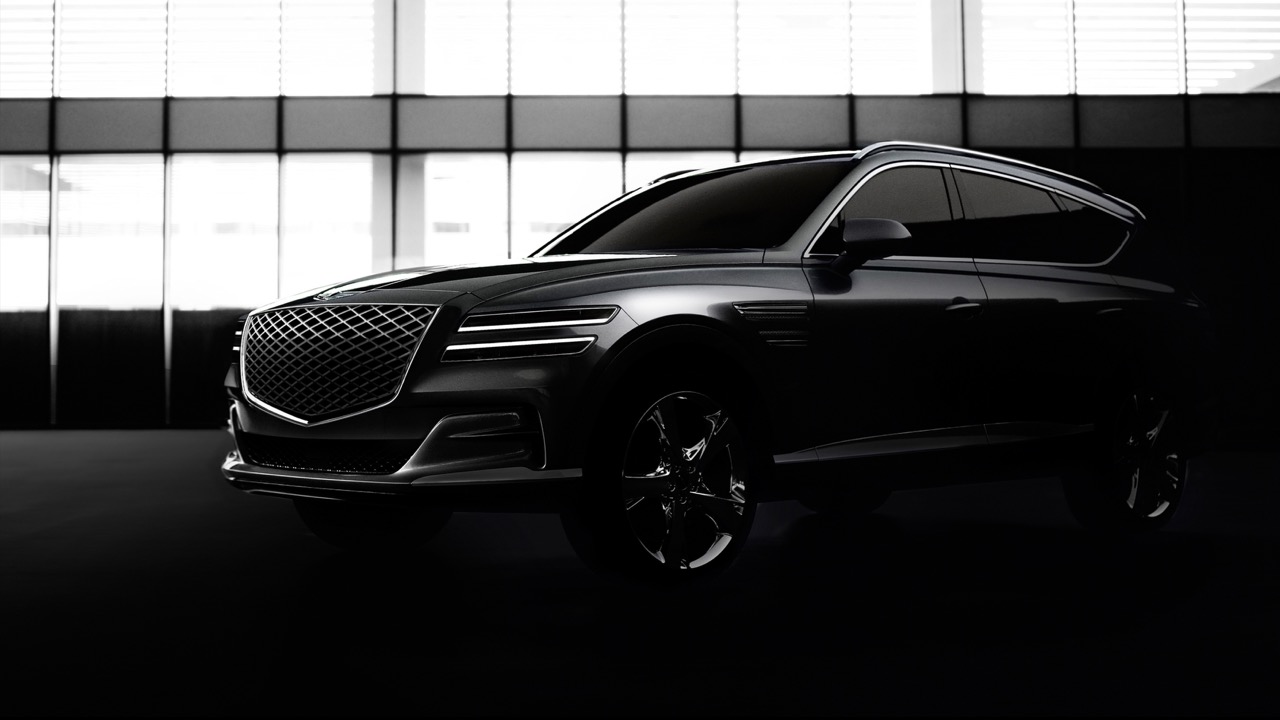 Genesis GV80 revealed: Korean brand's German assault continues
Overnight, Genesis has revealed images of the latest addition to its line-up which is, predictably, an SUV dubbed the GV80. It was inevitable that Genesis would swing into the competitive world of luxe soft-roaders, the brand says it will be on sale in the Korean home market by January and arrive in Australia soon after.
When the GV80 arrives in Australia with its seven-seat capacity we expect the pricing to be fairly consistent with Lexus' RX range while doing battle with established segment dominators – The BMW X5, Audi Q7 and Mercedes GLE.
It's undeniably a hot market right now and Genesis will have to try hard to take sales from the tyrannic German trio when badge prestige rules the game, but the Koreans can offer similar poke and tech for less cash. The brand's range-topping G70 packs 272kW/510Nm for $79,950 ($88,175 driveaway) – significantly less than BMW's $99,900 ($108,440 driveaway) M340i which you then have to tick plenty of option boxes on.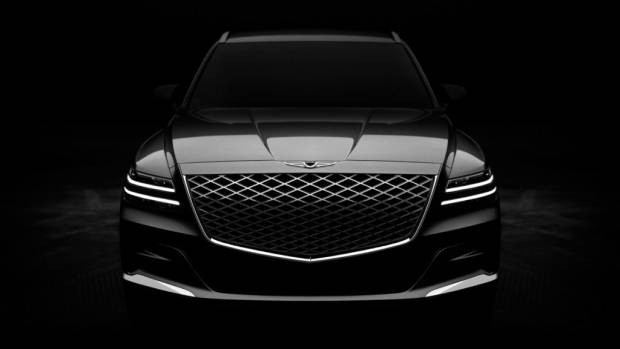 The GV80 will be based on an exclusive to Genesis rear-wheel-drive platform that will underpin the soon-to-be refreshed G80 sedan. That will mean a familiar engine selection, think two-litre turbo four-cylinder as a base model and excellent 3.3-litre twin-turbo V6 on higher trims.
When shown as a concept in 2017 there was a promise of hydrogen powertrains, though it's unlikely that will be available at launch. Genesis' parent company Hyundai has some great EV tech though, so it's almost certain something will be available in time.
Although the images released aren't that clear, it's not hard to imagine that the GV80 will be imposing on the road. If you thought BMW was getting silly with the grille game, think again, the GV80's monster item leaves little space for the headlights which, incidentally, look somewhat Benz S-Class.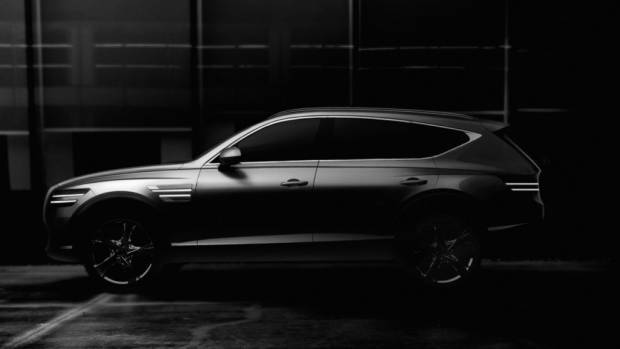 In profile it looks more conventional, the snout that looks a little Volvo XC90 gives way to conventional slab-sides that Genesis say are divided by "parabolic lines". The tapered c-pillar detail has hints of dynamism to it, though we wonder how much that will compromise the view out for third-row passengers.
While the GV80 generally looks like a successful design and we've enjoyed seeing the restrained G70 sedans out on the road, we'll reserve judgement for when we spot one in the flesh.
We do hope Genesis swaps the cheap-looking alloys pictured for production models though.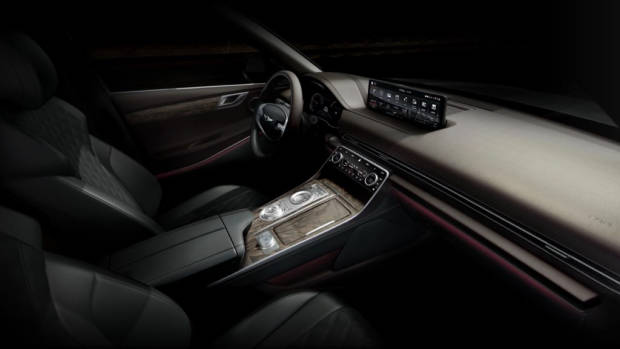 Inside is a beautiful sea of brown on the specification shown – though we assume there will be other choices of course – but if you're a long-time reader you'll know that here at Chasing Cars we don't mind a bit of that.
Wood panelling on the centre console is a welcome player too, it looks as though there will be a rotary style controller for the infotainment system exclusively because reaching to touch that large centre screen will be a stretch.
Although no details on price or specification have been revealed, Genesis has assured us there will be more info dropping as we approach the Aussie arrival date.
Read more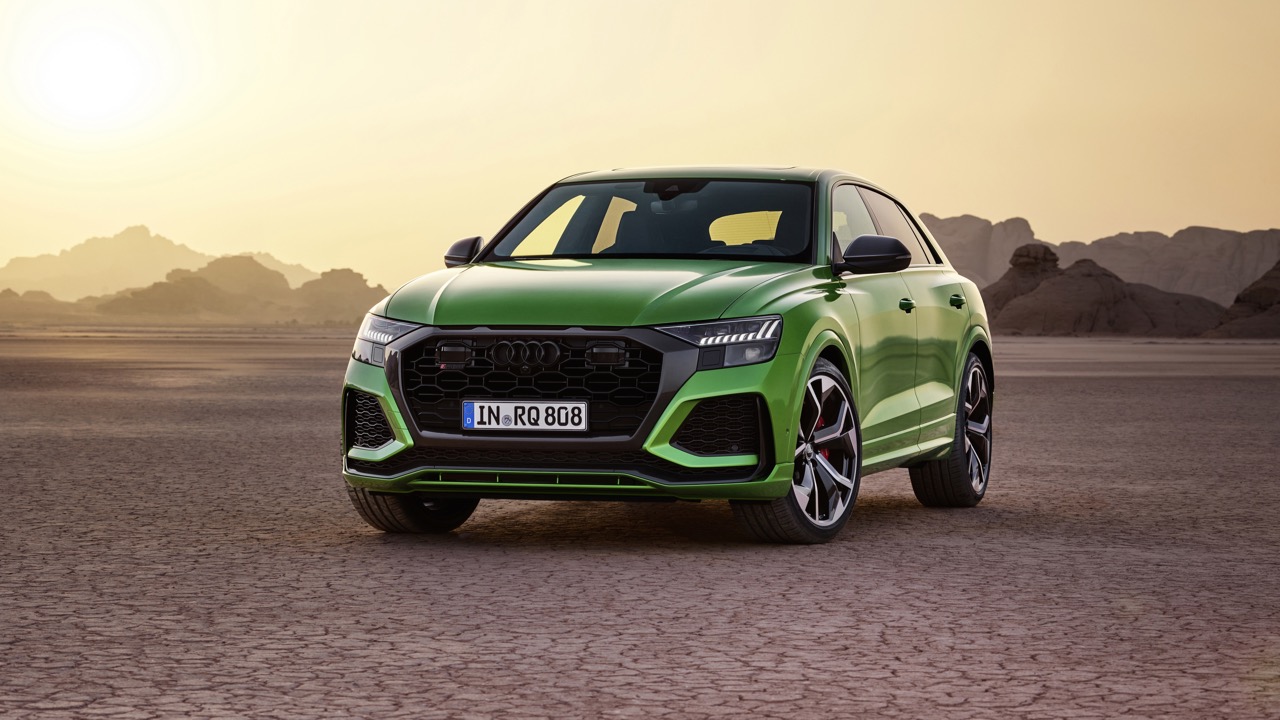 Bonkers Audi RS Q8 bound for Australia in late 2020
Audi has confirmed the bonkers RS Q8 for Australian shores, with the behemoth packing a 441kW punch from its turbocharged V8 drives. In fact, this RS variant of Q8 uses the same engine and underpinnings to the more exotic Lamborghini Urus, think of it like the R8 to the Huracan, but bigger.

With an all-electric future becoming an increasingly real possibility, with the brand's e-tron Sportback released in close succession, the RS Q8 Uber SUV may be the last hurrah for this kind of vehicle.

Alongside the Lamborghini Urus, the RS Q8 will be vying for market share with the petrol swilling BMW X6 M, Mercedes-AMG GLE 63 S, while tempting customers out of more traditional fast station wagons like the brand's own RS6 Avant.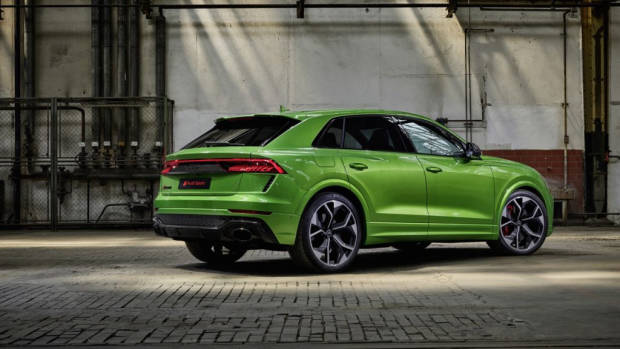 The RS Q8 boasts impressive outputs from its four-litre twin-turbo V8 – the same found in the RS6 Avant – with 448kW and 800Nm, though in Urus guise this same engine manages to push out 37kW more power at 478kW. Audi claims the turbocharged V8 will get the RS Q8 from 0-100km/h in an impressive 3.8 seconds.

Top speed is nothing to be sniffed at either, for the regular RS Q8, the speed limiter will cut in at 250km/h, though if you pay extra for the dynamic package, the behemoth will reach a whopping 305km/h, equal to that of the Urus.

High performance means lots of fuel is needed, to combat this Audi have implemented a 48 Volt mild-hybrid tech and cylinder deactivation, which the brand claims saves 0.8l/100km savings. Between 55-160km/h the car can coast for up to 40 seconds, using regenerative braking to generate power for the electrical system.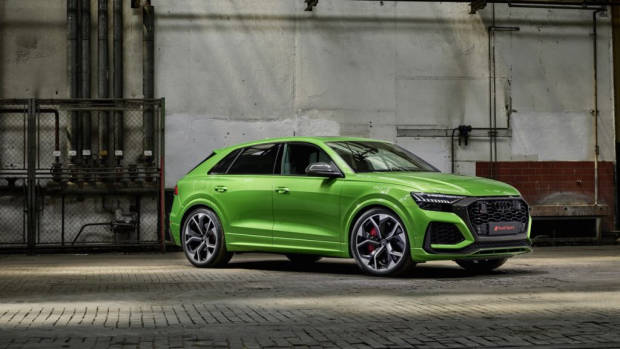 A bold and brash front end features on the RS Q8 with the biggest hexagonal grille on any Audi joining the three nostril vents between the nose and bonnet for cooling, referencing the original Sport Quattro.

As standard, an intricate looking set of 10-spoke 22-inch alloy wheels are specifed with 295/40 series all around, optionally an even larger 23-inch set of five 'Y-spoke' alloys can be specified.

Inside expect contemporary Audi, that means quality and pleasing minimalism. The RS Q8 will feature the brand's virtual cockpit, new centrally-mounted MMI touchscreen, plenty of optional alcantara appointments, RS sports seats and optional head-up display.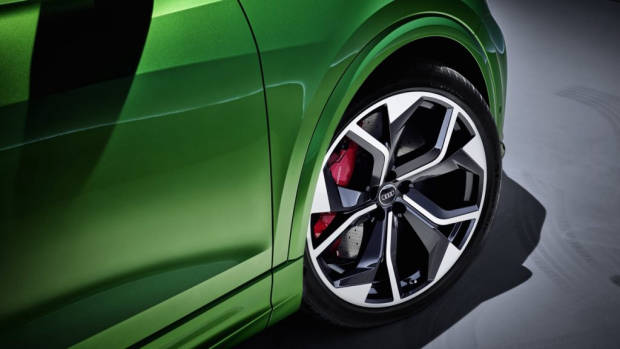 As you would expect, the RS Q8 has switchable drive mods, with two customisable RS1 and RS2 buttons to store your favourite settings, as well as plenty of safety tech including a 360 degree camera system, rear traffic assist, and active cruise control functionality.

Suspension has been specifically tuned for the RS Q8, the five-link system is teamed with air suspension to provide variable spring-rates and ride height with 90mm between the highest and lowest setting, so the big SUV should feel at home both on and off-road.

There will be an optional active roll stabilisation system available on the RS Q8, and is included with the dynamic package, which allows the wheels to track the ground freely on a straight, with roll bars stiffening when cornering to keep body roll to a minimum.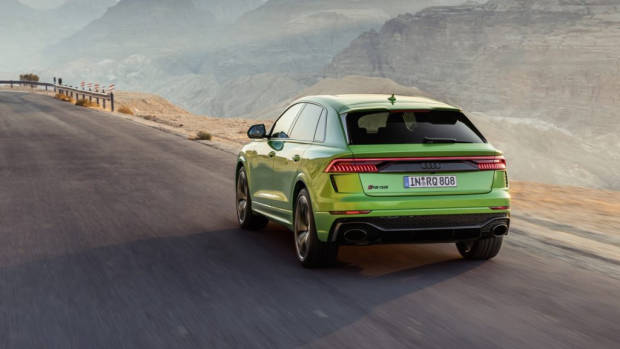 When driving normally, the Quattro all-wheel-drive system has a torque split of 40:60, when necessary up to 70% of the power can be sent to the front wheels, or up to 85% to the rear axle, where a limited slip diff can dish power out between each side.

Braking is taken care of by massive 420mm front rotors (370mm at the rear) and 10 piston brake calipers.

Rear-wheel steering is standard on the RS Q8, allowing the rear wheels to turn in the opposite direction at low speed to improve turn-in sharpness, and rotating in the same direction at high speed offering greater stability.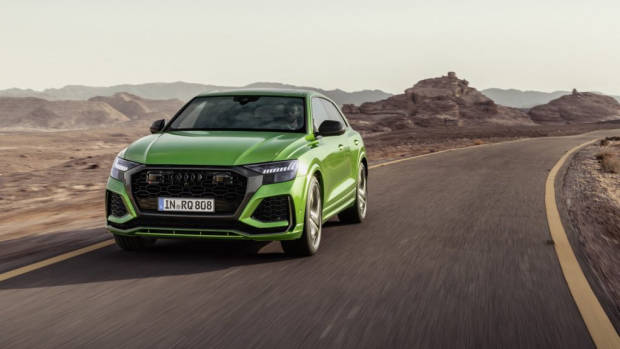 Exact specification and pricing will be available closer Australian launch in the third quarter of 2020, but we can safely bet it will arrive at less than Lamborghini's equivalent.

Read more