Search Results for ""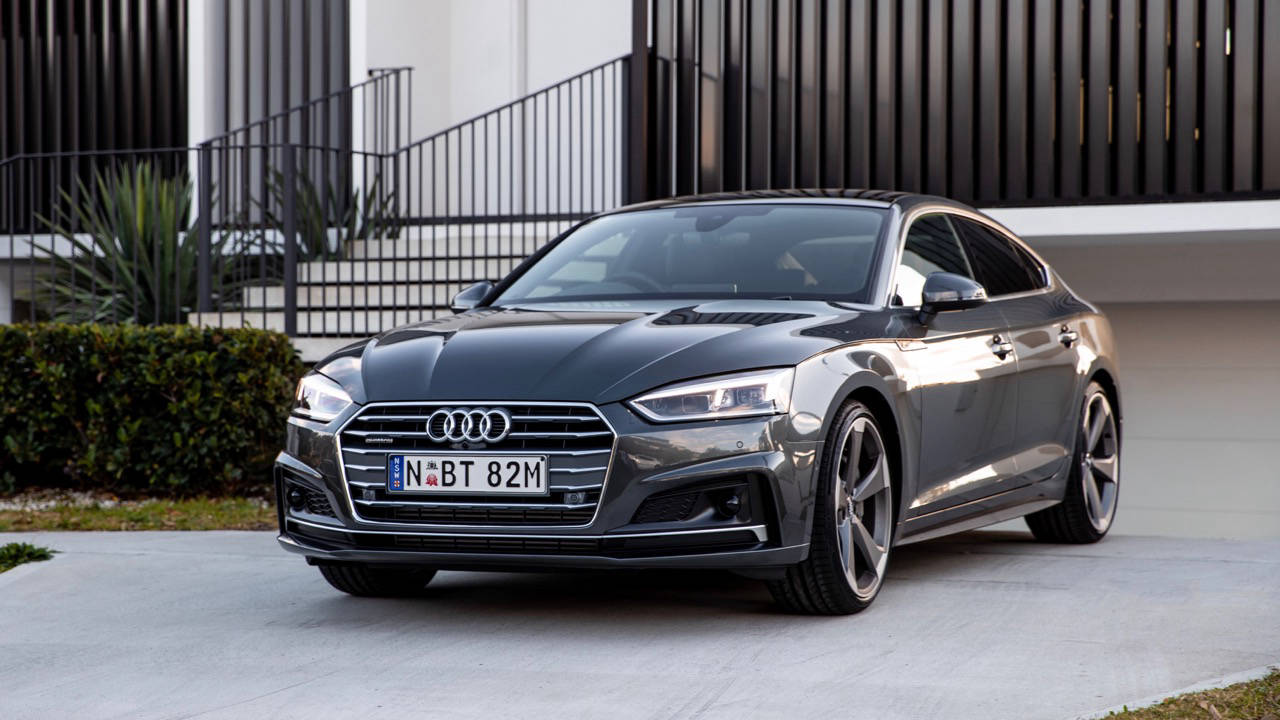 2020 Audi A5: lower price, more equipment for Australia
In an effort to stimulate sales of its A5 midsize sports cars, Audi has announced a slate of changes including a reduced price on a popular petrol variant and a raft of new equipment for the A5.
The changes for the 2020 model year all relate to the A5 45 TFSI – the higher of two petrol four-cylinder grades that make up the A5 range. The 45 TFSI unit is a two-litre producing 185kW/340Nm, channelled through a seven-speed dual-clutch automatic gearbox and Audi's Quattro all-wheel-drive system.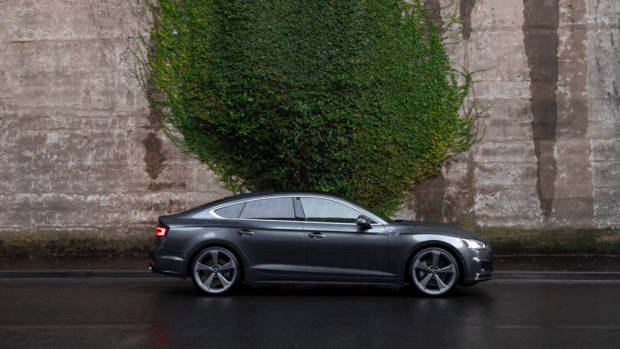 The Audi A5 continues to be offered in three body styles: a traditional two-door coupe, a drop-top convertible and a more practical five-door Sportback. Two higher-performance variants sporting six-cylinder petrol engines are available higher in the Audi range – the three-litre S5 (from $114,802 driveaway) and the 2.9-litre twin-turbo RS5 ($171,140 driveaway, reviewed here).
This week's changes see the 45 TFSI engine discounted by $2,800 across the board. The coupe and Sportback body styles will now set you back $78,900, while the convertible has seen its price similarly cut to $92,400. Driveaway pricing is yet to be confirmed.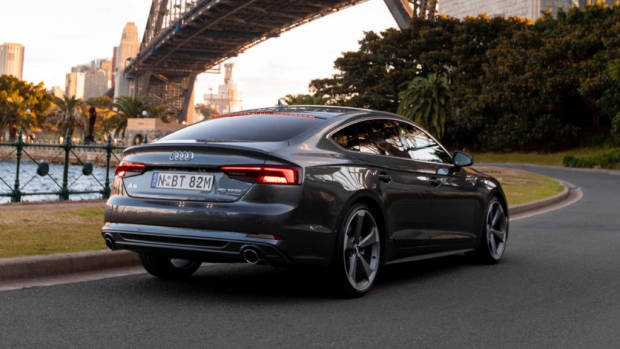 Alongside the price cut, specification for the 45 TFSI is now more generous, with Audi claiming to have added an additional $9,000 in equipment value. The 45 TFSI now arrives dressed in sportier S Line styling by default, wearing 19-inch wheels. Inside, the driver's seat (and external mirrors) gain memory functionality. The front pews are now heated and rear passengers pick up USB ports, and there's a wireless smartphone charging bay.
Additional safety tech has also been added to the 45 TFSI in the form of adaptive cruise control with stop-and-go capability, lane keeping assist with steering intervention, and a 360-degree parking camera. You also now score automatic high beam and an automated parking system.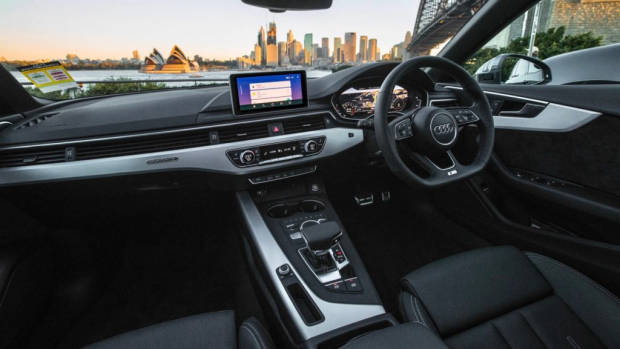 Entry to the Audi A5 range continues to be the 40 TFSI base grade, which retains its current pricing of $70,100 for the coupe and Sportback ($77,443 driveaway), and $83,600 in the convertible ($92,747 driveaway). The 40 TFSI is front-wheel-drive, sporting a more conservative tune of the two-litre turbo engine, producing 140kW/320Nm.
The base car continues to sport Audi's MMI infotainment system, with navigation, Apple CarPlay and Android Auto, plus the brand's Virtual Cockpit digital driver display. All cars also receive LED headlights, full keyless entry and start, DAB digital radio, and a 180-watt stereo.
The 2020 Audi A5 45 TFSI Quattro is available in Australia now.
2020 Audi A5, S5 and RS5 Australian pricing
A5 40 TFSI coupe: $70,100 ($77,443 driveaway)
A5 40 TFSI Sportback: $70,100 ($77,443 driveaway)
A5 40 TFSI convertible: $83,600 ($92,747 driveaway)
A5 45 TFSI Quattro coupe: $78,900 (driveaway pricing TBA)
A5 45 TFSI Quattro Sportback: $78,900 (driveaway pricing TBA)
A5 45 TFSI Quattro convertible: $92,400 (driveaway pricing TBA)
S5 Quattro coupe: $104,042 ($114,802 driveaway)
S5 Quattro Sportback: $104,042 ($114,802 driveaway)
S5 Quattro convertible: $117,582 ($129,017 driveaway)
RS5 Quattro coupe: $157,700 ($171,140 driveaway)
RS5 Quattro Sportback: $157,700 ($171,140 driveaway)

Read more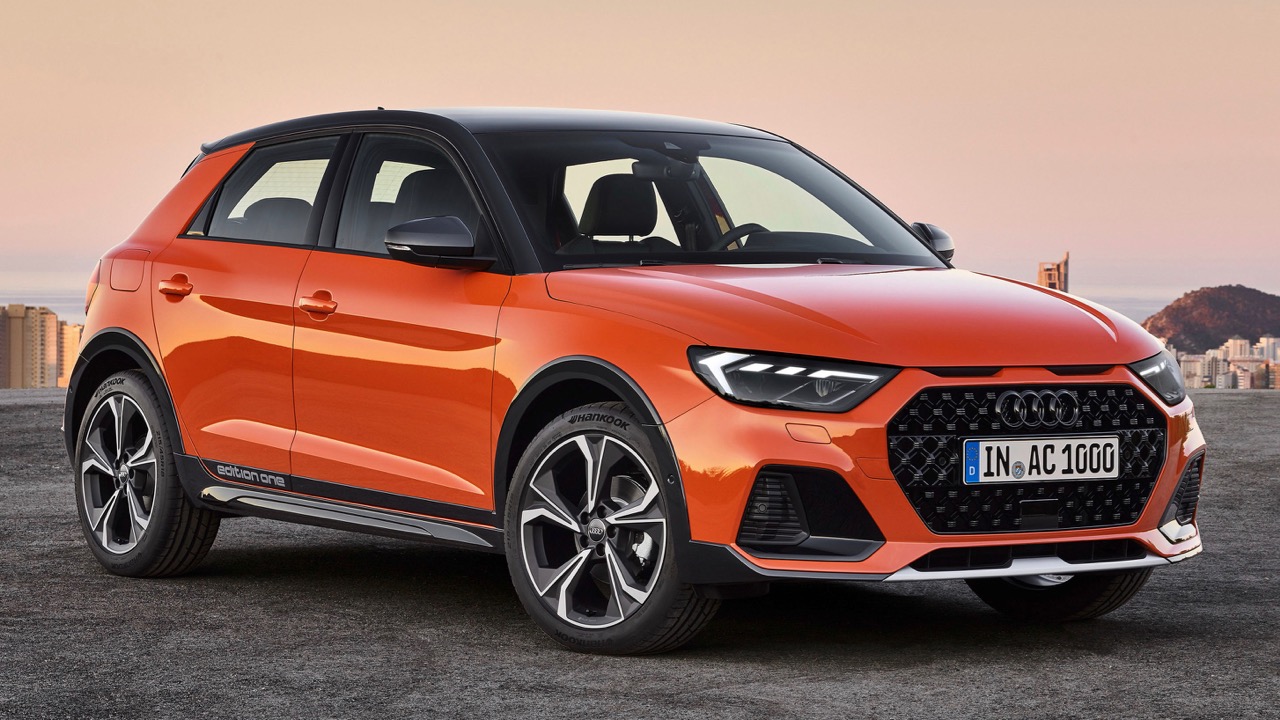 Audi A1 Citycarver: FWD-only cladded hatch revealed
Audi has revealed a lifted version of the yet-to-arrive second generation A1 named the Citycarver. Much like Audi Allroad models, the Citycarver will sit on mildly raised suspension, and offer a 'robust off-road look' – though it will not be offered with Quattro all wheel drive. 

Although the Citycarver is not yet confirmed for Australia, if it does arrive it will sit in a niche that is so far occupied by less premium, larger hatches such as the Ford Focus Active and Subaru XV (reviewed here). On the premium landscape the Citycarver would slot in below premium small SUVs such as Audi's own Q2 (reviewed here) and the Mini Countryman (reviewed here).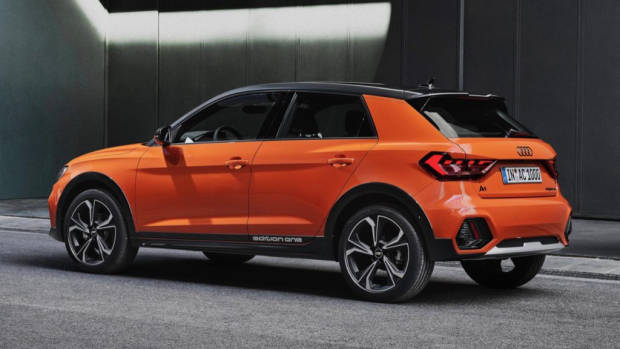 The Citycarver will be available in Europe in the fourth quarter of 2019 in three equipment levels, the base Advanced, Design Selection, and top model S-line. Audi is offering a myriad of customisation with the Citycarver range, with nine exterior colours, four choices of interior highlights (including mint and copper), the option of three contrasting roof panel colours, and three exterior highlight colours to choose from.

The interior is shared with the new A1 small car which means a digital instrument cluster, and 10.1 inch touchscreen is included as standard, with Audi's excellent MMI system optional. With more standard safety kit than the regular A1 including adaptive cruise control and park assist on all models, with lane departure warning and forward collision warning standard across all A1 variants.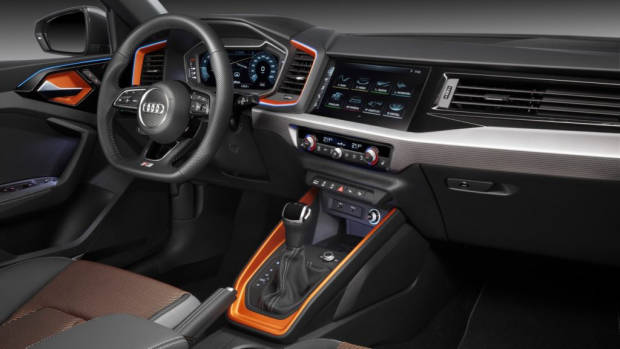 The A1 Citycarver is striking in its orange hero colour, muscular without looking overly tall like jacked up small cars have in the past. Audi has claimed of design cues coming across from Audi's Q range in the form of the large octagonal honeycomb grill and LED headlights.

Like the A1 upon which it's based, the Citycarver will be offered initially with either the 85kW/100Nm 30 TFSI triple, or more powerful 110kW/250Nm 35 TFSI four cylinder, with a 147kW 2.0 litre engine slated to arrive later on, which should make for an entertaining pocket rocket that is still exploitable on rougher roads.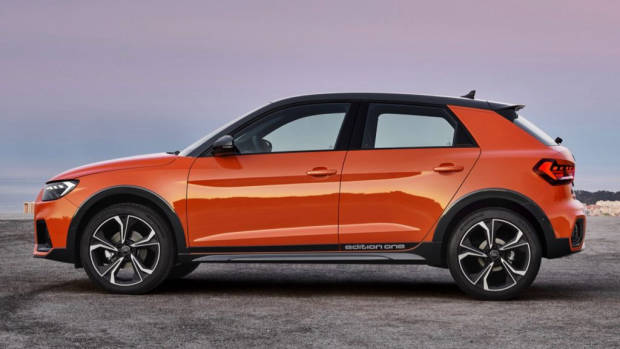 The Citycarver is set apart from the regular A1 with a 35mm lift in the suspension, and presumably the car will have a more forgiving ride than the A1 it's based on. It will depend on which wheel and tyre combination is optioned, Audi offer 16 inch or 18 inch as an option for the Citycarver. Claiming a 'self-confident road stance' for the Citycarver's suspension, Audi will offer a 'dynamic suspension tune' as an option.

The current popularity of SUVs and Audi's history of Allroad models suggest there is a niche to fill with the Citycarver. It will be interesting to see if Audi bring the Citycarver downunder alongside its A1 sibling, though sources suggest it is unlikely for the time being.

Read more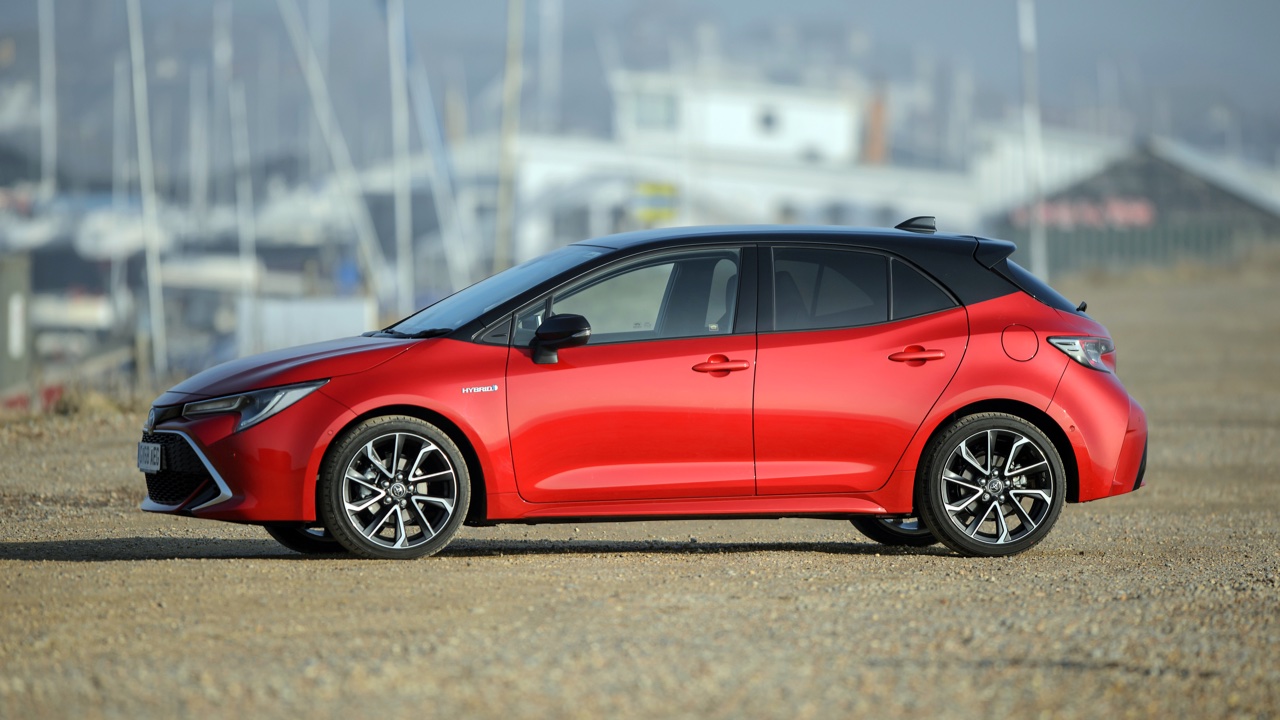 2020 Toyota Corolla update brings CarPlay to Australia
The twelfth-gen Toyota Corolla hatch has received its first annual update, with a suite of changes for 2020 that bundles smartphone integration, additional safety tech and an available, racier two-tone colour scheme. No pricing changes have been announced.

Arriving in November this year, Toyota will make Apple CarPlay and Android Auto smartphone mirroring tech a standard feature of the Corolla range, senior sources have confirmed.

The Corolla will continue to be offered with a choice of 2.0-litre petrol (125kW/200Nm) or 1.8-litre petrol-electric hybrid (90kW) engines. Hopes that the Corolla would be upgraded to Europe's punchier 132kW 2.0-litre hybrid were not met this year.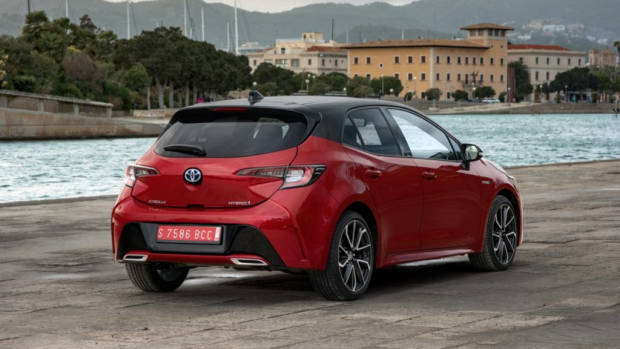 On the safety front, a new low-speed manoeuvre emergency braking system primarily designed for use while parking will be added to the mid-tier SX and high-spec ZR grades. The system, called Parking Support Brake, detects static objects and rear cross-traffic while the Corolla is travelling at up to 15km/h.

The new 'colourway' paint jobs will allow those buying the top-spec ZR to have the Corolla hatch's roof painted black when paired with a range of colours that include a new shade of 'Feverish' red (replacing 'Volcanic' red). This two-tone scheme has been available in some markets since the new shape launched but it's only now reached Australia.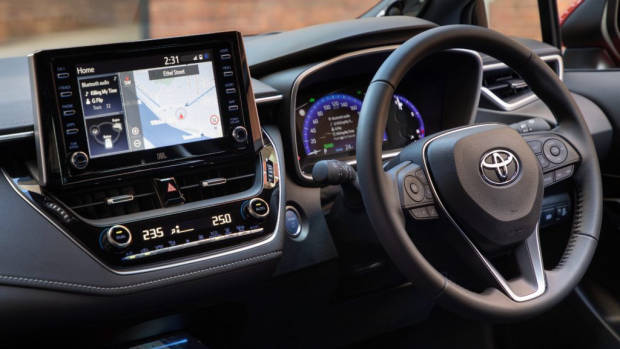 Inside, the ZR also picks up eight-way electric adjustment for the driver's seat, replacing manual control.

Finally, the base Ascent Sport grade will now be optionally available with a tyre repair kit replacing the standard full-size spare wheel. If that option box is ticked boot space increases from 217 litres to 333 litres.
For those looking for a boot, a new Toyota Corolla sedan will launch later in 2019.
2019 Toyota Corolla Australian pricing (plus on-road costs)

Ascent Sport hatch petrol manual: $22,870
Ascent Sport hatch petrol CVT: $24,370
Ascent Sport hatch hybrid CVT: $25,870
SX hatch petrol CVT: $26,870
SX hatch hybrid CVT: $28,370
ZR hatch petrol CVT: $30,370
ZR hatch hybrid CVT: $31,870
Read more