Search Results for ""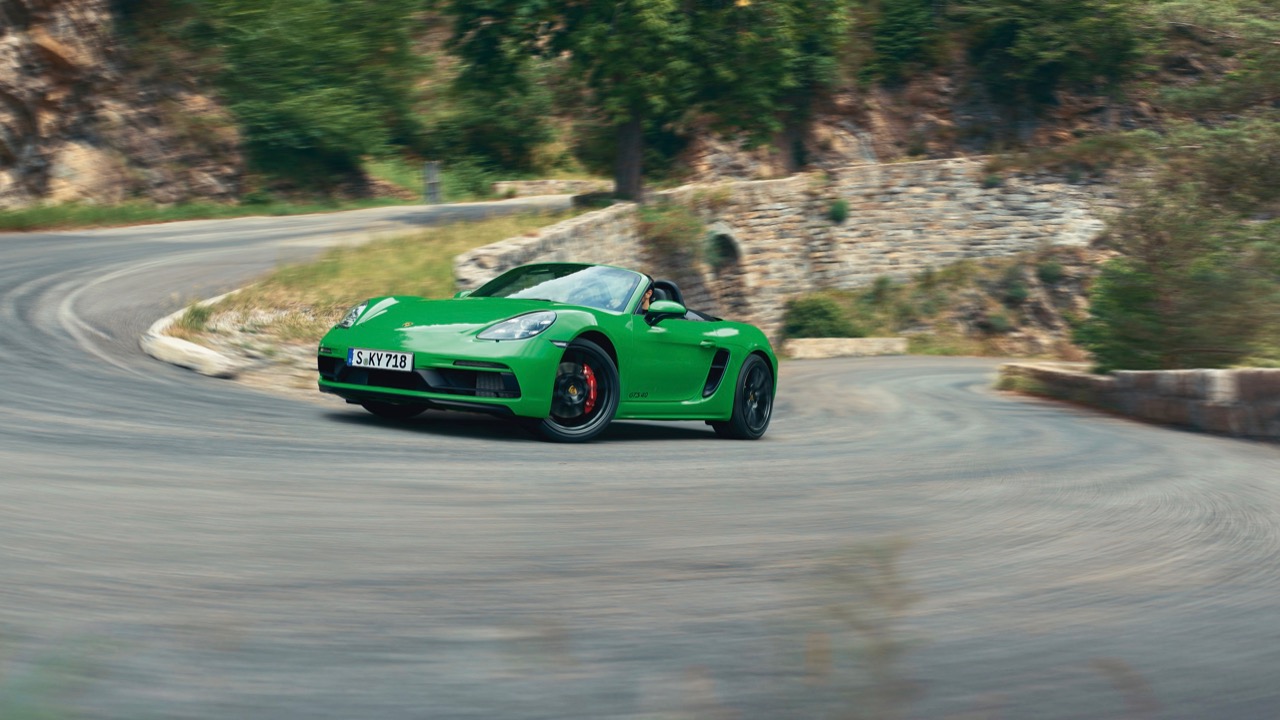 Flat-six makes triumphant return in Porsche 718 GTS pair
Consumers and journalists were shocked when Porsche's latest 718 Cayman and Boxster were launched with a selection of turbocharged four-cylinder engines. Although they provided more than adequate punch, it was clear that they could never measure up to the visceral qualities flat-six of earlier iterations.

The 2020 Cayman GTS 4.0 will start at $172,400 (driveaway price not yet available), with the Boxster slightly dearer at $175,200 (driveaway price not yet available). Naturally, that price will shoot up after a glance at the options list.

As for competitors, the premium the GTS commands over the regular Cayman takes it out of reach of the Alpine A110S and BMW M2 Competition, though it should provide a more scalpel-like steer than a Jaguar F-Type or BMW M4.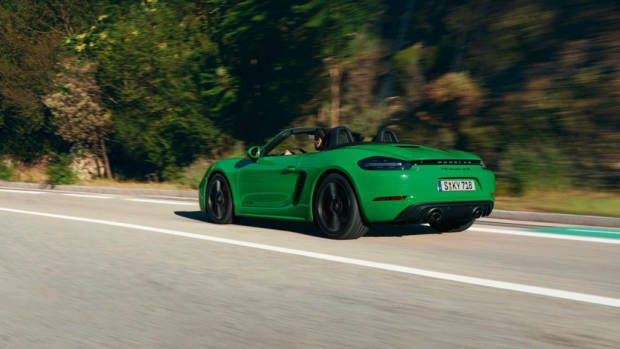 In 2019 Porsche launched a four-litre flat-six engine that sat in the middle of the Cayman GT4 and convertible Spyder. For 2020, both 718 GTS will feature a detuned example of that four-litre flat-six.

For 2020 the entry-level 718 Boxster and Cayman will keep the two-litre flat-four with outputs of 220kW/380Nm, with the S models retaining the same cylinder count but with extra displacement, that 2.5-litre engine producing the same 257kW and 420Nm.

Where the GT4/Spyder pair produce 309kW and 420Nm as they storm towards their 8,000rpm red-line, the 718 GTS will spin to 7,800rpm and produce slightly less power – 294kW – but an identical torque figure.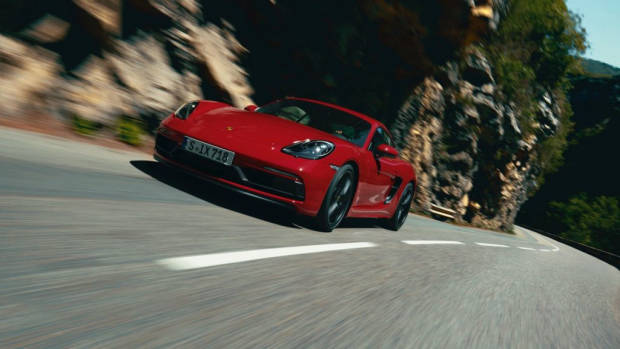 And yet the new 718 GTS 4.0 is slower than the outgoing 2.5-litre turbo car, manual for manual the 2019 GTS will scramble to 100km/h in 4.4 seconds, the new car manages the same sprint in 4.5 seconds.

Although the new four-litre lump should provide a much more scintillating experience, a redline that close to 8,000rpm is something to celebrate in the world of constricting emission standards.

Boy, the 718 looks good, it's just such a classic shape that cuts through the traffic inundated with swollen SUVs and dual-cabs. The 718 GTS pair gets sportier front and rear bumpers and a set of staggered black 20-inch alloy wheels shod in sticky Pirelli rubber.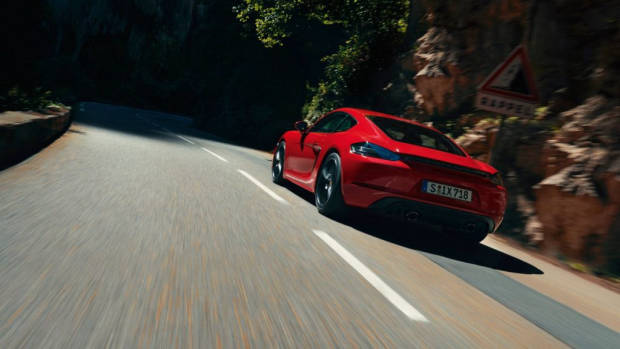 Inside the 718 is an experience, the low-set Alcantara seat is surrounded by the rising centre console, stubby manual gearknob and a centrally mounted touch screen display. In classic Porsche fashion, there are plenty of hard buttons too, we like it.

As with the rest of Porsche's range, the GTS offers a value pack; cherry-picking all the must-have sporty options for the 718 'S' models. That means standard Sport-Chrono pack, PASM, 20mm lower suspension, active drivetrain mounts, torque vectoring and the must-have mechanical LSD.

Australia will see a high level of specification including heated seats and steering wheel, dual-zone climate control, hard to imagine that being optional on a near $200,000 car, auto-dimming mirrors, Apple CarPlay and Android Auto, active headlights and reversing camera.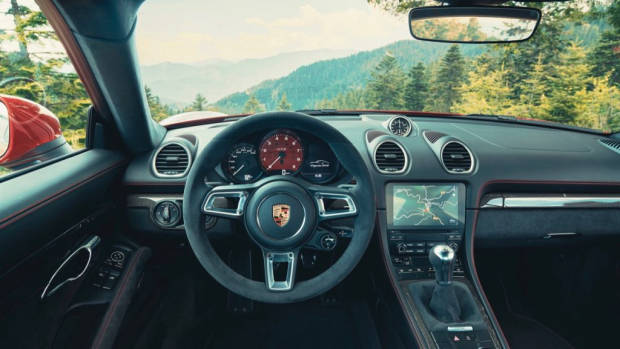 We're happy to see Porsche returning to their six-cylinder strength with the new GTS, even if it is a slightly slower way to dissect a backroad.

Porsche is taking orders now for the 718 GTS with cars due to arrive mid this year.
Read more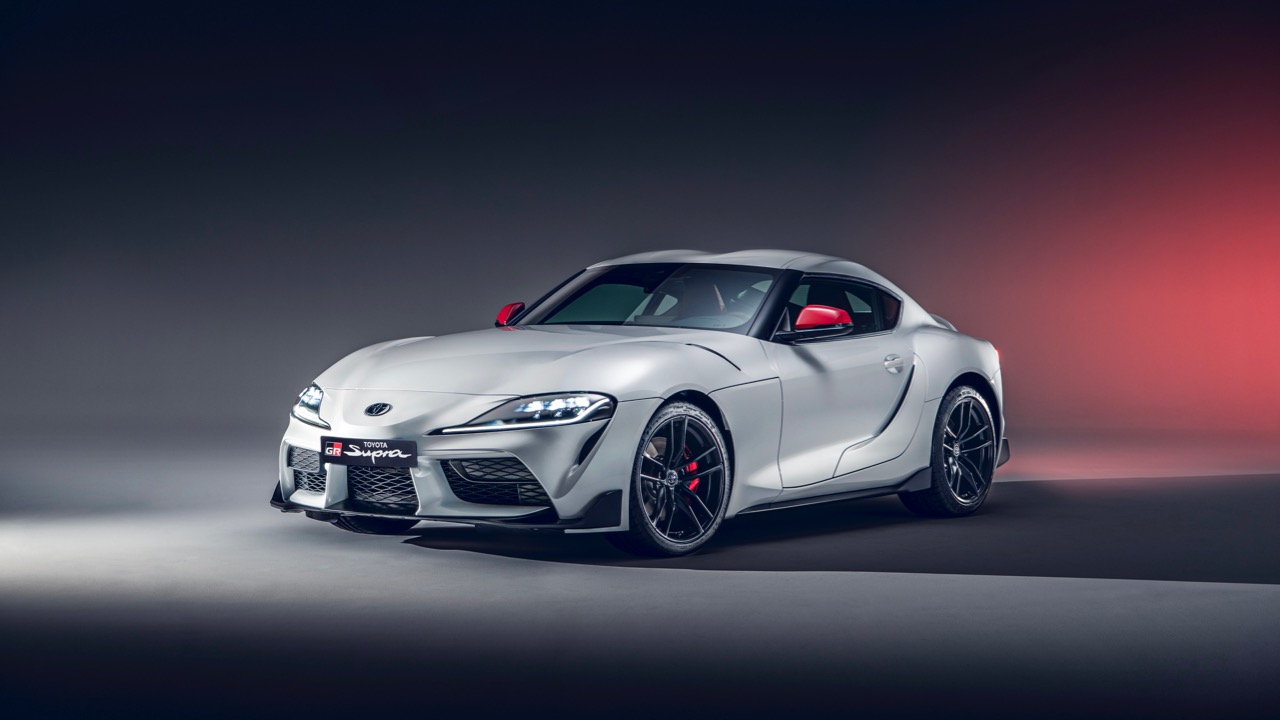 GR Supra gets four-cylinder option, Australia unlikely
After being mentioned at the launch of the A90 generation Supra, Toyota has detailed an entry-level GR Supra replete with the same exciting exterior design but a four-pot where six-cylinders sat before. Sadly it's unlikely the new variant will make it downunder.
A four-cylinder Supra variant will arrive at a more affordable price to do battle with less focussed sports coupes. Think of the BMW 2 Series and Audi TT, but it will also offer a stepping stone for current 86 owners.
This isn't the first time Toyota has offered a lesser Supra, the 90s A80 generation is best known for fire-spitting, 1,000hp antics courtesy of a twin-turbo 2JZ engine, but it's easy to forget the four-speed slushbox and uninspiring aspirated engine of the base model.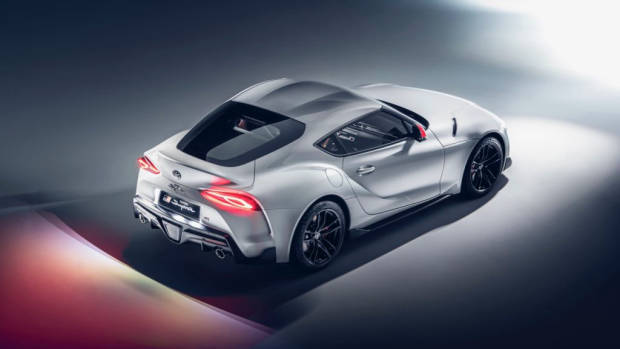 Sadly, Toyota Australia confirmed there are currently no plans to introduce the four-cylinder which we reckon is a real shame with the value proposition of the base model.
BMW's range-topping Z4 M40i lists for $111,160 ($135,443.80 driveaway) and shares a drivetrain with the Supra GT. The new four-cylinder Supra borrows the engine of the $98,121 ($114,276 driveaway) Z4 sDrive 30i.
That's a $13,000 difference between four and six-cylinder Z4s, by applying that logic to the $84,900 ($91,771 driveaway) GR Supra GT, the new four-cylinder variant would end up around $75,000.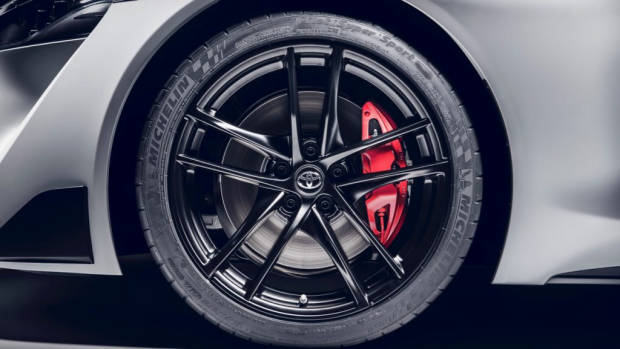 That's a lot of unique sportscar for the money in our book. It's not like BMW's four-cylinder is a slouch either.
Courtesy of a twin-scroll turbocharger the two-litre B48 boasts outputs of 190kW/400Nm and a 0-100km/h time of 5.2 seconds. Admittedly, that's nearly a second slower than the B58 equipped Supra, but only half a second behind a BMW M240i.
Power will be transferred to the rear-wheels only via an eight-speed ZF automatic – not a bad 'box by any means, but we would love to see a manual for greater driver involvement.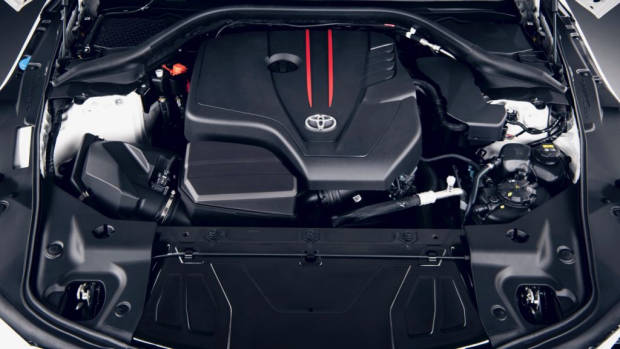 The GR Supra already has a pretty tenacious front end and by swapping to BMW's B48 four-cylinder the Supra drops 100kg. Most of the weight is lost from the front end, too, improving to a perfect 50:50 weight distribution. You can see just how far back the diminutive engine sits, too.
The global specification starts with the base live variant that will deliver a no-frills Supra experience. An 8.8-inch screen has by BMW's old iDrive system, a four-speaker sound system and Alcantara seats complete the interior.
In rather German fashion there are option packs for the supra four-cylinder; the connect packs adds a navigation system and connected apps.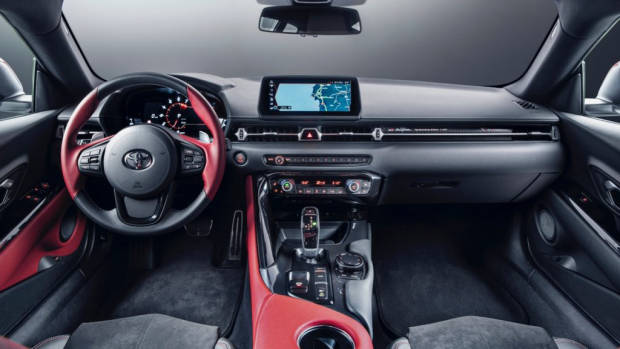 The premium pack mirrors the Australian GTS specification so, naturally, a 12-speaker JBL stereo, wireless charging, storage nets, leather-appointed seats and a head-up display are found inside.
But it's the sport pack we're most excited about; with an active LSD, adaptive suspension and a set of uprated brakes this may be a very compelling package.
Pictured here is the Fuji Speedway edition, a variant that cherry-picks the good option packs – connected and sports – a pearl white hue, larger 19-inch alloy wheels, red mirror caps and carbon interior appointments.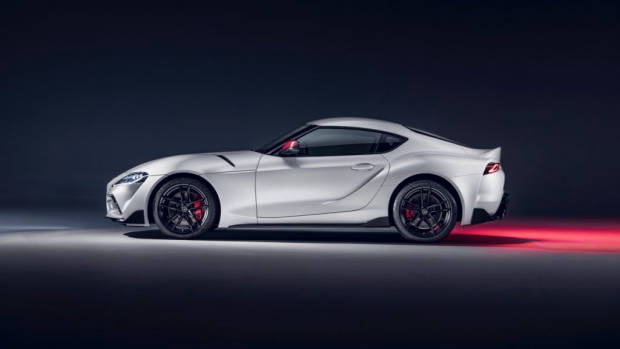 A more affordable Toyota Supra with a more tenacious front end, lighter overall weight and better fuel consumption sounds pretty enticing to us.
The two-litre GR Supra will go on sale globally in March this year. If Toyota Australia does bring the four-cylinder to Aus we reckon there is real sales potential.
Read more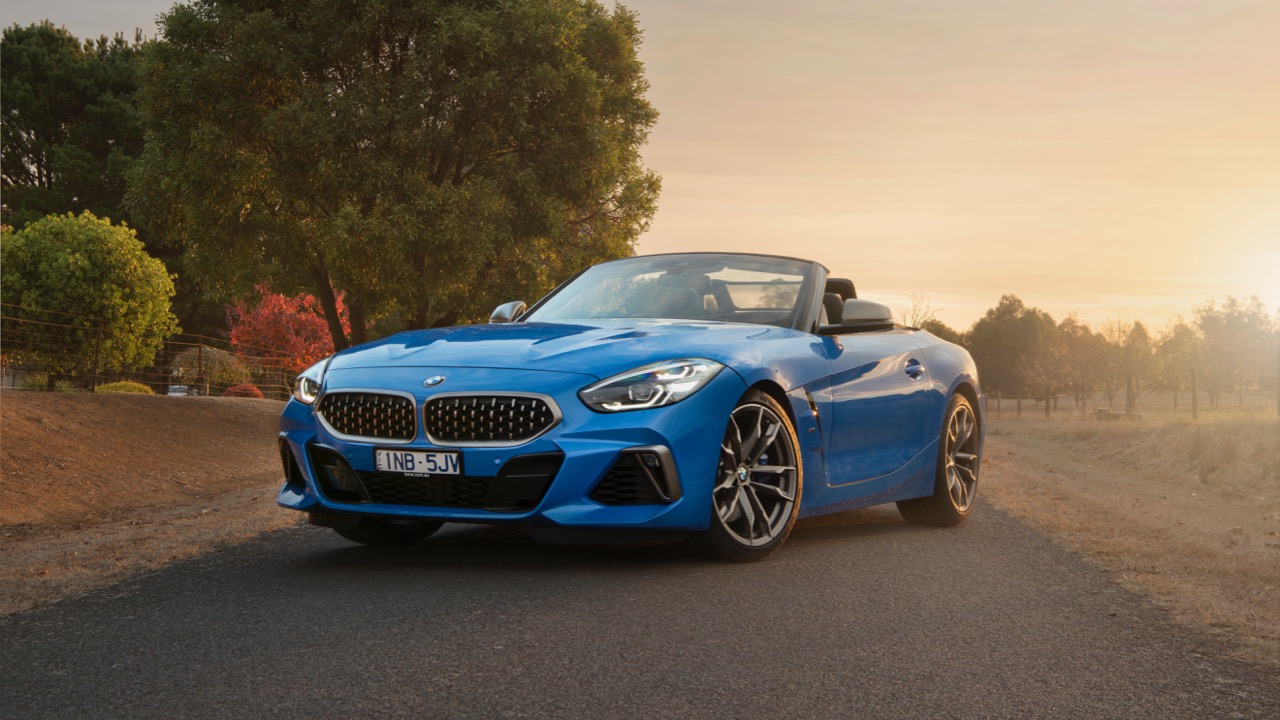 BMW's range-topping Z4 roadster gets more grunt
BMW Australia has announced a power increase for the range-topping M40i variant of the brand's open top Z4. The three-litre six-cylinder B58 engine sees an additional 35kW to bolster the headline figure, aligning it with other BMW '40i' variants.

Thankfully the increase in power hasn't brought an increase in price, BMW still sells the M40i for the same $124,900 ($135,214 driveaway).

Chasing Cars tested the 2019 Z4 M40i against the Toyota Supra – its brother from another home – but the roadster is really here to make a case against the open top Porsche Boxster and more conventional Audi TT.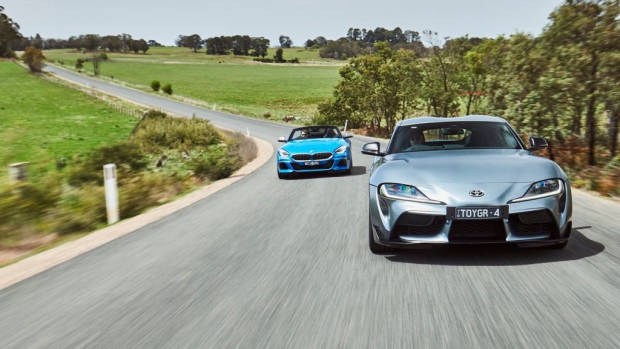 When we drove the M40i we didn't think it was exactly wanting for extra power, the 250kW and 500Nm from the B58 was more than enough to leave that car struggling for traction on pockmarked Sydney roads.

With the Australian release of the G20 340i xDrive and X3 M40i though it was only a matter of time before BMW upped the power figure to 285kW, though the 500Nm torque figure remains identical.

The chassis of the Z4 should handle the extra power well though, and the added grunt will propel the roadster from 0-100km/h in 4.1 seconds, four tenths faster than the outgoing M40i, that's seriously impressive.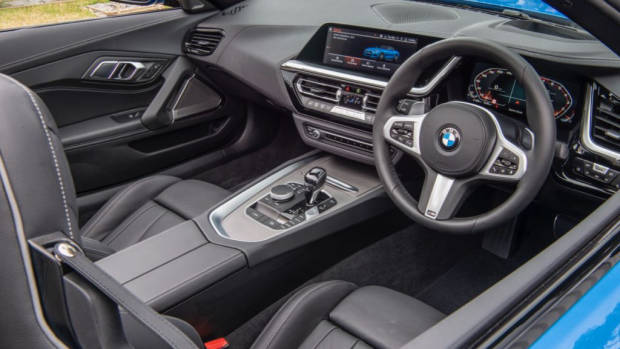 Gear changing duties are taken care of by a brilliant ZF eight-speed automatic that provides smooth, quick shifts and importantly listens to the driver's inputs, though no manual option is available.

Naturally, the Z4 M40i retains the brand's 50:50 weight distribution calling card, as do other Z4 models.

The Z4's exterior design is a polarising topic, the slightly buggy eyes are a turn-off for many, but from the rear three-quarter the shape of the roadster is nice and squat, it's actually starting to grow on us. The details aren't quite perfect, but the proportions are definitely there.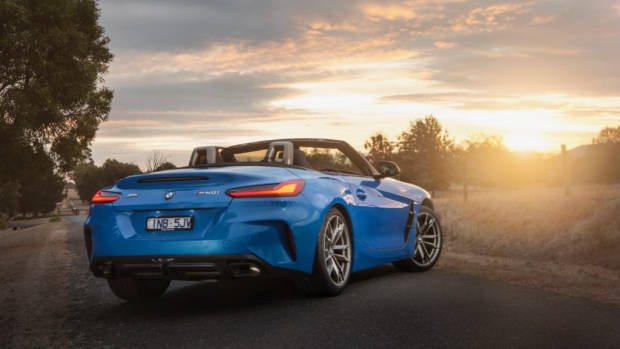 All importantly for a roadster the, roof still operates swiftly with the ability to open or close in 10 seconds at speeds up to 50km/h.

The M40i sits at the top of the range with no Z4 M model likely to arrive, it receives AEB and adaptive cruise control, lane departure warning and blindspot monitoring, the latest generation iDrive system with voice recognition capabilities and wireless Apple CarPlay and Android Auto and a stiffer spring and damper package than sDrive models.

The entry level sDrive 20i with its turbocharged four-cylinder engine produces identical outputs of 145kW/320Nm and is still available with a manual gearbox.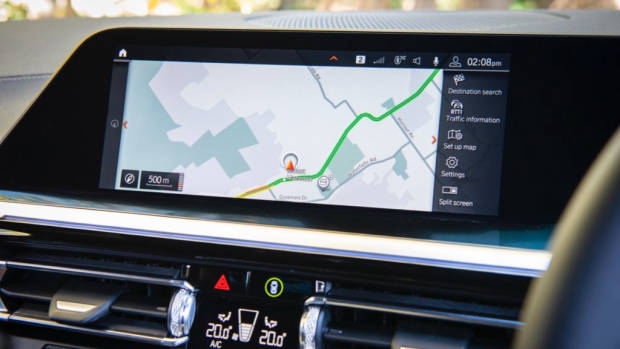 A mid-range sDrive 30i also remains with outputs of 190kW and 400Nm courtesy of a turbocharged four-cylinder engine. No manual is available, but we think this is a real sweet-spot in the Z4 range.

More power is rarely an unwelcome addition these days, but it won't go any way to curing the aloof steering we found when we tested the Z4.

2020 Z4 Pricing

Z4 sDrive20i $84,900 ($93,209 driveaway)
Z4 sDrive30i $104,900 ($114,209 driveaway)
Z4 M40i $124,900 ($135,214 driveaway)
Read more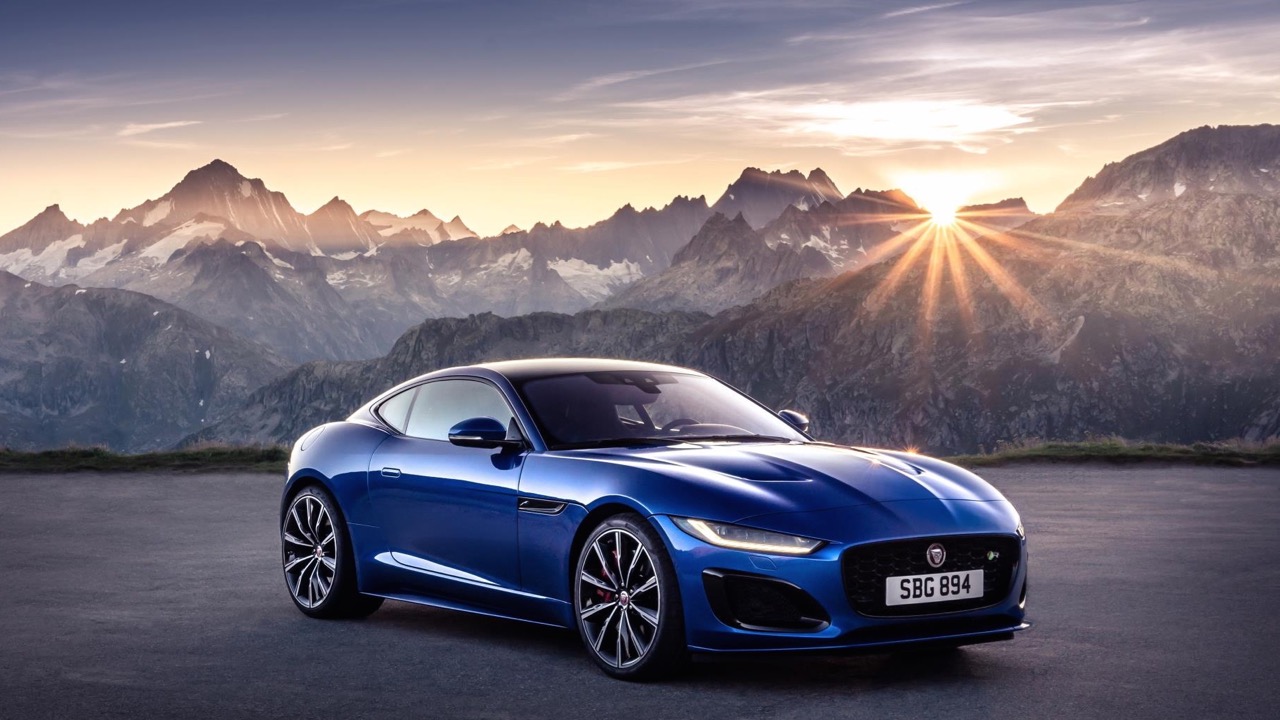 Jaguar Updates Stunning F-Type, simplifies Aussie Line-Up
The Jaguar F-Type has received a comprehensive update coming into its seventh year of production with fresh styling outside and in, a simplified model range and no manual option. Underneath the beautiful Jag remains broadly similar, though the British brand says they've reworked the suspension for more control and consistency.
Jaguar has one of the widest spread model lines with the F-Type, spanning from BMW Z4 and Audi TT rivalling four-cylinder $126,400 (driveaway pricing not yet confirmed) coupe and convertible, right up to the range-topping $263,300 (driveaway pricing not yet confirmed) F-Type R, with which Jag will take on the venerable Porsche 911 and BMW 8 Series.
With the original F-Type being lauded as one of the best looking coupes in recent history Jaguar's designers were faced with a tough task with this update. Thankfully, in our eyes at least, they've only made it better.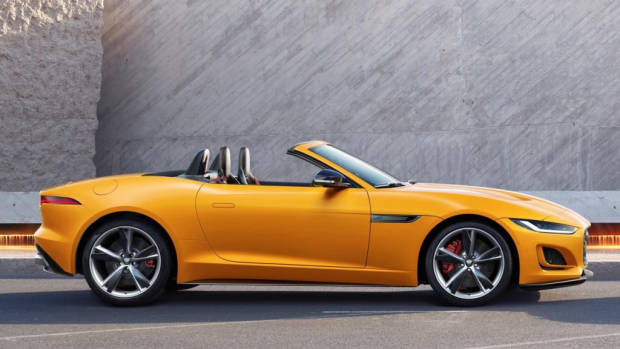 Overall there are many cues in the updated F-Type end reminiscent of Ian Callum's achingly handsome Jaguar CX75 concept.
Most notable is the updated front end, the grille is now set deeper into the bumper and the whole front end has been modernised with standard LED headlights. The 'liquid metal' shaping of the bonnet flows more organically into the snout, simplicity wins again.
From the rear quarters and profile the core F-Type shapes remain intact, subtle updates in the form on new LED taillights and retractable door handles lift the design overall, but we're glad Jag hasn't messed with what was already near-perfect.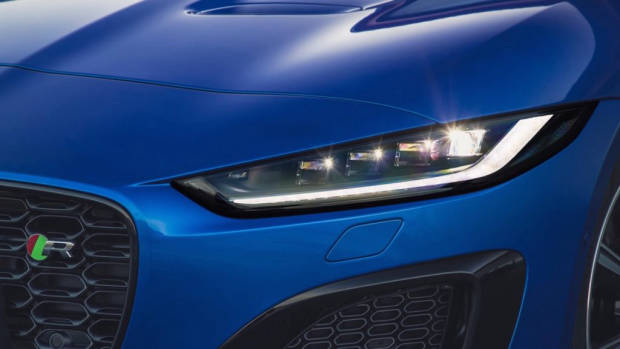 Jaguar has also left the engine choices largely in-tact while simplifying the slightly dizzying line-up. The core options remain, beginning with the entry-level two-litre Four-cylinder turbocharged motor, producing the same 221kW and 400Nm sent to the rear wheels only via a ZF eight-speed transmission.
No manual is available on any F-Type any more, much to our dismay, but realistically the ZF 'box is so good it does make sense for sales.
The next most powerful engine is a carry-over three-litre supercharged V6 with outputs of 280kW and 460Nm, this is probably our pick of the bunch. It's now rear-wheel-drive only with a limited-slip differential as standard, it should see the F-Type dispatch the 0-100km/h sprint in 5.1 seconds.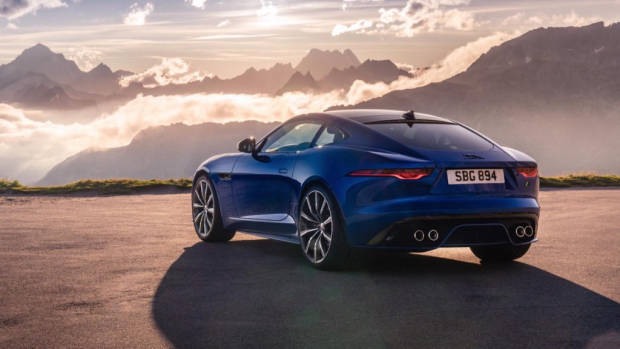 Headlining the range is the wrathful five-litre supercharged V8, but it's tweaked for even more power. In fact, it's the same engine found in the outgoing SVR model, with 423kW and 700Nm – up 18kW and 20Nm – with drive going to all four wheels, promising 0-100km/h in 3.7-seconds and a top speed of 300km/h.
All engine variants have switchable exhausts, with the V8 featuring a quiet-start mode, so you don't set the neighbour's dog off in the morning. This, however, can be overridden if you don't like the people you share a street with by selecting the dynamic mode, the pops-and-crackles apparently remain in full force.
A refreshed suspension tune comes along too, including stiffer ball-joints, knuckles, retuned dampers, spring rates and anti-roll bars specific to each model. The F-Type R also gets new-design 20-inch alloy wheels.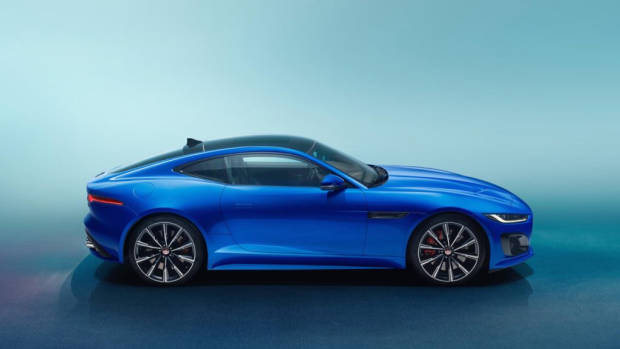 Standard 380mm and 376mm front and rear brake discs are specified on the F-Type R, though it can be specified with carbon ceramics with yet bigger 398mm and 380mm rotors respectively.

Inside the F-Type gets updates across the range, with a new 12.3-inch configurable digital instrument cluster, touchscreen infotainment system with corded Apple CarPlay and Android Auto, wireless system updates and Meridian sound system as standard. The exact specification for all models can be found on Jaguar's website.
There is one model that deserves a look in-depth, that's the First Edition. Offered with the supercharged V6 for one model year only this specification includes five-spoke 20-inch wheels, 12-way Windsor Performance Leather seats, instrument cluster wrapped in Alcantara, aluminium gearshift paddles, and a Suedecloth headliner.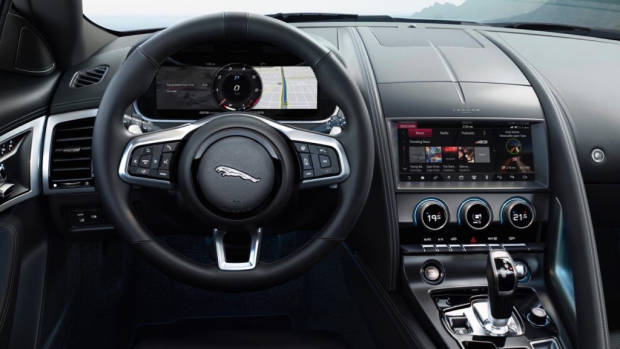 That specification will be available exclusively in a choice of Santorini Black, Eiger Grey or Fuji White hues, there are a total of twelve standard colours and sixteen special SVO pants.

The F-Type is on sale in Australia now, we'll be looking to get our hands on an example to see how the updates work on our roads.
2020 F-Type Pricing

All prices are before on-road costs

F-Type R-Dynamic Coupe four-cylinder $126,400 (up $4,758)
F-Type R-Dynamic Coupe V6 $173,100 (up $4,758)
F-Type R-Dynamic Convertible four-cylinder $145,100 (up $4,758)
F-Type R-Dynamic Convertible V6 $191,800 (up $4,758)
F-Type First Edition Coupe V6 $205,300 (new model)
F-Type R Coupe V8 $263,300 (up $10,458)

Read more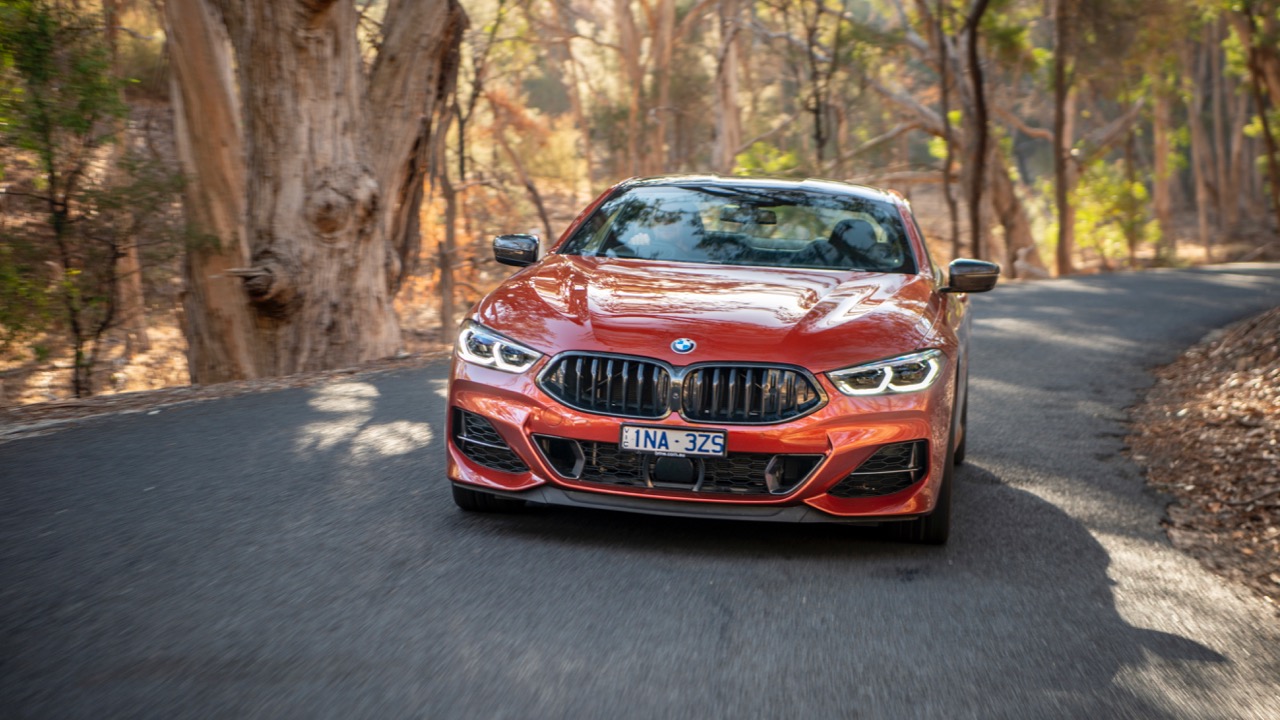 BMW drops 8 Series price of entry with six-pot 840i
BMW has announced specifications and pricing of new entry level 8 Series, the 840i, which will be available in both coupe and convertible body styles. The 840i is a grand touring sports car aimed to compete with the recently announced Porsche 992 911 Carrera and fastest Jaguar F-Type models.
Pricing for the 840i starts at $202,900 (driveaway pricing not yet available) for the coupe, and $217,900 (plus on-road costs) for the convertible, bringing the entry fee to BMW's 8 series ownership down significantly from its big brother, the M850i xDrive (reviewed here), which starts at $272,900 ($291,500 driveaway).
BMW continues to grow the 8 Series range, with details also confirmed this week for the four-door 8 Series Gran Coupe, available in the same 40i and 50i drivetrains. At the other end of the range, the full-fat M8 coupe and convertible are slated to be revealed at next month's Frankfurt motor show.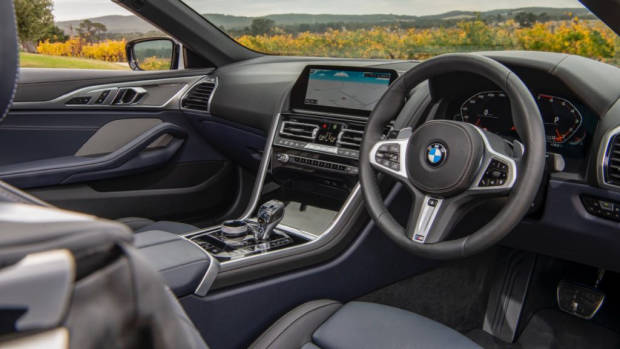 Unlike the original E31 generation 840i, there is no 4.4-litre V8 this time around. This second-generation 840i utilises a turbocharged in-line six. This is the same N55 engine found in BMWs other '40i' variants where it offers smooth and solid performance.
Power is sent to the rear wheels alone via an eight-speed torque converter automatic gearbox. Maximum outputs in the 840i are 250kW and 500Nm allowing the car to complete the 0-100km/h sprint in a respectable 5.0 seconds (or 5.3 for the convertible) – 1.3 seconds slower than the 850i xDrive's 3.7 second dash.
Standard equipment is generous on the 840i. Included in the price are wireless phone charging, park-assist, digital dashboard, 10.25-inch touch-screen display with BMWs 7.0 OS, full leather interior, and heated/ventilated front seats. BMW's active driver assists are all included as standard on the 840i, as are 20-inch alloy wheels.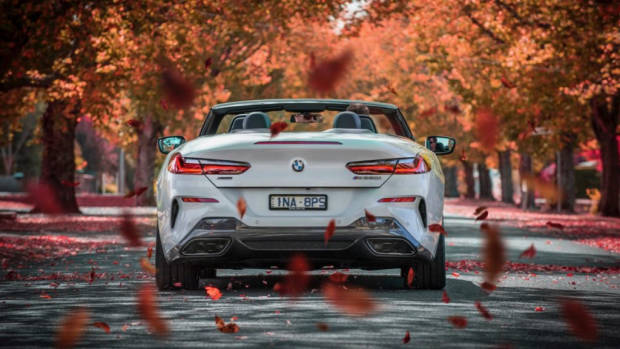 Those seeking a more supportive driving position can option M Sport seats, now a range-wide option for the 8 Series, for $2,600, and an M-sport package for $3,900 ($3,400 for the convertible) which includes bigger 395mm front brake rotors, a tyre-pressure monitoring system, rear spoiler, and M Sport seat belts.
We were impressed with the M850i xDrive when we drove it, so expect the 840i to be a good performer combining a slightly lighter six-cylinder engine and pure rear-drive dynamics The 840i will be available in Australia in September 2019.
Read more