Search Results for ""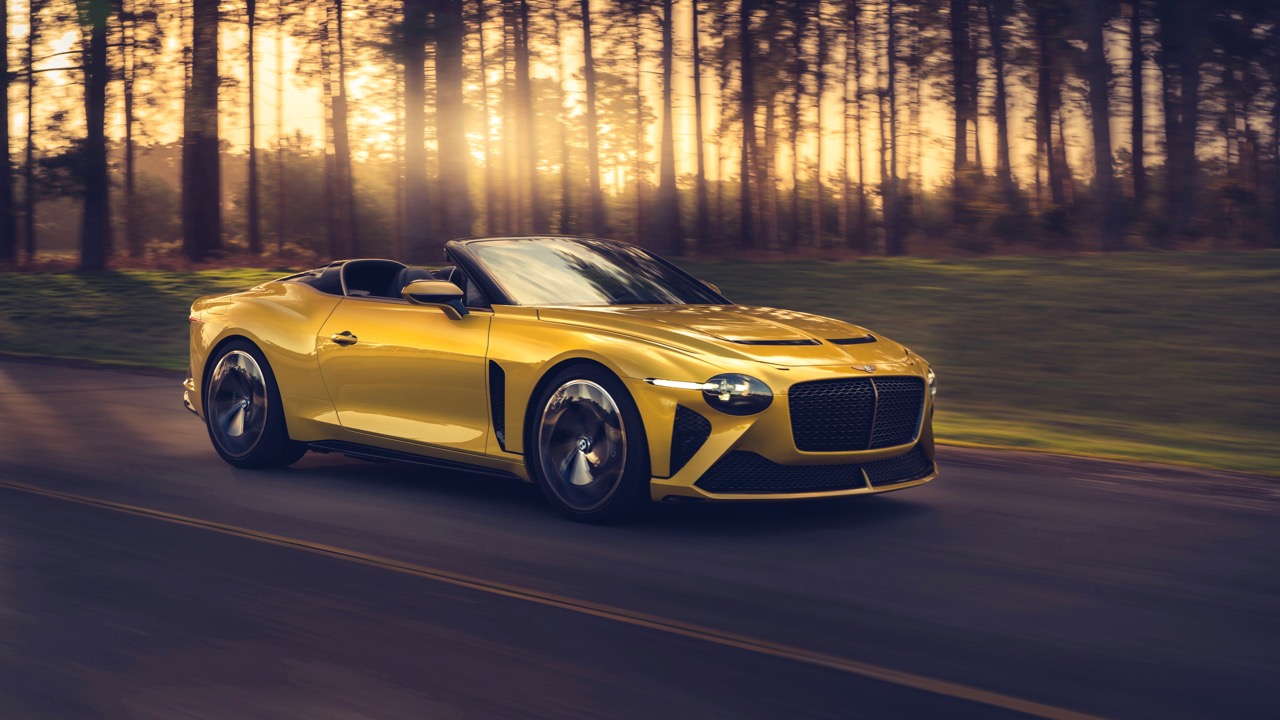 Bentley Bacalar signals coach-built future for Crewe
Bentley Mulliner has surprised the public with a concept-car-come real in the shape of this beautiful Bacalar. Bentley says this vehicle signals a return to Crewe's bygone era of bespoke, coach-built vehicles.
A grand total of twelve Bacalars are to be built at quite a cost – nearly AU$3 million – and each one will be tailored to meet the customer's exacting specification.
That tailoring includes a dizzying array of interior colours, materials and embroidery, an infinite choice for paintwork to individualise the Bacalars to the nth degree.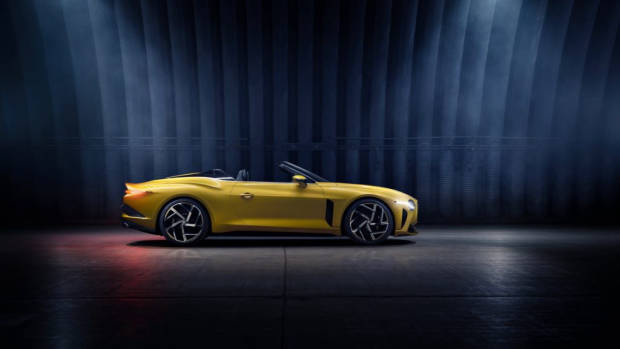 It's safe to assume that whatever combination of colours customers opt for, the car will be conspicuous. The snout of the Bacalar appears stretched sharply around its gaping honeycomb grilles. It's barely reminiscent of its Continental GT stablemate.
Circular headlights slice into indicators elongated down the vehicle's strakes, however, it's the rear end that's most striking. A rear lip rising to such an acute point, the double-bubble detail a reference to racers from a bygone era, we love how it looks even in this bright yellow, which seems to be the go-to for limited editions at both ends of the market.
No, the Bentley Bacalar isn't the most restrained example of vehicular design but it won't get lost in a crowd. Available exclusively in this 'Barchetta' body style Bentley says it is "The ultimate expression of two-seat, open-air luxury".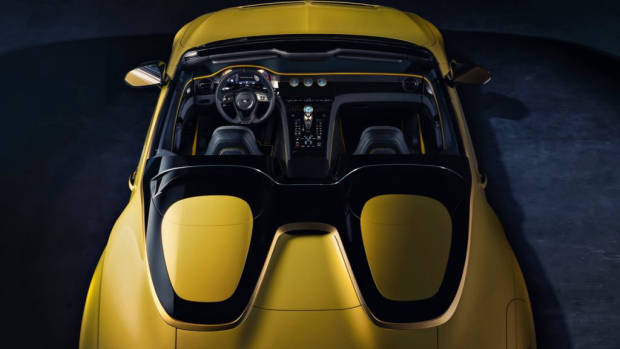 There is more to come, says Bentley, the Bacalar signals the "future of bespoke, luxury motoring" in this world where even the most exclusive supercars are considered too samey the Brits want to reintroduce true individuality.
It's with slight irony that the proliferation of platform engineering has made the Bacalar viable again. Just like in the 1940s different bodies can be grafted around the same chassis, though this time a sophisticated monocoque in place of a steel ladder frame.
Power for the Bacalar will exude from a six-litre W12 engine offering waft-worthy outputs of 484kW and 900Nm sent to all four wheels via a rear-biased system to keep pilots happy and out of strife.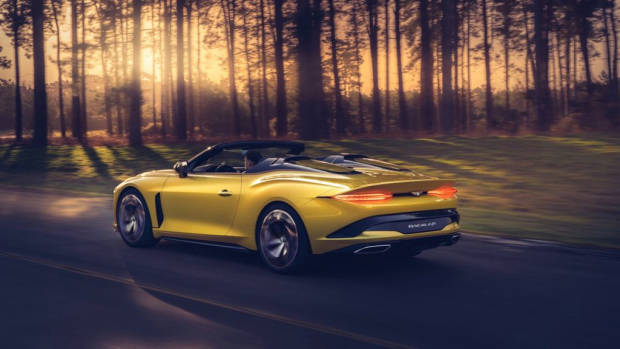 While we may associate the W12 engine with copious hydrocarbon consumption Bentley are touting green credentials for the Bacalar.
It's to be produced in the "world's first carbon-neutral factory for luxury cars" based in Bentley's home, Crewe. The brand substantiates the claim with an array of on-site solar panels and using 100% renewable providers.
More than just power used to manufacture the Bacalars, Bentley looked to sustainable materials in construction with paint utilising ash from rice husks for a deep metallic sheen, British-sourced wool for the interior and 5,000-year-old Riverwood trim inserts.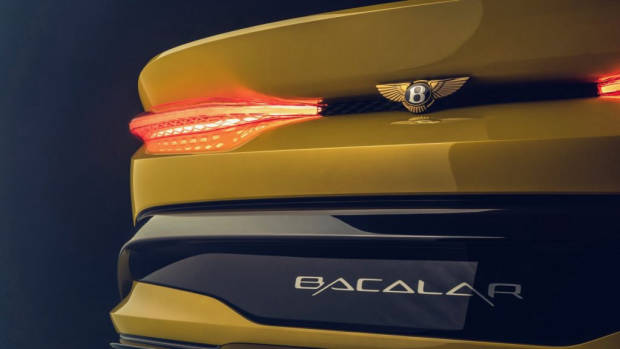 Although to us it sounds like sourcing wood from a 5,000-year-old forest might not be that sustainable, we appreciate it is more so than producing bulk loads of piano black plastic.
Expect the interior to be a seriously sumptuous place to be, though the design and style choices on this vehicle pictured will appeal to a younger Bentley buyer.
We can picture the spec of a Bentley aficionado working just as well, though, a classic British Racing green over tan leather with dark brown wood inserts? Yes, please.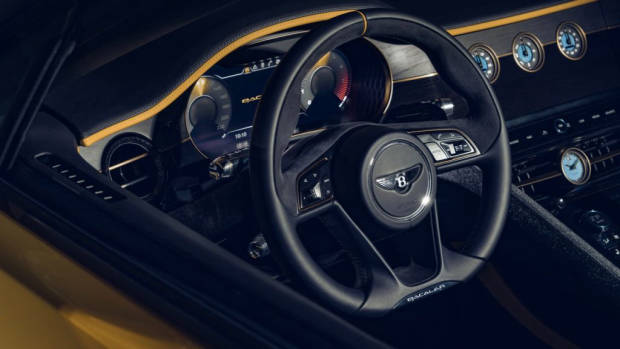 By the time you're reading this, it's unlikely any Bacalars will be still available, though this is the canary down the coal mine for the kind of coachwork Bentley Mulliner has in its future and we can hardly contain ourselves.
Read more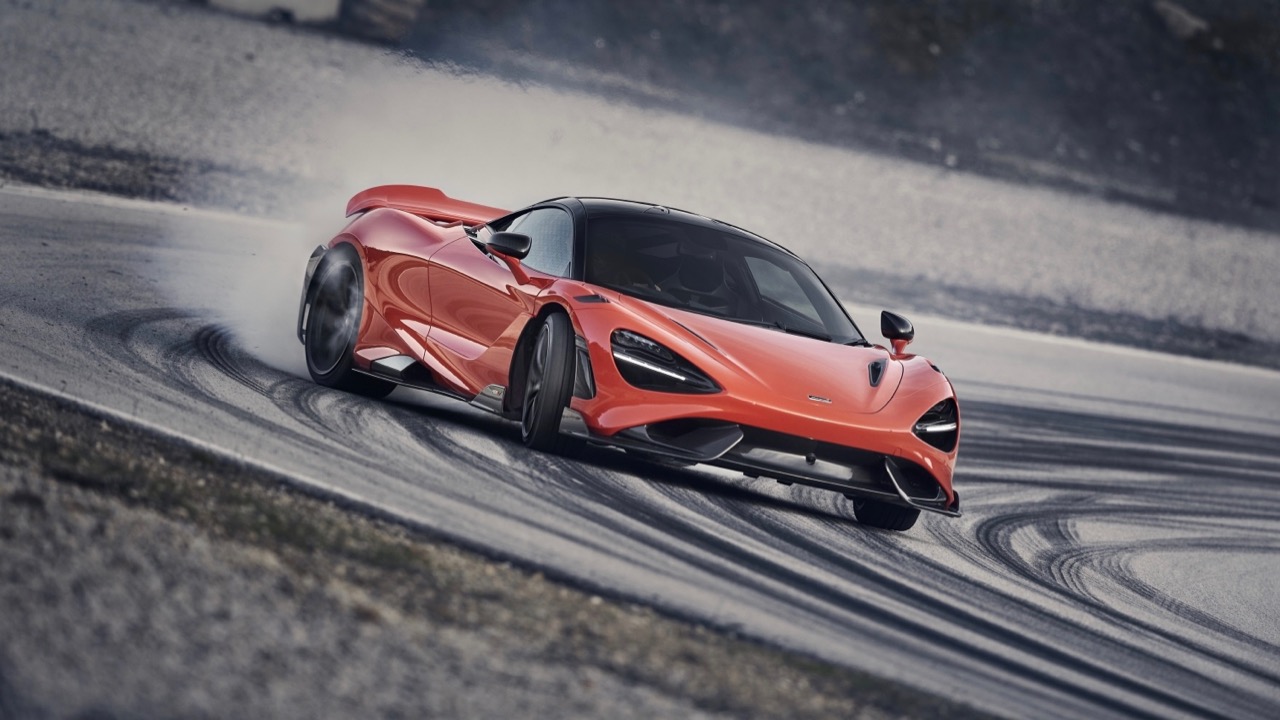 McLaren reveals 765LT with a long tail and oomph to spare
McLaren's latest super series car, the 765LT, promises to be both vicious and exclusive. And you could be forgiven for thinking that Woking simply threw the previous 675LT name into a game of Boggle and hoped for the best.
But no, that number is courtesy of McLaren's M840T four-litre, twin-turbo V8 that first appeared in the brand's 720S revised to make, well 765ps – 563kW to us Australians – and 800Nm of torque.
McLaren claims this engine has roots in the beloved 90s F1 GTR Longtail featuring racecar tech including a flat-plane crankshaft which is lighter and allows a higher rev limit.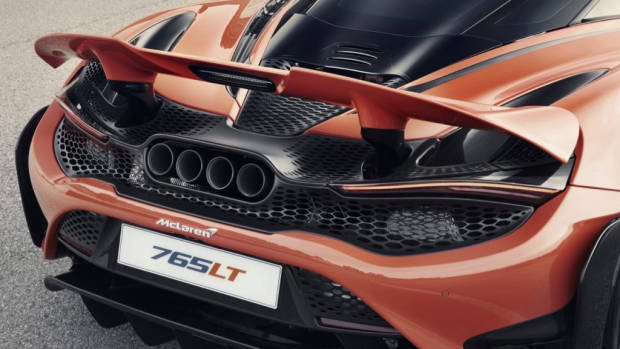 The 765LT will also employ a dry-sump oil system to keep the engine lubricated on the track.
Revised gear ratios arrive for the seven-speed sequential gearbox which McLaren claims to improve in-gear acceleration by 15 per cent compared to the 720S.
Performance stats are no less than respectable – 100km/h is dispatched in 2.7 seconds (identical to the 992 911 Turbo S) but the 765LT will soldier on to 200km/h in an astounding 7.2 seconds.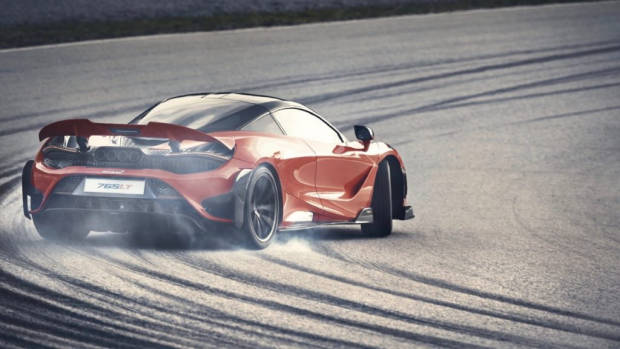 But, McLaren stands for more than straight-line statistics, and the 765LT makes some serious aerodynamic claims. By elongating the front splitter and extending the rear wing, McLaren says the 765LT will develop 25% more downforce than the 720S.
Drivers will be able to activate the rear wing with the cool-sounding Aero button in the interior and there's a drag reduction system (DRS) lifted straight from Formula One that activates under full-throttle travelling dead-ahead.
It seems an odd thing to say about suspension set-up, but McLaren has "optimised the algorithms" for the 765LT's hydraulically controlled suspension system with thanks to learnings from the Senna and Speedtail concept.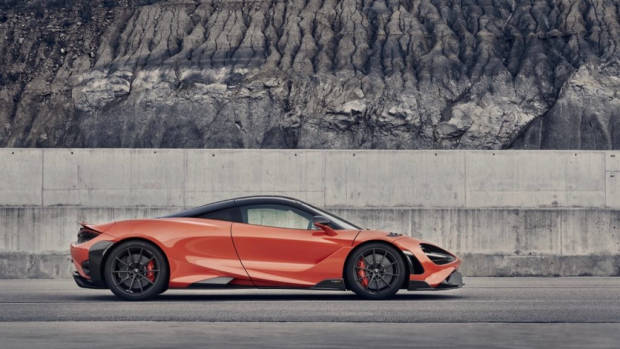 Since McLaren's first sports car, the MP4, was knocked down for chasing pure speed and control, Woking has been toiling to add driver feedback and involvement back into the 765LT.
That engagement comes partially from the flat plane crank and stiffened engine mounts but also by adding lightness. A program that has seen extensive carbon fibre use – obviously being a McLaren there's already a carbon tub.
But chief engineer James Warmer says the team managed to nitpick 1.5 kilograms from the suspension's helper springs, a further 1.4kg from a lightweight transmission tunnel and carbon fibre fenders that save 1.2kg.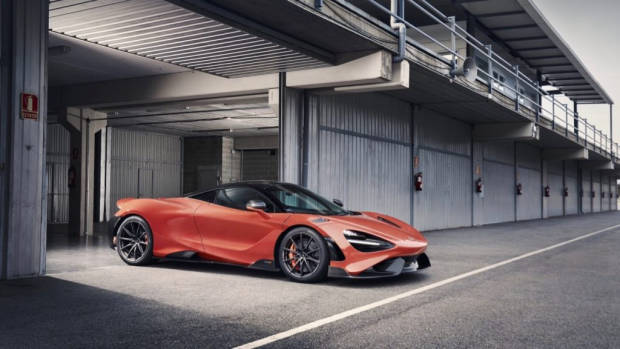 Despite the extra 50mm of length and extra aero kit, this fastidious weight weenie-ism has saved 80kg compared to a 720S coupe for a kerb weight of 1,339kg, lighter than a Civic Type R.
The Woking philosophy certainly prioritises function over form and while the 765LT doesn't exercise restrained beauty like Italian counterparts it's still a striking vehicle. The extra length over the 720S has it appearing caricature-like as though it was just ripped from a Hotwheels packet.
A staggered set of 19-inch front and 20-inch of lightweight wheels add to a shape that looks like it was honed in a wind tunnel rather than in clay.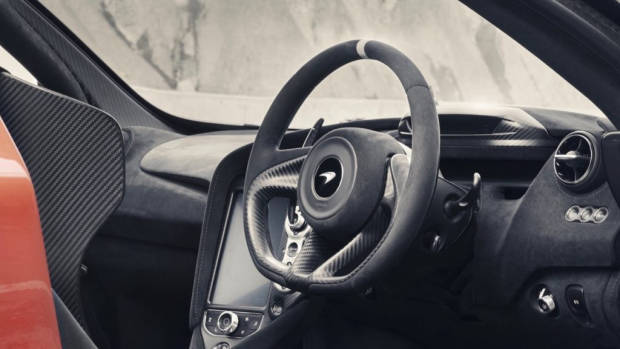 A spartan interior heavy in alcantara and carbon tops off the experience; one that is designed to offer maximum speed and thrills on the track.
McLaren has not detailed pricing for any market, though assume it will be out of reach of most buyers and north of $650,000 before on-road costs in Australia. A man can dream, though.
Read more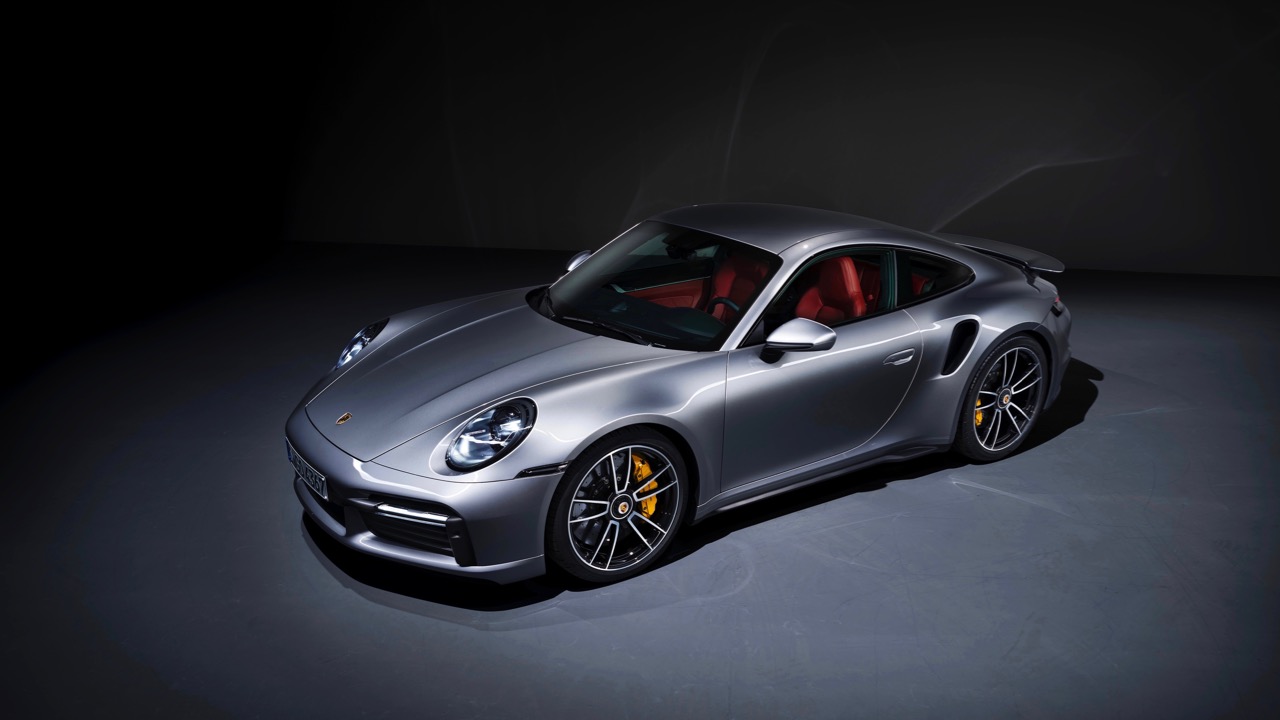 The Porsche 992 Turbo S will be gorgeous and brutally quick
Porsche's latest 992 generation 911 has proven a venerable competitor in base Carrera and Carrera S specification, though naturally, Stuttgart has added a range-topping Turbo S 911 which promises even more insanity.
It's no secret that 992 generation cars are turbocharged but Porsche has assured us this won't soften the historically bananas 'Turbo' monikered car.
Performance figures suggest they're not wrong, either. A 911 Carrera S will sprint from 0-100km/h in a very respectable 4.0 seconds. For context, A Ferrari Laferrari will reach the same velocity in 2.7 seconds, identical to this 992 Turbo S.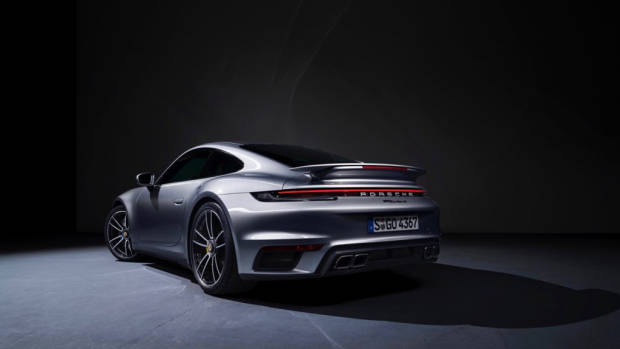 Yep, that's right, you could comfortably drive to work in a Porsche that's as fast as a $3 million Ferrari.
The 992 Turbo S will go on to 200km/h rather easily, too, Porsche claiming an extraordinary time of 8.9 seconds.
Porsche will be competing in the exclusive super car market against the BMW M8, Bentley Continental and Audi R8 V10.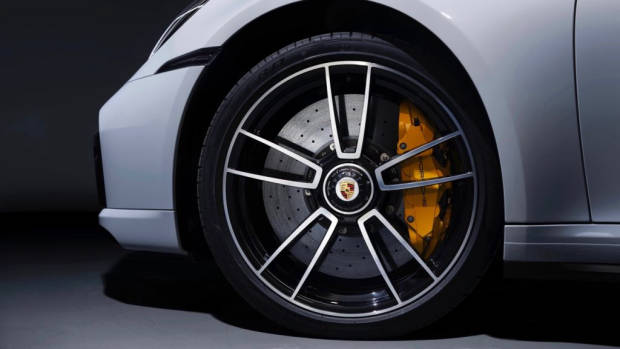 These have always been traits of the 911 Turbo, but the latest 992 achieves it with an all-new 3.8-litre twin-turbo flat-six engine with outputs of 478kW and 800Nm, up 51kW and 50Nm from the 991 Turbo S.
Porsche has redesigned the intake to provide stronger air charge, with high tech Piezo injectors to improve power, efficiency and responsiveness. Turbo size has increased to 55mm and 61mm.
Power will be sent to all four wheels via a Turbo S specific eight-speed dual-clutch gearbox and top speed is a staggering 330km/h, just don't attempt to reach that in Australia.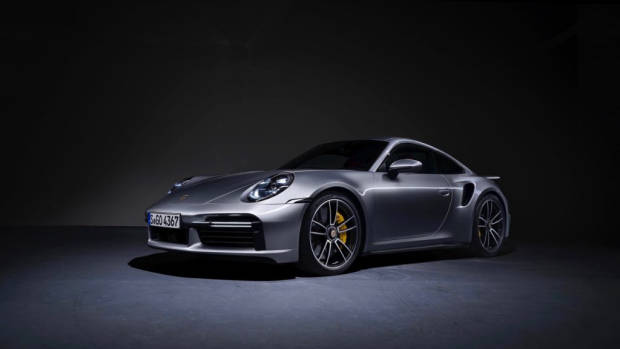 Although all 992-gen 911s are widebodies, the Turbo S is fatter again. Swelling by 48mm to 1,900mm wide to accommodate greater track width to harness the prodigious outputs.
A staggered set of alloys make an appearance – 20-inch at the front wrapped in 255 wide tyres, with 21-inch rear wheels shod in monstrous 315/30 section rubber.
And yet, the 992 Turbo still looks demure, it's not some bewinged racecar, no, the Turbo S is a vehicle that you would be comfortable picking your grandma up for lunch in. There's a beauty to the restrained yet bulging lines of the car, purposeful but without shouting about it.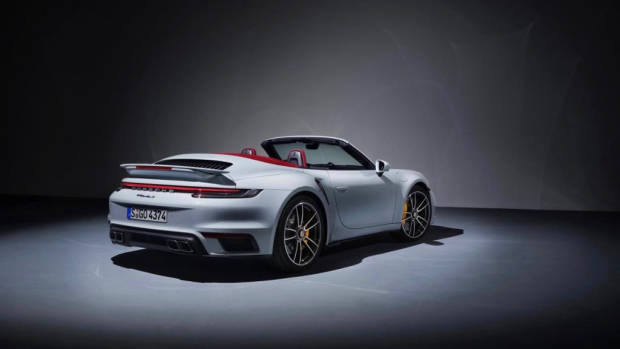 If you are about the wings and canards, we're sure the 992 GT3 isn't too far away, though that retractable spoiler is said to provide 15 per cent more downforce.
Standard equipment for the Turbo S is decent as you might expect with 18-way adjustable leather-appointed seats, a 10.9-inch central touchscreen, Bose stereo and Sport Chrono pack.
The interior is a real leap forward from the heavily-buttoned 991 gen car, too. Porsche relying on the touchscreen infotainment system instead of buttons for the lion's share of functions.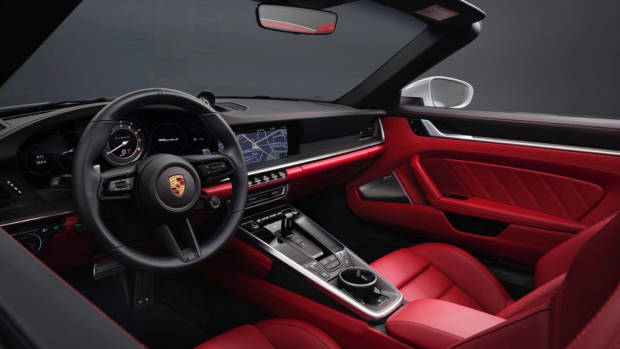 Naturally, Porsche will accommodate just about any need you have with Porsche Exclusive Manufaktur options that allow the choice of two-tone leather, specific trim inserts, embroidered seats and more.
Available in Coupe or Cabriolet, the 992 Turbo S is set to continue in providing the hallmark combo of comfort and barbaric turn of speed.
Pricing is not yet detailed but we expect the Coupe to start north of $460,000, the Cabriolet $480,000 before on-road costs. Yeah, that's expensive, but what else can sprint as fast as a Laferrari?
Read more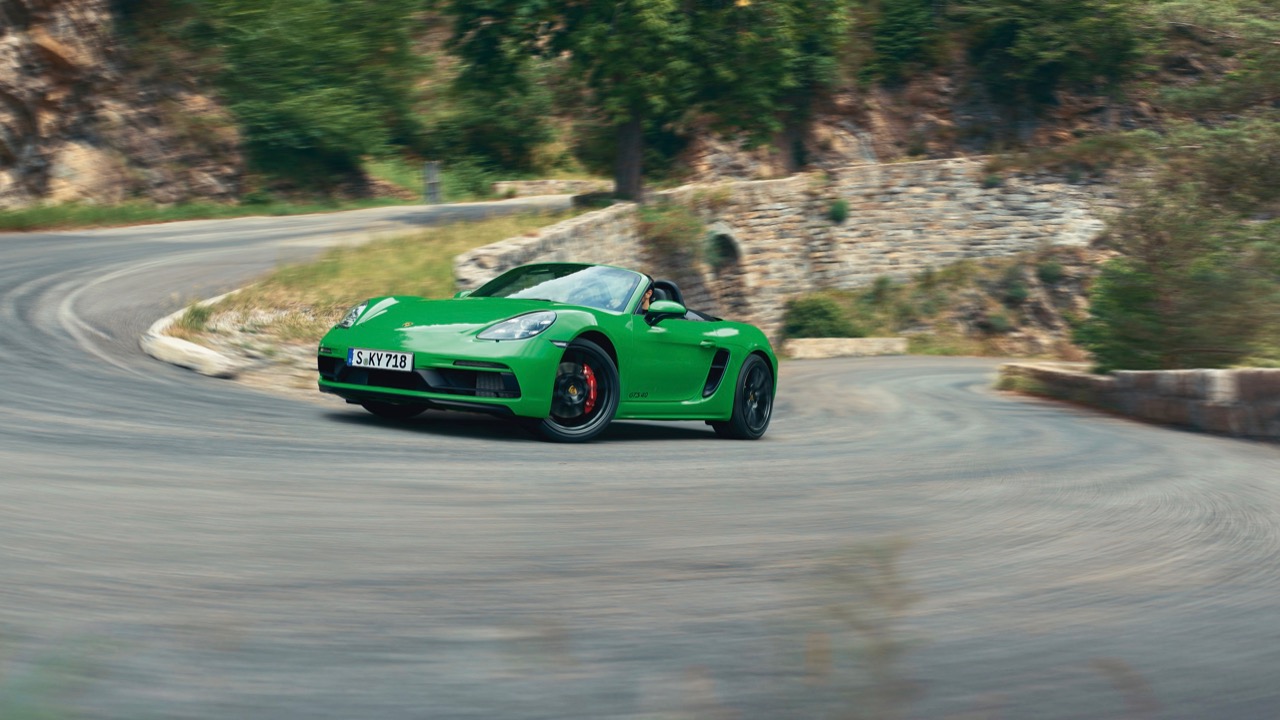 Flat-six makes triumphant return in Porsche 718 GTS pair
Consumers and journalists were shocked when Porsche's latest 718 Cayman and Boxster were launched with a selection of turbocharged four-cylinder engines. Although they provided more than adequate punch, it was clear that they could never measure up to the visceral qualities flat-six of earlier iterations.

The 2020 Cayman GTS 4.0 will start at $172,400 (driveaway price not yet available), with the Boxster slightly dearer at $175,200 (driveaway price not yet available). Naturally, that price will shoot up after a glance at the options list.

As for competitors, the premium the GTS commands over the regular Cayman takes it out of reach of the Alpine A110S and BMW M2 Competition, though it should provide a more scalpel-like steer than a Jaguar F-Type or BMW M4.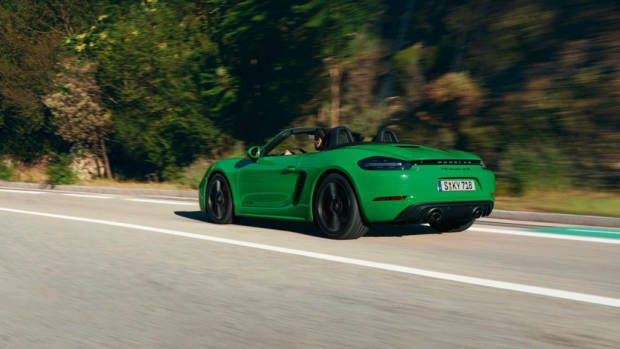 In 2019 Porsche launched a four-litre flat-six engine that sat in the middle of the Cayman GT4 and convertible Spyder. For 2020, both 718 GTS will feature a detuned example of that four-litre flat-six.

For 2020 the entry-level 718 Boxster and Cayman will keep the two-litre flat-four with outputs of 220kW/380Nm, with the S models retaining the same cylinder count but with extra displacement, that 2.5-litre engine producing the same 257kW and 420Nm.

Where the GT4/Spyder pair produce 309kW and 420Nm as they storm towards their 8,000rpm red-line, the 718 GTS will spin to 7,800rpm and produce slightly less power – 294kW – but an identical torque figure.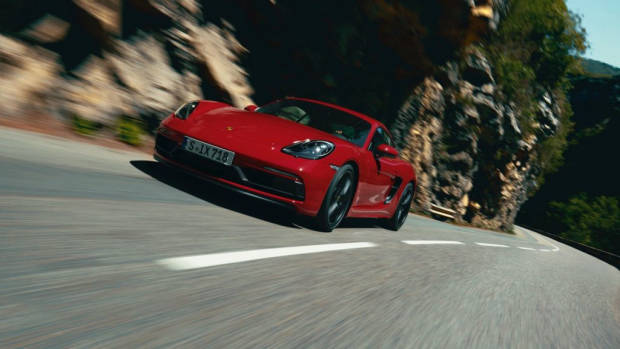 And yet the new 718 GTS 4.0 is slower than the outgoing 2.5-litre turbo car, manual for manual the 2019 GTS will scramble to 100km/h in 4.4 seconds, the new car manages the same sprint in 4.5 seconds.

Although the new four-litre lump should provide a much more scintillating experience, a redline that close to 8,000rpm is something to celebrate in the world of constricting emission standards.

Boy, the 718 looks good, it's just such a classic shape that cuts through the traffic inundated with swollen SUVs and dual-cabs. The 718 GTS pair gets sportier front and rear bumpers and a set of staggered black 20-inch alloy wheels shod in sticky Pirelli rubber.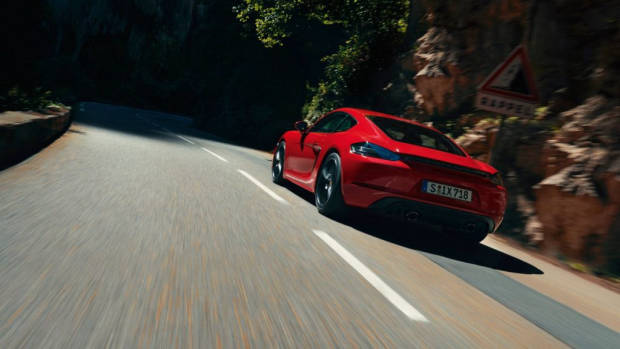 Inside the 718 is an experience, the low-set Alcantara seat is surrounded by the rising centre console, stubby manual gearknob and a centrally mounted touch screen display. In classic Porsche fashion, there are plenty of hard buttons too, we like it.

As with the rest of Porsche's range, the GTS offers a value pack; cherry-picking all the must-have sporty options for the 718 'S' models. That means standard Sport-Chrono pack, PASM, 20mm lower suspension, active drivetrain mounts, torque vectoring and the must-have mechanical LSD.

Australia will see a high level of specification including heated seats and steering wheel, dual-zone climate control, hard to imagine that being optional on a near $200,000 car, auto-dimming mirrors, Apple CarPlay and Android Auto, active headlights and reversing camera.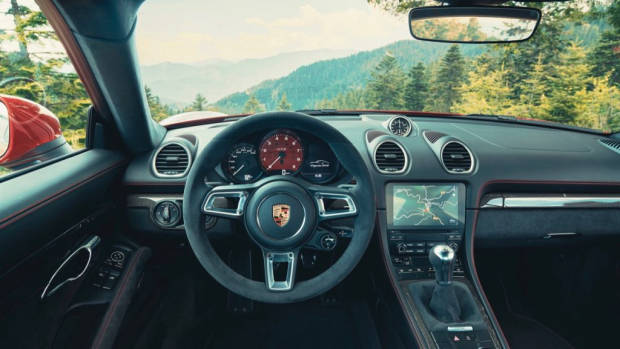 We're happy to see Porsche returning to their six-cylinder strength with the new GTS, even if it is a slightly slower way to dissect a backroad.

Porsche is taking orders now for the 718 GTS with cars due to arrive mid this year.
Read more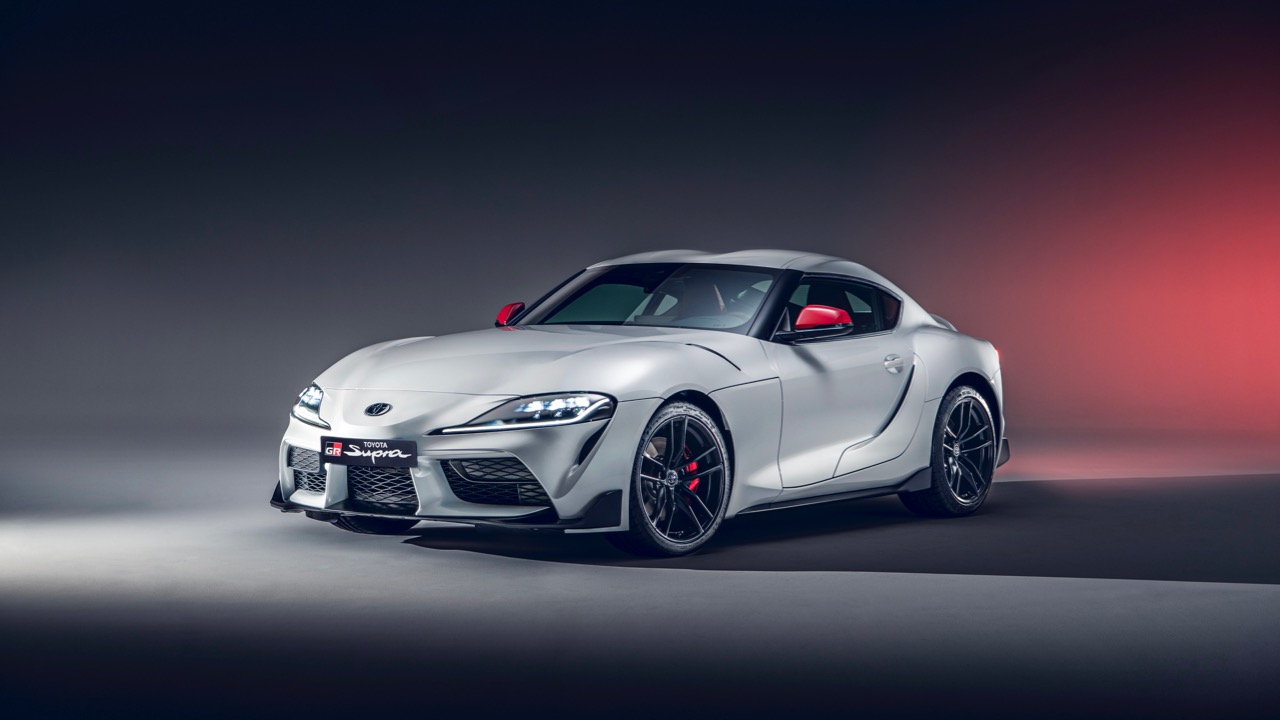 GR Supra gets four-cylinder option, Australia unlikely
After being mentioned at the launch of the A90 generation Supra, Toyota has detailed an entry-level GR Supra replete with the same exciting exterior design but a four-pot where six-cylinders sat before. Sadly it's unlikely the new variant will make it downunder.
A four-cylinder Supra variant will arrive at a more affordable price to do battle with less focussed sports coupes. Think of the BMW 2 Series and Audi TT, but it will also offer a stepping stone for current 86 owners.
This isn't the first time Toyota has offered a lesser Supra, the 90s A80 generation is best known for fire-spitting, 1,000hp antics courtesy of a twin-turbo 2JZ engine, but it's easy to forget the four-speed slushbox and uninspiring aspirated engine of the base model.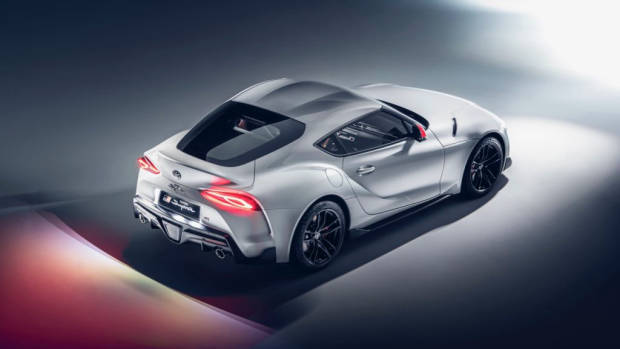 Sadly, Toyota Australia confirmed there are currently no plans to introduce the four-cylinder which we reckon is a real shame with the value proposition of the base model.
BMW's range-topping Z4 M40i lists for $111,160 ($135,443.80 driveaway) and shares a drivetrain with the Supra GT. The new four-cylinder Supra borrows the engine of the $98,121 ($114,276 driveaway) Z4 sDrive 30i.
That's a $13,000 difference between four and six-cylinder Z4s, by applying that logic to the $84,900 ($91,771 driveaway) GR Supra GT, the new four-cylinder variant would end up around $75,000.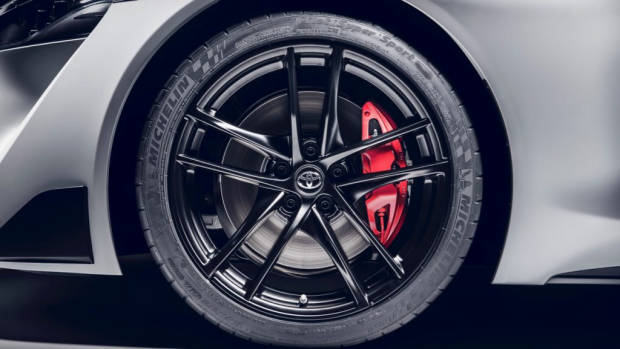 That's a lot of unique sportscar for the money in our book. It's not like BMW's four-cylinder is a slouch either.
Courtesy of a twin-scroll turbocharger the two-litre B48 boasts outputs of 190kW/400Nm and a 0-100km/h time of 5.2 seconds. Admittedly, that's nearly a second slower than the B58 equipped Supra, but only half a second behind a BMW M240i.
Power will be transferred to the rear-wheels only via an eight-speed ZF automatic – not a bad 'box by any means, but we would love to see a manual for greater driver involvement.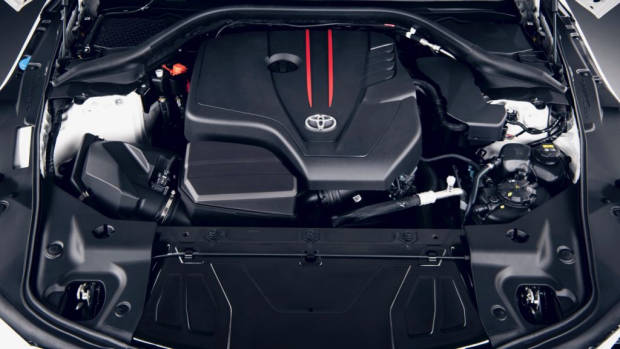 The GR Supra already has a pretty tenacious front end and by swapping to BMW's B48 four-cylinder the Supra drops 100kg. Most of the weight is lost from the front end, too, improving to a perfect 50:50 weight distribution. You can see just how far back the diminutive engine sits, too.
The global specification starts with the base live variant that will deliver a no-frills Supra experience. An 8.8-inch screen has by BMW's old iDrive system, a four-speaker sound system and Alcantara seats complete the interior.
In rather German fashion there are option packs for the supra four-cylinder; the connect packs adds a navigation system and connected apps.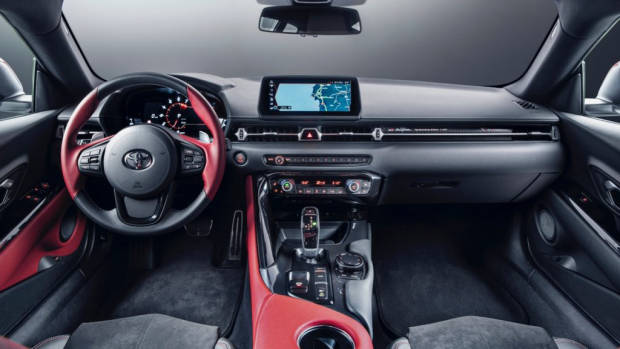 The premium pack mirrors the Australian GTS specification so, naturally, a 12-speaker JBL stereo, wireless charging, storage nets, leather-appointed seats and a head-up display are found inside.
But it's the sport pack we're most excited about; with an active LSD, adaptive suspension and a set of uprated brakes this may be a very compelling package.
Pictured here is the Fuji Speedway edition, a variant that cherry-picks the good option packs – connected and sports – a pearl white hue, larger 19-inch alloy wheels, red mirror caps and carbon interior appointments.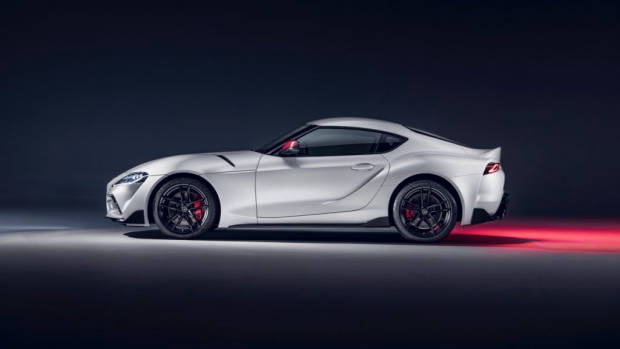 A more affordable Toyota Supra with a more tenacious front end, lighter overall weight and better fuel consumption sounds pretty enticing to us.
The two-litre GR Supra will go on sale globally in March this year. If Toyota Australia does bring the four-cylinder to Aus we reckon there is real sales potential.
Read more