Search Results for ""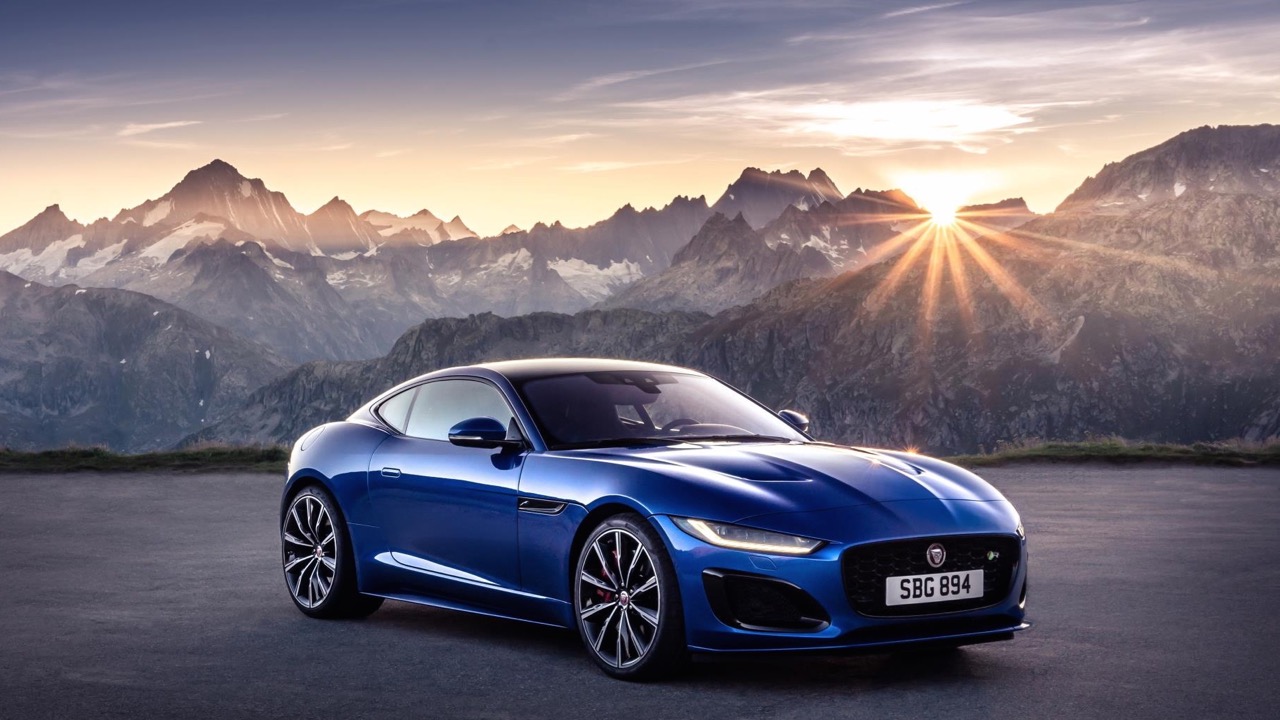 Jaguar Updates Stunning F-Type, simplifies Aussie Line-Up
The Jaguar F-Type has received a comprehensive update coming into its seventh year of production with fresh styling outside and in, a simplified model range and no manual option. Underneath the beautiful Jag remains broadly similar, though the British brand says they've reworked the suspension for more control and consistency.
Jaguar has one of the widest spread model lines with the F-Type, spanning from BMW Z4 and Audi TT rivalling four-cylinder $126,400 (driveaway pricing not yet confirmed) coupe and convertible, right up to the range-topping $263,300 (driveaway pricing not yet confirmed) F-Type R, with which Jag will take on the venerable Porsche 911 and BMW 8 Series.
With the original F-Type being lauded as one of the best looking coupes in recent history Jaguar's designers were faced with a tough task with this update. Thankfully, in our eyes at least, they've only made it better.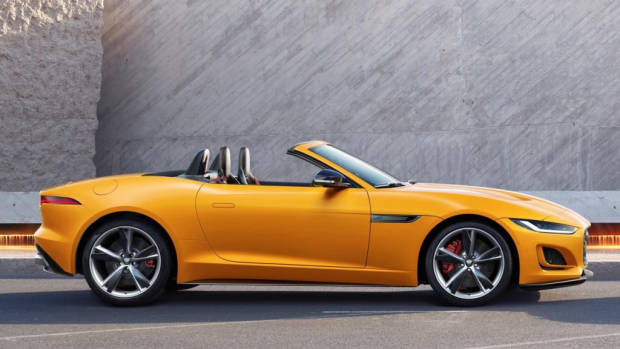 Overall there are many cues in the updated F-Type end reminiscent of Ian Callum's achingly handsome Jaguar CX75 concept.
Most notable is the updated front end, the grille is now set deeper into the bumper and the whole front end has been modernised with standard LED headlights. The 'liquid metal' shaping of the bonnet flows more organically into the snout, simplicity wins again.
From the rear quarters and profile the core F-Type shapes remain intact, subtle updates in the form on new LED taillights and retractable door handles lift the design overall, but we're glad Jag hasn't messed with what was already near-perfect.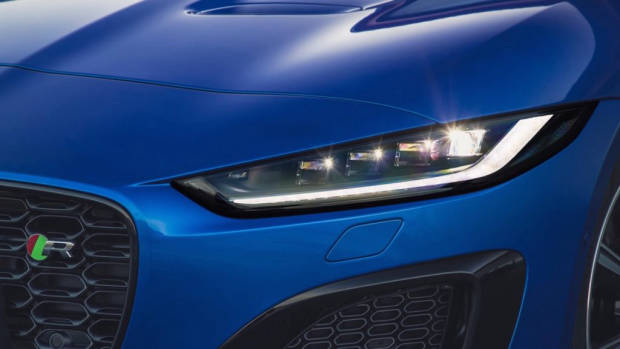 Jaguar has also left the engine choices largely in-tact while simplifying the slightly dizzying line-up. The core options remain, beginning with the entry-level two-litre Four-cylinder turbocharged motor, producing the same 221kW and 400Nm sent to the rear wheels only via a ZF eight-speed transmission.
No manual is available on any F-Type any more, much to our dismay, but realistically the ZF 'box is so good it does make sense for sales.
The next most powerful engine is a carry-over three-litre supercharged V6 with outputs of 280kW and 460Nm, this is probably our pick of the bunch. It's now rear-wheel-drive only with a limited-slip differential as standard, it should see the F-Type dispatch the 0-100km/h sprint in 5.1 seconds.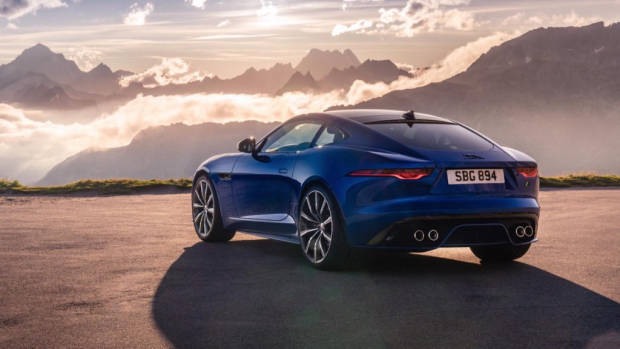 Headlining the range is the wrathful five-litre supercharged V8, but it's tweaked for even more power. In fact, it's the same engine found in the outgoing SVR model, with 423kW and 700Nm – up 18kW and 20Nm – with drive going to all four wheels, promising 0-100km/h in 3.7-seconds and a top speed of 300km/h.
All engine variants have switchable exhausts, with the V8 featuring a quiet-start mode, so you don't set the neighbour's dog off in the morning. This, however, can be overridden if you don't like the people you share a street with by selecting the dynamic mode, the pops-and-crackles apparently remain in full force.
A refreshed suspension tune comes along too, including stiffer ball-joints, knuckles, retuned dampers, spring rates and anti-roll bars specific to each model. The F-Type R also gets new-design 20-inch alloy wheels.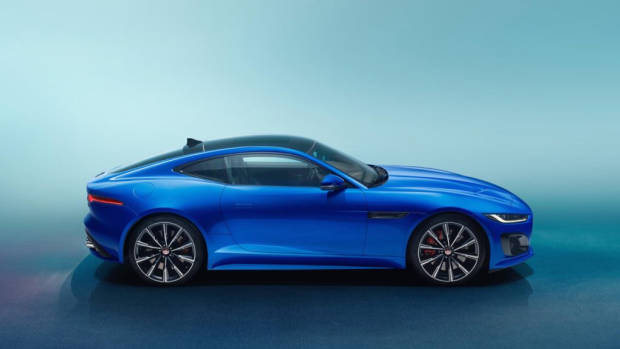 Standard 380mm and 376mm front and rear brake discs are specified on the F-Type R, though it can be specified with carbon ceramics with yet bigger 398mm and 380mm rotors respectively.

Inside the F-Type gets updates across the range, with a new 12.3-inch configurable digital instrument cluster, touchscreen infotainment system with corded Apple CarPlay and Android Auto, wireless system updates and Meridian sound system as standard. The exact specification for all models can be found on Jaguar's website.
There is one model that deserves a look in-depth, that's the First Edition. Offered with the supercharged V6 for one model year only this specification includes five-spoke 20-inch wheels, 12-way Windsor Performance Leather seats, instrument cluster wrapped in Alcantara, aluminium gearshift paddles, and a Suedecloth headliner.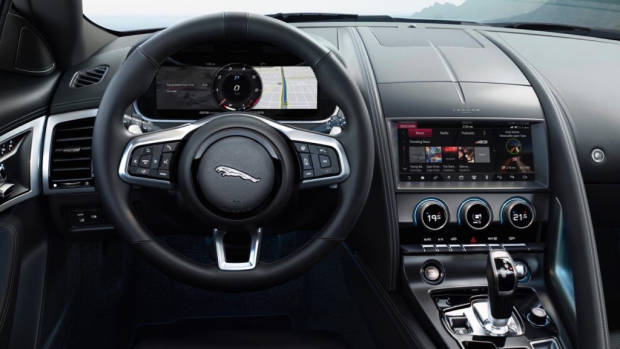 That specification will be available exclusively in a choice of Santorini Black, Eiger Grey or Fuji White hues, there are a total of twelve standard colours and sixteen special SVO pants.

The F-Type is on sale in Australia now, we'll be looking to get our hands on an example to see how the updates work on our roads.
2020 F-Type Pricing

All prices are before on-road costs

F-Type R-Dynamic Coupe four-cylinder $126,400 (up $4,758)
F-Type R-Dynamic Coupe V6 $173,100 (up $4,758)
F-Type R-Dynamic Convertible four-cylinder $145,100 (up $4,758)
F-Type R-Dynamic Convertible V6 $191,800 (up $4,758)
F-Type First Edition Coupe V6 $205,300 (new model)
F-Type R Coupe V8 $263,300 (up $10,458)

Read more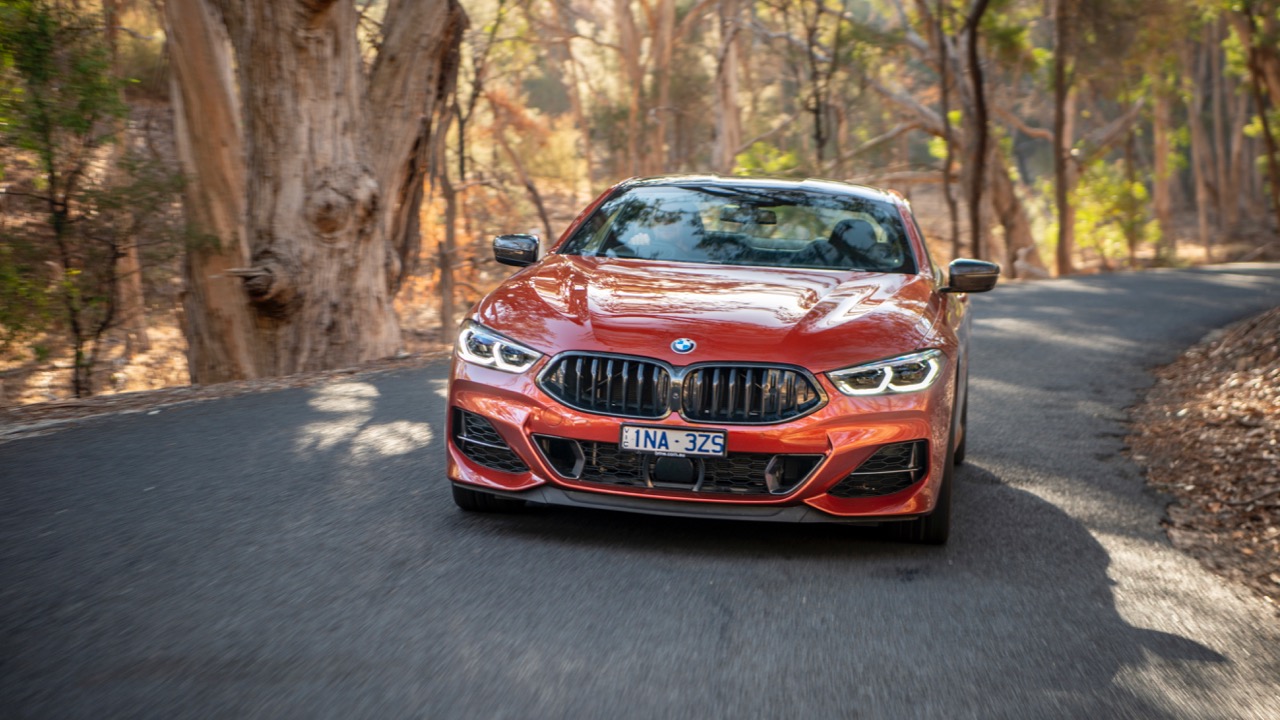 BMW drops 8 Series price of entry with six-pot 840i
BMW has announced specifications and pricing of new entry level 8 Series, the 840i, which will be available in both coupe and convertible body styles. The 840i is a grand touring sports car aimed to compete with the recently announced Porsche 992 911 Carrera and fastest Jaguar F-Type models.
Pricing for the 840i starts at $202,900 (driveaway pricing not yet available) for the coupe, and $217,900 (plus on-road costs) for the convertible, bringing the entry fee to BMW's 8 series ownership down significantly from its big brother, the M850i xDrive (reviewed here), which starts at $272,900 ($291,500 driveaway).
BMW continues to grow the 8 Series range, with details also confirmed this week for the four-door 8 Series Gran Coupe, available in the same 40i and 50i drivetrains. At the other end of the range, the full-fat M8 coupe and convertible are slated to be revealed at next month's Frankfurt motor show.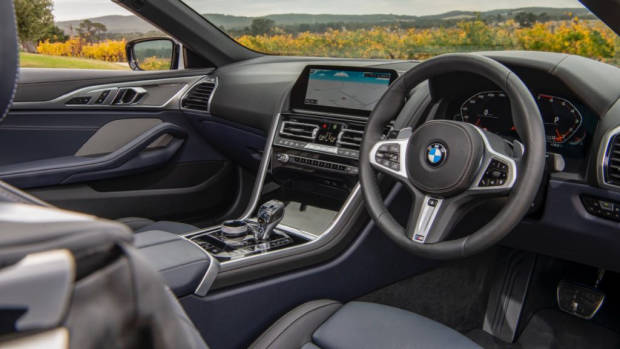 Unlike the original E31 generation 840i, there is no 4.4-litre V8 this time around. This second-generation 840i utilises a turbocharged in-line six. This is the same N55 engine found in BMWs other '40i' variants where it offers smooth and solid performance.
Power is sent to the rear wheels alone via an eight-speed torque converter automatic gearbox. Maximum outputs in the 840i are 250kW and 500Nm allowing the car to complete the 0-100km/h sprint in a respectable 5.0 seconds (or 5.3 for the convertible) – 1.3 seconds slower than the 850i xDrive's 3.7 second dash.
Standard equipment is generous on the 840i. Included in the price are wireless phone charging, park-assist, digital dashboard, 10.25-inch touch-screen display with BMWs 7.0 OS, full leather interior, and heated/ventilated front seats. BMW's active driver assists are all included as standard on the 840i, as are 20-inch alloy wheels.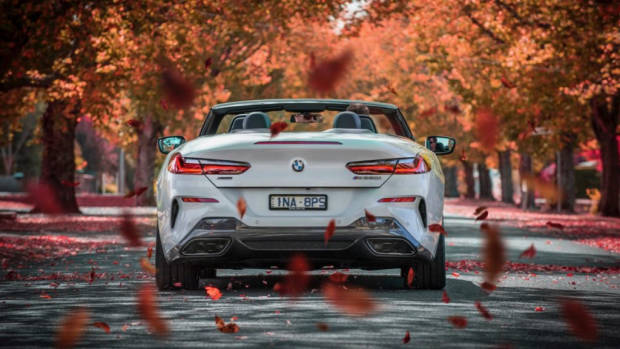 Those seeking a more supportive driving position can option M Sport seats, now a range-wide option for the 8 Series, for $2,600, and an M-sport package for $3,900 ($3,400 for the convertible) which includes bigger 395mm front brake rotors, a tyre-pressure monitoring system, rear spoiler, and M Sport seat belts.
We were impressed with the M850i xDrive when we drove it, so expect the 840i to be a good performer combining a slightly lighter six-cylinder engine and pure rear-drive dynamics The 840i will be available in Australia in September 2019.
Read more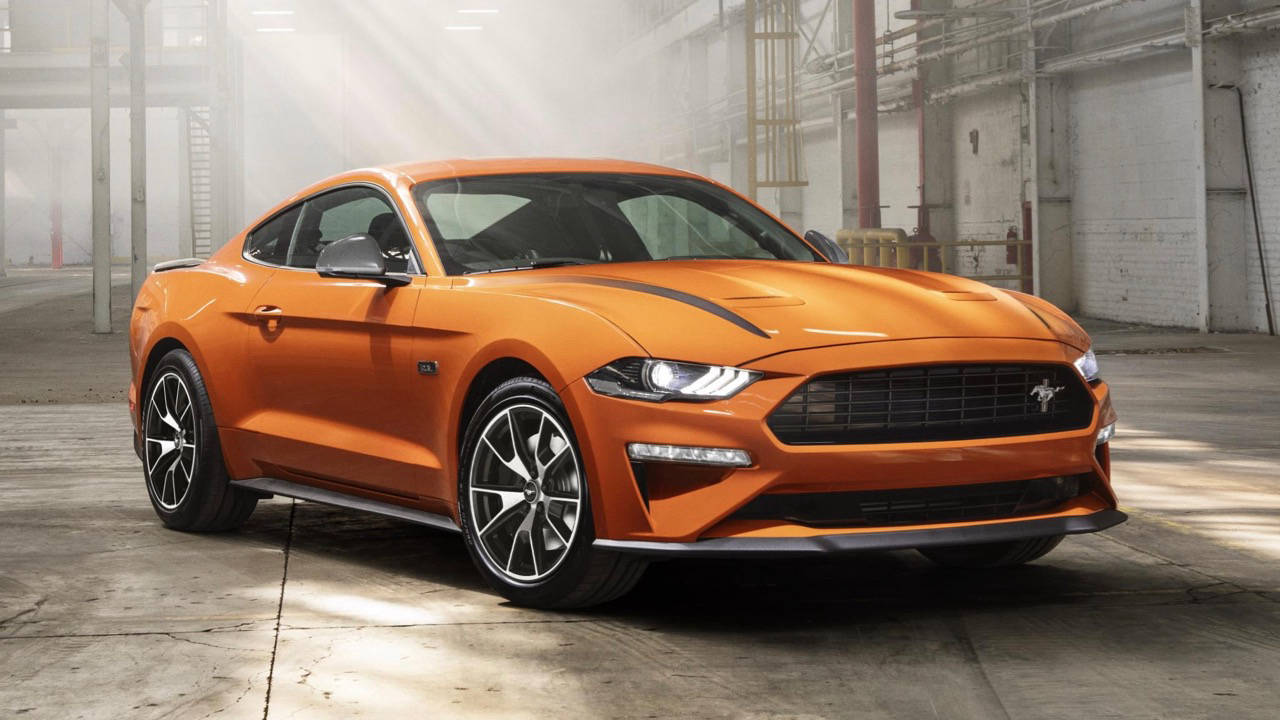 Turbo-four Ford Mustang updated, renamed High Performance
Ford has announced some key details of the 2020 Mustang High Performance 2.3L which is slated to offer a sportier drive than the current Ecoboost but retain its fuel-sipping abilities. 
The 2020 Ford Mustang High Performance, as the turbo four will now be known, receives a revised 2.3-litre turbocharged four cylinder that produces 236kW/448Nm, a 12kW and 7Nm increase over the current Ecoboost model thanks to a larger 63mm turbocharger. Ford is claiming a flatter power and torque curve, with 90 percent of the maximum torque being produced between 2,500-5,300rpm, and power holding stronger to the 6,500rpm redline.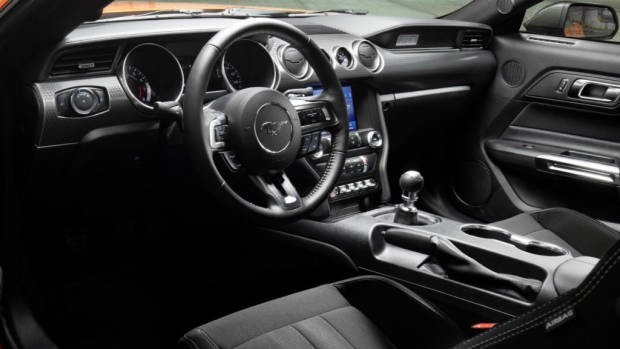 The high performance engine puts power down better due to a shorter final drive and revised gear ratios that should make the High Performance easier to keep on the boil. The High Performance Mustang can (thankfully) still be optioned with a six speed manual in the fastback body, though the convertible is only available with the 10-speed torque-converter auto. 
To suit the new High Performance nomenclature, the 2020 model has received suspension revisions which include thicker front and rear anti roll bars, and a new suspension tune with optional magnetic dampers. To complement the suspension tweaks Ford have specified the Mustang with sticky Pirelli P Zero Corsa tyres which should give an additional handling edge.
The High Performance isn't all about going fast, though. Ford have increased the capacity for customisation, with new 'heritage' colours and more generous standard equipment. With "bold colour choices" available, the 'Twister Orange' hero colour pictured is certainly striking. Borrowing the Mustang GT's grille and splitter along with unique bonnet vents makes this four cylinder more aggressive looking than ever.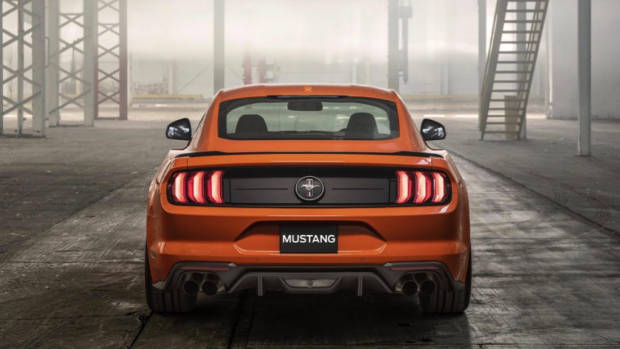 The High Performance has several updates inside, with a 12.4-inch digital dashboard, and 8.0-inch in-dash colour display with Apple Carplay and Android Auto as standard. An analogue boost pressure gauge is present, and the standard leather sports seats can be optioned to Recaros for additional lateral support.
The 2020 High Performance comes standard with AEB, lane keep assist, lane departure warning and active cruise control as standard. Ford is offering a capped-price servicing program for the new High Performance Mustang, at a maximum price of $299 per logbook service for the first four years or 60,000km. 
Pricing is yet to be confirmed, but we can expect the High Performance to start somewhere above the outgoing Ecoboost models, in the vicinity of $51,000 for the fastback, and $61,000 for the convertible. The High Performance will be landing in Australia in February 2020 and should offer a compelling combination of handling capability and everyday use.
Read more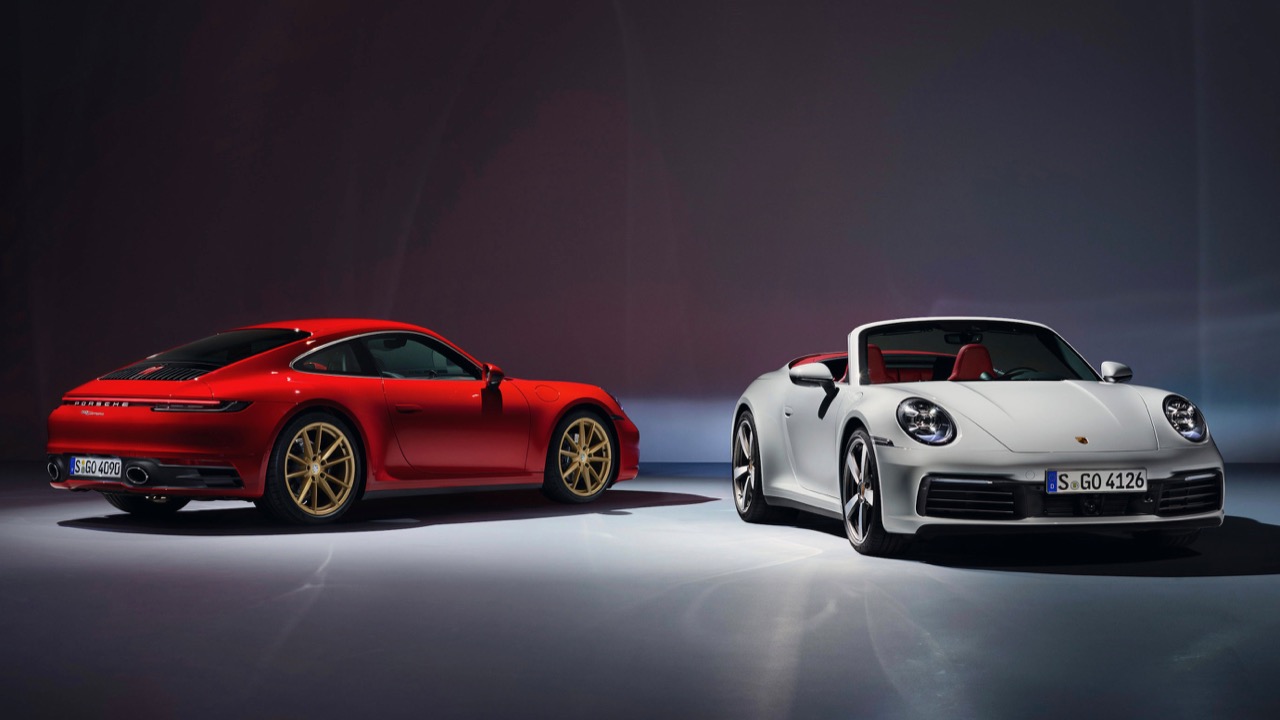 New Porsche 911 Carrera is more powerful, more expensive
Porsche have this week revealed the incoming 'base model' of the 992-generation 911 sports car. Initially revealed in mid-specification Carrera S form in 2018, specifications for the entry-level Carrera have now been revealed. The new 911 Carrera makes 283kW/450Nm from its three-litre twin turbo flat six, sending the car from 0-100km/h in 4.2 seconds as standard and as low as 4.0 seconds if the Sport Chrono pack is optioned.

The 992 Carrera is available in both coupe and cabriolet body shapes. The new body has grown around 20mm longer to 4,519mm, and 40mm wider to 1,852mm, while the kerb weight has increased to 1,580kg for the coupe and 1,650kg for the cabriolet.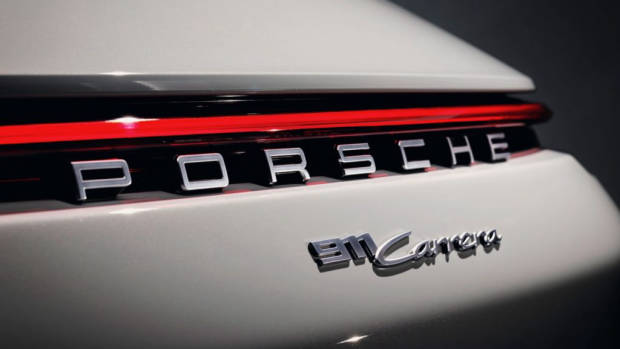 To compensate for the extra weight, power figures are up by 11kW over the previous 991.2 generation. The Carrera and Carrera S share the same three-litre capacity, with the power difference being the result of smaller turbos of the Carrera which produce more immediate torque lower in the rev range making the Carrera a more usable proposition for daily use. In getting the power to the ground the 992 Carrera uses an eight-speed dual-clutch transmission only, with no manual currently available (although we expect Porsche to announce one in the near future). Official fuel consumption figures are 9.0L/100km for the coupe, and 9.2L/100km for the cabriolet.

The Carrera sits on a set of staggered forged alloy wheels with 235/40/19s up front, and 295/35/20s on the rear axle. No official word from Porsche on how the suspension settings differ from the S, although we can expect a more supple calibration. Braking on the Carrera is taken care of by four-piston calipers front and rear, with 330mm discs all round.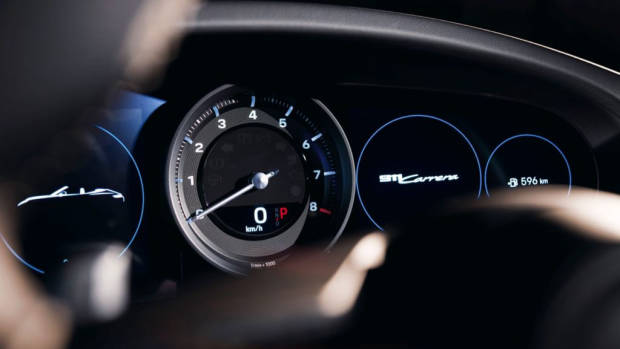 The Carrera comes standard in Australia with AEB, park assist, lane keep assist, cruise control, and Porsche's Wet Mode which is new for the 992. Wet Mode is a Porsche proprietary system that actively detects damp surfaces and automatically adjusts the PSM intervention to intervene sooner and with a gentler touch than it would usually.

The 992 generation Carrera certainly looks like a Porsche should. The classic wide rear end is now shared across the whole 992 range, there is no 'narrow body' as found in previous generations. The return to proper circular front headlights look great, the shape has translated well to the cabriolet too. We're sure the Carrera will look even better in the metal where its width and presence will really be apparent. As you can expect from Porsche, the Carrera is not short on customisation, there are plenty of standard colours and wheels styles on offer – and the comprehensive options list that you can really go crazy with. We really hope that the gold wheels as pictured are going to be available too.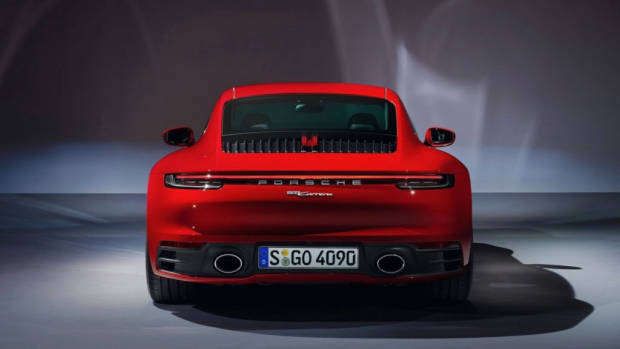 The interior remains the same as the Carrera S, a classy design with digital gauges, a 10.9 inch touchscreen for multimedia and plenty of colourful choices of leather and highlights to choose from. 
The 992 Carrera coupe will start at $229,500 in Australia (driveaway pricing not yet confirmed) – an increase of $6,050 on the old shape – and if you're after open air motoring the cabriolet will set you back an additional $21,500, at $251,000 (driveaway pricing not yet confirmed). Dealers are taking orders now, with the Carrera arriving on our roads in the fourth quarter of 2019.
Read more