Search Results for ""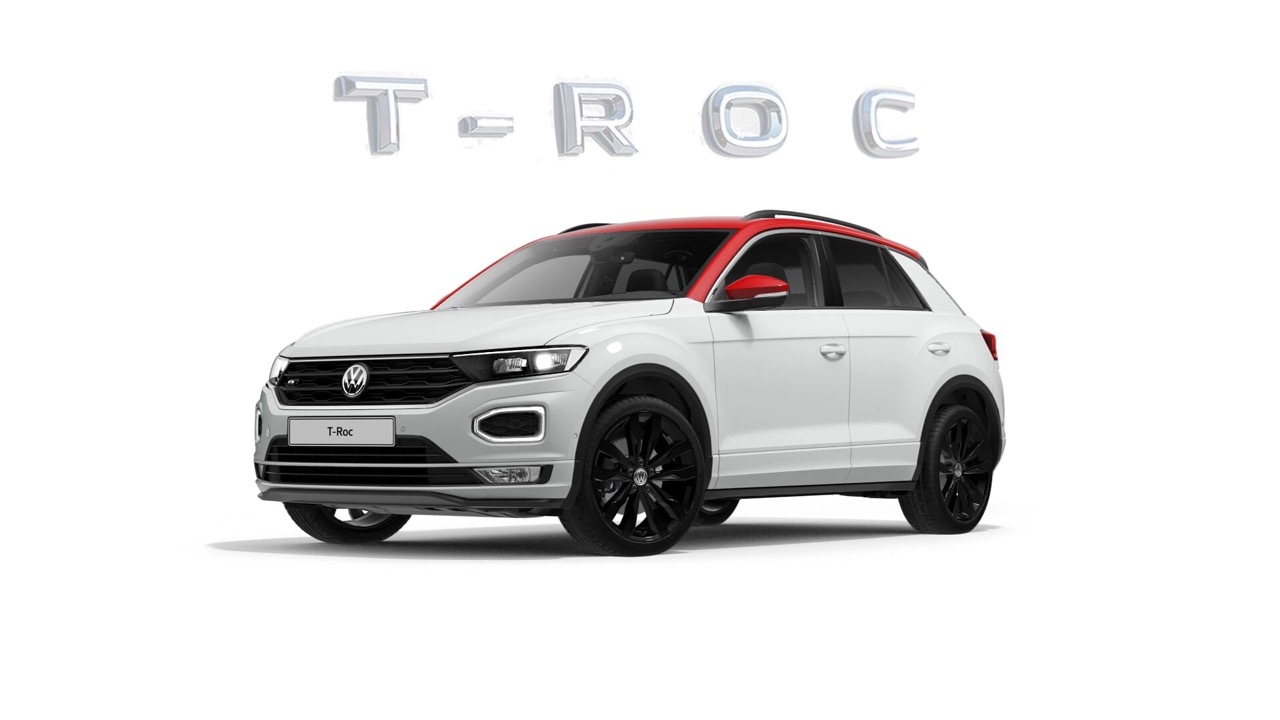 Volkswagen T-Roc priced for Australia as online sales kick off
Volkswagen this morning announced pricing for its highly anticipated T-Roc small SUV – and also confirmed that between now and April this year, the Golf-sized crossover will be sold online for three months, starting this Thursday.
The 2020 Volkswagen T-Roc will arrive nationwide in VW dealerships in April, but Australians wanting to get ahead of the crowd will be able to deposit $500 to secure one of the earliest allocations of the two-strong launch range.
Priced at the premium end of the small SUV market, the $40,490 T-Roc in 140TSI Sport trim will sit above the smaller, Polo-based T-Cross which arrives in the Australian market around the same time. The T-Cross, which starts at $27,990, will offer a more affordable way into a small Volkswagen crossover.
With the pair not as different in size as one might expect, the rationale for purchasing the T-Roc will mainly revolve around its standard-fit all-wheel-drive and its punchier engine. The sole motor for the Australian-spec T-Roc will be a 140kW/320Nm 2.0-litre turbocharged four-cylinder 'EA888' unit, sending torque to all four wheels through a seven-speed dual-clutch gearbox. We reviewed the T-Roc 140TSI in New Zealand last year, which you can watch and read here.
In addition, the Sport trim arrives highly specified as standard with the brand's more athletic R-Line exterior styling package, with 18-inch wheels, rather than the more pedestrian look that is fitted by default in Europe. Inside, the brand's Active Info Display is standard-fit along with an eight-inch touchscreen with navigation, Apple CarPlay, and Android Auto.
Keyless entry and start is standard, along with automatic wipers and LED headlights, a variable steering ratio, customisable drive modes, all-speed AEB, adaptive cruise control, blind spot monitoring, and rear cross traffic alert.
Six colours will be offered – white or red are standard, while the four metallic or pearl options cost $600. Two option packages can be selected, boosting spec further. The $2,000 Sound and Style package adds 19-inch 'Suzuka' alloys (familiar from the Tiguan R-Line), adaptive dampers, and a 300-watt Beats stereo. The $3,500 Luxury package adds leather upholstery, a panoramic sunroof, and a power tailgate.
A loaded T-Roc hits a lofty $46,590 – higher than a (less powerful) new Audi Q3 – but a limited-time special edition, called the T-Roc X, will be offered for $42,990, bundling black-coloured 19-inch Suzuka alloys, adaptive dampers, the Beats stereo, power tailgate, and black-and-red sports cloth seating.
The T-Roc X will be available in two colours that recognise Volkswagen's long-standing sponsorship of the Sydney Swans: white with a red roof, or red with a black roof.
2020 Volkswagen T-Roc pricing for Australia
T-Roc 140TSI Sport: $40,490
T-Roc X Special Edition: $42,490
Key options:
Sound and Style package: $2,000 (140TSI Sport only)
Luxury package: $3,500 (140TSI Sport only)
Metallic/pearl effect paint: $600 (140TSI Sport only)
Panoramic sunroof standalone option: $1,900 (T-Roc X only)

Read more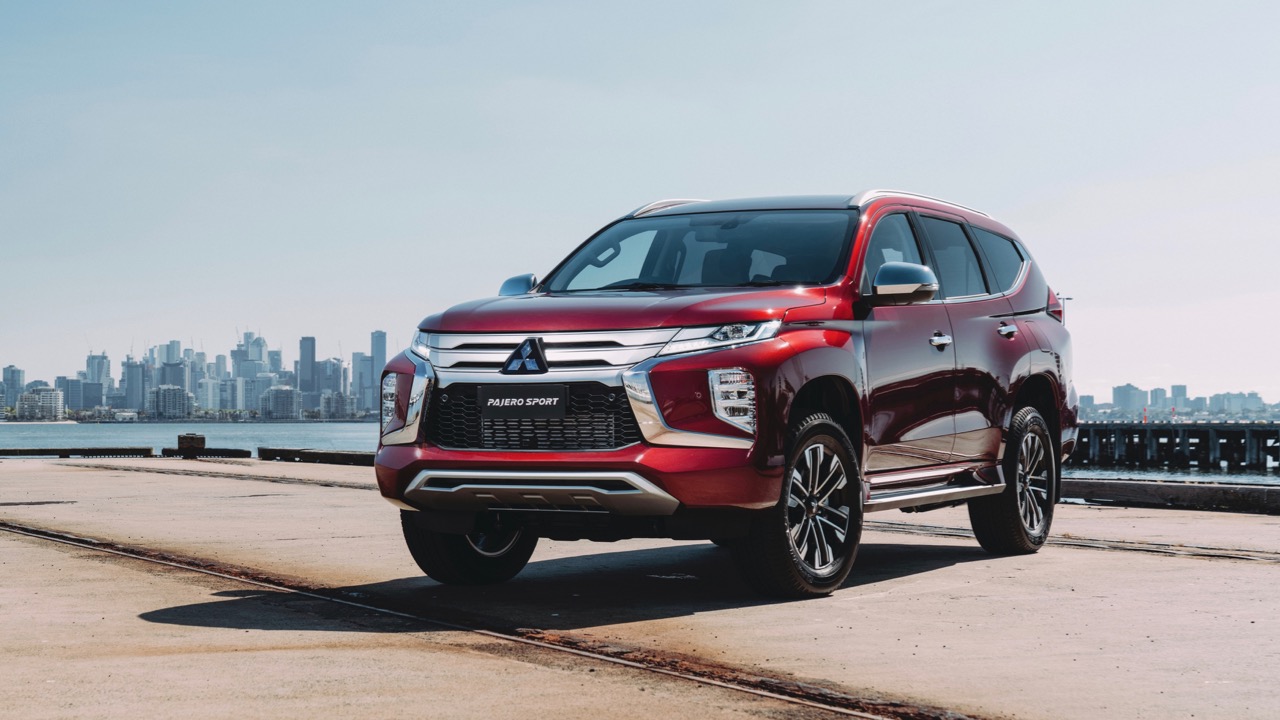 Mitsubishi Pajero Sport gets More Tech, Safety, Memorable Face
Mitsubishi has released an updated Pajero Sport for 2020. First spied back in July 2019, the refreshed off-road focussed SUV is available now and brings with it added safety and in-car tech, a tweaked interior and the new – if somewhat divisive – corporate front bumper.

For 2020 the Pajero Sport will continue to battle with other ute-based SUVs like the Isuzu MU-X, Toyota Fortuner and Ford Everest while offering greater off-road capability than lifted hatchback-type SUVs a la Mitsubishi's Outlander.

The update comes at a price though; the base-model GLX five-seater now starts at $45,990 ($46,990 driveaway), the 2019 model is currently selling for $44,900 driveaway.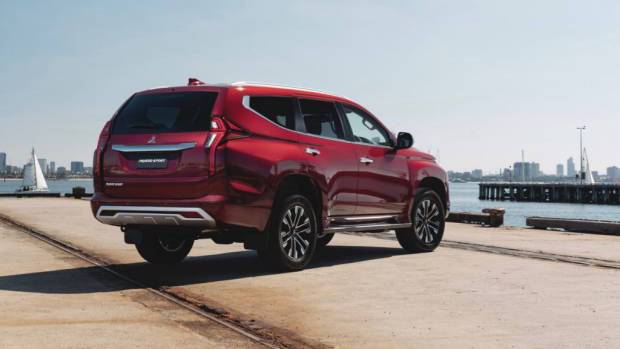 Updated exterior styling is the first thing you'll notice, the front end receives the same Ridley Scott Alien treatment first seen on the facelifted Triton and later the ASX. It's not a face you'll miss, with plenty of imposing chrome around the grille and sleek looking LED light features.

From the rear the Pajero Sport is largely identical which translates to a slightly ungainly look, you can tell from the extended rear overhang the Sport was a ute first, SUV second. But, most buyers will be more concerned with the Pajero's off-road chops.

The interior receives a larger eight-inch touchscreen across the range that sits above a redesigned floating centre console which looks swish and adds storage space. Scratchy plastics have given way to soft-touch items in key places throughout the cabin to give a more upmarket feel to the rugged beast.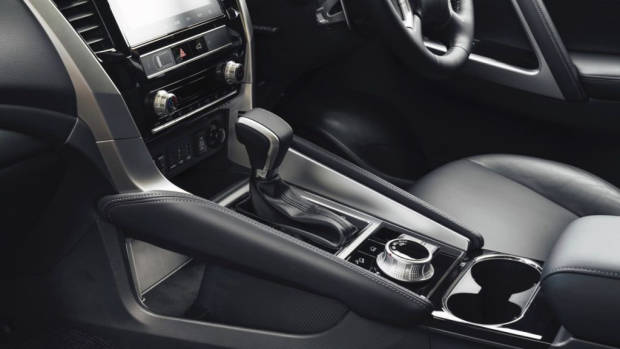 Safety has improved for the 2020 Pajero Sport too, with rear cross-traffic alert and lane-change assist added as standard. All variants are still equipped with AEB and blind-spot monitoring, while the GLS and Exceed retain standard radar cruise control.

For 2020 the Pajero Sport's powertrain remains the same, a reliable 2.4-litre turbocharged diesel unit preserves reasonable outputs of 133kW and 430Nm. It's mated as standard to an eight-speed torque converter with wheel-mounted paddle-shifters, a handy function when off-roading. No manual is available for Australia.

The calling card for the Pajero Sport over Mitsubishi's other SUVs has always been its off-road capability. It should remain that way for 2020 with the same Triton derived ladder chassis, an impressive 218mm of ground clearance and switchable four-wheel drive system with high and low range and a locking centre diff, so it won't be the car holding you back from exploring the wilderness.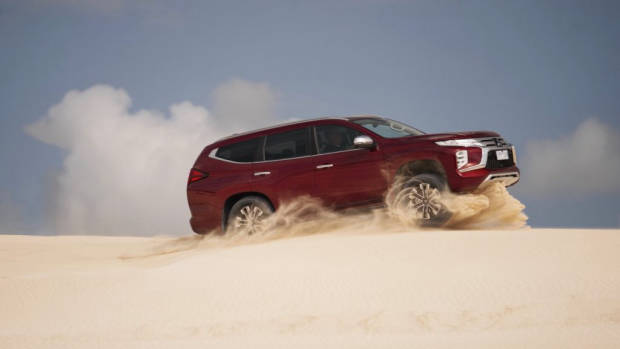 In addition to the switchable four-wheel drive system, the Pajero Sport has set modes for sand, gravel, mud/snow and rocks which can automatically select the combination of high or low range and four-wheel drive the car thinks is best for the situation.

The entry-level GLX model is well-equipped for the price but is only available with five seats, if you need the extra seating then the GLS with the option ticked starts at $51,490 ($52,490 driveaway).

A range-topping Exceed model is available from $57,190 ($59,990 driveaway) which gets all the goodies including a 360-degree vehicle display, metallic paint ($740 on other grades), digital dashboard and an Ultrasonic Misacceleration Mitigation System (UMS), a cool piece of safety tech that will cut engine power if the throttle is pressed when behind another vehicle.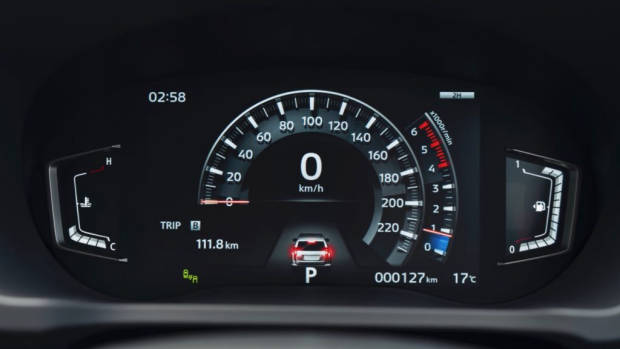 The facelift certainly modernises the Pajero Sport – we'll have to see it in the flesh before passing judgement. Thankfully the rugged off-road potential looks to be in-tact, with safety and tech updates welcomed for 2020.

2020 Mitsubishi Pajero Sport Pricing

Pajero Sport GLX 5 Seats $45,990 ($46,990 driveaway)
Pajero Sport GLS 5 Seats $51,490 ($52,490 driveaway)
Pajero Sport GLS 7 Seats $52,490 ($53,990 driveaway)
Pajero Sport Exceed 7 Seats $57,190 ($59,990 driveaway)
Read more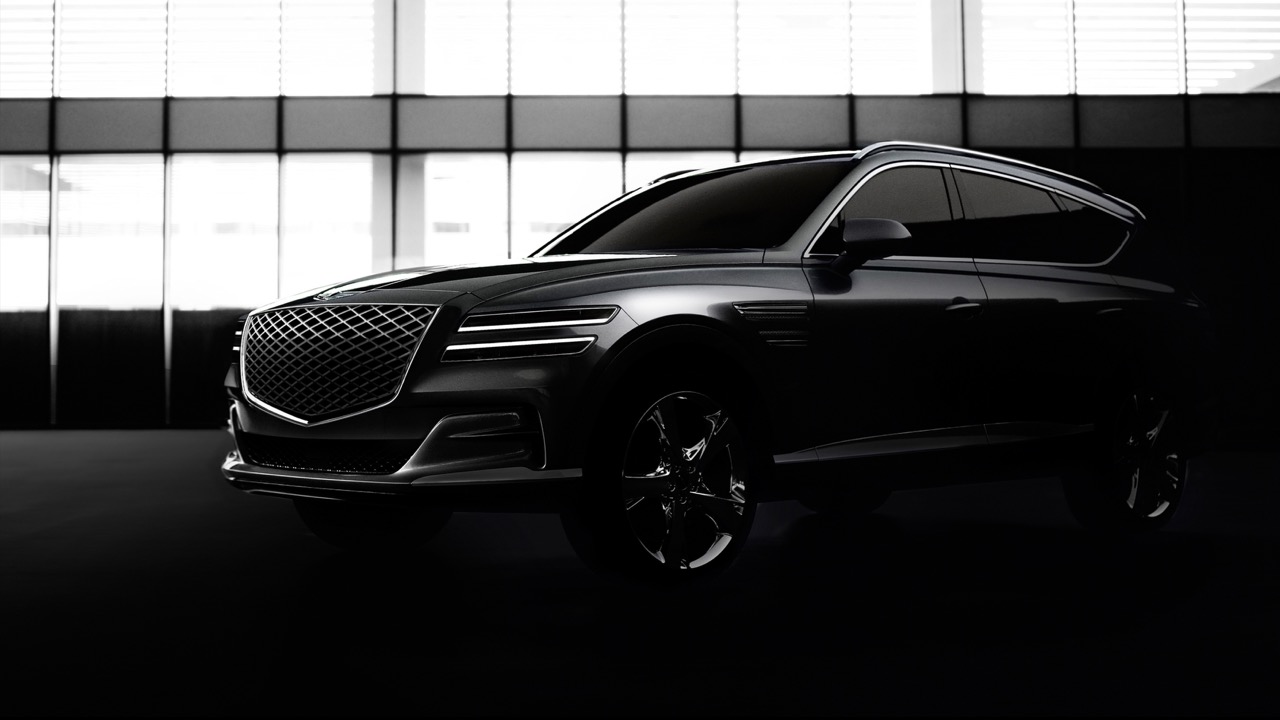 Genesis GV80 revealed: Korean brand's German assault continues
Overnight, Genesis has revealed images of the latest addition to its line-up which is, predictably, an SUV dubbed the GV80. It was inevitable that Genesis would swing into the competitive world of luxe soft-roaders, the brand says it will be on sale in the Korean home market by January and arrive in Australia soon after.
When the GV80 arrives in Australia with its seven-seat capacity we expect the pricing to be fairly consistent with Lexus' RX range while doing battle with established segment dominators – The BMW X5, Audi Q7 and Mercedes GLE.
It's undeniably a hot market right now and Genesis will have to try hard to take sales from the tyrannic German trio when badge prestige rules the game, but the Koreans can offer similar poke and tech for less cash. The brand's range-topping G70 packs 272kW/510Nm for $79,950 ($88,175 driveaway) – significantly less than BMW's $99,900 ($108,440 driveaway) M340i which you then have to tick plenty of option boxes on.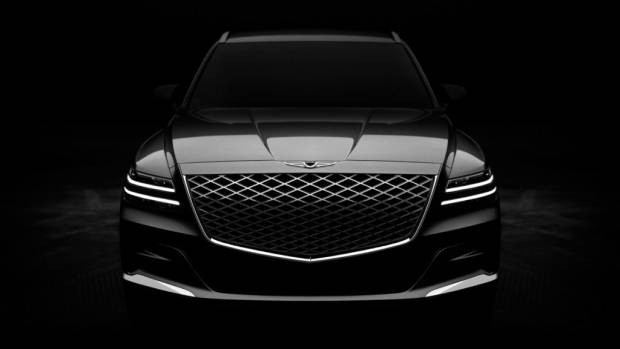 The GV80 will be based on an exclusive to Genesis rear-wheel-drive platform that will underpin the soon-to-be refreshed G80 sedan. That will mean a familiar engine selection, think two-litre turbo four-cylinder as a base model and excellent 3.3-litre twin-turbo V6 on higher trims.
When shown as a concept in 2017 there was a promise of hydrogen powertrains, though it's unlikely that will be available at launch. Genesis' parent company Hyundai has some great EV tech though, so it's almost certain something will be available in time.
Although the images released aren't that clear, it's not hard to imagine that the GV80 will be imposing on the road. If you thought BMW was getting silly with the grille game, think again, the GV80's monster item leaves little space for the headlights which, incidentally, look somewhat Benz S-Class.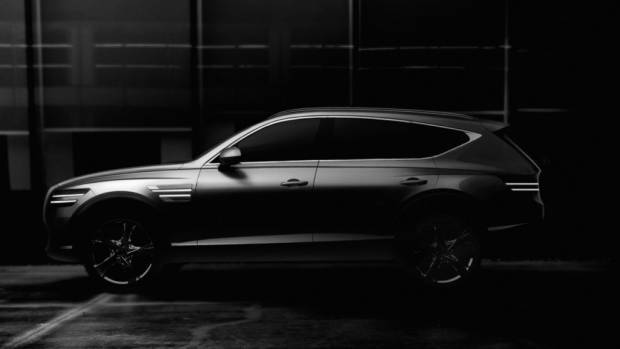 In profile it looks more conventional, the snout that looks a little Volvo XC90 gives way to conventional slab-sides that Genesis say are divided by "parabolic lines". The tapered c-pillar detail has hints of dynamism to it, though we wonder how much that will compromise the view out for third-row passengers.
While the GV80 generally looks like a successful design and we've enjoyed seeing the restrained G70 sedans out on the road, we'll reserve judgement for when we spot one in the flesh.
We do hope Genesis swaps the cheap-looking alloys pictured for production models though.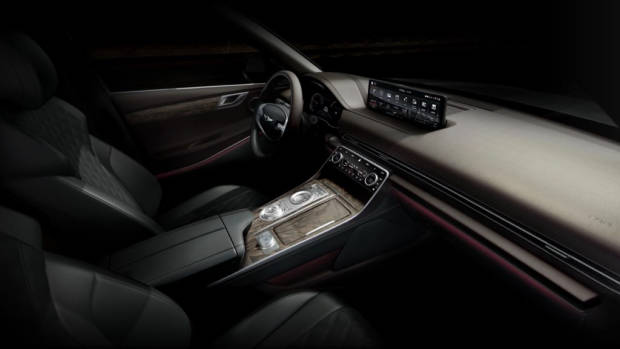 Inside is a beautiful sea of brown on the specification shown – though we assume there will be other choices of course – but if you're a long-time reader you'll know that here at Chasing Cars we don't mind a bit of that.
Wood panelling on the centre console is a welcome player too, it looks as though there will be a rotary style controller for the infotainment system exclusively because reaching to touch that large centre screen will be a stretch.
Although no details on price or specification have been revealed, Genesis has assured us there will be more info dropping as we approach the Aussie arrival date.
Read more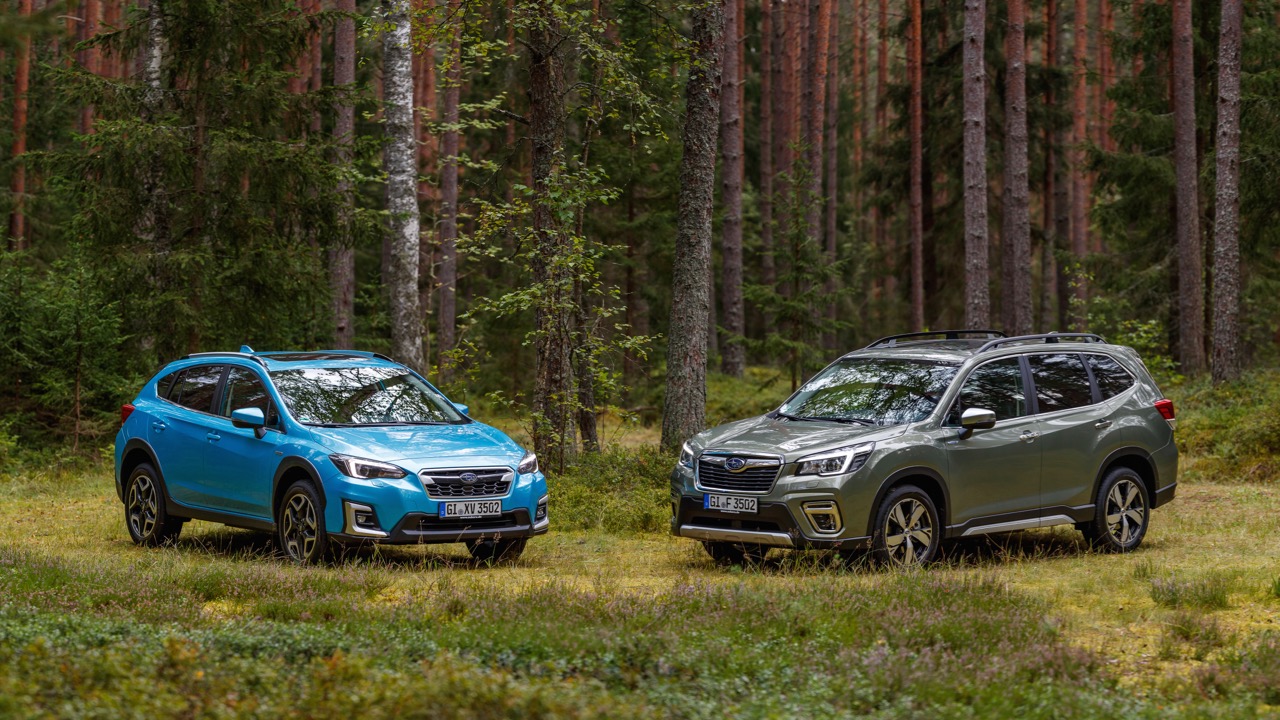 Subaru SUVs get electrified in 2020
With the push towards lower emissions ahead of stringent European regulations and increasing customer demand, Subaru has confirmed its e-Boxer hybrid drivetrain will make its Australian debut in March 2020, with partial electrification of the funky XV and practical Forester at first.

Hybridisation is eminently popular now thanks to shared platforms allowing a greater breadth of drivetrain choice across models. Hybrid variants of the Forester and XV will offer lower emissions and fuel consumption than regular petrol and diesel models, while stealing market share from the popular Toyota RAV 4 and C-HR hybrids.

As we expected, the headline figures relate to fuel economy. Subaru claims the hybrid drivetrain cuts petrol usage by 14% in combined testing, and by an impressive 19% in urban areas, where the e-Boxer system can travel in EV mode.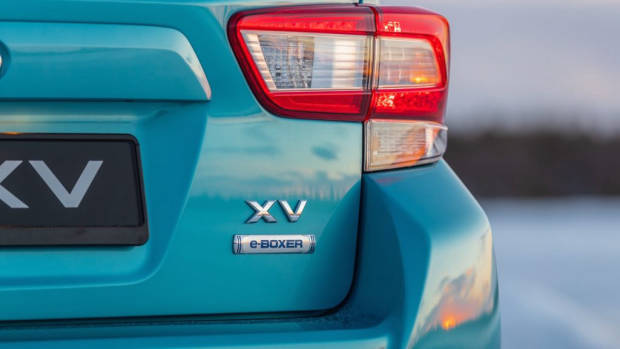 Electric power is humble, with the single motor only producing 12.3kW and 66Nm, that's enough to fill torque and improve throttle response but this certainly isn't a performance hybrid system.

The electric motor is bolstered by Subaru's standard-issue two-litre four-cylinder boxer engine, it's a naturally aspirated unit with respectable outputs of 110kW and 196Nm.

Depending on charge levels EV mode will be functional from standstill to 40km/h thanks to the lithium-ion battery under the boot floor.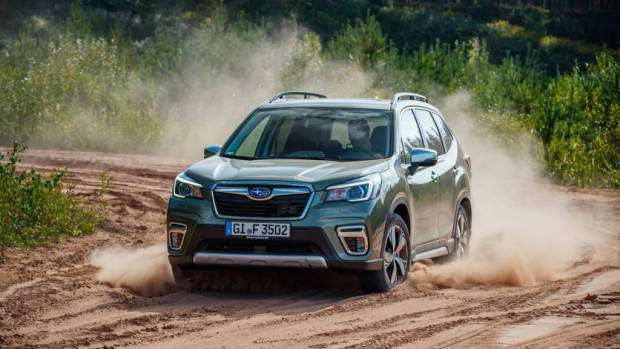 There are three driving configurations for the hybrid; naturally a full EV mode makes an appearance, but above 40km/h and greater throttle inputs the electric motor works to enhance the petrol engine, while the extra battery capacity means the boxer can be switched off during high-speed coasting without losing accessory power.

Naturally, there is regenerative braking too, which works at all speeds to keep battery charge high.

Like other Subaru drivetrains, power is transferred via a CVT transmission, we've found it to work adequately most of the time if feeling a little uncivilised under hard acceleration.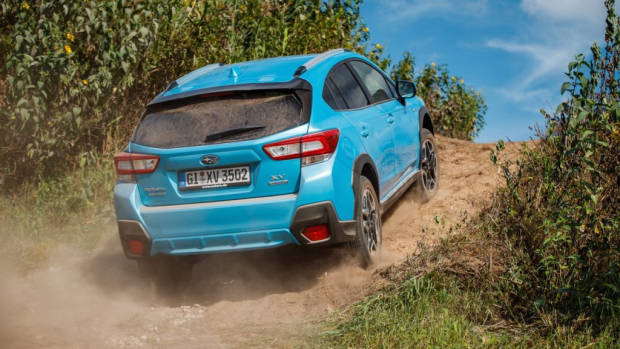 Subaru boasts that the hybrid power increases off-road capability for Forester and XV models too, with regenerative braking offering hill-descent control and infinitely variable power and torque from the electric motor assisting in slippery conditions.

There will only be one hybrid XV available starting at $35,580 (driveaway pricing not yet available) with all-wheel-drive, leather-wrapped wheel and gear-lever, auto headlights, adaptive cruise control, lane keep assist, blind-spot monitoring, high beam assist and rear cross-traffic alert
The hybrid will sit high in the XV range but is still less expensive than the range-topping $36,530 ($40,243 driveaway) 2.0i S model which packs only a small amount more tech.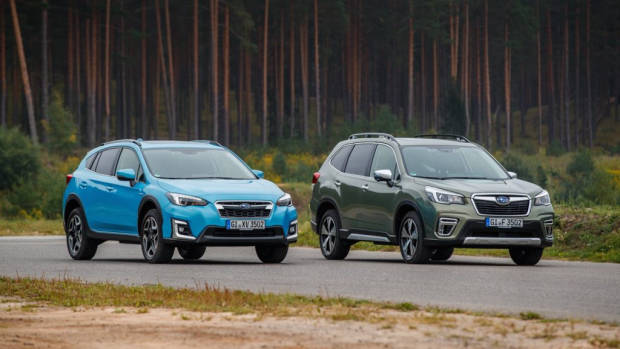 There will be two hybrid Forester variants available, the $39,990 (driveaway pricing not yet available) Hybrid L is specified with the same safety tech as the XV, with the $45,990 (driveaway pricing not yet available) Hybrid S adding larger 18-inch alloy wheels and extra chrome addenda.

Although it would seem Subaru is a little behind competitors with their hybrid release, the brand justifies its tardiness saying they wanted to engineer in their "customer must-haves" which include "fun, safety, reliability and great engineering".

All privately purchased hybrid models offer a five-year unlimited-kilometre warranty, with an eight-year or 160,000km warranty on the lithium-ion battery.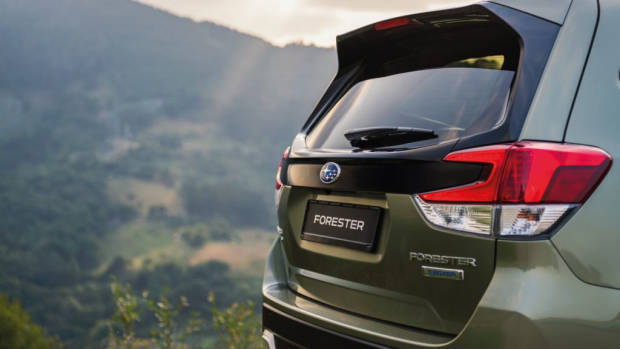 Subaru will be bringing the hybrid XV and Forester to Australia in march 2020 and hope to find out how the fresh meat compares with Toyota's excellent fleet of hybrids.

Read more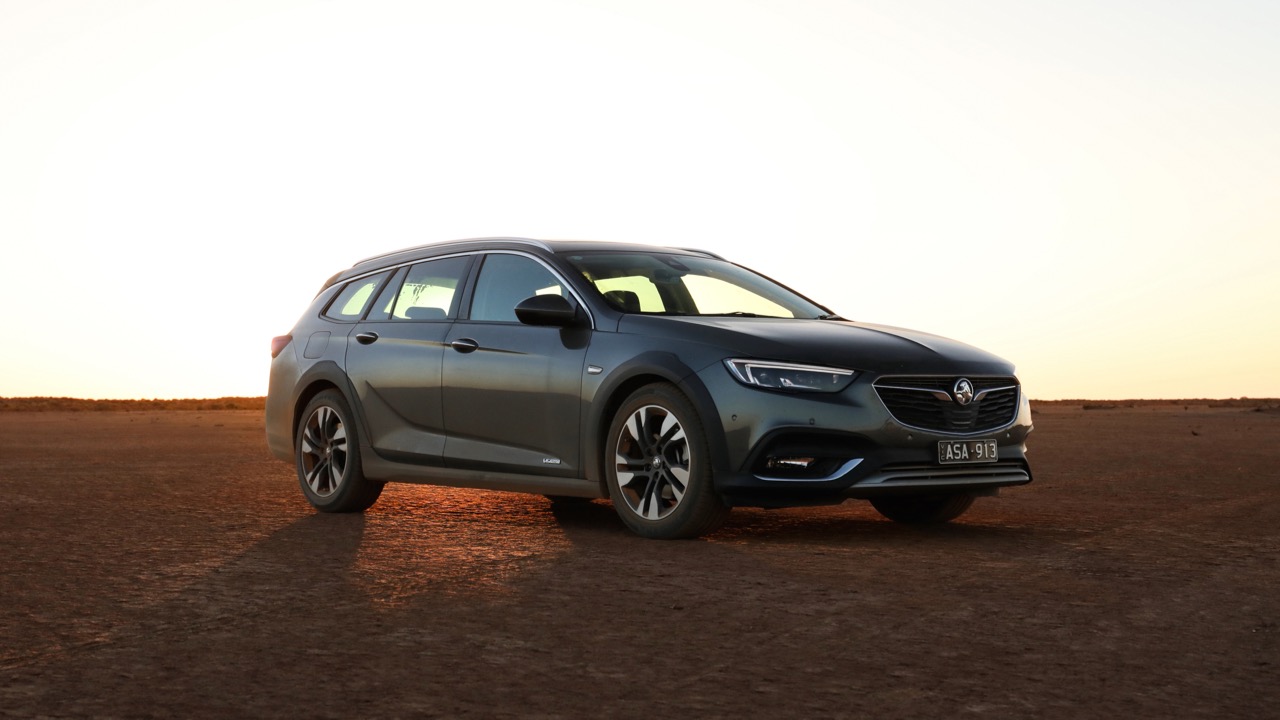 Holden axes Icons; soldiers on with SUVs
November marked the lowest monthly sales of the iconic Commodore since Holden debuted the nameplate back in 1978 and now the Aussie brand has turned its back on the beloved family saloon. The 2018 update that brought GM's Opel Insignia into the country resplendent with the iconic nameplate was one of the nails in the coffin, but the Aussie consumer's demand for SUVs was likely the last.

With the announcement of the death of both Commodore and Astra nameplates comes a push for family safety. Holden claims the decision is down to a "safety first" approach, with customers prioritising occupancy safety with autonomous tech and in-car entertainment, but we know they're also being lured in by larger and more secure SUVs.

Holden claims that now they have their "best portfolio ever"; it's made up of ring-ins from GM worldwide like big Acadia SUV, rather disappointing Trax and the Colorado ute, the brand's current best-seller.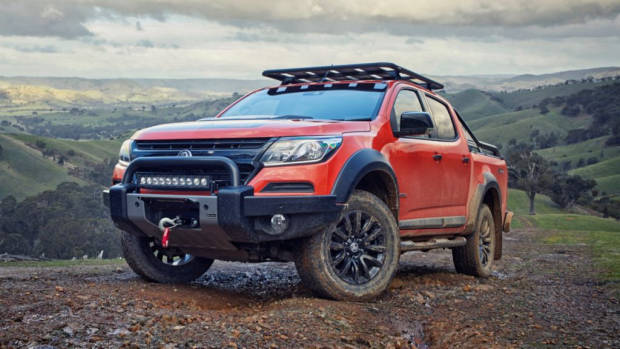 We remember outcries in 2017 when Holden was looking to the European arm of GM to find a replacement for the big sedan, but the truth is the original VB Commodore of 1978 was based on an Opel Rekord, a car that broke in half under Aussie testing.

Thanks to the failures in development, the VB was almost entirely reengineered to the point where it was made from just 35% Opel parts. This was the beginning of the Commodore's hallmark comfort, space and dependability. 

Importantly the Commodore was always a good car to hustle, by the end of Australian manufacturing the VF's chassis tuning was suitably impressive, the way it ate up sharp back road bumps and could still perform well on tracks (in SS form) was a major pulling card, and we'll never forget the brutish V8 soundtrack.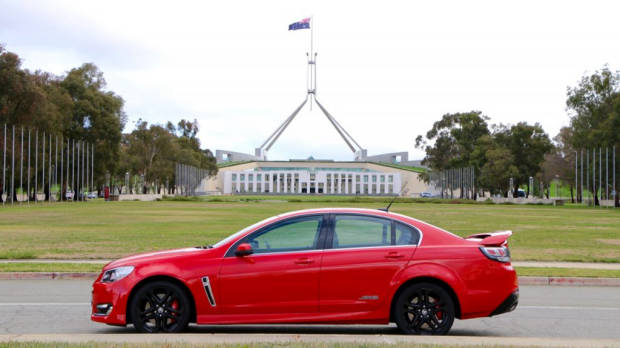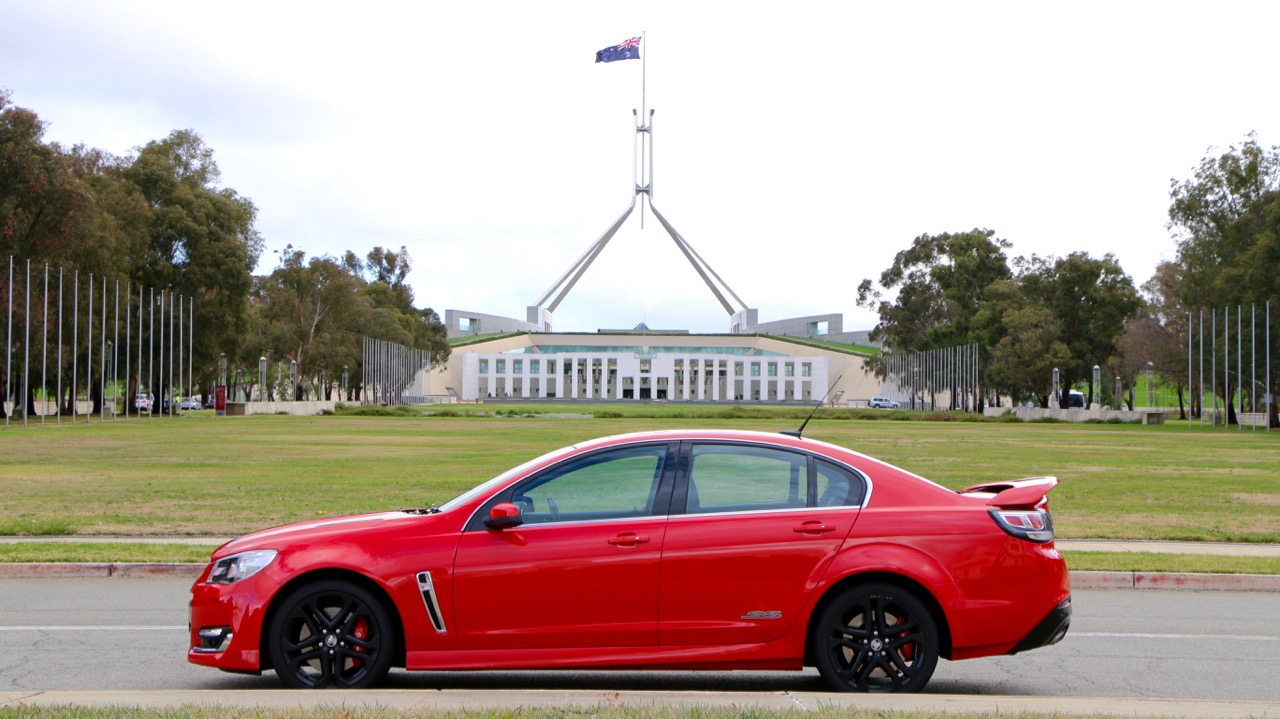 Lukewarm critical reception of the ZB Commodore was certainly part of the end, the car was an impressive steer helped no doubt by its Australian specific suspension tune, but it lacked rear wheel-drive hooliganism of the VF and had entered a marketplace falling out of love with the big sedan. 

It's not just Holden seeing this trend, at the recent Honda Accord launch we heard executives saying they were targeting meagre sales numbers, the Japanese giant happy to sell just 150 units of the Accord per year.

Yet the Astra was also a car that did well for many years, with no signs of small-car sales halting like big sedans did, perhaps it's that Holden has lost consumer confidence.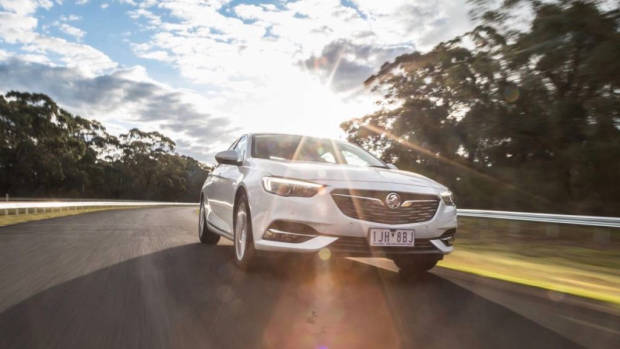 From a brand with two regular top-ten selling models in 2005 to one that in November of 2019 squeezed just one car in the top-twenty list and failed to feature in the top-ten sales, Holden is a brand in crisis.

So while we're looking back fondly on the years of V8 super-sedans and happily reminiscing about long summer days in the backseats of Commodore wagons, it seems a shame that the Australian Icon went from strength to struggle in such a short period.

People are working at Holden now who know how to make a car work for Australian conditions, we really hope those skills get put to use in their SUV line-up for 2020.

Read more