Search Results for ""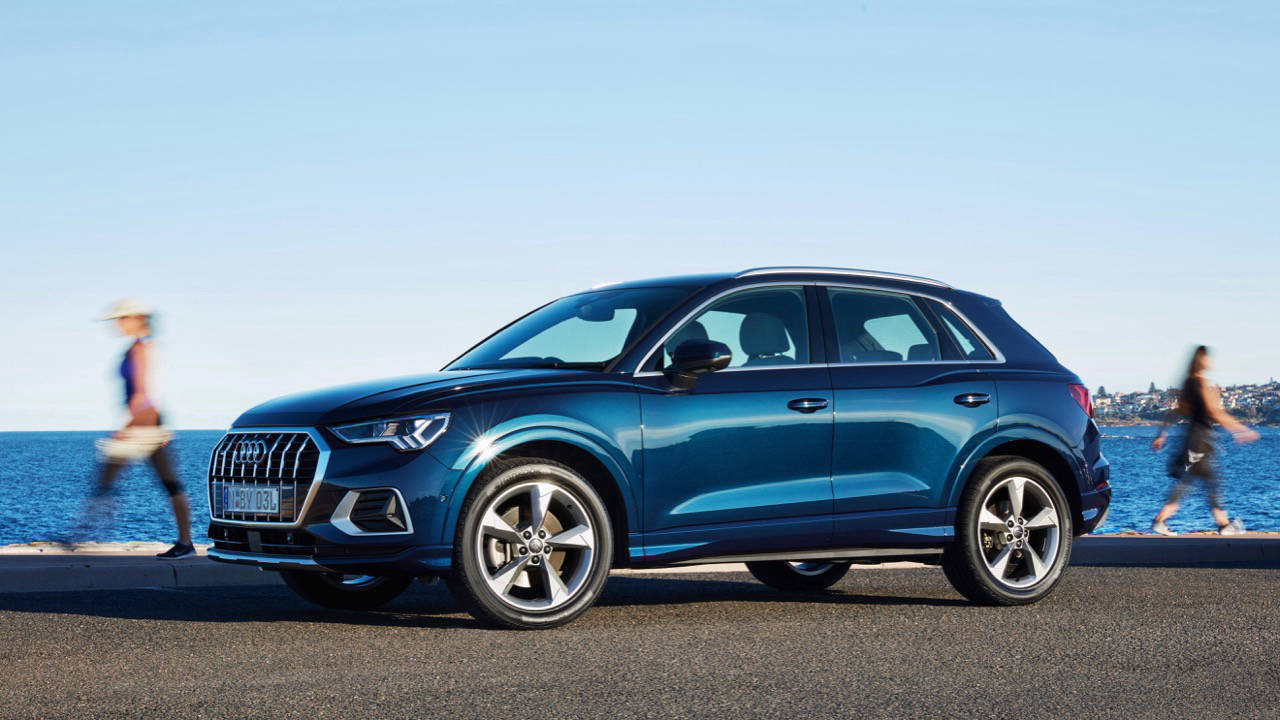 2020 Audi Q3 40 TFSI price and specs – now with Quattro
Audi's all-new Q3 seriously impressed us when it arrived late in 2019, it steered better and felt more premium than its predecessor, but the single 35TFSI engine choice limited its appeal somewhat.
Thankfully, after the attractive Q3 Sportback launched earlier this year, Audi garnished the wagon-bodied Q3 with the option of a more powerful 40TFSI powertrain.
It's a move that will broaden the Q3's appeal against more powerful competitors like the BMW X1 and Mercedes-Benz GLA-Class. Of course, less premium competitors are offering similar oomph for fewer dollars – Volkswagen's T-Roc springs to mind.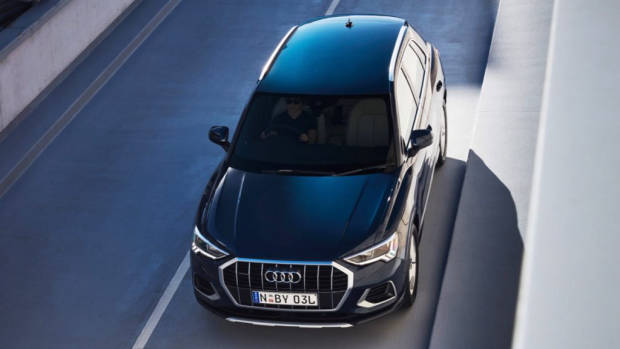 But we know Audi's cabin and digital cockpit to be excellent, and the Q3 40TFSI doesn't command a considerable premium over the similarly powered T-Roc at $53,900 (driveaway pricing TBA).
The engine in question is a two-litre turbocharged unit, a familiar face in the VW group, in 40TFSI guise it produces a healthy 132kW of power and 320Nm of twisting force.
Not an insignificant jump over the 35TFSI's turbocharged 1.4-litre lump that puts out 110kW and 250Nm that made the Q3 feel a touch undergunned.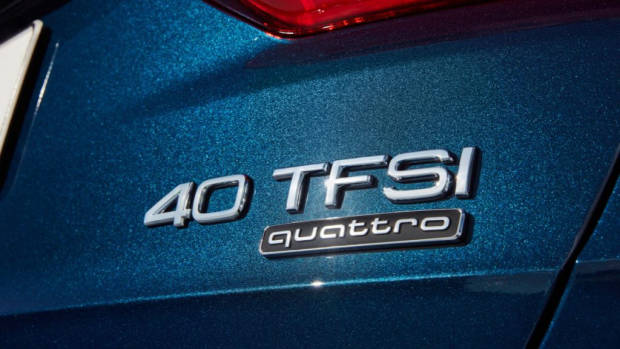 Moreover, the 40 TFSI engine is graced with an all-wheel-drive system to divvy up power, it's front-biased but will happily shuffle power in low-grip situations. There's a seven-speed S Tronic dual-clutch gearbox, too.
Audi did a great job penning the Q3; the flared body-lines look excellent especially when paired with upper-trim S line variants.
The Q3 40 TFSI has a generous specification with 19-inch alloy wheels, keyless entry, leather appointed interior and Audi's class-leading virtual cockpit with wireless Apple CarPlay (though wired Android Auto).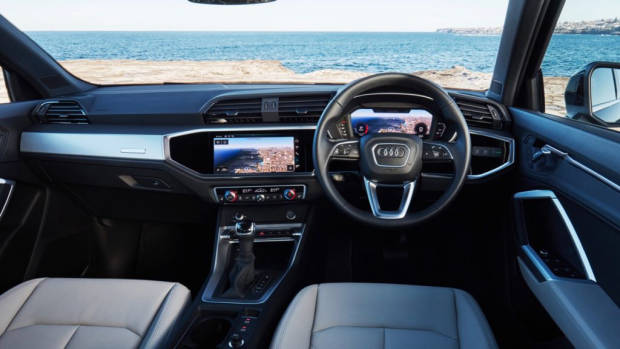 Active safety features include rear cross-traffic alert, front and rear parking sensors, AEB with pedestrian and cyclist detection, lane departure warning and hill-descent control, for if you ever want to take your Q3 bush.
In addition, the $53,900 (driveaway pricing TBA) 40 TFSI S line gets some spiffy Alcantara appointed heated seats with electric adjustment, larger 20-inch alloy wheels, S line exterior package – which looks great – as well as a flat-bottom steering wheel with paddle shifters.
There's also a more generous 12.3-inch touchscreen display in the S line. That's hooked up to a ten-speaker premium sound system, a must-have in our experience of the Q3.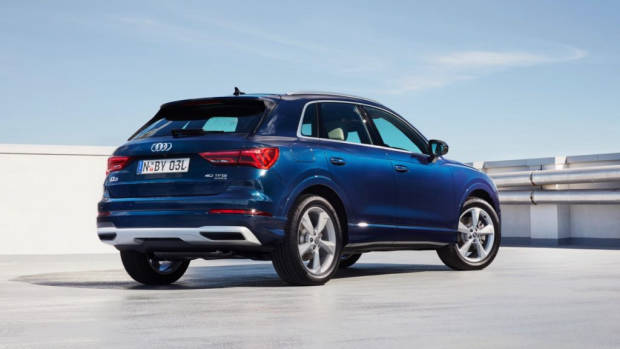 Audi has also specified 360-degree camera system, park assist, lane-trace assist and adaptive cruise control for the range-topping S line model.
We wouldn't be talking about a German car if there weren't additional options available, of course. The 'premium plus package' sees the addition of a panoramic sunroof, a 15-speaker stereo, LED headlights and body-colour door mirrors, it'll set you back an additional $3,900, though.
As for paint, the only non-cost-option is Ibis White, solid colours like the snazzy Pulse Orange add $600 to the price and pearl or metallic paints are an extra $1,250.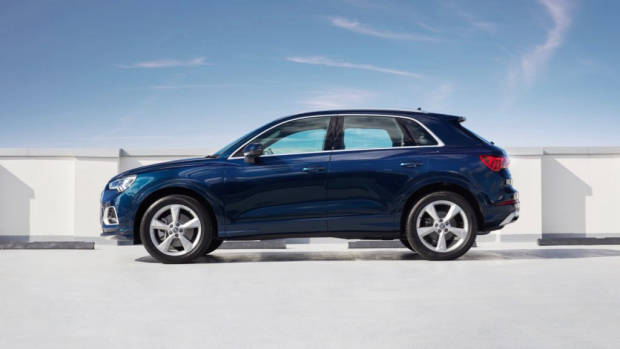 The addition of a more potent powertrain to the Q3 line-up, not to mention all-wheel-drive, makes the Q3 an even tastier proposition for not a whole lot more money.
2020 Audi Q3 Pricing
Q3 35 TFSI $46,400 ($51,709 driveaway)
Q3 35 TFSI S line $46,400 ($55,384 driveaway)
Q3 40 TFSI Quattro $53,900 (driveaway pricing TBA)
Q3 40 TFSI S line Quattro $59,400 (driveaway pricing TBA)
Premium Plus Package $3,900
Read more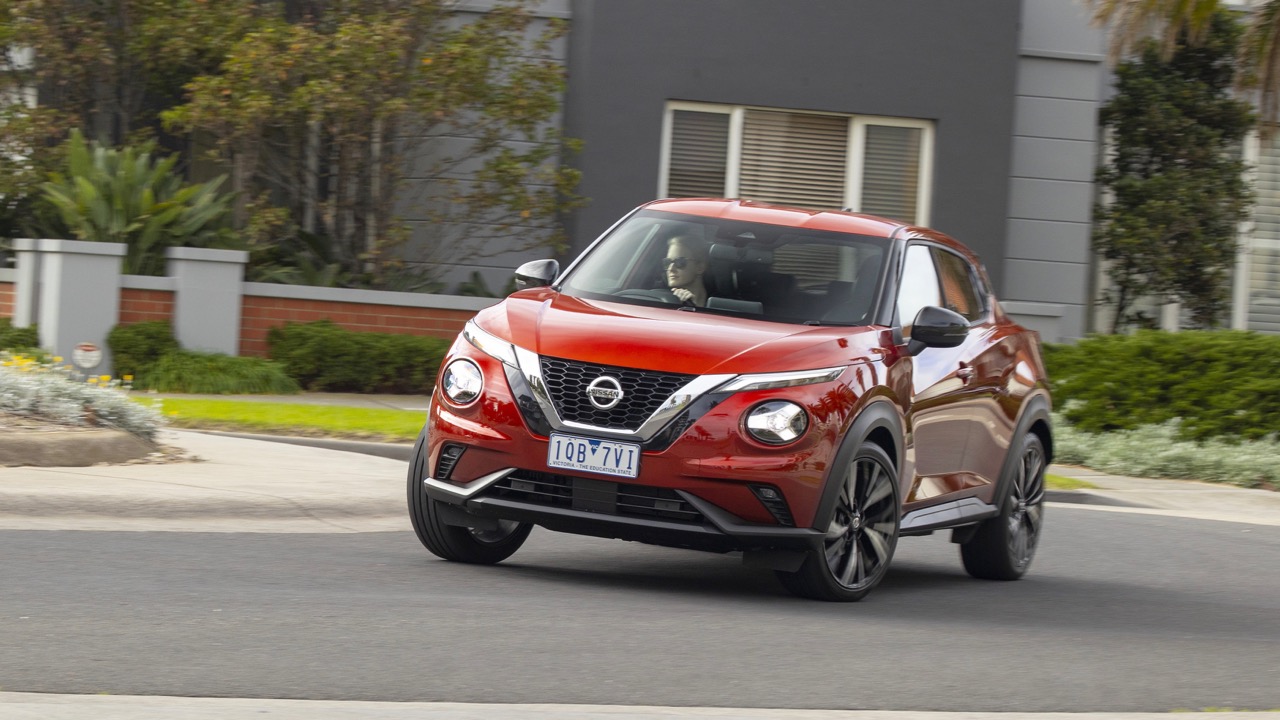 All-new Nissan Juke price and spec confirmed, arriving June
Nissan Australia has finally confirmed pricing and arrival of an all-new Juke. The funky compact crossover is due Downunder in June 2020 and promises more refinement, space and driving sophistication.
Oh, and of course, it packs the Juke's signature out-there styling. But underneath it comes from more humble beginnings, sharing the Nissan Renault alliance platform with the French brand's Clio and Captur.
Despite being a pioneer in the segment, the new Juke enters a crowded and fast-evolving marketplace with the Hyundai Kona, all-new Volkswagen T-Cross, and Mazda's fresh CX-30.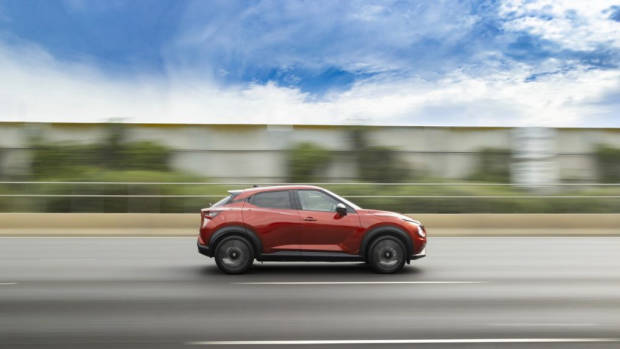 Powering the new Juke is a one-litre turbo three-cylinder engine with outputs of 84kW and 180Nm, which should be enough to push the 1,270kg Juke along nicely.
The Juke is front-wheel-drive only and will deploy its power via a seven-speed dual-clutch automatic transmission. Thanks to some smart low-friction cylinder technology – borrowed from the Nissan GT-R – the claimed WLTP economy is 5.8l/100km. Impressive.
And wow, even with the shift towards ever wilder styling in the compact crossover segment, the Juke still holds its own. The signature oval headlights remain, as do flared haunches – we hope there's a NISMO in the works – and overall funky shape.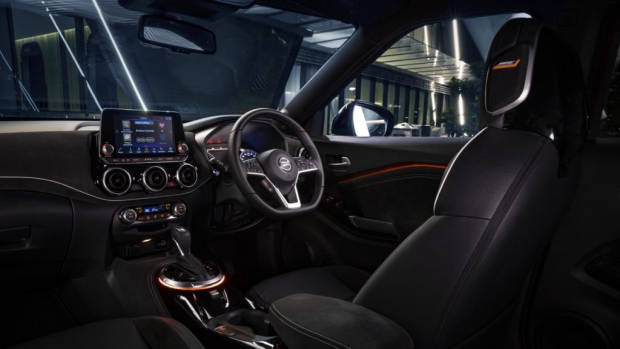 Funkiness continues inside the Juke; the new car boasts a larger eight-inch floating touchscreen, and upper trims get partially digital driver's display. An elevated gear lever surrounded by a ring of light sits as the centrepiece of the interior.
It's bigger, too, growing by 75mm in length to 4,210mm and 1,800mm wide – 35mm more girth – which Nissan claims adds 58mm of leg space. That means it's a whole lot bigger outside, too, pushing up half a size-class in this fuzzy compact SUV world.
Adding size also addresses practicality concerns of the old Juke, the new boot packs 422-litre of VDA certified cargo space, making it one of the best-in-class.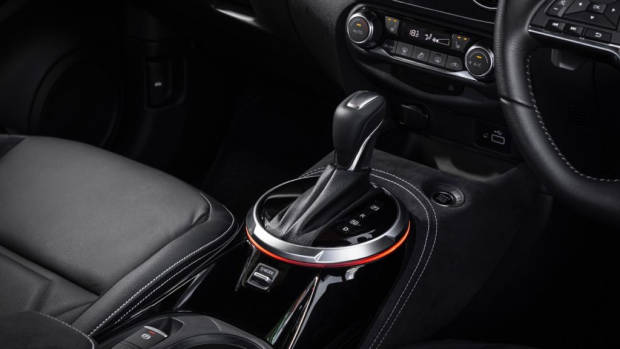 Standard equipment is generous, too. For $27,990 (driveaway pricing TBA) the ST includes goodies such as paddle shifters, 17-inch alloy wheels, cloth seats, wired Apple CarPlay and Android Auto and Nissan's intelligent ride control system.
As for safety, the ST gets a generous suite including city-speed AEB, rear cross-traffic, lane-departure warning, blind-spot monitoring and LED headlights with high-beam assist as standard.

A little extra hard-earned cash at the Nissan dealership will net the ST+. For $30,740 (driveaway pricing TBA) your Juke will be equipped with LED foglights, satellite navigation, heated front seats, and the addition of front parking sensors,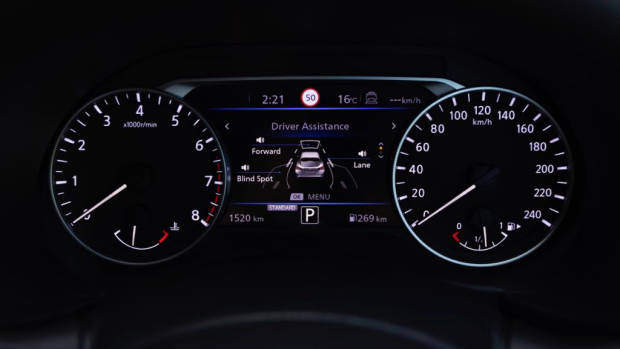 Second from the top of the range is the $33,940 (driveaway pricing TBA) ST-L with a snazzy set of 19-inch alloys, partially digital drivers display, rear USB ports, partial leather upholstery and leather-trimmed wheel and gear knob.
Bolstering safety in the ST-L is adaptive cruise control and a 360-degree camera.
At the top of the range sits the familiar Ti moniker for $36,490 (driveaway pricing TBA) which gets a premium eight-speaker BOSE stereo, leather and Alcantara seats with Alcantara padding around the cabin and a tyre pressure monitoring system.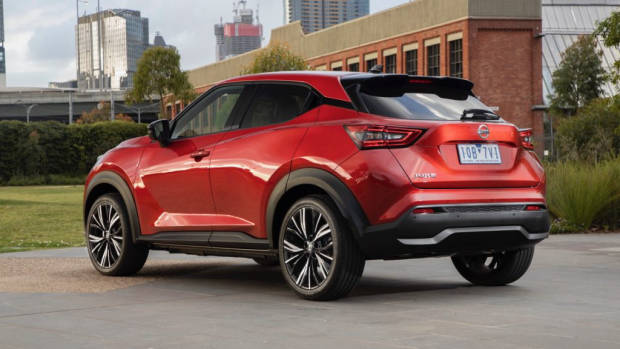 We reckon the new Juke looks pretty good and looks to be priced sharply within the segment thanks to plenty of standard tech. The driving experience needs to be there to back up the funky exterior, though, we'll have a full road test to confirm that soon.
Read more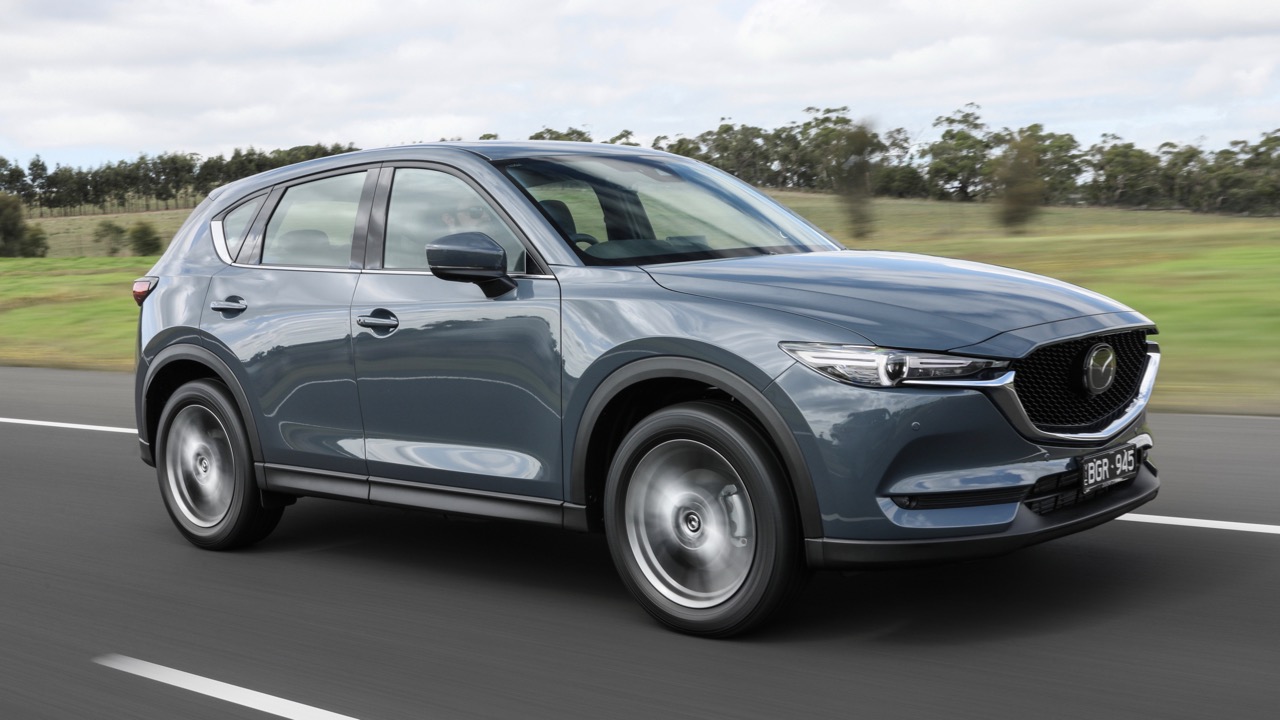 Mazda CX-5 get more refinement, off-road ability for 2020
Mazda's medium-sized CX-5 will receive some updates and tweaks for 2020 with more features across the board including bolstered off-road credentials with a new traction assist system.
Mid-sized SUVs are hotly contested property at the moment, the updated CX-5 will compete against the petrol-powered Honda CR-V, though with hybrid tech numbers are stacked in favour of the updated Subaru Forester e-Boxer and excellent Toyota RAV4.
We've also got to mention the fresh-faced CX-30 – the goldilocks sized SUV – which explains the focus on increased off-road ability for the 2020 CX-5.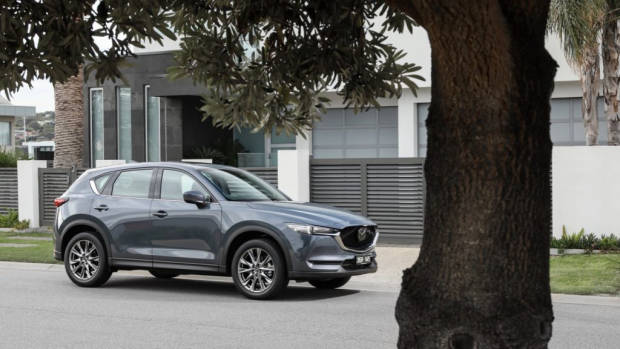 Naturally, there's a price jump for 2020 though it's kept to a minimum – around $200 on any model – and the extra value-added across the range makes it easier to swallow. A full price list appears at the end of this article.
But Mazda promises some key advantages for the 2020 CX-5. First and foremost, the brand is looking to increase the luxury feel with greater NVH suppression with additional sound-deadening in the headlining and around the rest of the vehicle.
For petrol-powered CX-5s Mazda has added a steering dampening system to reduce vibration back through the steering wheel when parked or travelling at low speed.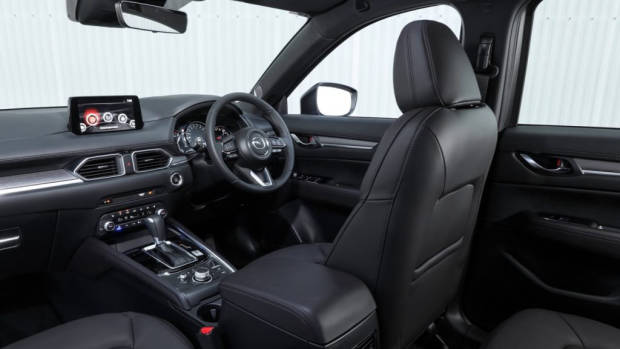 And there's additional noise suppression for the 2.5-litre turbo including an uprated exhaust muffler and more rigid spare-wheel holder. It's quite amazing the level of refinement nitpicking Mazda engineers have gone to for the 2020 update.
A system called Off Road Traction Assist is now standard in all-wheel-drive CX-5 variants for a unique selling point.
The system vectors torque on the rear axle by braking the wheel with less traction having the effect of locking the rear diff, providing improved traction on really tough terrain, though it's unlikely many will take their CX-5s that far off the beaten path.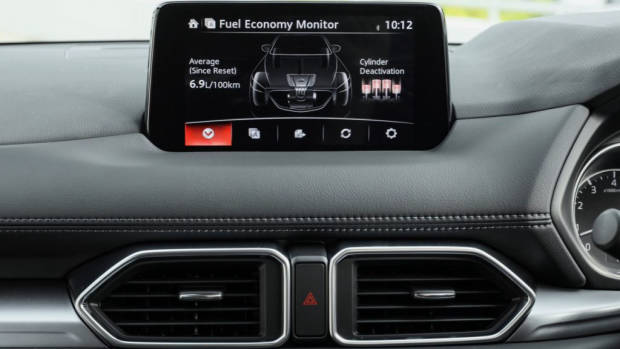 Powertrains remain the same for 2020; the entry-level Maxx and Maxx Sport are available with a 115kW and 200Nm two-litre four-cylinder. It's a good engine in the 3 Hatch, but it makes the CX-5 feel sluggish.
Stepping up the petrol range, Mazda offers a 2.5-litre petrol engine with more generous outputs of 140kW and 252Nm can be optioned on the Maxx and Maxx Sport in front-wheel-drive or all-wheel-drive configurations.
Mazda's excellent 2.2-litre turbocharged oil-burner is still offered on the Maxx Sport grades an up with 140kW and a generous dollop of torque at 450Nm.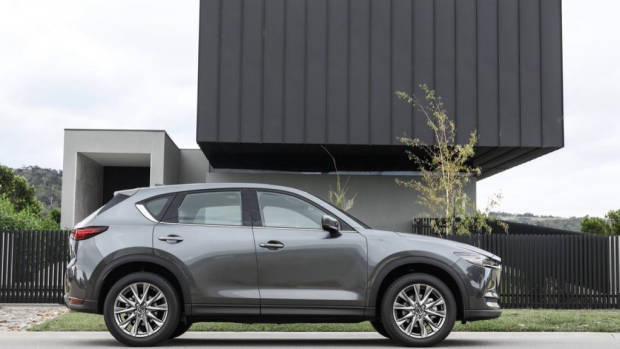 The most expensive and fastest engine offered is a 2.5-litre turbo-four – that the lion's share of NVH improvements have gone into – with 170kW and 420Nm outputs. It's only available on the GT and range-topping Akera, though.
Inside is business as usual for the CX-5 – not a bad thing in our books – but the entry-level Maxx variant gets the larger 8-inch display as standard.
A set of paddle shifters are found attached to the steering wheel in the Maxx Sport grades and above. The exterior sees the addition of the polymetal grey colour (pictures) and updated badge font.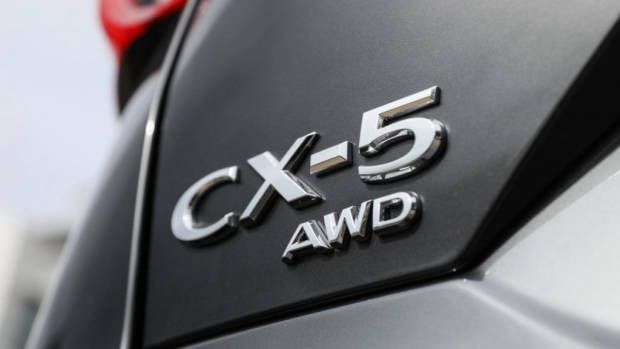 Active safety tech is aplenty for the CX-5 with all variants equipped with AEB and braking pre-sense with nighttime pedestrian detection.
It's a competitive market space to be in, but Mazda aims to have the CX-5 be competitive with its sweet, free-revving engines and updated off-road credentials for 2020.
2020 Mazda CX-5 Pricing
All prices are before on-road costs
Maxx 2.0L FWD Manual $30,980 (up $100)
Maxx 2.0L FWD Auto $32,980 (up $100)
Maxx 2.5L AWD Auto $35,980 (up $100)
Maxx Sport 2.0L FWD Auto $36,290 (up $200)
Maxx Sport 2.5L AWD Auto $39,290 (up $200)
Maxx Sport 2.2D AWD Auto $42,290 (up $200)
Touring 2.5L AWD Auto $40,980 (up $200)
Touring 2.2D AWD Auto $43,980 (up $200)
GT 2.5L AWD Auto $46,090 (up $200)
GT 2.2D AWD Auto $49,090 (up $200)
GT 2.5T AWD Auto $48,590 (up $200)
Akera 2.5L AWD Auto $48,330 (up $200)
Akera 2.2D AWD Auto $51,330 (up $200)
Akera 2.5T AWD Auto $50,830 (up $200)
Read more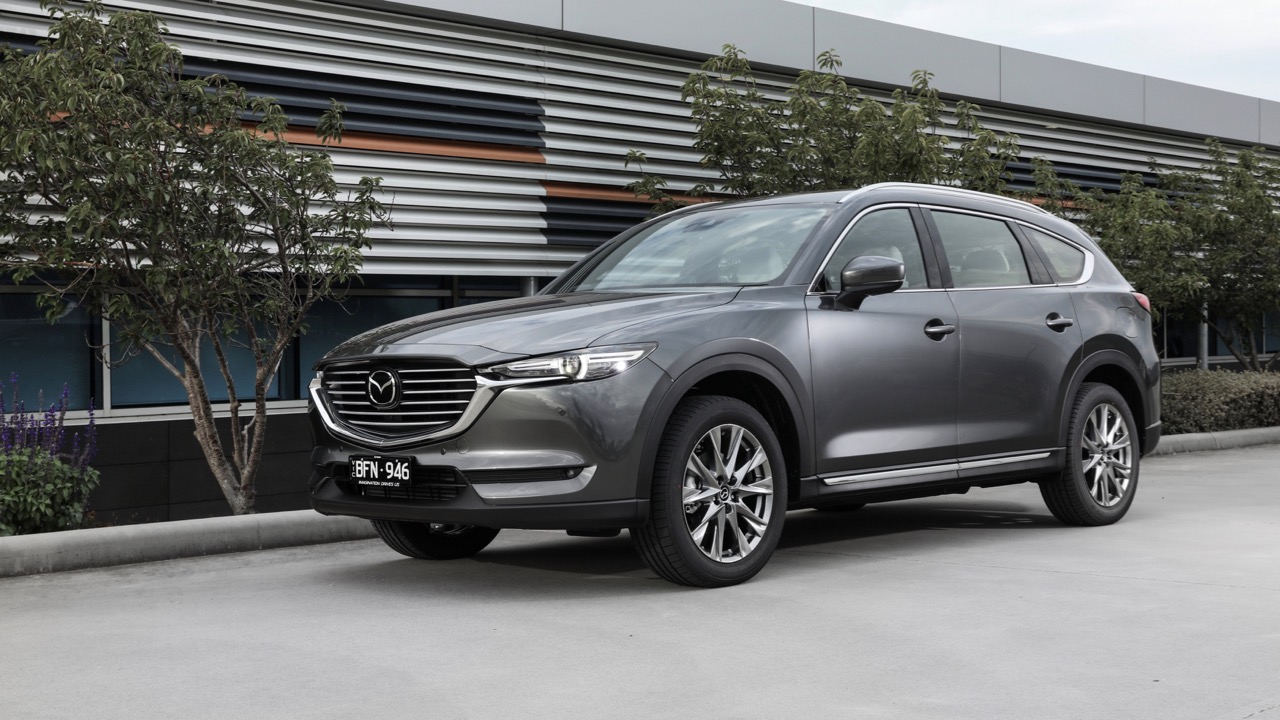 2020 Mazda CX-8 drops entry price with Skyactiv Petrol engine
For 2020 Mazda will offer their seven-seat CX-8 SUV with a 2.5-litre Skyactiv petrol engine in the more affordable Sport variant now starting at $39,910 (driveaway pricing TBA). Full pricing appears at the end of this article.
The CX-8 gets specification tweaks across the range while retaining the excellent 2.2-litre turbo diesel supposing all-wheel-drive models.
Offering a more compact alternative to the brand's flagship CX-9 SUV, the CX-8 must also battle the Volkswagen Tiguan Allspace, soon-to-be-updated Kia Sorento and Hyundai Santa Fe.
Borrowed from the brand's smaller CX-30, the 2.5-litre Skyactiv engine will offer identical power outputs of 140kW and 252Nm, though unlike turbocharged competitors that peak torque won't be on offer until the engine is spinning at 4,000RPM.
Naturally, the 2.2-litre diesel engine will continue for 2020. Peak power is identical at 140kW, but the turbo diesel promises a 450Nm gob of torque at just 2,000RPM which should suit the lazy character of the large SUV.
Although the 2.5 petrol offers a more affordable, traditional Mazda experience we would still opt for the diesel with that greater lump of torque.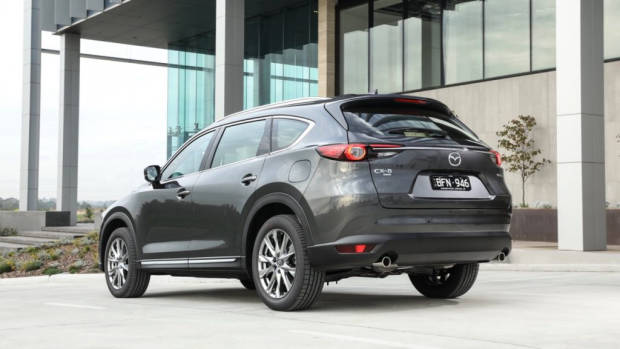 This year's entry variant is now called the Sport and is equipped with 17-inch alloy wheels, the option of front-wheel-drive or all-wheel-drive (for an extra $7,000), GVC Plus, 8-inch touchscreen, Apple CarPlay and Android Auto, leather-wrapped steering wheel, satellite navigation and a black cloth interior.
Safety equipment is generous with Mazda's full suite of active systems standard. The tech includes blind-spot monitoring, high-speed AEB, adaptive cruise control, reversing camera and rear cross-traffic alert.
Stepping up to the $46,590 (driveaway pricing TBA) Touring grade you can still select either a petrol or diesel powertrain. The equipment list swells with LED foglights, power-adjustable front seats, front parking sensors and a rear armrest.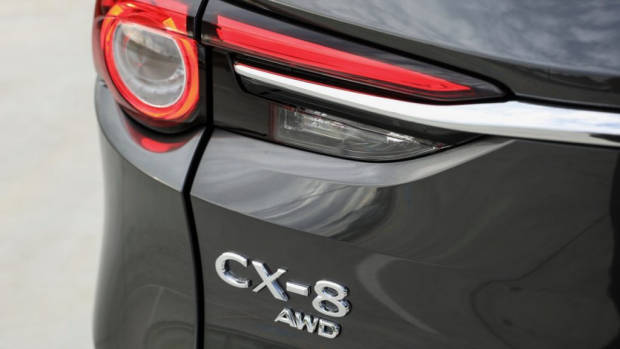 Mazda's $57,900 (driveaway pricing TBA) CX-8 GT is available exclusively with the 2.2-litre diesel, though all-wheel-drive is optional (add $4,000). Additional tech includes larger 19-inch alloy wheels, premium Bose stereo, heated and electrically adjustable front seats with memory function, panoramic sunroof and power boot-lid.
A range-topping $61,440 (driveaway pricing TBA) Asaki variant mirrors the GT's powertrain options with AWD adding $4,000. A 7-inch digital instrument display, adaptive LED headlights, heated steering wheel, heated and ventilated Nappa leather seats, wood trim and ambient lighting top off the specification list.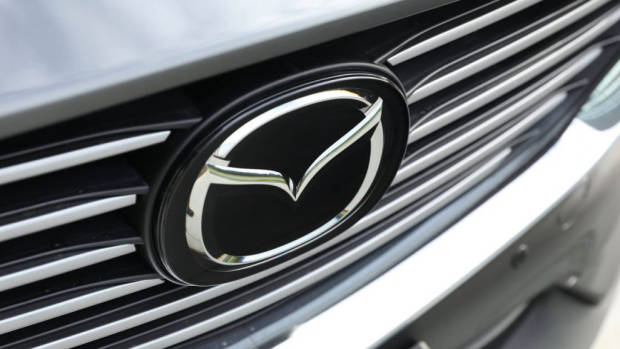 Mazda claims that they have addressed the high road noise concerns for the 2020 CX-8 with additional sound deadening in the roof.
Although entry is now more affordable CX-8 pricing has risen across the board. It's still an SUV that offers good value, though, especially at the new, lower end of the price spectrum.
Mazda CX-8 2020 Pricing
All prices are before on road costs.
Mazda CX-8 Sport Petrol FWD $39,910 (new model)
Mazda CX-8 Sport Diesel AWD $46,910 (down $1,000)
Mazda CX-8 Touring Petrol FWD $46,590 (new model)
Mazda CX-8 Touring Diesel AWD $53,590 (new model)
Mazda CX-8 GT Diesel FWD $57,900 (new model)
Mazda CX-8 GT Diesel AWD $61,900 (new model)
Mazda CX-8 Asaki Diesel FWD $61,440 (new model)
Mazda CX-8 Asaki Diesel FWD $65,440 (up $2,350)

Read more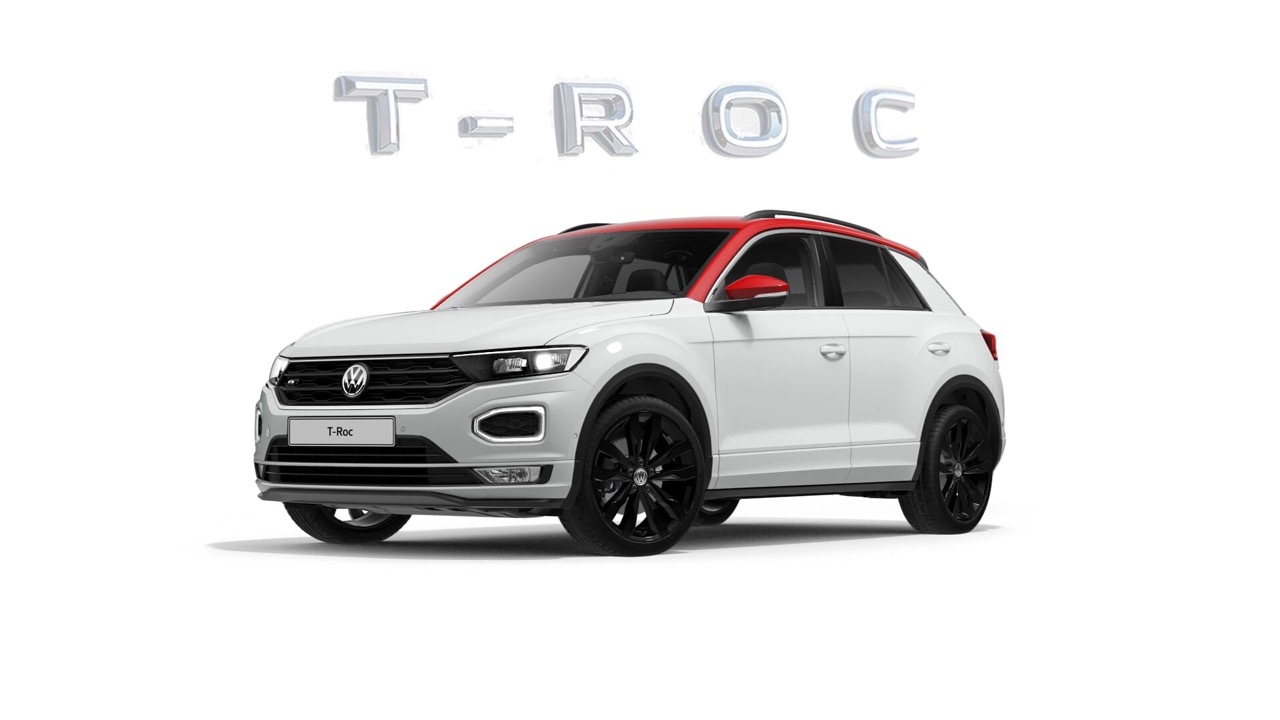 Volkswagen T-Roc priced for Australia as online sales kick off
Volkswagen this morning announced pricing for its highly anticipated T-Roc small SUV – and also confirmed that between now and April this year, the Golf-sized crossover will be sold online for three months, starting this Thursday.
The 2020 Volkswagen T-Roc will arrive nationwide in VW dealerships in April, but Australians wanting to get ahead of the crowd will be able to deposit $500 to secure one of the earliest allocations of the two-strong launch range.
Priced at the premium end of the small SUV market, the $40,490 T-Roc in 140TSI Sport trim will sit above the smaller, Polo-based T-Cross which arrives in the Australian market around the same time. The T-Cross, which starts at $27,990, will offer a more affordable way into a small Volkswagen crossover.
With the pair not as different in size as one might expect, the rationale for purchasing the T-Roc will mainly revolve around its standard-fit all-wheel-drive and its punchier engine. The sole motor for the Australian-spec T-Roc will be a 140kW/320Nm 2.0-litre turbocharged four-cylinder 'EA888' unit, sending torque to all four wheels through a seven-speed dual-clutch gearbox. We reviewed the T-Roc 140TSI in New Zealand last year, which you can watch and read here.
In addition, the Sport trim arrives highly specified as standard with the brand's more athletic R-Line exterior styling package, with 18-inch wheels, rather than the more pedestrian look that is fitted by default in Europe. Inside, the brand's Active Info Display is standard-fit along with an eight-inch touchscreen with navigation, Apple CarPlay, and Android Auto.
Keyless entry and start is standard, along with automatic wipers and LED headlights, a variable steering ratio, customisable drive modes, all-speed AEB, adaptive cruise control, blind spot monitoring, and rear cross traffic alert.
Six colours will be offered – white or red are standard, while the four metallic or pearl options cost $600. Two option packages can be selected, boosting spec further. The $2,000 Sound and Style package adds 19-inch 'Suzuka' alloys (familiar from the Tiguan R-Line), adaptive dampers, and a 300-watt Beats stereo. The $3,500 Luxury package adds leather upholstery, a panoramic sunroof, and a power tailgate.
A loaded T-Roc hits a lofty $46,590 – higher than a (less powerful) new Audi Q3 – but a limited-time special edition, called the T-Roc X, will be offered for $42,990, bundling black-coloured 19-inch Suzuka alloys, adaptive dampers, the Beats stereo, power tailgate, and black-and-red sports cloth seating.
The T-Roc X will be available in two colours that recognise Volkswagen's long-standing sponsorship of the Sydney Swans: white with a red roof, or red with a black roof.
2020 Volkswagen T-Roc pricing for Australia
T-Roc 140TSI Sport: $40,490
T-Roc X Special Edition: $42,490
Key options:
Sound and Style package: $2,000 (140TSI Sport only)
Luxury package: $3,500 (140TSI Sport only)
Metallic/pearl effect paint: $600 (140TSI Sport only)
Panoramic sunroof standalone option: $1,900 (T-Roc X only)

Read more